At what temp should I drip my faucets to prevent freezing
At what temp should I drip my faucets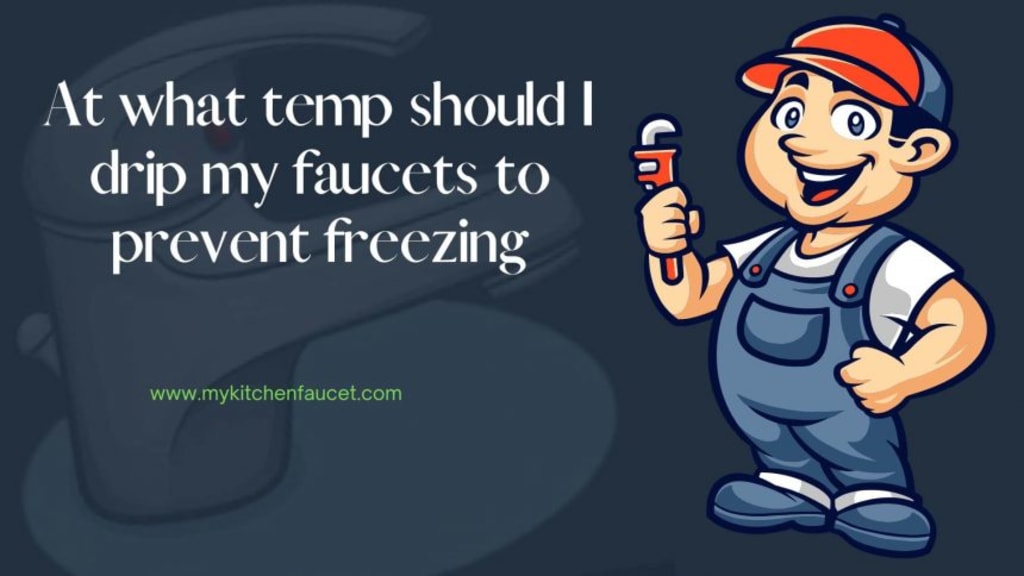 You are spending lots of $ on repairing leaky faucets. Moreover, there are a huge number of pipelines that burst in freezing weather conditions. But a dripping faucet can save the repairing cost and the energy you will waste on a leaky or brushed faucet.
Apart from just knowing the importance of dripping faucets, there is something more like when to drip and also at what temp should I drip my faucets. And we will answer many dripping-related questions in this article.
It's a common myth that a dripping faucet has dripping water that helps to prevent freezing the pipelines, but it's not true.
Although this is helpful, water can freeze while flowing at very low temperatures. A dripping faucet can stop pipes from breaking because the continuously dripping releases pressure that builds up in the lines between the ice blockage and the tap.
The pressure helps to keep the pipes from bursting when the pipes begin to thaw. A dripping faucet at a slow rate with keeping the drainage system active.
When you let tp drop five to ten droplets per minute, it will alleviate slow pressure on the plumbing system. It's the easiest way to keep your sinks, showers, and faucets safe from winterizing.
Why do you need to drip faucets in cold temperatures?
Water, which expands as it freezes, may stress metal or plastic pipes at virtually any point, but pipeline junctions are particularly vulnerable. Pipes can leak or rupture due to the combined pressure of the expanding and contracting ice blockage and the rising water pressure behind it. You should always leave a faucet open if a pipe is frozen, even if there isn't enough water to cause a drip.
Water needs somewhere to go as the ice thaws to release the pressure that has built up inside the bottles.
Let the faucet drip when a cold wave reaches 20 or fewer degrees Fahrenheit or below -6 degrees Celsius.
Pipelines that follow outside walls should have more insulation, so keep a watch on them. Open the cabinet doors if the faucet is in a base cabinet in a kitchen or bathroom.
So that warmer air from home may reach the pipes, especially if the sinks are situated along an outside wall.
In case a pipeline should rupture or leak, it's a good idea to know where your house's primary shut-off valve is.
This main shut-off valve is often positioned where the main water line enters your home, although it may also be close to the external water meter. It might significantly impact if you know how to cut off this water supply rapidly.
If you know how to switch off this water supply swiftly, you might be able to transform a major flooding calamity into a little annoyance while also saving money.
Don't forget to spin off the main supply line before leaving on winter vacation.
When snow, ice, or temperatures are below freezing, it's crucial to let the faucet drip. There shouldn't be many plumbing issues keeping the faucet trickling, but here's what you need to know.
The faucets closest to an outside wall or those in unheated areas of your home are more likely to drip during exceptionally cold weather.
This often includes a sink or bathtub in the kitchen or bathroom. As for other potential locations for drip duty, you can think of utility rooms, attics, laundry rooms, or garage sinks.
Cold pipes only need to drip:
You might be unsure about the ideal temperature for the faucet drip.?
About the Creator
Do you want to buy a faucet for your kitchen and bathroom? We are here to provide you with the best quality faucets guides, reviews, and comparisons.
Reader insights
Be the first to share your insights about this piece.
Add your insights