A Spring Tradition With Some Interesting History
Some of the traditions, lore, and legends behind St. Patrick's Day
March 17th is right around the corner, and soon we'll be celebrating St. Patrick's Day. St. Patrick's Day celebrates the passing of Saint Patrick, a fifth-century historical figure who's the patron saint of Ireland and the country's national apostle. Originally from Roman Britain, he was taken from his homeland and forced into slavery at 16. Later, St. Patrick escaped, returned to Ireland, and brought Christianity to the people of Ireland. 
Over the centuries after Patrick died, the myth surrounding his life became a part of Irish legends. Possibly the most known of them all was that Patrick used three leaves of an Irish clover to explain the Holy Trinity. Thus, the shamrock becomes a synonymous symbol of the yearly holiday. 
How St. Patrick's Day Came To Be Celebrated
Sometime around 1000 a.d. to 1100 a.d., the people of Ireland began observing the Roman Catholic feast of St. Patrick on March 17th-however, the first St. Patty's day parade was in America. History shows that in a Spanish colony, now known as St. Augustine, Florida, a parade was held to celebrate St. Patrick's Day on March 17, 1601. 
Over a century later, Irish soldiers marched in New York City on March 17, 1772, in honor of St. Patrick. Over time, enthusiasm grew for the St. Patrick's Day parades in New York, Boston, and other early American cities. 
Growth of the St. Patrick's Day Parades
By the middle of the 1800s, New York Irish Aid groups decided to unite their celebrations and formed one New York City St. Patrick's Day Parade. In today's world, that parade is the world's oldest civilian parade and the largest parade in the United States. Over 150 thousand people participate in the parade each year, and nearly 3 million people come for the annual event that takes hours. 
St. Patrick's Day Traditions
Since its earliest celebration, many traditions have grown from the Catholic Feast Of St. Patrick. One of the most notable occurs in the city of Chicago. 
Over the years, Irish immigrants spread across the united states. Many Irish settled in the Chicago area in Northern Illinois. One of the famed traditions around St. Patrick's Day is the annual dying of the Chicago River.
Interestingly, Chicago and Savannah, Georgia, have debated who came up with the idea to dye river first. Savannah historians point to a hotel and restaurant manager, Tom Woolley, who convinced officials to dye Savannah's river green. The trick didn't work as well as in Chicago, and Savannah didn't attempt to dye the river again. 
While parades and Chicago dyeing the river green are a tradition in America, many other traditions are practiced on St. Patrick's Day. 
Wearing Green On St. Patrick's Day - Every year, millions of people celebrate St. Patrick's Day wearing something green. The color scheme appears to honor the Emerald Aisle or the Irish Flag. When Ireland chose to be free of British control, the Irish donned green in a show of unified nationalism. 
Corned beef and cabbage - Restaurants across the country offer corned beef and cabbage on St. Patrick's Day. The dish first found popularity in New York City and became a fixture of the holiday.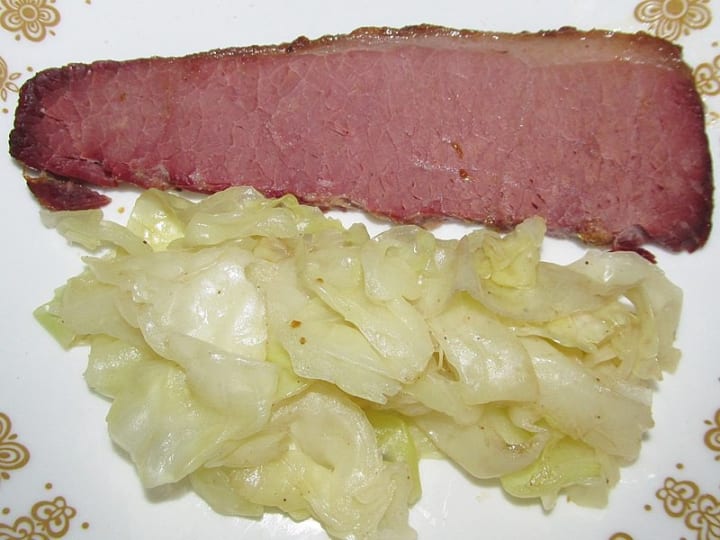 Eating Blarney Stone Pastry - People who've tried them will attest to how yummy the peanut and powdered sugar-filled pastry is. Believed to have come from Iowa, they are popular throughout the midwest. The name of the famous pastry comes from a piece of limestone built into Blarney Castle in 1446. The legend of the stone is that people who kiss it receive a gift of grace. 
The St. Patrick's Day Pinch - The legends says that leprechauns pinch those on St. Patrick's Day that aren't wearing green and that the green clothing makes people invisible to the magical creatures. Today it's a way to reprimand people for not showing their Irish pride. 
Drowning the Shamrock - much like throwing salt over your shoulder for luck, St. Patty's day revelers dunk a shamrock into their last glass, toast to the saint, and then toss it over their shoulder for luck. 
Drinking Green Beer - Before dyeing rivers, green people added emerald coloring to their beers. Green beer has been a staple of the bar scene in America since the early 1900s. Over the decades, the practice of green beer spread internationally, but its blue food coloring mixed with beer yellow tones that combine to create the intense green drink.
Abstaining From Alcohol - While it's commonly known for being one of America's biggest drinking holidays, especially Guinness beer, once upon a time, it was a day of sobriety for Irish citizens. St. Patrick's Day was originally a holy day meant to be observed in churches across the country. Until the 70s, pubs in Ireland were closed on St. Patrick's Day.

St. Patrick's Day has become one of America's most drunken holidays, despite once being a holy day, and the Irish people abstained from booze. Despite all the drunken revelry, it's one of society's more entertaining holidays, complete with pub crawls, good food, and a special day to get together with friends and family. It also comes as one of the first warm weather holidays as meteorological winter is nearly over by March 17th. 

St. Patrick's Day is meant to celebrate a historical figure from Irish history, someone that was just a child, kidnapped and then forced into slavery. 

Legends Of St. Patrick

Patrick became a legendary figure in Ireland. Of the legends, one has it that he drove the snakes of Ireland into the sea and to their demise. In a 12th-century writing, Patrick's legend becomes even more fantastic, as it's told he raised 33 men from the dead.
Takeaways
The celebration of a saint who was a slave. That's St. Patrick's Day in a nutshell. What it's become over the years is less a holy day and more of a reason to consume copious amounts of alcohol and corned beef while wearing green and enjoying parades. In Ireland, it wasn't meant to be a grand celebration in the streets. Holy days don't come with pub crawls, bar brawls, and DUI arrests. In Ireland, it was originally a day for people to go to worship when the bars would be closed to observe the holiday.
Traditions are fun to uphold. Whether you'll be celebrating at a parade, holding a family gathering, in a bar enjoying emerald-colored beers, or swinging through Mcdonald's for a shamrock shake, remember the sad story of the 16-year-old forced into slavery to return later to bring hope to the people of Ireland through his deeds and words. Using the shamrock to explain the holy trinity is a great story to tell this year.
If you enjoyed this, found it informative or interesting, consider leaving your comments to tell me so. I'd love to hear what people think of this style of article on Vocal.
About the Creator
I have always enjoyed writing and exploring new ideas, new beliefs, and the dreams that rattle around inside my head. I have enjoyed the current state of science, human progress, fantasy and existence and write about them when I can.
Reader insights
Be the first to share your insights about this piece.
Add your insights