10 Astonishing Vintage Christmas Ads You Have to See to Believe
Because nothing says Christmas like a carton of cigarettes and a case of beer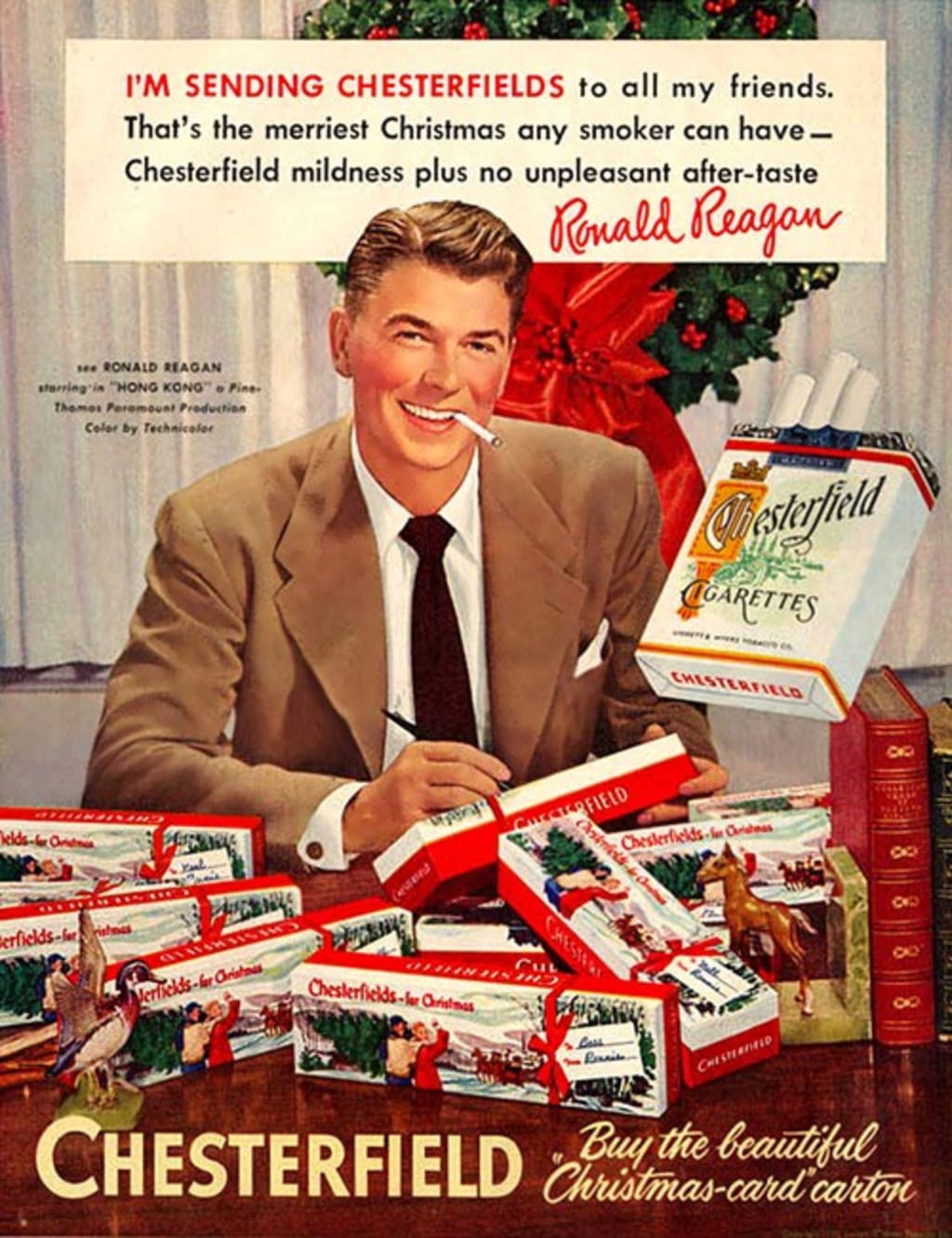 Ad for Chesterfield cigarettes featuring Ronald Reagan, 1952 (public domain)
A carton of cigarettes standing in for a Christmas card may seem strange today, but in the not-too-distant past, it was a thing. When tobacco companies were maintaining the fiction that cigarettes were good for you, nobody thought twice about stuffing stockings with cartons of cancer sticks.
Here are a few more ads that remind us of how attitudes have changed: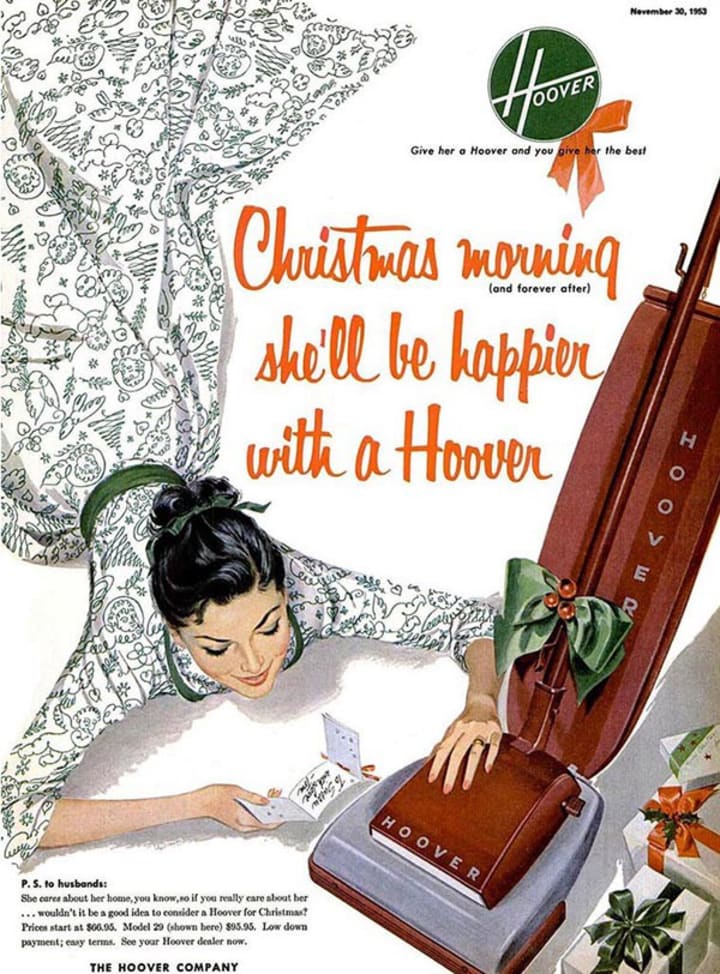 I guess some people would like to get a vacuum cleaner for Christmas, but it's not very exciting. After all, if you need one, you buy it yourself. Isn't it a little lame to turn something you had to buy anyway into a Christmas present?
It's pretty clear that a husband who considers a vacuum cleaner an excellent gift for his wife isn't planning to use it himself. "You can have the day off today, Honey, it's Christmas, but tomorrow it's back to work."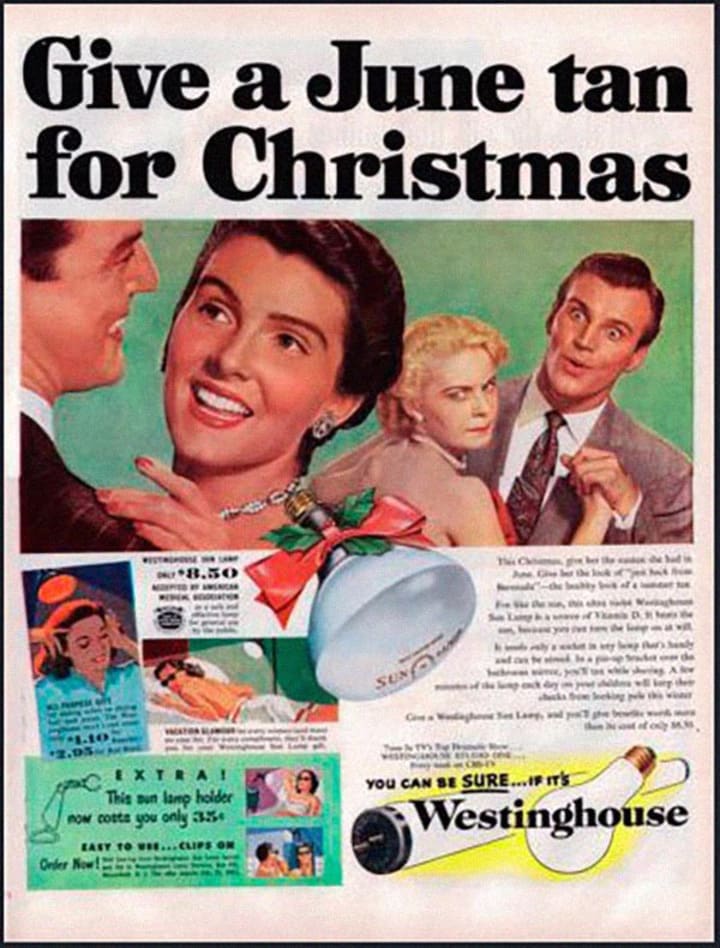 There's so much that's wrong with this ad. Hey, guys! Get your wife a sun lamp so she can be the envy of other women and get other men all hot and bothered. Besides, who wouldn't want skin cancer for Christmas?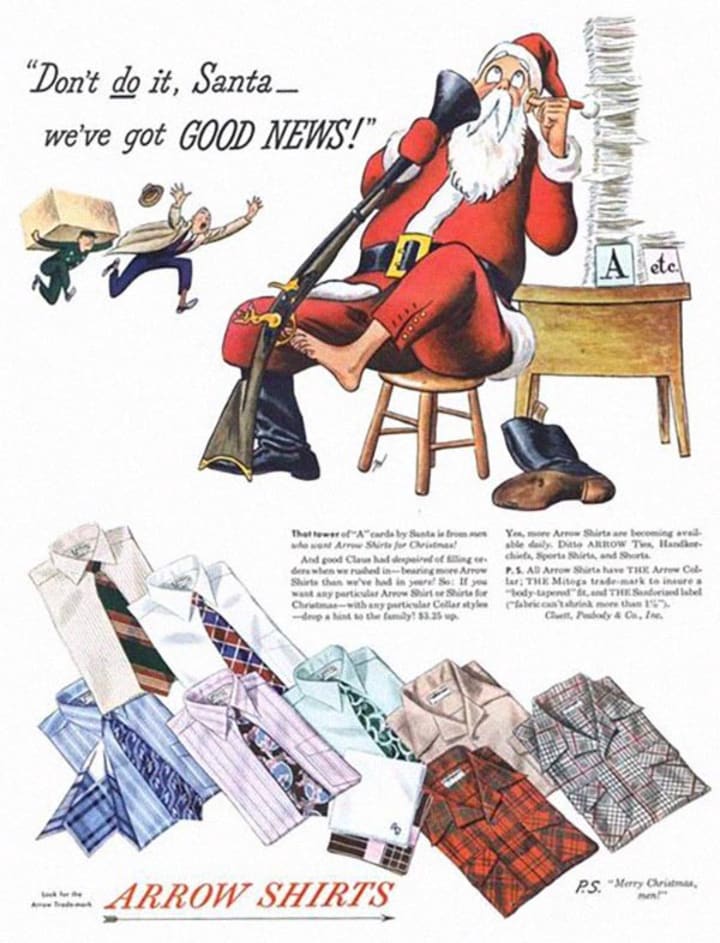 I hope I don't have to explain why conflating Christmas with suicide is outrageous. The idea here is that so many people want Arrow Shirts that Santa is desperate because he's afraid there aren't enough to go around. He'd rather kill himself than disappoint anyone.
In the small print, Arrow explains that they have more shirts available than ever before. What a relief!
No doubt about it. Kids would love this. Daddy, not so much. Of course, you can always just set it on a cardboard box and let the kid use her imagination. Look how thrilled the little girl in the picture is with that idea. I wonder why the Daddy Saddle didn't catch on.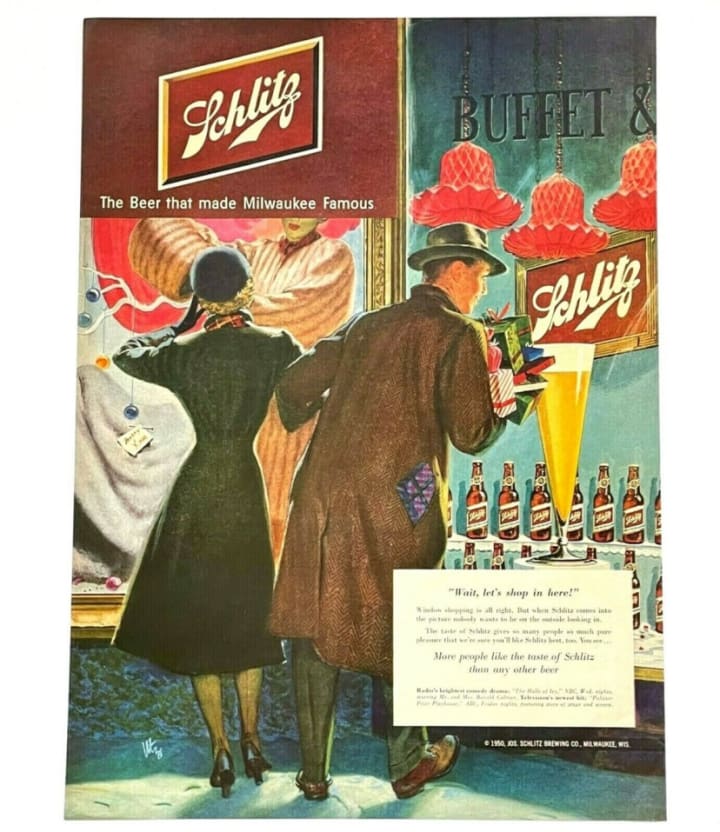 She's hoping for a mink coat. He's hoping for a case of beer. I get why he drinks. That woman is high-maintenance!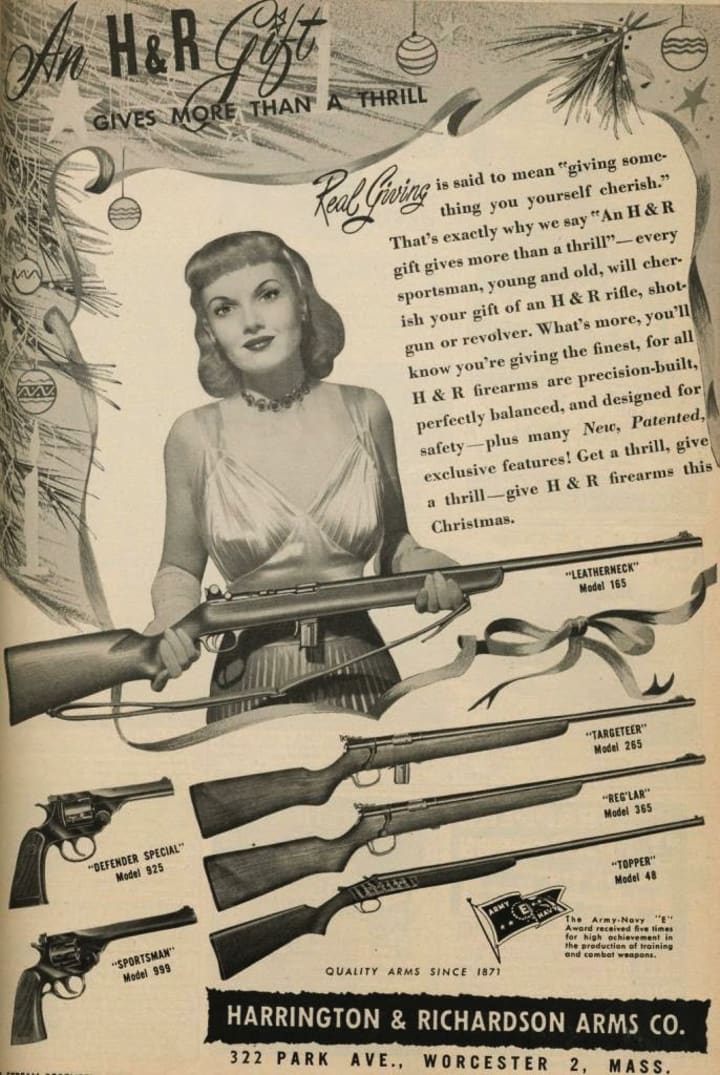 Giving a gun for Christmas isn't a new idea, nor is using sex to sell products. You usually don't see both in the same ad, though. What the heck is this woman wearing anyway? It looks like she's got a skirt on over her nightgown. Maybe she's in the process of getting dressed to go out and shoot something.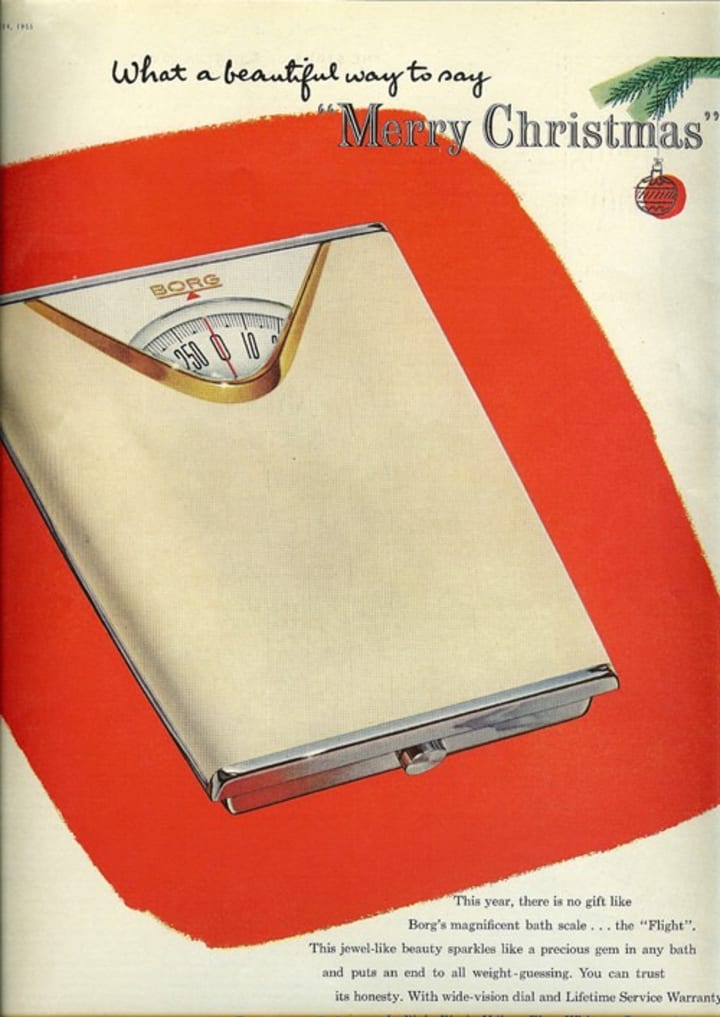 Because we all want to be reminded of our weight right before we stuff ourselves with Christmas cookies, give your partner a scale for Christmas. I dare you. You'll be lucky if he/she/they doesn't/don't hit you over the head with it. I give Borg an "A" for effort, though. The scale is named "The Flight," and "this jewel-like beauty sparkles like a precious gem in any bath…" Hey, maybe I do want one.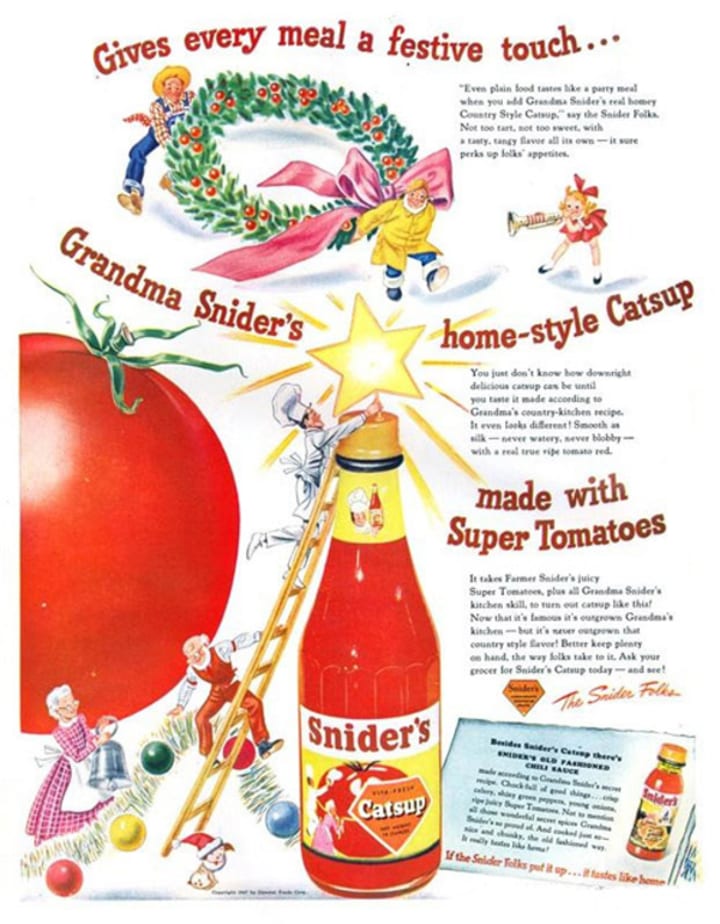 If whatever you're serving for Christmas dinner requires catsup (aka ketchup), you either have peculiar eating habits, or you're just not trying hard enough. Sure, it sounds like great stuff. It's "smooth as silk — never watery — never blobby," but for Christmas dinner? I don't think so.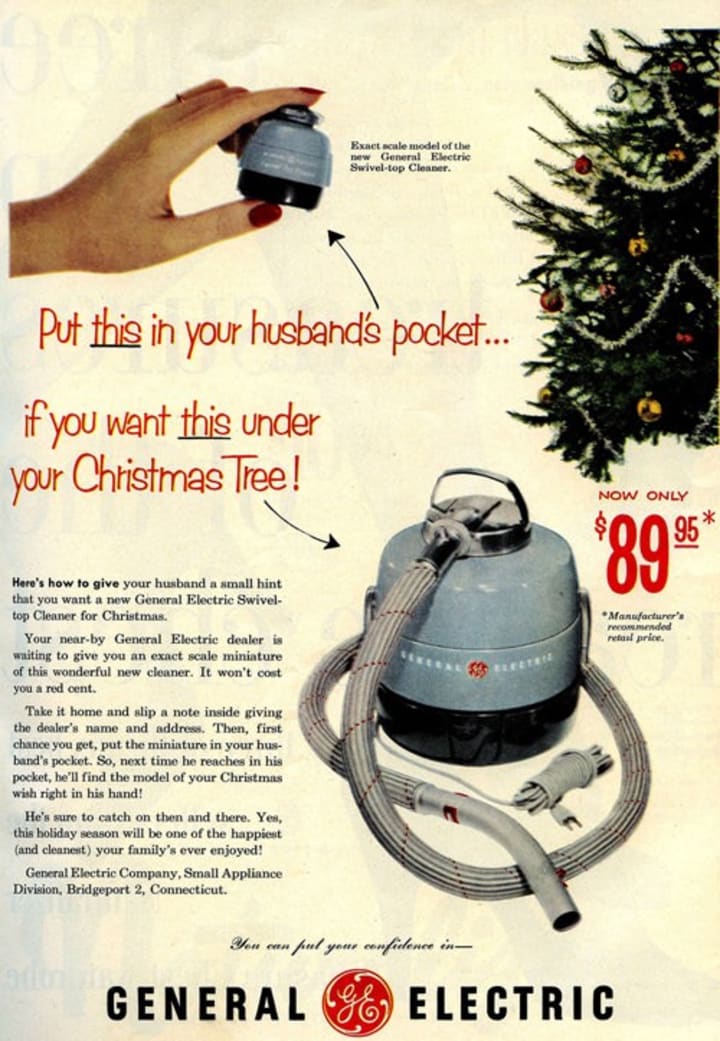 What is it about Christmas that inspires bone-headed marketing ideas? Once upon a time, GE had a bunch of miniature model vacuum cleaners made to give to women (because, again, men don't clean). The idea was that the little lady would slip it into her husband's pocket to hint they wanted one for Christmas. But that's not all! The model opens up. The ad directs women to put a note inside with the dealer's contact info on it.
Trust me; if someone's too stupid to know where to buy a vacuum cleaner, he's not intelligent enough to realize the model opens up, let alone understand why it's in his pocket.
Did they think a woman would go down to the store, pick up a tiny vacuum cleaner, write a note, put it inside, and put it in their husband's pocket instead of just saying, "I want this"? Forget about it.
Besides, everyone knows what she really wants is a mink coat.
About the Creator
Denise Shelton writes on a variety of topics and in several different genres. Frequent subjects include history, politics, and opinion. She gleefully writes poetry The New Yorker wouldn't dare publish.
Reader insights
Be the first to share your insights about this piece.
Add your insights