Why Entrepreneurs will dominate metaverse technology?
Bring Real World and Metaverse Together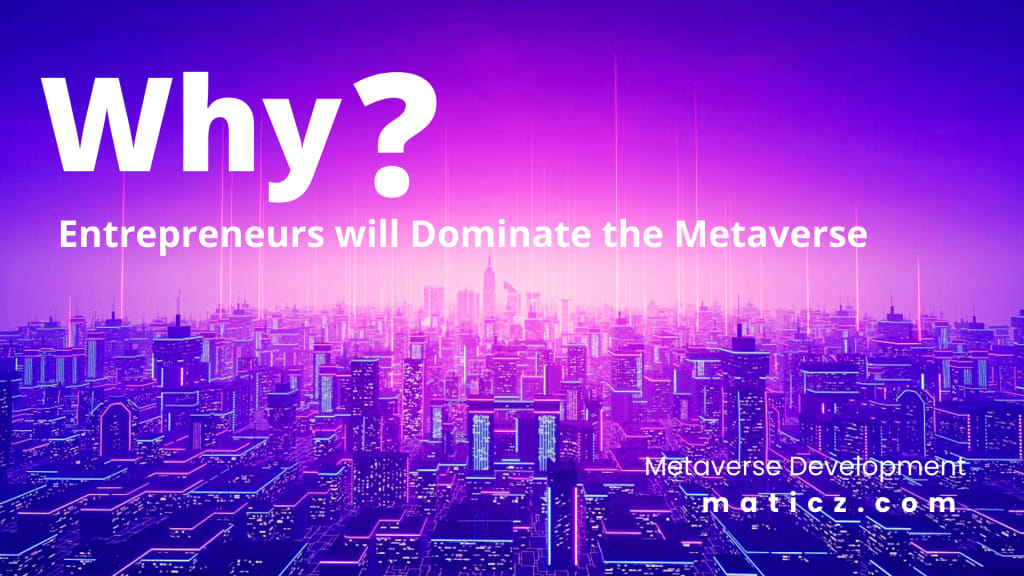 metaverse development company
Everyone talks about the modernistic Technology - Metaverse that will dominate each and every industry. With the drastic rise of digital technology, the metaverse will get new opportunities for entrepreneurs in a new way. And also it is a global platform that incorporates virtual reality and augments reality through Blockchain technology.
What is Metaverse and Why is it popular?
The Metaverse is a virtual realm in which the actual world and the internet gets met. To put it another way, Metaverse is a platform that is independent of any place or application and allows users to share their 3D virtual environment, which is both dynamic and collaborative.
According to Mark Zuckerberg, "Metaverse will be predominant one in the next five to ten years" which entices more people to the metaverse. He predicts that metaverse will reach a billion people in the next decade, and that will be providing jobs for millions of developers and inventors. Hence, undoubtedly the world of the future will exist within a metaverse.
Use Cases of Metaverse:
1. Entertainment: From interacting with real-life users and befriending AI-driven avatars to overseeing a virtual concert captivating your favorite artists, Metaverse takes entertainment to a whole new level.
2. Gaming Industry: Metaverse gaming has been around for a decade in the form of multiplayer online games. It offers an entirely immersive gaming experience. As a result, people are utilizing this technology for their business advancement.
3. Real Estate: Metaverse real estate sets new highs in the sandbox and other virtual worlds. It is regarded as the next big step in the technological world, and the volume of real estate in the metaverse has ramped up.
4. Corporate: Working online is already a reality for many people due to the Covid-19 pandemic. So, MNCs like Microsoft are following suit and in the future, more corporations will attempt to send their employees into the metaverse.
5. Social Interaction: Metaverse allows people to socialize through activities as it creates technology that enables imaginary environments in which individuals can connect, collaborate and communicate without the need to be physically present.
6. Education: Metaverse on education simplifies the education learning system by creating the metaverse. It assists in running classes and creates an immersive learning experience that runs the campus activities while using the latest digital technologies.
7. Economy: The economy is a pillar of society, so the viability of the economy depends on the recognition of digital attributes such as one's house, car, farm, furniture. It also necessitates the ability to travel and trade freely that might have different laws and rules.
The future of virtual technology is similar to real-world activities. so, business peoples are likes to start a metaverse technology. Creators are able to recreate the virtual world or spaces in the metaverse world. where people can feel like live in a real-world in the digital ecosystem.
Some of the forecasts have the value of metaverse acquiring $800 billion in 2024. Nevertheless, the market is worth $500 billion. $800 billion predictions are an easy limitation to reach in short order.
Metaverse technology will help the people, locations, and experiences that constitute culture, a distinct virtual economy with digital jobs which are really worth among the market.
Entrepreneurs are skyrocketing moving towards the virtual world - Metaverse technology. Recently, Microsoft and Meta (Facebook) companies are turning out to the metaverse technology. Meantime, Metaverse development companies are growing day by day. Business People are choosing the best metaverse development by deciding Some of the qualities. Maticz is the trusted metaverse development company and a team of maticz has all qualities and services. Create a Metaverse platform for all concepts. Build a Metaverse Virtual Land for each and every industry.
Reader insights
Be the first to share your insights about this piece.
Add your insights