Waking Dogs- A World Eaters Tale
A Warhammer 40K Fan Story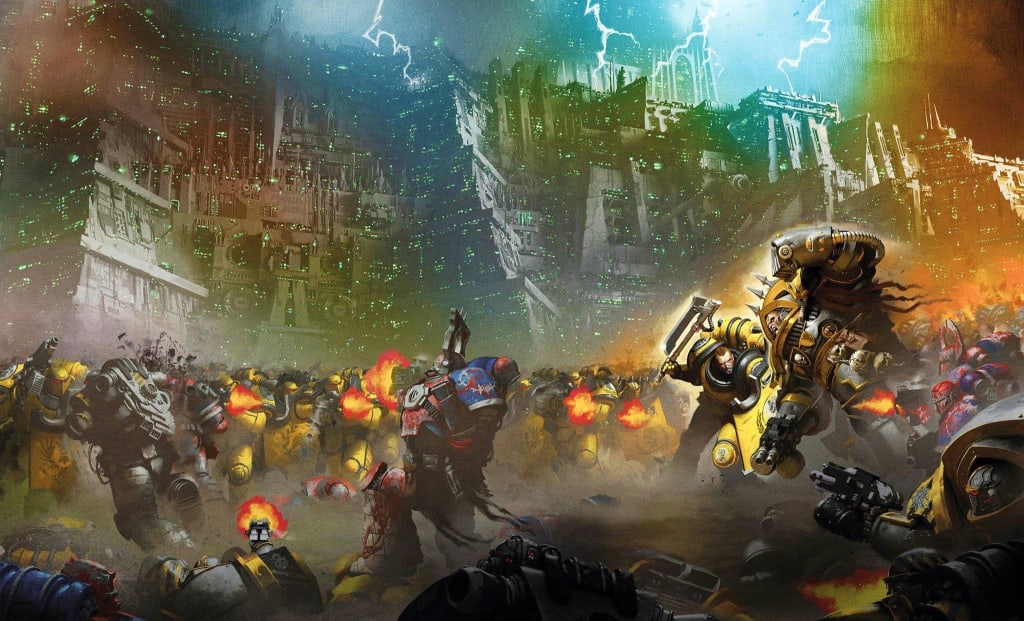 Crixus woke to the stench of blood, and the sound of screams.
He stood on a battlefield, surrounded by smoking craters and the fragments of the army that had come out to meet them. Shattered tanks dotted the ground like broken teeth, and burning promethium turned the field into a scene of hell while black smoke choked the skies. Scattered across the field like chaff after a reaping were the bodies of the dead. Men, women, it was hard to tell after what had been done to them. They'd stood before the teeth of a war machine, and it had chewed them to pieces. Crixus took it in, bemused as the mists slowly cleared away from his head and he came back to himself. As the fog of battle frenzy departed, though, the pain it hid returned; the feeling of the butcher's nails demanding to be fed. It was only a dull ache for now, but he knew the pain would grow teeth soon enough.
"All goes as planned," a mechanized voice said from behind him.
Crixus half turned. The creature that advanced from the firing line was a colossus of steel and ceramite, tarnished nearly black from fire and smoke over the years. The terminator war plate had never been beautiful, but now it was ugly; twisted out of true and corrupted by the fires of chaos. Thorny protrusions like horns jutted from along the helm, and dark veins ran through the connector joints, pulsing and throbbing as they fed unspeakable fluids to the thing beneath the armor. The eye lenses seemed to devour the light from the destruction all around, drinking in the suffering like a daemon at a feast.
"Does it?" Crixus asked. His throat was raw, and it hurt to speak. He was sure he'd been screaming. He usually did when the command was given, and he was turned loose with the others. It was difficult to form words through the haze in his mind, but he forced them past his lips all the same.
Arteus stopped his advance, and turned to face Crixus. The lenses of his helmet focused, and he looked Crixus up and down. When he next spoke his voice was wary through his vox. "The dog speaks. Come, Crixus, the city is ours. All that remains is to claim it. You can add more prizes to that paltry one you carry."
Crixus's urge was to fall in line behind his cousin, to let the roar of battle descend on him again so he might return to the bloody dream. The dream that would make the pain go away for a little while longer. But what Arteus said sparked something in Crixus's memory. Neurons that had long lain dormant fired. His gaze fell unbidden to his left hand. Crixus still clutched a head in his gauntleted fist. He didn't remember taking it. Beneath the smears of blood, and the chipped red enamel of his armor, he could still see the engraving on his vambrace. A rampant hound, its jaws open and ready to deliver the killing blow.
For a moment Crixus fell through time. Bellowing giants and twisted mutants whose blood flowed black and oily surrounded him. He fought against them, his pale armor stained with proof of his valor. He had taken no skulls that day, for there had been no need. That had not been why he fought. He stood on the line with his brothers before the titan of wrath and fury that was their father, listening as he bellowed about slavery and freedom, about the breaking of chains and how the weak would be culled. Then Angron demanded they submit to be bound the same way he had been. They had been so blind, so desperate for his approval, that they had rolled over and done it without question. He had put leashes on the War Hounds, and called them his World Eaters.
Then there was blood. Tides of it that carried them further and further from what they had been. Those memories were fragmented, but pieces came back to him. The piles of bodies on Istvaan III, where the first great blow had been dealt. Pitched battles in the void. The blackened ground around the great palace, where they had died in their droves. The memories came in fragments, falling on Crixus like rain as he stared down at the hound. It was old, spattered in blood, and it had been covered up time and time again… yet it was still there for one who knew how to see it.
Crixus raised his head, and really looked at the city for the first time. It was a crumbling hive, the ferrocrete eroded around the edges, and the gun emplacements that were still present time worn and ragged. The spires leaned and canted, and it seemed far too large for the number of people in it. It was a small, sad city on a lonely, forgotten world. A guttering candle that would be snuffed for no reason other than being unfortunate enough to be caught in the black wind of Arteus and his forces.
The scars along Crixus's head where the nails had been driven in so long ago started to prick. The ache in his muscles from strained ligaments and micro tears in his muscles began coming back as the adrenaline drained. A vise gripped his temples, and every beat of his heart was like a fist knocking against the base of his skull. His breath rushed in past his teeth, and he tasted blood in his mouth. His eyes fell from the battlements, and onto Arteus as he strode forward, firing at the city's remaining defenders and barking orders through his helmet link as he commanded other units to advance. Crixus's fingers spasmed, and he dropped the head he'd taken. The power sword chained to his other hand flared into life, crackling with violent energies that eddied and swirled around the blade.
"No," Crixus growled, charging forward.
Arteus was a bare dozen yards away, his arm-mounted cannon roaring as it spat rounds at the defenders on the wall. He tried to turn, to bring the barrels of his heavy bolter to bear. His armor made him slow, though, and Crixus was upon him like a hunting hound on wounded prey.
The tactical dreadnought armor turned Arteus into a living tank, but it had weaknesses. Crixus's sword flashed, slashing across the narrow gap at the back of the knee where the armor was weak. Lightning sparked, and metal heated to slag in an instant as the leg buckled. Dirt fountained as Arteus fell, firing off bolter rounds as his hand convulsed in pain. He tried to catch himself, to steady his bulk, but Crixus brought his blade around and sliced the crook of the elbow. Blood sizzled, and black oil pumped from the wound in an arterial spray as he finished falling. Arteus tried to bring his other weapon to bear, but Crixus snatched his wrist, and drove his blade through the space between where the breastplate and the armored sleeve of the suit met, the blade tearing through the fiber bundles and destroying the muscle and sinew beneath them.
Arteus shouted from the ground, but whether he was bellowing for reinforcements, or trying to make Crixus stop, Crixus couldn't make out the words. All he could hear was the thunder of his heart, and the pounding of blood in his head. The nails were singing now, and their rapture flooded every fiber of his body with fire. He brought his boot down on Arteus's helmet once, twice, and then a third time. The eye lenses cracked beneath his heel, and fluid leaked from them like hydraulic tears. The face plate splintered, and the vox grille sputtered and sparked as it crumpled. On the third stomp Crixus heard something snap, and Arteus went limp, his flailing limbs dropping to the dirt.
From behind, something smashed into Crixus's shoulder with the force of a hammer. Heat washed over his face as the outer layers of his pauldron splintered, flinging him forward. Las fire cut there air where he'd been standing, and plasma dripped from where he'd been hit. He tucked and rolled, shedding the damaged outer armor as he came back to his feet facing the direction of the new threat. One of the fire support teams at the trench line had heard Arteus's commands, and turned their plasma weapon on him. The operators were charging it for another blast, while the rest of the squad directed their fire his way. As he stood Crixus snatched his bolt pistol from where it was mag-locked on his hip, and fired. All it took was a single round to set off the plasma core, and the trench was awash in blue fire. There wasn't even time to scream as the explosion swallowed up dozens of soldiers, making a gap in the firing line.
The world around him moved in slow motion as the furious nectar pulsed through Crixus's veins. He leaped through the remnants of the explosion, his pistol spitting death and his sword cleaving anything that got within range. The last remnants of the rear guard still holding support positions were torn to pieces before Crixus ran out of ammunition. He dropped the bolt pistol, the mag lock securing it to his hip as he strode forward, using the momentum to drive his fist through another soldier who wore the livery of the now-slain Arteus. Another traitor whose planetary defense uniform still bore pale places where its old marks of rank and honor had once been sewn.
One by one the artillery stations fell silent. Crixus killed the operators as he found them, moving like a storm of vengeance that left none alive. The defensive battlements they'd built, the protections they were so proud of, became their tomb as they had nowhere to retreat to. Soldiers died in their droves, and what few of his cousins had been left behind were too slow to react. They were used to those who wore the red armor losing focus, and slaying those near-to-hand. It was only when Crixus was upon them that they realized these were not random acts of destruction; this was a dismembering strike. It took him two dozen minutes to cripple the line, and leave his erstwhile allies with no one watching their backs.
Crixus emerged from the trenches, and turned toward the city. He was splashed with gore, his armor dented and grooved, still smoldering in several places. The horns decorating his helm had been smashed off, one catching a blow from chainsword, and the other deflecting a point-blank round from a hotshot las rifle. He seemed bigger than he had before. Standing tall, his shoulders back, and his head high, it was as if he'd put down a great weight. He heard weapons discharge from the city, and launched into the loping, ground-eating bounce common to astartes on a mission. He entered the city, and silence followed in his wake.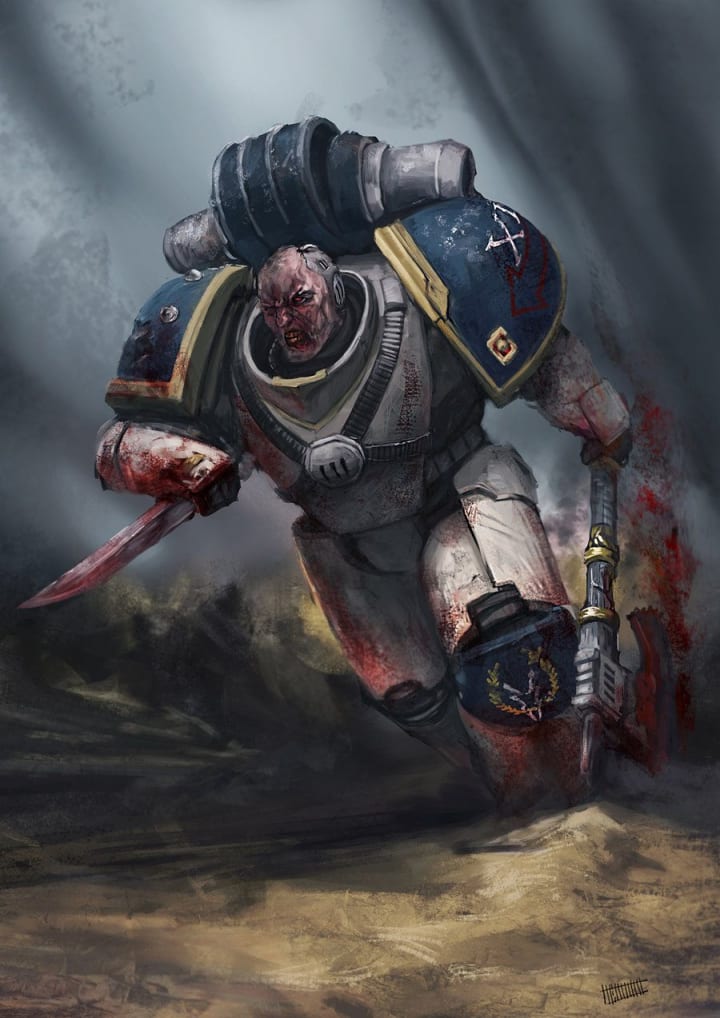 He had taken the heads of thunder warriors on Cerberus. He was there when Sanguinius and his sons matched their fury against the children of the Red Angel. He had taken the field alongside titans, and he had fought a thousand times a thousand battles and come out the other side. Crixus had never been a match for Kharne, even in the days before their father had returned. He would never have been able to match blades with the likes of Sigismund. But to those who stood in his way in that nameless, rotting hive, he was death incarnate. He stalked the alleys and the spires, tracking panicked calls for aid through the vox network to find where his enemies had gone to ground. Those few who hailed him were met with snarling barks of laughter. By moon rise that night, he had come for them all.
He left the way he had entered, bloody footprints dogging his heels out into the blasted no-man's-land. He paused there, beneath the yellow orb that looked down from the sky. Those citizens who yet remained in the city peered from windows and gaps, holding their breath as they waited to see if they would truly be spared. Crixus looked down at his right hand, and at the chain that bound his blade into his hand.
His father had brought those chains with him from the gladiator pits on the world where he'd been raised. He had carried the bonds of his own servitude, then foisted them on his sons and called it honor. Crixus dug his fingers beneath the chains, and pulled. The links were strong, and thick, but they snapped with a sound like ice cracking underfoot. The blackened metal slithered off his arm, dropping to the ground like a dead snake as Crixus walked back toward the transports. For the first time since he had received them, the nails were quiet. A soft whisper in the back of his mind, but nothing more. The two of them were now of one mind, and one purpose. Fury beat through Crixus's brain, and focused his vision to a single point, and a single purpose. One which the nails seemed only too happy to help him fulfill.
This city was not the only one on the world Arteus had meant to scavenge for slaves and fodder. Crixus had cousins, and even some brothers, at the other hives. They would meet the same fate. Once he had slain them, he would track down the other rabid dogs his brothers had become and put them out of their misery until he made his way back to their father, who had done this to all of them. The creature who had enslaved them, because despite his words, when he was finally given power he could think of nothing else to do with it.
On that day, one of them would die, and either way Crixus would finally be truly free.
Would You Like More?
If you enjoyed this little tale, and you'd like to see more of my work, consider some of the following.
For more Warhammer 40K content, check out my short story "Almost," as well as my character conversion guides for both the Imperial Commissar and the Death Korps of Krieg available in my full Vocal archive!
If you'd prefer additional fiction, consider my short story The Irregulars that ties in with the Golarion setting from Pathfinder. Alternatively, check out my other novels like Crier's Knife and Marked Territory over on my Amazon author page!
And for those who enjoy audio renditions of the grim darkness of the far future, check out the narrated version of Waking Dogs, along with my imperial guard story Almost, which were both rendered beautifully by A Vox in The Void!
Reader insights
Outstanding
Excellent work. Looking forward to reading more!
Top insights
Compelling and original writing

Creative use of language & vocab

Easy to read and follow

Well-structured & engaging content

Expert insights and opinions

Arguments were carefully researched and presented
Eye opening

Niche topic & fresh perspectives

Masterful proofreading

Zero grammar & spelling mistakes

On-point and relevant

Writing reflected the title & theme
Add your insights