Virgin Galactic or Chad Origin
Which One I Would Prefer And Here's Why.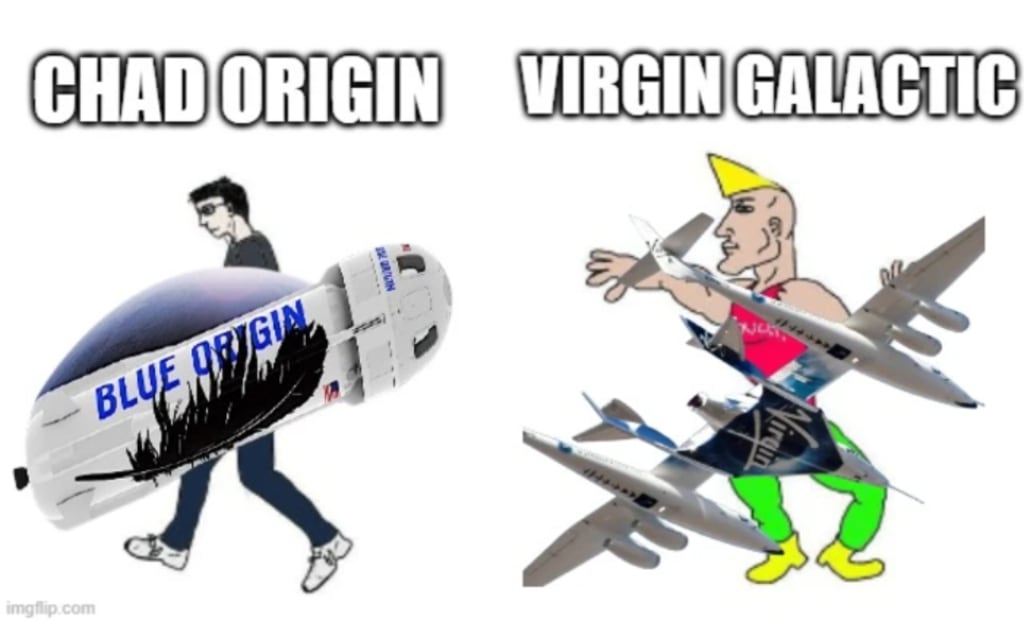 So two billionaires have completed their tour of the space and paved the way for space tourism. As both of their tour has a lot of differences in experience, I gave it a thought that which one I would choose if I had tons of money to waste and why!!! Before reaching out to the conclusion, let's know more about their journey till now.
Virgin Galactic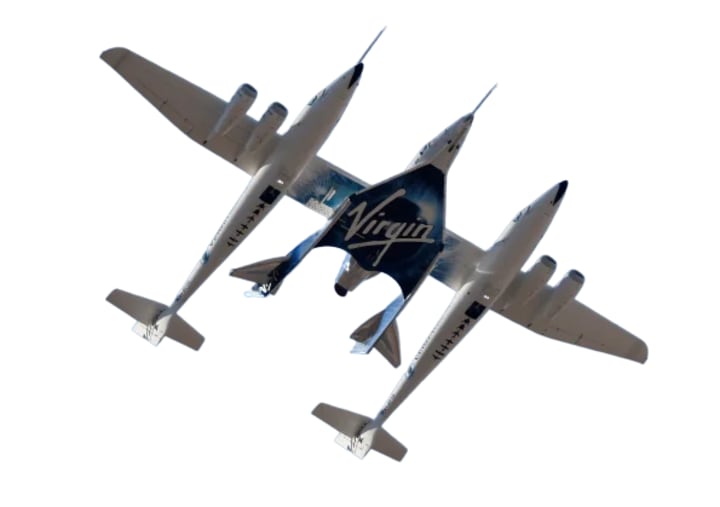 Virgin Galactic(VG) was started by British entrepreneur Sir Richard Branson in 2004 in order to facilitate space-tourism. Not to mention, Sir Richard Bran previously founded the Virgin Group and Virgin Atlantic Airlines. Virgin Galactic registered as a company in 1999 ,just three years after the Ansari X Prize was announced. (To know more about Ansari X Prize, check out my post in noise cash: https://noise.cash/post/lv7gn75z) . In 2004, Burt Rutan's sub-orbital spaceplane design which was named "SpaceShipOne" was the first spacecraft privately funded to enter the space realm, for which it won the Ansari X Prize. In 2005, a joint venture was announced named as The SpaceShip Company between Virgin Galactic and Scaled Composites. Together , the follow-up version of SpaceShipOne , SpaceShipTwo was manufactured . It had six seats for the passengers and two for the pilots. The WhiteKnightTwo, the successor lauch craft of WhiteKnightTwo, was also manufactured in this venture. Virgin Galactic was having a smooth run till the fatal explosion during a routine test in 2007. The first rocket-powered test flight of SpaceShipTwo was run in April 2013 and another followed in September 2013, then another in January 2014. Each flight went well, with Enterprise zooming high in the sky in a super sonic speed. But the fourth flight was not that lucky and the vehicle broke apart killing the co-pilot. VSS Unity completed its first flight on September 16,2016 , being the first flight of Virgin after the SpaceShipTwo Crash. Virgin Galactic announced in February of 2021, that, although additional test flights were subject to further delays, the company had the plan to send first tourist ship to space in early 2022. And also the company unveiled its first SpaceShip III as the next generation of its tourist vehicles that is intended to begin testing alongside the launch of the VSS Unity's first commercial flights. Finally on 11 July 2021, before the expected time. VSS Unity 22 completed its journey being the first commercial spaceship for space tourism travelling to the sub-orbital with crew and 4 passengers.
Blue Origin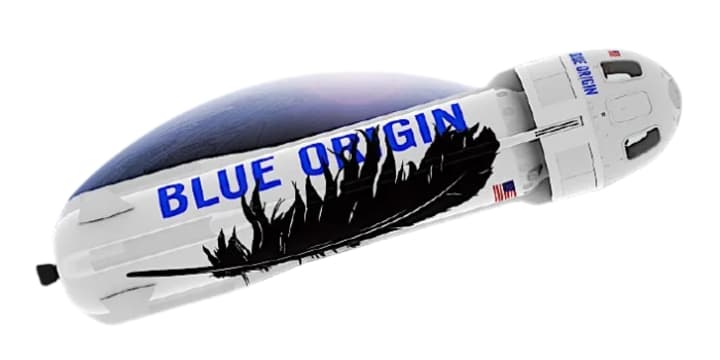 So Blue Origin is the project of very well known billionaire Jeff Bezos, the founder and executive chairman of Amazon. It was founded by him in 2000. The name of the company originally indicates the blue planet (planet Earth) as the origin. It also has a similar goal to start commercial space tourism flight to the sub-orbital. For this , it's space vehicle New Shepard has gone through many tests and finally 9 days after the successful flight of Virgin Galactic's Unity 22, it also completed it's journey to the sub-orbital with 4 passengers.
Virgin Galactics Vs Chad Origin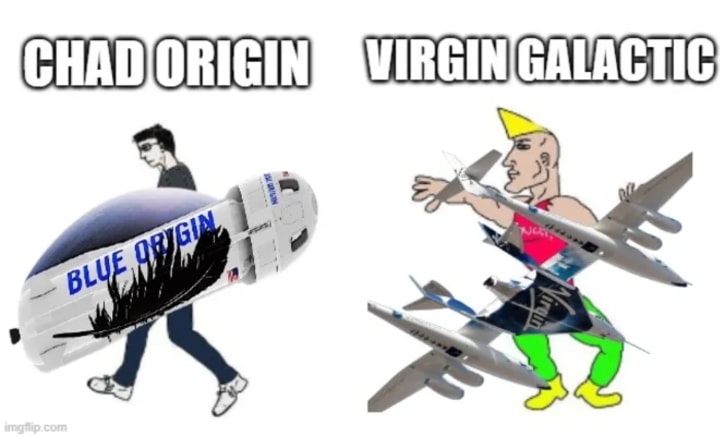 So here's the main part. Which one would I choose if I had tons of money to waste. So my answer is Virgin Galactics. Reasons are as follow:
Virgin Galactics follows the technology of the common public plane. We are already too much accumulated with this. Moreover it becomes a gradual journey, and more time to enjoy . Whereas Blue Origin follows the VTVL or Vertical Takeoff and vertical Landing method. One thing is that most of us will have problem with the sudden thrust and effects of inertia. I have motion sickness. Allah knows what would happen if I had accompanied with Jeff Bezos.
Both the journey has about the same amount of time in the sub orbit. But Virgin Galactics gives more time below the sub orbit to enjoy that view too. Whereas Blue Origin is kinda boom to the space , few moments of free fall, and again boom to the ground. So much money just for this boom boom?
As the journey of Virgin Galactic has a similarity with plane journey, a sense of trust works here. The VTVL is a better method for space exploration, but not an ideal form of space tourism.
[Informations for this post has been collected from space.com mostly. You can check out for more information]
[About X Award: Many private companies are emerging in the realm of space. SpaceShipOne was the first spaceship to enter. It was designed by Burt Rutan (He later joined with The Virgin Galactics) and Manufactured by the Scaled Composites, and won the $10 million Ansari X Prize. Many of you might not know what Ansari X Prize was. It was a space competition where the competitors had to have fulfilled these following three criteria to win the declared 10,000,000 US Dollar prize: > It must be privately financed, it has to build and launch a spaceship that is able to carry three people to 62.5 miles ( The Kármán line ) > It has to return safely to Earth > It has to repeat the launch with the same ship within two weeks This award was inspired by the Orteig Prize(1919). Peter H. Diamandis was the one to propose this idea to the NSS International Space Development Conference in 1995. It's main goal was to encourage the private space industry. ]