Through the Latest Looking Glasses
Entrepreneurs and visionary companies are changing wearable tech. With no consensus of laws on body cams, ordinary citizens may be taking police accountability into their own hands. And eyes.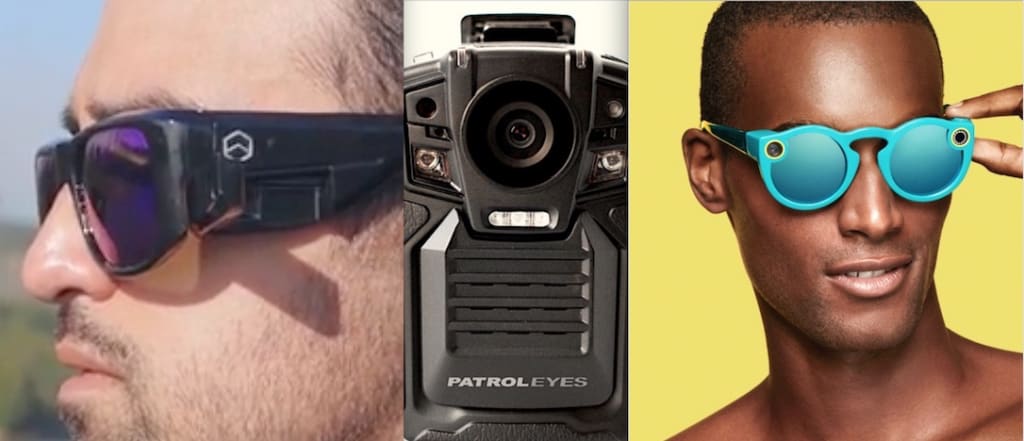 Omni Wearables' FaceShot video-enabled sunglasses (left) and Snap Inc's Spectacles (right) are some of the latest in wearable tech. Both could play a role in monitoring disputes between citizens and police, whose embrace of the body camera (center) has been anything but consistent. (Body cam image source)
When Snap Inc., creators of Snapchat, announced in September its plans to roll out its first actual product, the video-enhanced Spectacles eyewear, speculation was strong that the product would be a game-changer in the world of wearable technology.
Fast forward eight months. A Wyoming entrepreneur has taken to Kickstarter as he prepares to roll out his own line of video-enhanced sunglasses, with some tweaks to what Snap wrought last year. But while these upstarts are raising the bar on what's possible in a wearable-tech market estimated to grow dramatically — to $25 billion by 2019, according to industry analyst CCS Insight — there's another, more serious side to the wearable-camera trend.
In a nation that's a collection of states with differing laws governing use of police body cameras, the upstarts could be accidental disrupters, filling a need for public accountability that law enforcement can't, or won't, address.
◊ ◊ ◊
Omni-Wearables LLC announced the development of its FaceShot video-enabled sunglasses on April 18th, in a splashy Kickstarter campaign. Launched by Jackson, Wyo., entrepreneur Bob Fuziak, the company is making FaceShot an early foray into the wearable-tech market. The marquee FaceShot feature: a pivoting, docking video camera embedded in a pair of otherwise unobtrusive sunglasses.
The camera starts recording video when it swings out from its dock on the left-side temple arm; the video stops when it's returned to the original locked position. As it's seen in the product's promotional video, FaceShot's functionality is smooth, effortless and almost hands-free — just the thing for extreme-sports enthusiasts and everyday athletes alike.
The water-resistant FaceShot features capacity for a microSDHC card with up to 32 GB of storage, and it charges with a micro USB cable (battery life can record about 90 minutes before it needs recharging). A microphone records companion audio. FaceShot's camera boasts a 120-degree field of vision, and can shuttle between 1080p and 720p resolutions, and from 30 fps to 60 fps speeds (slow-motion aficionados, take note).
◊ ◊ ◊
Fuziak says the design is still a work in progress. "I have everything ready to slim down the design even more, and perfect the FaceShot for production and distribution," he says on the video. Other developments to come include Bluetooth and wi-fi capabilities, and what Omni-Wearables provocatively describes as "display technologies with drone and augmented reality applications."
It's a bold leap into a space with both few competitors and a big one. Omni-Wearables is marketing FaceShot as a combination of the wearability of emerging smart-glass lines like Vuzix, Level, and Sony (never mind the late, lamented Google Glass) with the rugged immediacy of the GoPro, heavyweight champ of outdoors-oriented wearable video.
Omni-Wearables claims that with FaceShot, using smartphone cameras will be a thing of the past, but not so fast: FaceShot's glasses don't offer zoom capability, something smartphone users have happily taken for granted for years. And FaceShot doesn't offer still photographs, though still-shot capability may be rolled out in later iterations of the product.
◊ ◊ ◊
FaceShot seems mostly poised to go head to head with Spectacles, the gaudy, fashion-forward line of video-enabled sunglasses that Snap unveiled last fall.
With almost $15,000 already raised out of a Kickstarter goal of $50,000 and a June 1 deadline, Omni-Wearables is in a good position to go public, ... and maybe join Spectacles in taking point on a more delicate matter.
"Some of life's best moments tend to happen without warning," the FaceShot Kickstarter page says. Unfortunately, so do some of life's worst moments. They're moments that could potentially be documented by people whose embrace of wearable video tech would put them at the center of a debate on video recording of police and community interactions — and what happens when those interactions go tragically wrong.
◊ ◊ ◊
The wider debate is about body cameras, that wearable video technology that police often won't wear. Here in Los Angeles, it's a perennially hot-button issue, now maybe more than ever. "L.A. became the largest U.S. city to use the devices when it unveiled a plan to equip 7,000 officers with body cameras in 2015. It sounded promising at the time," reported L.A. Weekly on April 14.
"But the LAPD does not release footage of officer-involved shootings or other 'critical incidents' without a court order. And in several recent officer-involved shootings — including one of a teenager in Boyle Heights — the officers didn't even turn the cameras on until the shooting was over."
Melanie Ochoa, staff attorney for the American Civil Liberties Union of Southern California, made it plain recently. "[The police] withhold video in the vast majority of cases and release bits and pieces if it furthers their narrative," Ochoa told L.A. Weekly on April 14.
◊ ◊ ◊
Citing Maria Ponomarenko, the deputy director of the Policing Project, a program started by the New York University School of Law, L.A. Weekly reported that, nationally, "the vast majority of departments don't actively have policies for release of video, or have a blanket policy of not releasing it unless there has been a court order.
"There are exceptions. In Chicago, video of an officer-involved shooting must be made public within 60 days, and in Las Vegas it must be made public within 10 days.
"The San Diego County prosecutor's office orders police departments to wait to make a video public until after it has completed its investigation and decided not to bring criminal charges, or until the conclusion of the case if it goes to trial.
"For the majority of local police departments in the country, however, there is no policy, and the release of video happens on a case-by-case basis."
◊ ◊ ◊
All of which makes the potential for everyday people wearing video eyewear in the right place and time much more than just a fashion statement.
Imagine a crowd turning up just before a deadly police shooting in which no police body-camera footage was recorded ... imagine three or four people in the crowd, or more, taking wearable videos of the event, all from slightly different visual perspectives.
The national patchwork of laws and regulations on police body cameras is exactly what innovations by entrepreneurs like Fuziak and companies like Snap Inc. could potentially impact, filling in the missing crucial pieces of investigation chronology, correcting absence of law enforcement's video accountability.
Being stylish and cutting-edge may never be more important. Being fashion-forward may never matter more.
About the Creator
Michael Eric Ross writes from Los Angeles on politics, race, pop culture, and other subjects. His writing has also appeared in TheWrap, Medium, PopMatters, The New York Times, Entertainment Weekly, msnbc.com, Salon, and other publications.
Reader insights
Be the first to share your insights about this piece.
Add your insights