Things To Ensure For Conducting A Successful Virtual Event
Tips For Conducting A Successful Virtual Event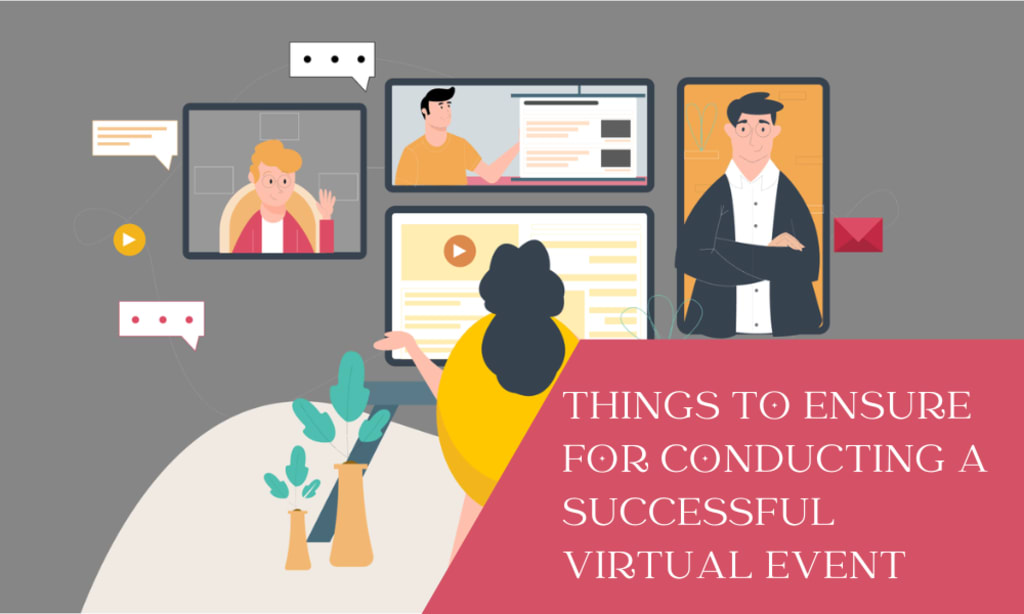 For most businesses in Singapore, conducting a successful virtual event is no less than a challenge. Issues like lack of audience engagement, technological problems, and not having a proper content strategy are common. That's why many people prefer hiring a reputable virtual event company in Singapore to ensure their event is up to the mark. With the help of experts, you can get customized solutions for your live events as per your requirements.
However, by choosing the right equipment and approaches, you can avail many benefits of digital events on your own. You can save time, reduce overall expenses, expand your event's reach, and more. For your help, we have mentioned the top things that you should consider to conduct a virtual event successfully. So, let's check them out.
Tips To Conduct A Successful Virtual Event
Keep A Check On Audio & Video
Audio and video are the most basic but crucial aspects of any virtual event. If the audio has distortions or is not adequately loud, the audience's experience is negatively impacted. Similarly, if the video output is buffering or does not have the desired quality, the attendees will start to disengage from the event.
For this reason, checking the audio and video output is essential. Firstly, you should only use high-quality equipment and tools for the live event. Secondly, performing a dry run with the live streaming setup is equally important. It helps you check and ensure that all the microphones, cameras, and other equipment are working and producing the desired output.
Configuring the audio and video properly also majorly depends on your production needs. Suppose, you need to conduct a virtual conference. In that case, you need to set up multiple mics and cameras for different speakers. So, determining the basic requirements for your live event is also crucial.
Use Content That Engages The Audience
Audience engagement is the key to success for every event. It is only possible if the content that you are providing to the attendees is interesting and interactive. Many times the event hosts only include factual information like statistics and figures, in the sessions. As a result, the audience faces "attention fatigue". It means that they find it difficult to stay focused on the session. In simple words, they get bored, which disengages them from the event.
If you want to conduct successful corporate events in Singapore then you should keep the content interesting and easy to consume. One of the best approaches is to introduce polls and quizzes that help you connect with the audience at a personal level. Moreover, you can also implement gamification or integrate mobile application support in the sessions to keep the attendees engaged. It facilitates active participation from the audience's side. This way, they engage more rather than just attending the session without showing participation.
Organize A Small Q&A Session During The Event
It is natural for the audience to come across some doubts and queries while attending the virtual session. For this reason, you should reserve a small duration of the event, specifically for the attendees who want to ask questions.
Not only it provides the audience with more clarity but also increases their engagement level in digital events. Moreover, when the attendees notice that they are being heard and their opinions are getting valued; it enhances your brand image and develops loyalty.
The best way to include a Q&A session in an event is to reserve some time in the end. However, you can also do it in between the virtual event, but it will cause more disturbance for the attendees than engaging them. So, the timing for the Q&A is also really important for the best results.
Offer Exclusive Takeaways and Incentives
If the audience has invested time and energy to attend your virtual event, they must get something in return as a reward. In digital events, it is not possible to give return gifts to the attendees, but you can still offer incentives and other exclusive offers.
Discount coupons, unique badges, and other virtual offerings can be given to the audience to engage them more with your business. Not only it makes the attendees feel special, but also generates positive word of mouth regarding your product and services. Because, the people who attended your virtual session will tell about the rewards to their friends, family, and relatives.
Conclusion
After going through the above tips, you can ensure that all your future corporate events in Singapore are a great success. By offering incentives, including Q&As, using engaging content, and keeping a check on the audio & video, you can enhance the audience's experience. Moreover, if you want to get the best results from corporate events in Singapore, you can reach out to a reputable event management company for expert assistance.
how to
About the author
Luke Wanliss is a professional blogger at The Executive Group. The Executive Group is a one-stop solution for event management and production companies in Singapore. We are a highly rated event management company in organising services.
Reader insights
Be the first to share your insights about this piece.
Add your insights