The Woman Conquering Space
On set with Britain's brightest new film producer.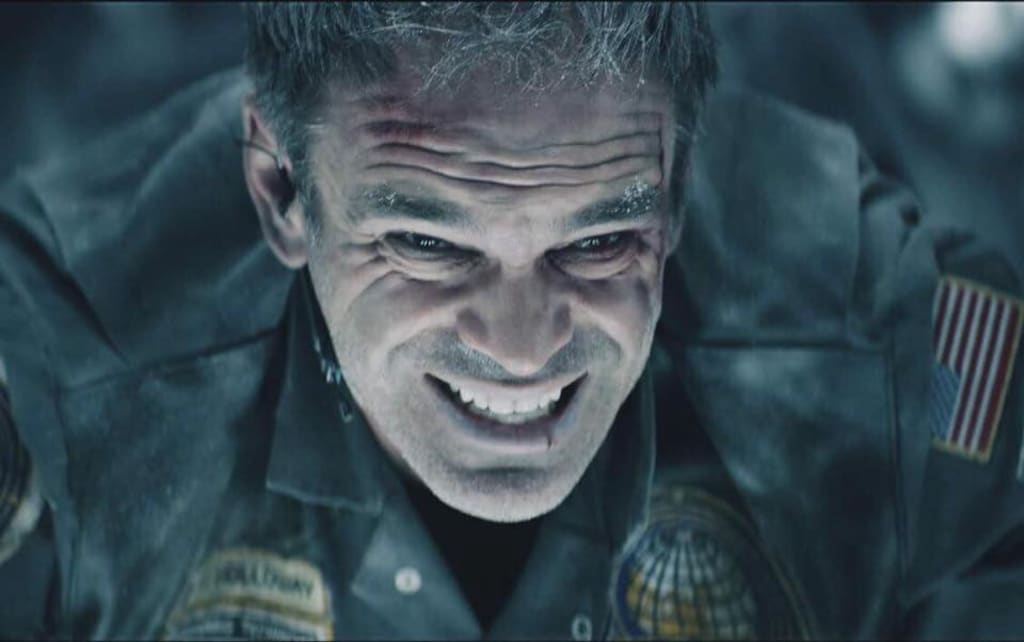 Steven Ogg in Solis. Photo: Bart Sienkiewicz
Across the Pond, Gale Anne Hurd and Kathleen Kennedy have become two of the most powerful women in Hollywood after years of hard graft on respective projects such as Aliens, The Walking Dead and the rebooted Star Wars saga.
Now a new British film producer is following in their inspiring footsteps, creating the sort of high end sci-fi adventure that could leave cash tills ringing around the world.
It's a freezing morning in the final hours of November 2016 as I arrive at GSP Studios near York. After the success of their acclaimed features such as The Knife That Killed Me, and Awaiting, they are boldly going into the world of intergalactic adventure.
Producer Charlette Kilby is wisely wrapped up warm after the coldest night of the year. She's overseeing filming on Solis, a visually stunning, emotionally gripping sci-fi movie starring Steven Ogg.
If you don't know his name, ask any gamer their favourite CG psychopath of recent years and chances are they'll say Trevor Phillips, the gloriously unhinged anti-hero who helped make GTA5 one of the fastest selling, highest grossing games of all time.
Since then the motion capture superstar has gone on to shine in The Walking Dead and Westworld, but Solis is the feature which will make him a star.
Ogg was lured from the heat of LA to the chilly East Riding of Yorkshire by the fact Solis is not your typical sci-fi offering. He connected with the emotional complexity of his character, Troy Holloway, a man whose plight should grab viewers in the opening minutes and not let go until the gripping finale.
When I first see the Canadian actor on screen, he's floating through a frozen corridor. I go next door onto the set and see him in the flesh through a veil of smoke. I suspect he's stood up, bent over. Then I realise he actually is floating; there's no wires above him. It's a trick any stage sorceror would be proud of.
For Charlette, getting magic like this on film is the culmination of years of planning, pitching, cold calling and getting enough money to make the dream a reality.
And in case you think she's one of the countless graduates stepping from college to a movie studio think again.
"Myself and Carl (Strathie), the writer and director of Solis, have been trying to make a feature film for the longest time," she explains. "We've been making shorts; we are completely self-taught. We didn't go to film school.
"Carl left school when he was 16 and has always wanted to be a film director, ever since he was little."
Charlette and Carl met at school when they were 11 years old. That friendship eventually blossomed into something more personal.
"I love films. I'm such a geek and watching films and going to the cinema was always a passion of mine, but I never thought you could make a career of it," she explains. "So Carl said 'I'm making this little film, do you want to come and help me?'
Charlette agreed, and they set to work.
It was originally planned as a feature. Though that never got completed, it is one of their many projects planned for the future.
"I guess the rest as they say is history. I just fell in love with it, explains Charlette. "It was literally me and Carl. Carl was on the camera directing and writing and I was pretty much doing everything else I was first A.D., doing sound and making the lunch."
"So from then on we were making short films, with a bunch of people who are here now. Our short film was their first film, and they've gone on to do some big stuff."
The photogenic producer is proof that you don't need to spend years being taught by academics to make it in the film industry. Just have a good idea and turn it into a reality. (For the sake of balance, the director is also a good looking bloke in case you're wondering).
"It's been years and years and years of trying to break into the industry, she explains. "Because we are self taught and we didn't go to film school, we didn't have that networking power. When you leave film school you have contacts and you can slip into plenty of avenues.
"We come from a small town in the coastal area of Essex. There is nothing in the way of 'film anything' there so we literally pushed and pushed and pushed.
"Carl wrote an armada of scripts, so at this moment in time there are 10 features ready to go."
The director was so impressed with Ogg's motion captured performance on GTA5, he wrote the sci-fi project for him.
"We approached his agent, three years ago now, and within days his agent got back, 'Steven's read it, he loves it. He wants to chat to you. When can you meet in LA?'
"We are like, 'We don't come from LA at all. We're from an obscure town in England," laughs Charlette.
The project started to take shape when they got acclaimed production designer Tony Noble on board, the man who had helped make Duncan Jones' debut feature Moon such an international success.
I'm like a kid on Christmas morning when I see Tony and his colleagues hard at work, creating Carl and Charlette's world.
Of course the best designer in the world, and Tony is one of them, can't paper over the cracks if there's no story. The beating heart of Solis is that emotional bond between the audience and the troubled protagonist. And thankfully, although the hardware is impressive, it's quite rightly just a backdrop to the human drama unfolding.
"The idea of this is that it's a man trapped inside an escape pod, but he's also trapped inside his own grief," explains Charlette.
"Certain times in your life you make mistakes and you have regret. And he's just trapped in that circle of regret. He's a man on a ledge essentially. He's ready to jump. 'I've messed up. I'm ready to pack it all in'."
However, help is at hand.
"Roberts, who is in the rescue ship coming to save him, is like the cop hanging out the window saying 'Don't jump! You've got so much to live for, and do you know what? Your life is actually better than mine. I've gone through worse than what you've gone through', and she is really the heroine in the fact that she pulls him back from the brink.
"She makes him see what life is all about, and for a character like Holloway, I think a lot of people can connect with him because you get to that point where you think 'Nothing has ever gone right for me. Is it just me or is it the universe working against me? Why did this happen to me? It's all my fault'. And I think a lot of people can connect with that."
Charlette explains that it's far more than just a binary plot of "the good guy and the bad guy".
"You got this intimate relationship with these two people trying to help each other. And at first they are against each other; they are in this stressful situation, but they managed to see past all that and... yeah, life is worth living. There is that emotional aspect to it. Not just 'shoot the bad guy and live happily ever after'."
It might be early days on the Solis shoot but Carl and Charlette are equally excited about their follow up, described as a cross between The Shining and Beetlejuice. THAT I can't wait to see, but obviously all eyes are on the present, or rather the future.
As I leave the Solis team, Steven Ogg is taking a well earned rest in the studio lobby. I'm six foot and he towers over me, but it's more than just physical height that is impressive. He dominates the screen, like a cross between Billy Bob Thornton and Usain Bolt. His teeth alone deserve an Oscar. They are dental perfection.
Film-making can be a precarious business, even on multi-million dollar sci-fi epics, but I love little movies that punch above their weight.
Given Ogg's impressive performance on day one and the skills of Charlette's crew, I get the feeling that Solis is one movie that won't get lost in space.
Roger Crow
The author and actor Steven Ogg. GSP Studios, East Yorkshire, Dec 2016