"The Truth Is Out There": A Visit to the International UFO Museum and Research Center in Roswell, New Mexico
In a city best known for its UFO heritage, the International UFO Museum is a fun tourist destination.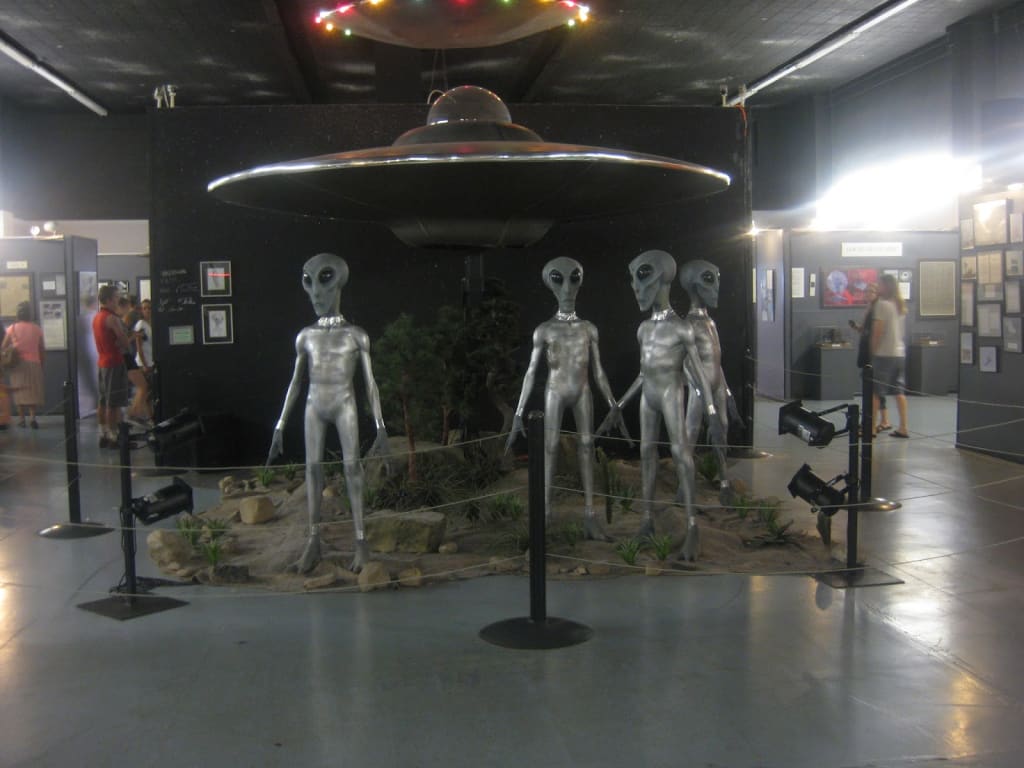 Let me start by saying, I'm not a person who believes that I've been abducted by aliens, and while I believe they exist, I don't believe that they visit humans, much less do all this probing that everyone talks about. I believe that there is so much universe and humans can't be the only intelligent life in it. That being said, I have wanted to visit Roswell, New Mexico for many, many, years. I love science fiction and couldn't help but want to visit the nerd-mecca that is Roswell. I finally had the opportunity last summer and went to visit the International UFO Museum and Research Center, even if it wasn't during the height of the tourism season. Adult admission is only $5 with discounts for children, military personnel, and seniors, and is open from 9 AM to 5 PM. I arrived with my mother around noon and parked in the free public parking. While there were quite a few people there, it wasn't uncomfortably crowded, even for me.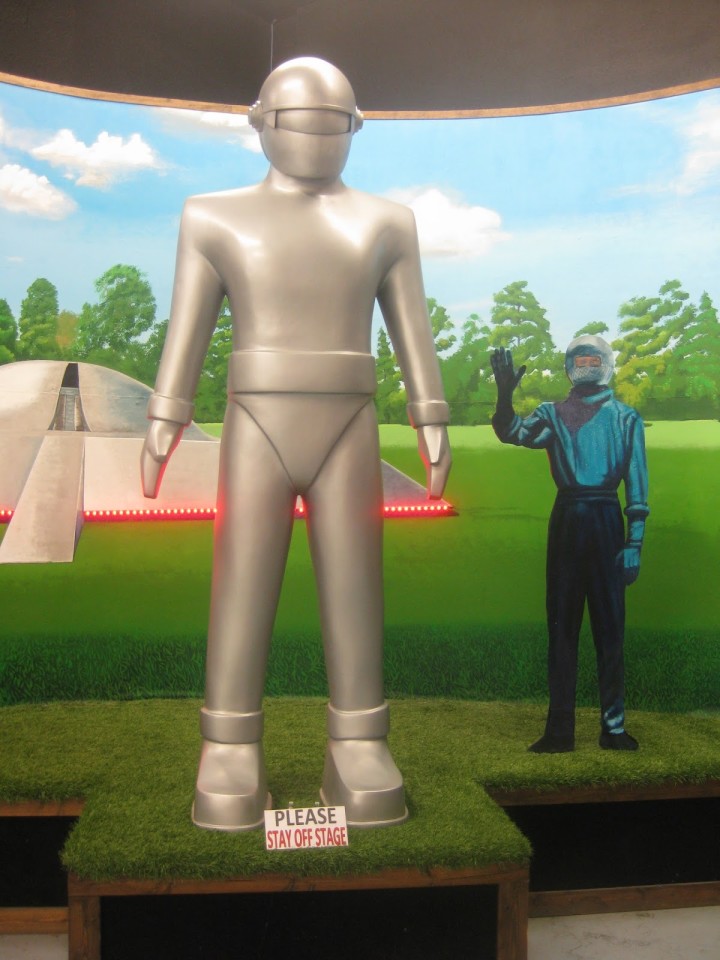 While I had high expectations, the museum was housed in a way that seemed almost temporary. The displays were housed in movable cubicles, with pin board walls and were set up in a way that would allow for swift movement and re-arranging of the displays. The floor was unfinished concrete and it didn't seem to really be laid out in any particular order. Many of the displays concentrate on government conspiracy theories and paperwork that is used to support the claims of visits by extraterrestrials. My favorite part of my visit was the area that housed old movie memorabilia including movie posters and props as well as the dioramas that were placed around the museum. The large diorama in the center of the museum (see top photo) was amazing and had smoke effects that happened on a set timer... According to the museum's Facebook, they will be having renovations soon. I can't wait to go back and see the new and improved museum.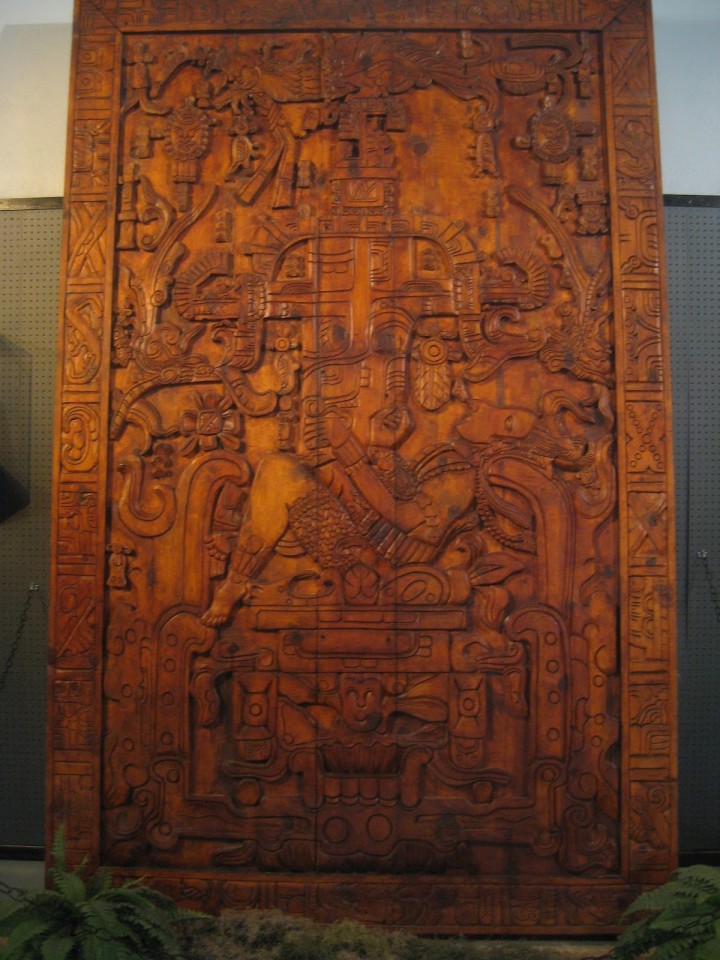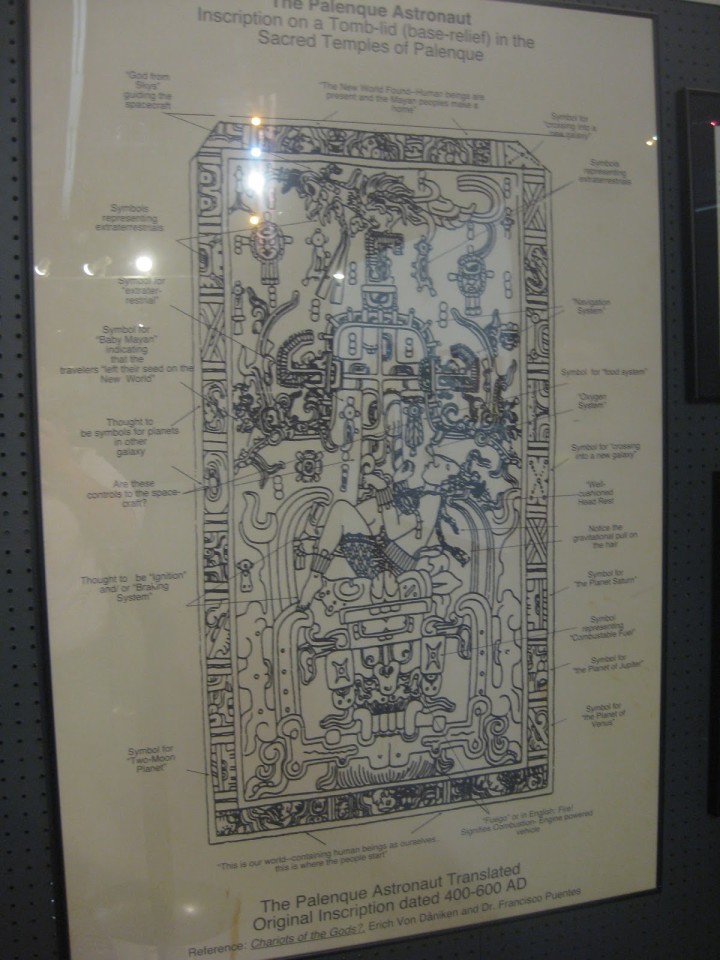 A lot of the displays were photos and records of alien appearances and textual evidence. The displays were numerous and dense, some of them I read and others I skipped. All of the displays that I spent time interacting with were interesting and informative. However, one of the things I really enjoyed was the above "Palenque Astronaut," a door-sized carving along with its accompanying "translation." The "Palenque Astronaut" was found in 1952 by Mexican archaeologist Alberto Ruz when he discovered the tomb of King Pacal inside the Temple of Inscriptions of Palenque in Chiapas, Mexico (Mayaculture). I thought it was interesting to see the interpretation of claims of alien contact from such an ancient civilization. I could have spent a couple hours really studying the interpretation and I think it would be an interesting subject to do further research on. After spending some time in the gift shop, which had all kinds of neat alien things, and taking some photos in the alien-themed photo booth, we realized we were pretty hungry and tried to find someplace to eat. Ultimately, we decided to head to Big D's Downtown Dive for lunch. I had the Tomahawk, a burger on Native American fry bread and garlic fries which were out of this world (pun intended). I have to say that the museum really wasn't what I expected, it was much more technical. In the end though, I am so glad I went. It was a once in a lifetime experience, it was entertaining and I greatly enjoyed myself.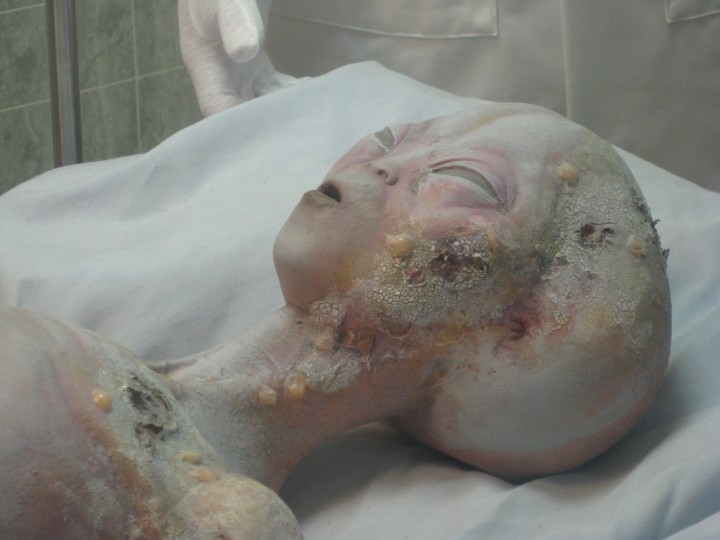 Resources:
Big D's Downtown Dive Facebook