The Seven Realms Series - Should You Read It?
Find out if you should read The Seven Realms Series by Cinda William Chima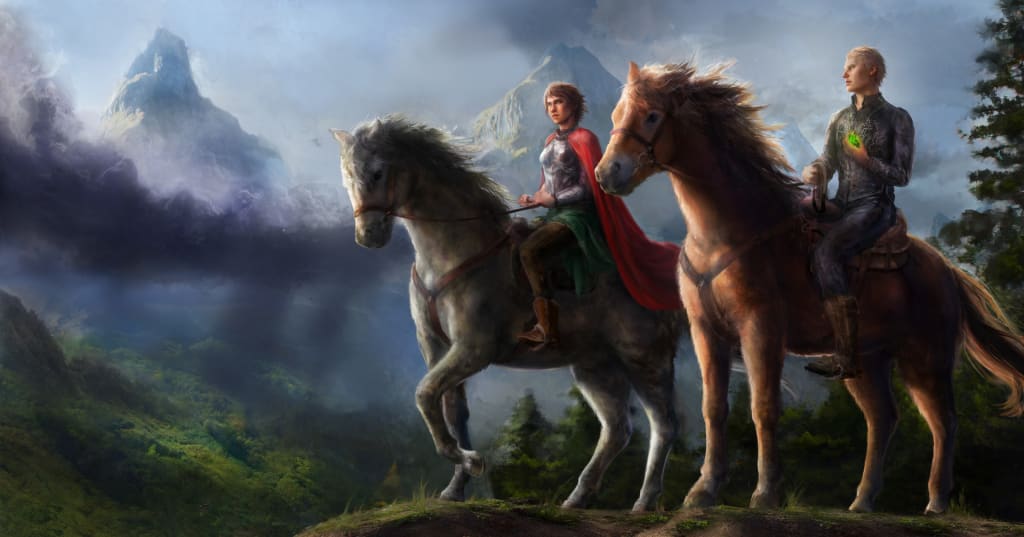 Han and Raisa | Fanart by Arianne Elliott
What's Seven Realms In a Nutshell (No Spoilers)
The Seven Realms Series takes place in a conventional fantasy world filled with medieval technologies, swordplay, castles, and keep. Written by the author, Cinda William Chima.
The story takes place in and around The Seven Realms, which were once ruled by the Gray Wolf Queens and their wizards & captain of the guard.
Becoming Friends with Characters & Worldbuilding
Surrounding the capital city, are the hilly Fells queendom, the kingdom of Tamron, the kingdom of Arden, the southern kingdoms of Bruinswallow and We'enhaven, the Southern Islands, and the Northern Islands are all part of the Seven Realms.
The series began with 2 leading characters namely Han Alister & Raisa ana'Marianna or commonly known as Rebecca Morley.
How The Story Began (Still, No Spoilers included)
Han Alister, 16, comes upon three juvenile wizards who are setting fire to Hanalea's sacred mountain.
Alister has no idea that this will set off a chain of events that will threaten to engulf the entire planet in chaos. Micah, the wizard, is forced to give him the amulet in order to prevent him from using it against him.
Later, Alister discovers that the amulet has a dark past and was formerly owned by the Demon King. The Demon King is a wicked sorcerer who nearly wiped out humanity millennia ago. The wizards will now go to any length to reclaim their amulet.
Following after Han, we have Princess Raisa ana'Marianna,
She is the successor to the Fells' Gray Wolf throne, has her own struggles to fight.
She finds that her life is about to change after spending three years of freedom with her father's family at Demonai Camp, riding, hunting, and working at the famous Clan markets.
Raisa feels like a prison is closing in around her as court life in Fellsmarch pinches her like a pair of tight shoes. An arranged marriage and a dwindling inheritance are, however, the least of her problems.
The Wizard Council's influence is expanding, and her people are starving and revolting. Despite their contrasting origins, Alister and Raisa find themselves in a race to maintain balancing the empire in between her hands.
So, Is The Seven Realms Series Worth Reading?
Kate from The Viking Vanguard shared her experience with the series:
I must admit that, despite knowing that they would eventually meet, I was still looking forward to that moment. I was interested to see how the author would handle such a meeting because they are such different personalities with such distinct lifestyles. She handled the situation admirably.
When they met, I admit I laughed out loud a little.
There are some books that you pick up and immediately perceive the author's lack of experience. That is not the case with "The Seven Realms." Nothing made me laugh out loud because it was so cheesy (it has happened before). If I cringed, it was because my favorite character was being tormented, and I could feel his anguish.
Really, the book was well-written, and despite the fact that it was marketed as a "young adult" novel, it felt deeper, more... serious to me than most novels.
Finding A Character To Root For
The cast of characters. Oh, how I adored the cast of characters.
Hanson, the male protagonist, is one of my all-time favorite characters. He is snarky, intelligent, and ambitious, among other things.
Raisa, the second lead, was also a favorite of mine. She was ignorant at initially, but she matured much throughout the course of the series.
Personally, I preferred Han's plot to Raisa's, but only because Raisa's was more political. Managing a kingdom and such. It was tough to stay completely focused when Han was rushing around and attempting to stay alive, as exciting as her plotline was.
The most crucial aspect of these characters is that they are realistic.
They still had flaws—they were still human—despite all of their outstanding traits. The author struck an excellent mix between idealized protagonists and real individuals. The romance between Han and Raisa was also convincing. They were both young, so there was all the usual turmoil that comes with such a relationship.
However, it was not the driving factor behind the books; both protagonists had far more to consider than the other.
The "Mature" Themes
Surprisingly, there were a few "adult" themes,
Ones that made you think. "History is written by the victor" is a recurring theme in the series. (For risk of spoiling something unintentionally, I can't say much more. )
As weird as it may sound, I enjoy seeing characters grapple with morality.
Life isn't always black and white: there are shades of grey, and it's nice to see that reflected in fiction. 'Hero triumphs and the bad guy perishes' can become tedious after a while.
Both primary characters were willing to do things that were less than heroic, while some villains turned out to be somewhat heroic.
To Sum It Up
I could go on forever.
I adored this series, and it's now tough to fill the void it left. I don't believe I was yet ready to leave that world. It should come as no surprise that I would enthusiastically recommend it to each and everyone. Of course, not everyone will enjoy the books.
This series will likely appeal to fantasy and adventure fans.
So go ahead and try it.
Get The Book On Amazon: click here

About the Author:
Jed Silverlake is a brand journalist & storyteller who has written SEO-driven articles that rank #1 in Google.
He has published and written articles for humble startups, e-commerce businesses, up to Fortune 1000 companies & private clients. For more content similar to his, you can follow his Medium profile.
Want me to write your story that ranks #1 on Google? Contact me and I just might write an article about you!
Amazon Partnership Disclosure:
We are a participant in the Amazon Services LLC Associates Program, an affiliate advertising program designed to provide a means for us to earn fees by linking to Amazon.com and affiliated sites.
To put it into simple words, there are affiliate links included in this article. If you happen to purchase through our link within 24 hours, we could earn a small commission (at no additional cost to you)
By doing that will help support my writing journey immensely. For that I'd like to personally say thank you.

A Bonus Just For You:
If you reached this far, here are some of the real-time reviews for The Seven Realm book series. You can also check reviews on Amazon, click here
Customer: Karen Blue

Rating: 5 out of 5 stars

I admit I read these books because of all the love I felt for FLAMECASTER and SHADOWCASTER. I know I kinda spoiled myself for this series. It turns out that it doesn't really matter. I fully enjoyed reading all the books in this series. I absolutely loved the world that the author has created and I am so glad I got to spend so much time in it.

This was such a fantastic fantasy series. Magic, betrayal, royalty, adventure, travel, love….it is all there and woven together beautifully. The writing is incredible and unforgettable. I am so glad I got to read these. I could not have asked for more from a series.
"The Tempo Is Slow..."
Customer: Anonymous (Kindle Customer)

Rating: 3 out of 5 stars

I quite liked these books. They are a fine combination of good writing and an interesting story line.

The tempo is a little slow sometimes and I caught myself becoming somewhat irritated at the obliviousness of the characters at some parts of the story.

I really enjoyed the parallels between past and present, it's a nice touch. Why only three stars you ask? I never really got that feeling where I care about the characters, as if they were long time friends.

This somewhat strange quality of a book is hard defined, but is really what marks the progression from good to fantastic.

That said, you should read it!
"Not A Page Turner..."
Customer: Squeky

Rating: 4 out of 5 stars

I read a lot of books of the teen adventure genre, even though I am definitely no longer a teen!

I very much enjoyed this set of books.

While I won't say that it was a "page turner that I couldnt put down", I was happy to return to the books night after night to see what happened next to our heros. A good series, by an author that I would be happy to continue following.
"Percy Jackson books..."
Customer: Anonymous (Mother of 6)

Rating: 5 out of 5 stars

My tween daughter enjoyed these

I bought this series for my daughter who had read & re-read the Percy Jackson books & was looking for a new series.

She is 12 and really liked this set, asking me to buy her the follow-up series (The Shattered Realms) now that she's finished these. I did read the first book in the series & found it interesting enough.

However, there is some suggestive language & the princess tends to flit from one romantic interest to the next, which I wasn't a fan of.

Otherwise, it has wizards, and magic, and all the fun items you'd look for in the fantasy genre. She also really enjoys the "Keeper of the Lost Cities" series if you are looking for another suggestion!
"I love the ending..."
Customer : Nicholas W. Dillon

Rating: 5 out of 5 stars

I first read the demon king years ago when I stayed with my grandma all the time and rereading it brought back many fond memories I hadn't thought of in years.

I loved the book then and think I love it more now because of the memories it brought to the surface so I eagerly bought the whole seven realms set and every free moment reading the other 3 as they were new and held wonderful adventures I loved the ending of the finally book and in my eagerness to learn more of the seven realms universe I accidentally learned something I maybe didn't want to.

(mild spoilers ahead)

While it has made me hesitant to start the shattered realms series I know I eventually will because it would be a disservice not to because even if I'd known from the beginning, like the talented author, I don't think it would've changed anything.

Having these memories, falling in love with these characters, knowing you don't always get to keep your happy endings, it was worth it. It will always be worth it to fall in love, be it with fictional characters or in the real world.
"looking at you, Game of Thrones..."
Customer: randymac

Rating: 5 out of 5 stars

I originally read this series in middle school, but as a college student I wanted to re-read it. It held up surprisingly well, and I loved the characters just as much. The world building is detailed without being hard to remember (looking at you, Game of Thrones), Raisa is admirable but not perfect, and Han Alister is the epitome of sticking it to the man in a way that I adore.

The romance is fun, without dominating the book, and the many different identities within the story that all fight for control is a tale not unlike real life. Overall, I would highly recommend the series, and it's definitely one I'll see myself coming back to time and time again
"This series is highly underrated..."
Customer: randymac

Rating: 4 out of 5 stars

This series is highly underrated. Everything from the world to the characters and the storyline. It's just fantastic! I can't get enough of this series. I have read it through three times back to back.

I highly recommend to anyone. I will say The first book Demon King is a little slow but I promise it gets faster and better!

Once you finish this series you should jump to the nest series in this lovely world, the shattered realms. Those are just as good of not better in their own way!

Thank you Cinda Williams Chima for creating this beautiful series!