The Science Fiction of Music
What prog rock owes to SF (and probably not vice-versa).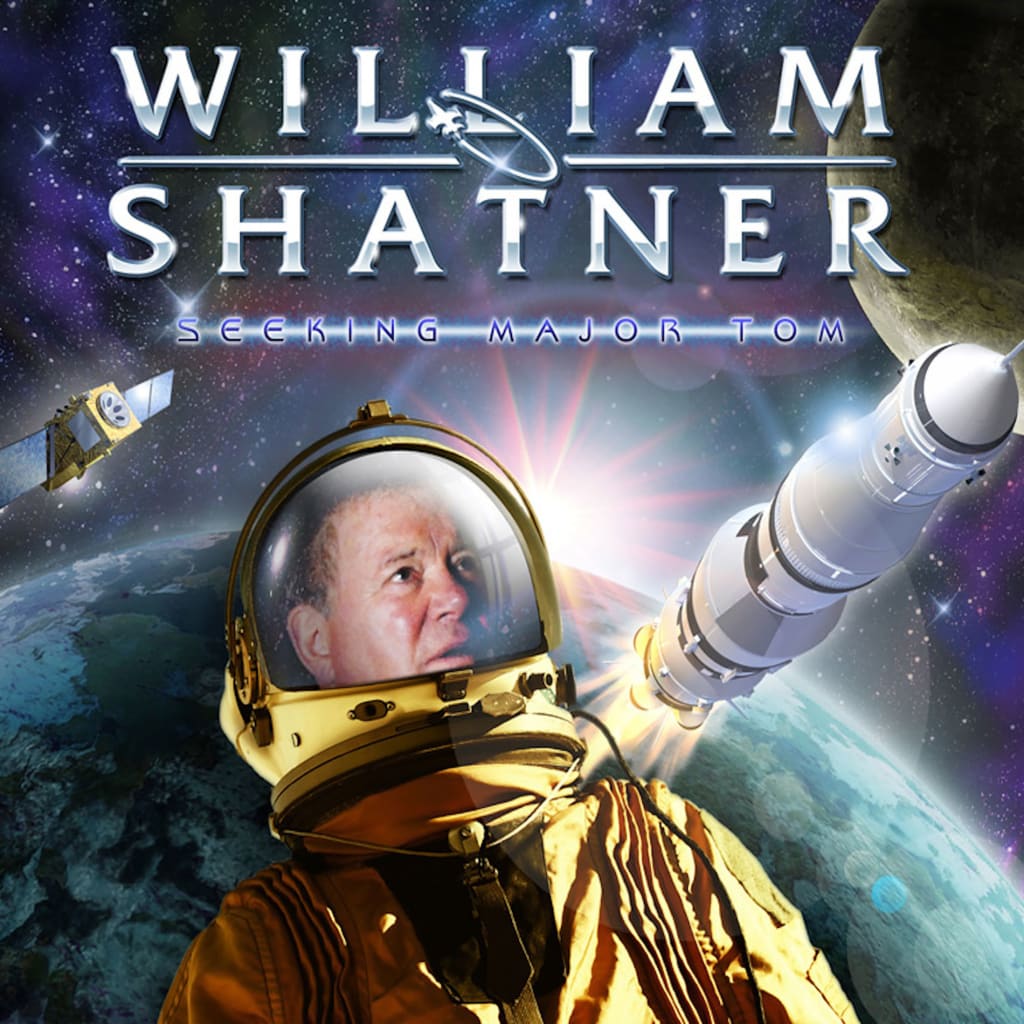 My first novel, Big in Japan, is about a neurotic American prog-rocker coming of age in Japan. My second, Jellyfish Dreams, is about a biologist's quest to reanimate his dead fiancée at the instigation of a black hole beneath his sofa. Readers who've read both books usually remark on how different they are, but I don't see it that way. For one thing: crazy artist, mad scientist—same difference. For another, even if you agree with (a quote I've seen attributed to) sf comics genius Warren Ellis that "Prog rock was sick and wrong then and it is sick and wrong now," one can't deny that prog drinks as liberally from the sf well as it does from the epic and fantasy ones. And so, a primer on some of history's more salient prog-sf conjunctions:
1966 – Psychedelic prog pioneer The Soft Machine forms in England (like the Batman, they eventually drop the "The"). They take their name from William Burroughs' experimental, biopunk, time-travel novel, The Soft Machine (published in 1961).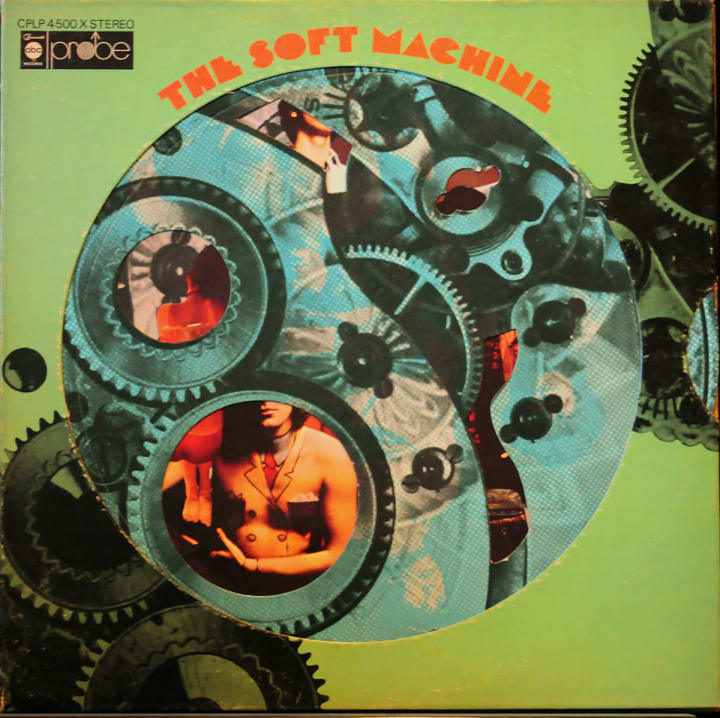 1966 – "Space rock" band Pink Floyd develops its first loyal following at London's UFO Club. They go on to record seminal sf-tinged classics The Dark Side of the Moon in 1973, Animals in 1975 (based on Orwell's Animal Farm), and the dystopian The Wall in 1979. Also in 1973, the band signs on to contribute to cult director Alejandro Jodorowsky's doomed adaptation of Frank Herbert's Dune.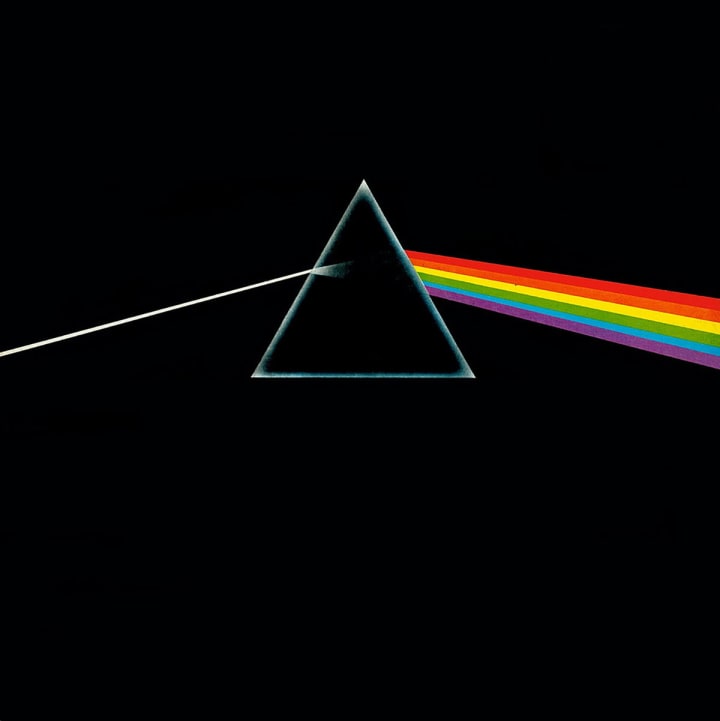 1967 – The Moody Blues releases Days of Future Passed, which isn't sf, though it sounds like it should be (the title gets repurposed in 2014 as Days of Future Past for an X-men film involving time travel). The band goes on to release, in 1969, To Our Children's Children, a concept album dealing with humans colonizing space over the next million years or so. It's not one of their better-reviewed albums, but it is the most explicitly sf.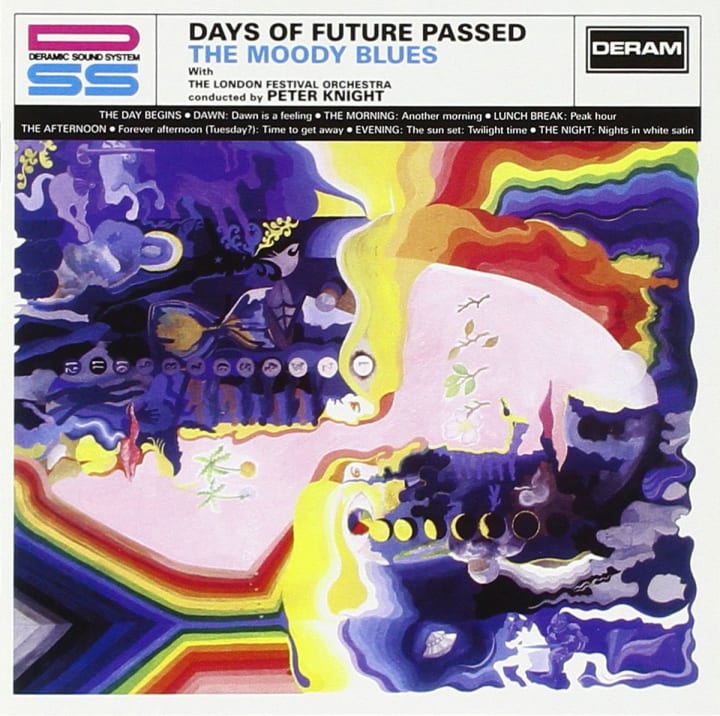 1968
– William Shatner, a.k.a. "Captain Kirk of Star Trek," releases
The Transformed Man
, a sort of prog/spoken-word amalgam that has become a classic of unintentional comedy. He goes on to release at least four more albums in this vein, and in a 2013 interview with Rolling Stone he is quoted as saying, "I think that prog rock is the science fiction of music." Incidentally, Leonard Nimoy, a.k.a. "Mr. Spock," released his own album,
Music From Outer Space
, the previous year, but there's nothing very proggy about it.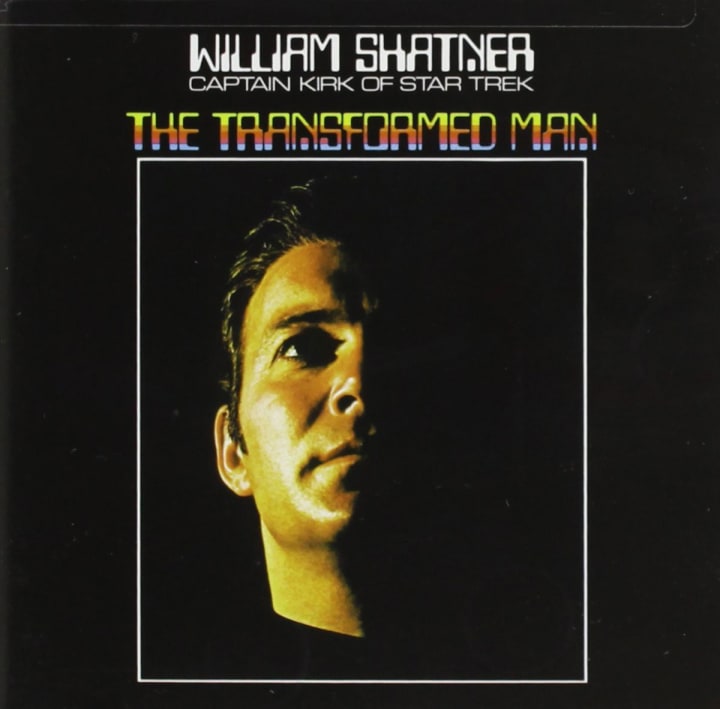 1969
– King Crimson releases their classic album
In the Court of the Crimson King
, which includes the single "21st Century Schizoid Man." The lyrics are cryptic but seem to extrapolate from the horrors of Vietnam a coming century of materialistic excess and insanity. The title track, while seeming to hark back to medieval times, nonetheless begins with the Heinleinian image "The rusted chains of prison moons are shattered by the sun"; both this song and Pink Floyd's
Animals
get cameos in the future London of Alfonso Cuaron's exquisite film
Children of Men
(2006).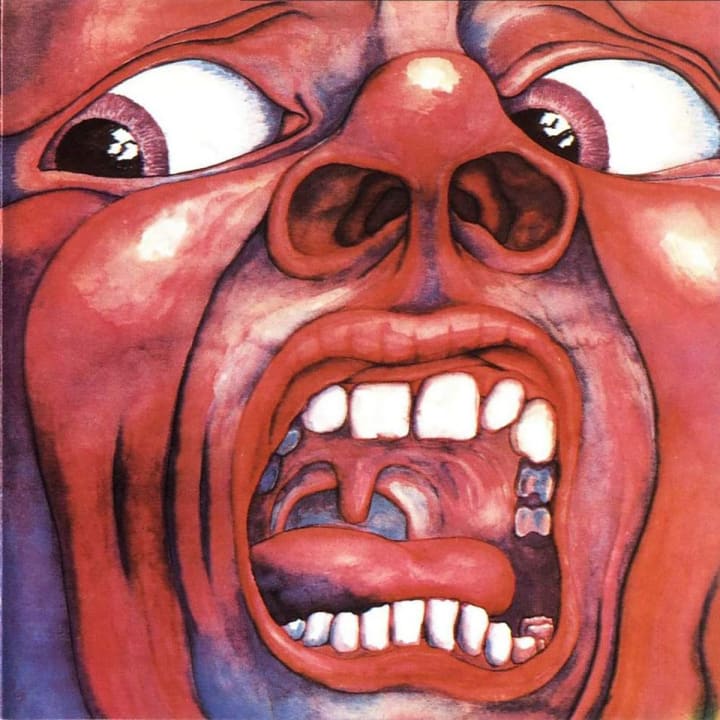 1970
– Yes releases
Time and a Word
, which includes the song "Astral Traveller," about, well, an astral traveller. The band goes on to release many more songs that are, if not sf exactly, at least "cosmic" in their concerns. But by far the most sf thing about Yes is Roger Dean's iconic cover art, which adorns over two dozen of their albums. Dean's art usually depicts vaguely alien landscapes, and in 2013 he seeks damages from James Cameron, alleging that Cameron used his art in creating the world of Pandora for 2009's
Avatar
; he doesn't win the suit.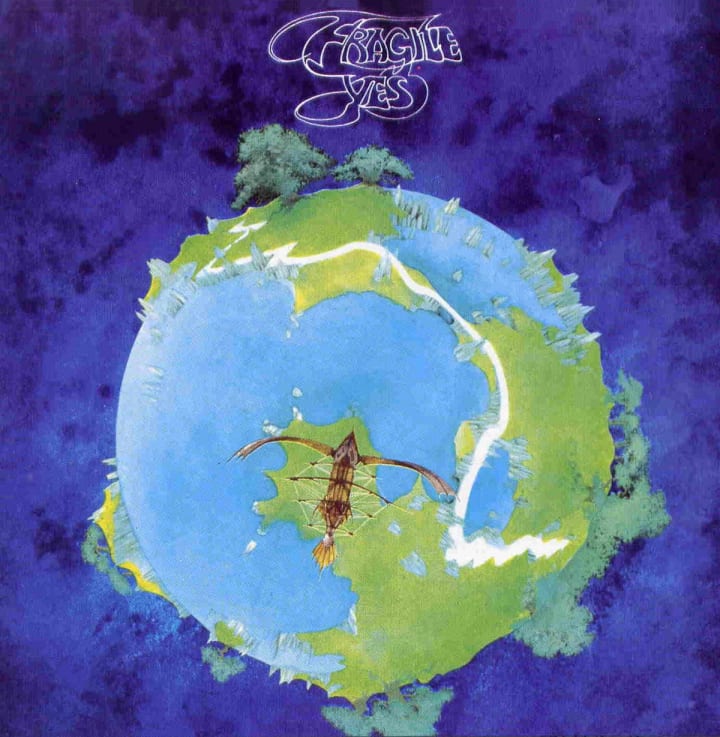 1971
– New-Wave sf author Michael Moorcock contributes lyrics to Hawkwind's
In Search of Space
. He collaborates with them again in 1975 for the album
Warrior on the Edge of Time
, based loosely on his "Eternal Champion" character archetype (a pan-dimensional hero chosen to restore the balance of the universe). Finally, Moorcock contributes lyrics to
The Chronicles of the Black Sword
, based on his
Elric
series, in 1985.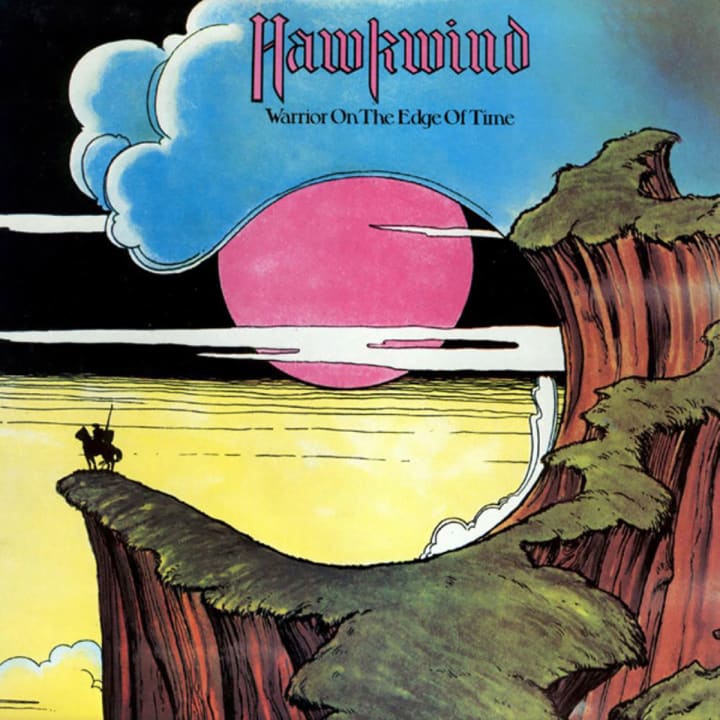 1972
– The opening track of Genesis' album
Foxtrot
, "Watcher of the Skies," adopts the point of view of an alien surveying a deserted Earth. It is inspired in part by Arthur C. Clarke's masterpiece,
Childhood's End
, which title Pink Floyd lifts wholesale for one of their songs that same year, and which Van der Graaf Generator reappropriates in 1976 for their epic "Childlike Faith in Childhood's End," which incorporates cosmic-nerdy lyrics like this: "As anti-matter sucks and pulses periodically the bud unfolds, the bloom is dead, all space is living history."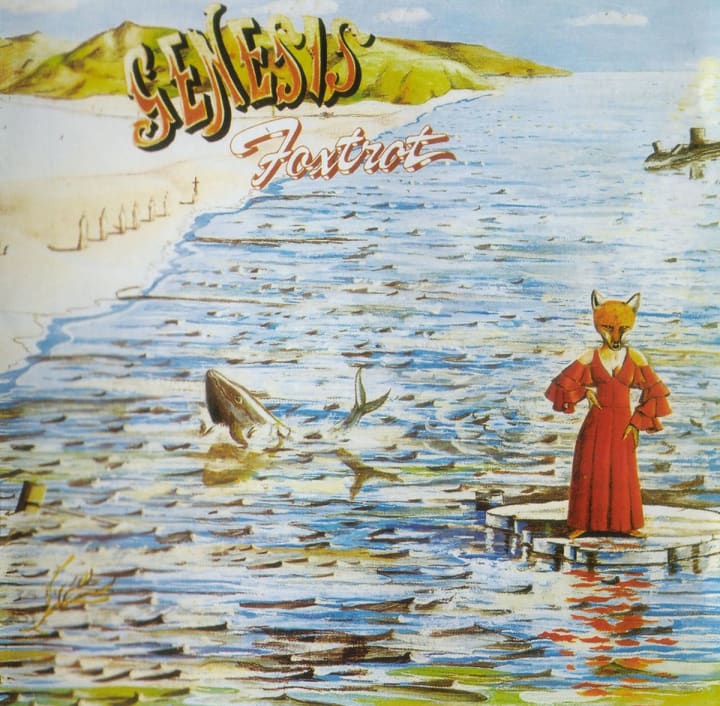 1972 – David Bowie releases The Rise and Fall of Ziggy Stardust and the Spiders from Mars, which is art rock, if not exactly prog. The album introduces Bowie's alter ego, Ziggy Stardust, a rockstar who channels extraterrestrials. In an interview with William Burroughs, Bowie explains just how high-concept Ziggy is: "When the infinites arrive, they take bits of Ziggy to make them real because in their original state they are anti-matter and cannot exist in our world. And they tear him to pieces on stage during the song 'Rock 'n' roll suicide'. As soon as Ziggy dies on stage the infinites take his elements and make themselves visible."
Bowie regularly visits space themes throughout his career, most famously in 1969's "Space Oddity," about a stranded astronaut (and with a title inspired by Kubrick's 2001: A Space Odyssey), and in his swan song, Blackstar, released two days before his death in January 2016.
Bowie also stars as an extraterrestrial in the 1976 film The Man Who Fell to Earth, and his son, Duncan Jones, becomes one of the more interesting sf directors of his generation (viz. Moon, Source Code).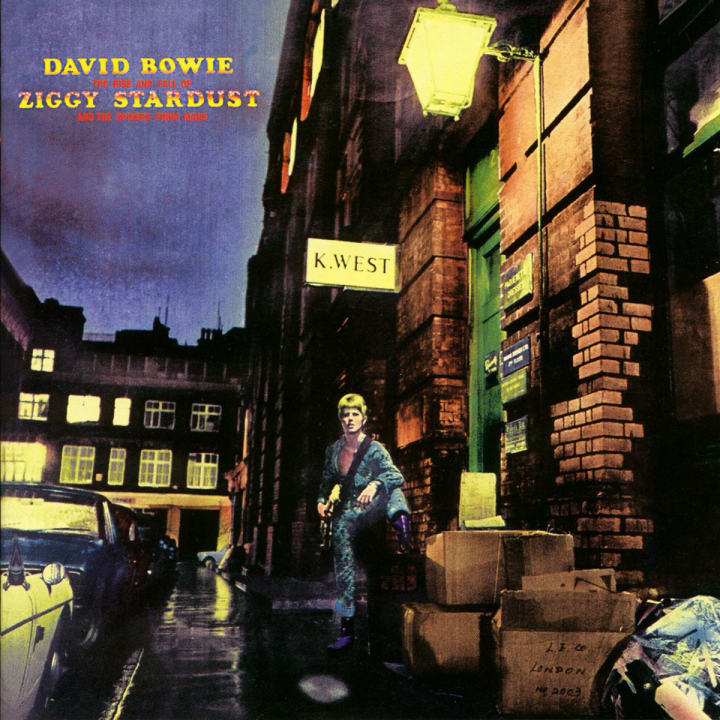 1973 – Emerson, Lake and Palmer releases Brain Salad Surgery, the lyrics of which deal, at least in part, with a future war between humans and computers. The album art—a human skull on the cover, a fleshier version with alien features on the inside—is designed by H.R. Giger, who later wins an Academy Award for his design work on Alien and is inducted, in 2013, into the Science Fiction and Fantasy Hall of Fame. He, too, signs on for Jodorowsky's doomed Dune.
Incidentally, the title of ELP's 1971 record, Tarkus, refers to the cyborg armadillo on the cover. In Keith Emerson's words, " this armadillo needed a science fiction kind of name that represented Charles Darwin's theory of evolution in reverse. Some mutilation of the species caused by radiation…"Tarkus"!"
And another thing: Koji Kondo, Nintendo's first video game composer (Super Mario, The Legend of Zelda), cites ELP as a major influence, as does Nobuo Uematsu, another well respected video game composer, who recorded, among other things, the music for most of the Final Fantasy series.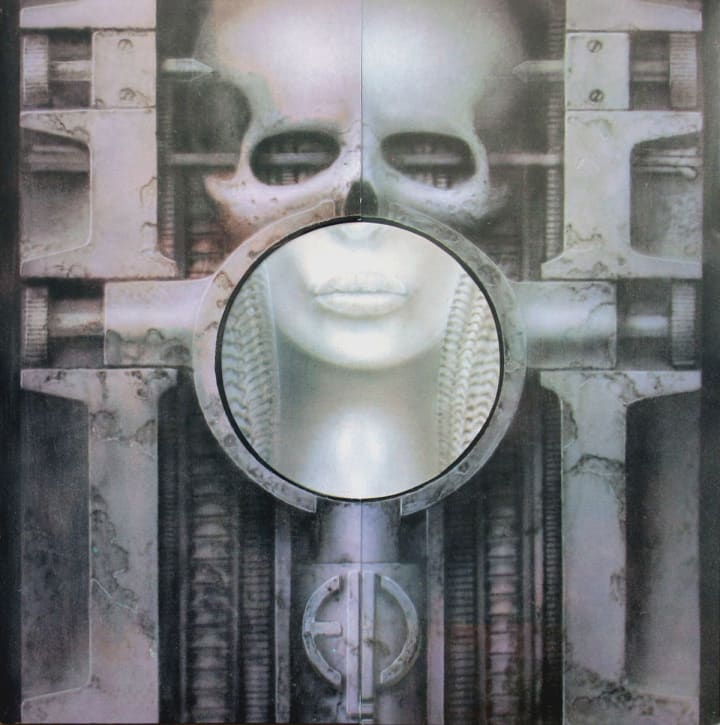 1974
– Yes keyboardist Rick Wakeman releases his best-known album,
Journey to the Center of the Earth
, a prog rock opera constructed around Jules Vernes' proto-sf voyage extraordinaire. It sells fourteen million copies.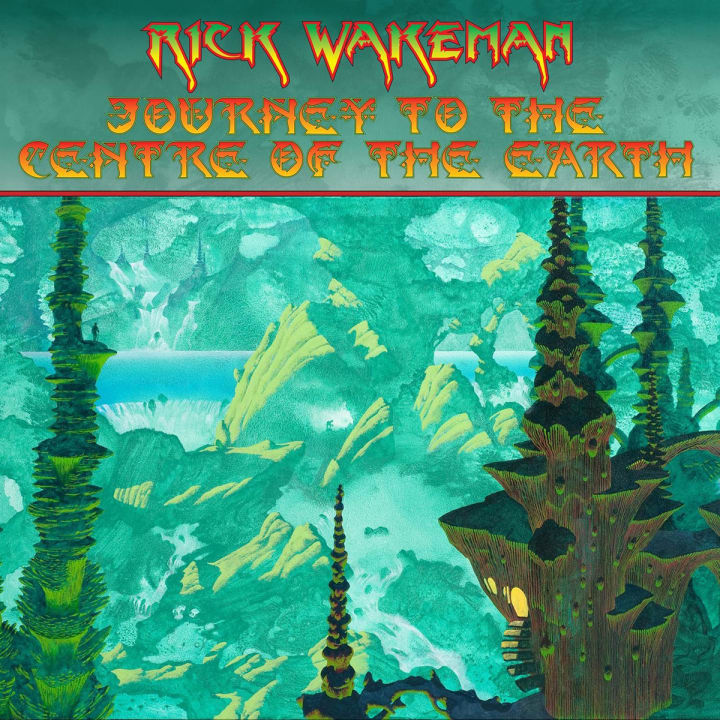 1976 – Rush releases its breakthrough, platinum-selling 2112, a seven-part, Ayn Rand-inspired concept album about a dystopian Solar Federation and one man's ill-fated attempt at resistance by guitar: "'My friend Jon always said it was nicer here than under the atmospheric domes of the Outer Planets. We have had peace since 2062, when the surviving planets were banded together under the Red Star of the Solar Federation. The less fortunate gave us a few new moons. I believed what I was told. I thought it was a good life, I thought I was happy. Then I found something that changed it all…"
On 1977's Farewell to Kings and 1978's Hemispheres, Rush releases their two-part epic, "Cygnus X-1," about an astronaut who gets sucked into a black hole and emerges in Olympus, where a cosmic battle rages between Apollo and Dionysius.
Rush's 1984 album, Grace Under Pressure, includes the song "The Body Electric," loosely based on Ray Bradbury's short story "I Sing the Body Electric," about the consolations of having a robotic grandmother.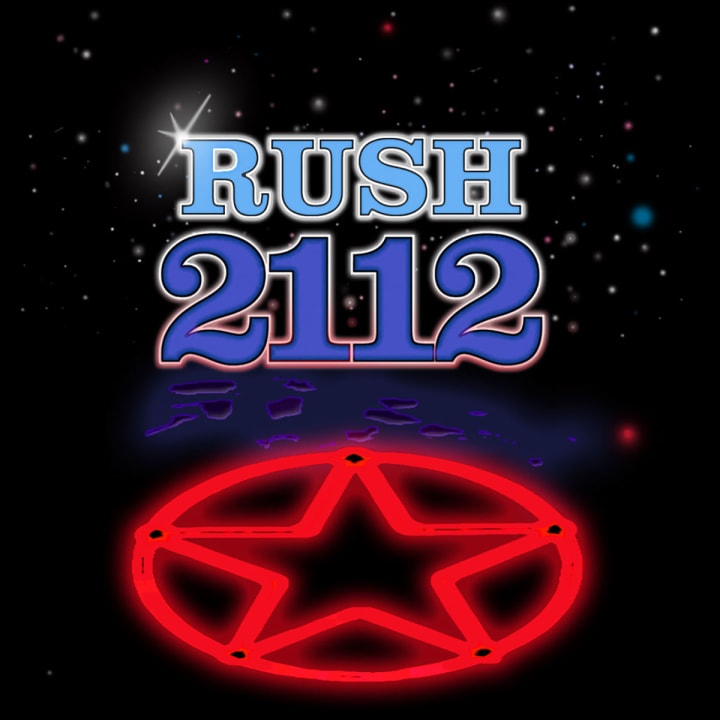 1978
– German electronic-prog group Kraftwerk releases
The Man-Machine
, featuring lyrically minimal but unambiguously sf tracks like "The Robots," "Spacelab," and "Metropolis."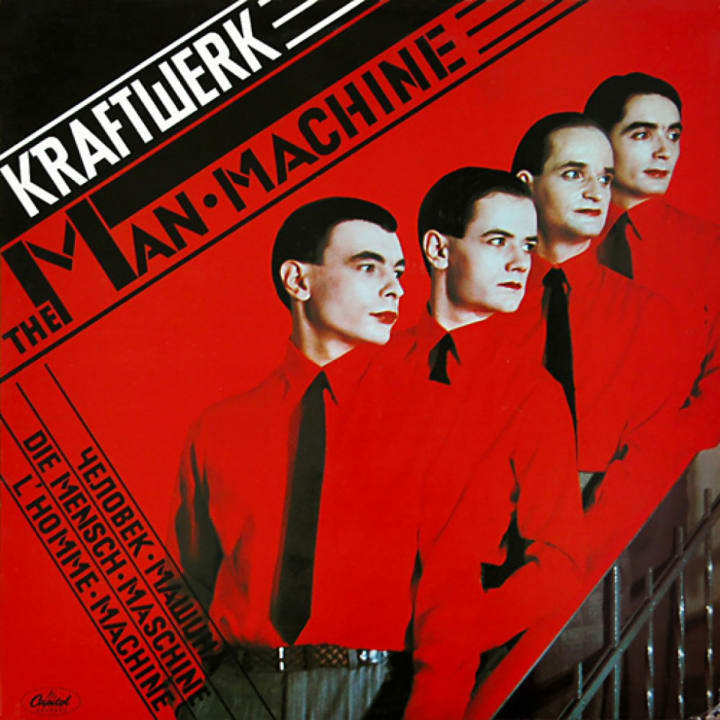 1981
– Electric Light Orchestra, who use giant flying saucers as stage props, releases
Time
, a concept album about a man from the 1980s time-traveling to 2095 and feeling nostalgic for simpler times. From "Ticket to the Moon": "Remember the good old 1980's, when things were so uncomplicated/I wish I could go back there again and everything could be the same."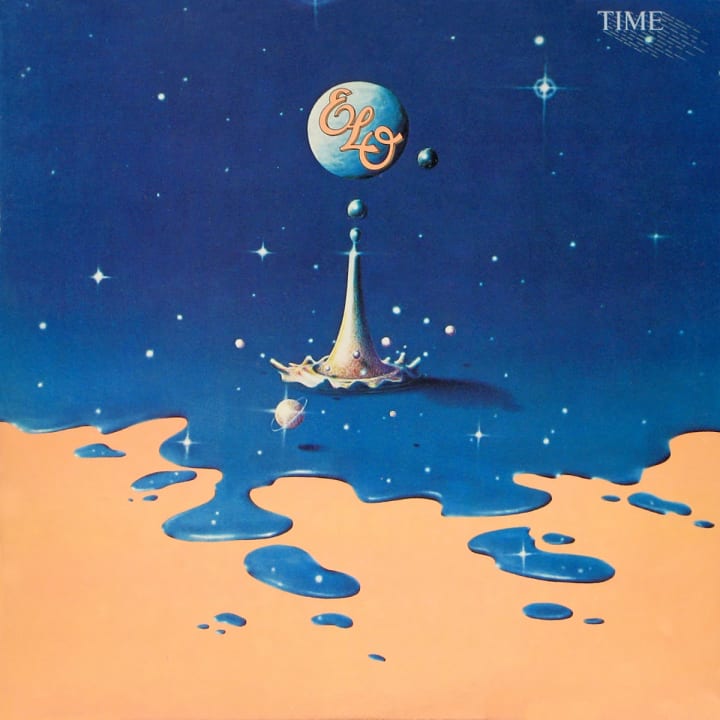 1983 – Iron Maiden releases Piece of Mind, which includes the song "To Tame a Land," which is essentially a synopsis of Frank Herbert's Dune. In fact, the band wanted to call the song "Dune," but according to Mick Wall, author of the band's authorized biography, Herbert's agent responded to their request this way: "Frank Herbert doesn't like rock bands, particularly heavy rock bands, and especially bands like Iron Maiden."
In 1986, the band releases platinum-selling Somewhere In Time, with a cover by Derek Riggs that clearly pays homage to Blade Runner.
In 2000, they release Brave New World, after Huxley's classic dystopian novel of the thirties.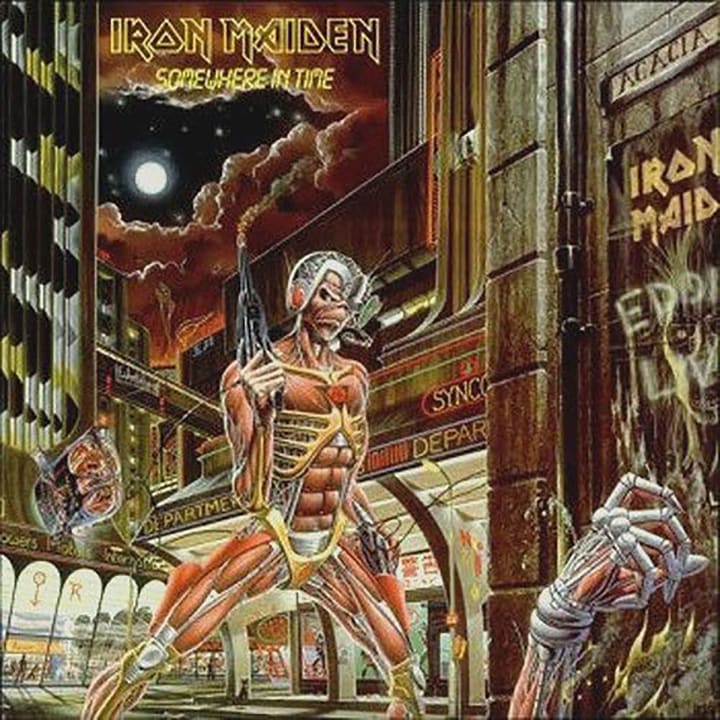 1991
– The cover art of Queen's album
Innuendo
—designed by Queen and Richard Gray—features a cosmic, vaguely Einsteinian jester juggling planets—and a banana—amid multiple Earths while a comparatively small, and clearly dazzled, Victorian gentleman reels.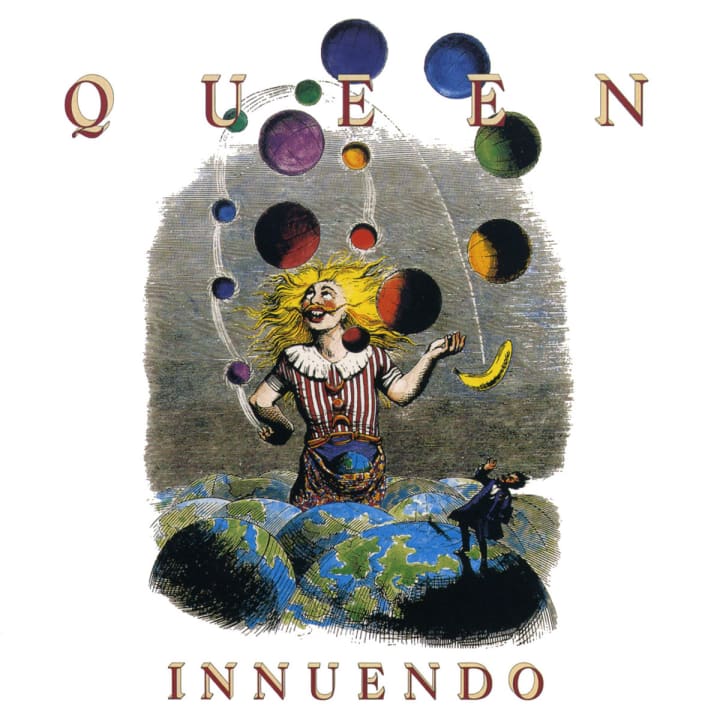 1997
– Radiohead releases
OK Computer
, which is, if not prog exactly, certainly experimental rock (not to mention a masterpiece, by any account). It includes the tracks "Paranoid Android," after Marvin from Douglas Adams'
The Hitchhiker's Guide to the Galaxy
, and "Subterranean Homesick Alien," about an alien abduction.
2000
– "New prog" group Coheed and Cambria release
Delirium Trigger
, which includes a few songs based on
The Amory Wars
, a series of sf comic books by frontman Claudio Sanchez. At least seven of their albums will advance the cosmic saga.
2006 – Muse releases Black Holes and Revelations, which, in addition to having "Black Holes" in its title, includes the song "Exo-politics," about a trade deal between extraterrestrials and the US government: "When the Zetas fill the skies/It's just our leaders in disguise/Fully loaded satellites/Will conquer nothing but our minds."
The band's 2009 album, The Resistance, is a rock opera about humans fleeing a dying Earth to explore the wider galaxy.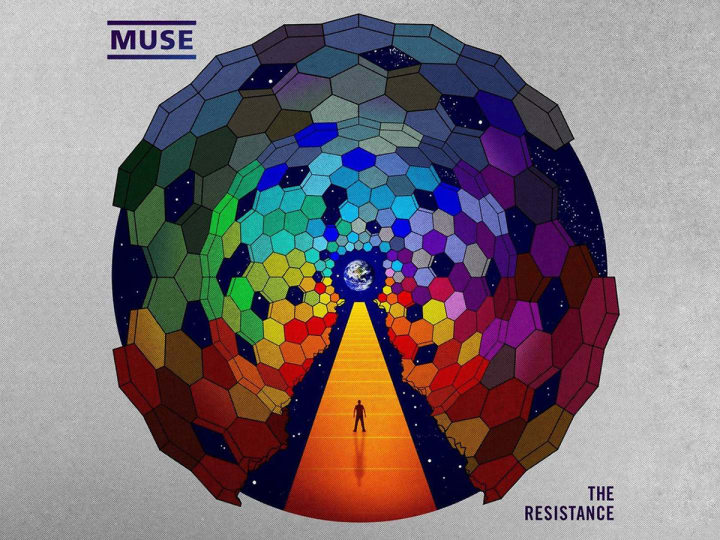 2012
– French, prog-inspired electronica band Air releases a soundtrack to Georges Melies'
Le Voyage dans la Lune
(
The Trip To The Moon
), the first-ever sf film (1902)—and until now a silent one.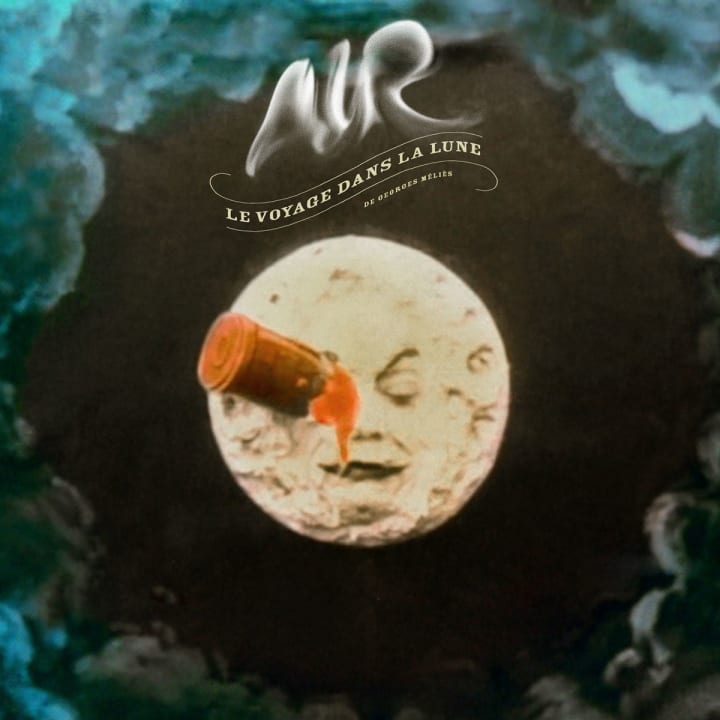 2015 – Spock's Beard—which I'm including mainly because they took their name from the Star Trek episode "Mirror, Mirror"—releases The Oblivion Particle, which includes on-the-nose time-travel track "Bennett Built a Time Machine": " To meet himself as a younger man / Show the teenage him a perfect plan / The stocks to buy, girls not to date / He knows the way to reinvent his future / Un-make mistakes, un-seal his fate."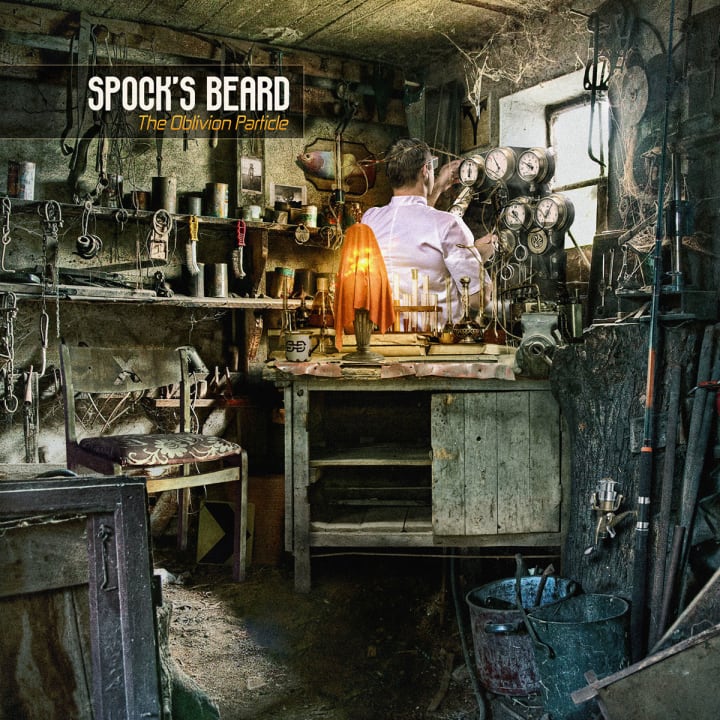 2016
– Dream Theater releases double-disc rock opera
The Astonishing
, set in a dystopian United States circa 2285. I couldn't stomach the lyrics on a first listen, but apparently it deals with AI themes. And the cover has some
Star Wars
-y drones on it.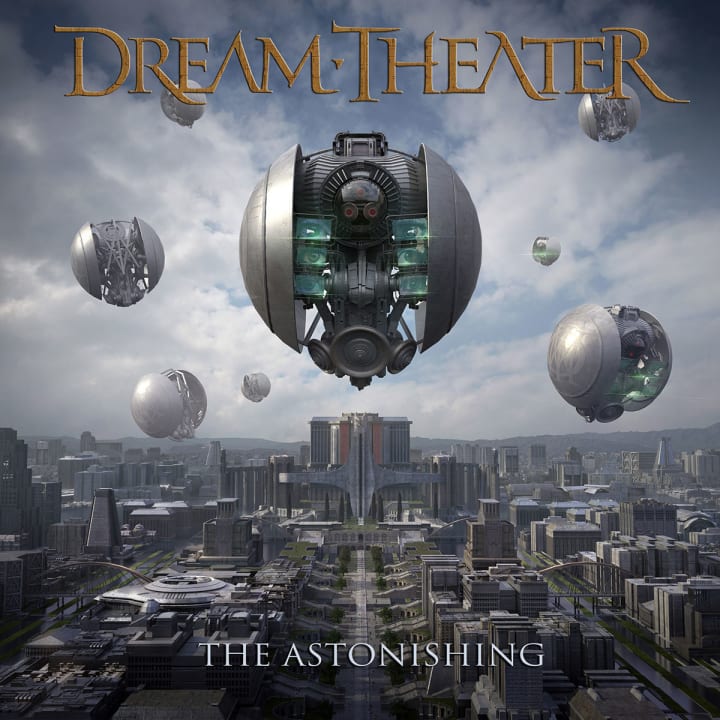 There's so much more sf-inspired music I'm tempted to include (Thomas Dolby, Gary Numan, Bjork, Flaming Lips, Daft Punk, Sun Ra, God is an Astronaut), but one has to draw lines somewhere. I recognize, of course, that one can't make a list like this without pissing some people off. My apologies if you're on of them. By all means set me straight via my blog.
"If Kurt Vonnegut and Douglas Adams had a baby, it would look a lot like 'King of the Worlds.' With its tongue-in-cheek humor and intelligent allusions, this is the kind of fiction that playfully reassembles tropes and rejects all labels. It's a dark riot." — Mindy-Lynn Sanico, Honolulu Star-Advertiser"...hints of other greats like Kurt Vonnegut and David Foster Wallace...represent some of the funnest aspects of a novel that takes its fun pretty seriously...It's almost like looking back in time to a literary landscape that is long gone now. Or maybe into the future." — Art Edwards, Entropy Magazine
This dark comedy explores the lost universes of disgraced idol Dylan Greenyears. Dylan had always wanted to live as many lives as he could—that was the appeal of being an actor. But at the end of a brief, bright stint as a Hollywood heartthrob, Dylan loses the lead in Titanic and exiles himself and his wife to a recently settled exoplanet called New Taiwan.
For a while, life beyond Earth seems uncannily un-wondrous. Dylan teaches at an American prep school, raises a family with his high school sweetheart, and lives out his restlessness through literature. But then a box of old fan mail (and the hint of a galaxy-wide conspiracy) offers Dylan a chance to recapture the past. As he tries to balance this transdimensional midlife crisis against family life, Dylan encounters a cast of extraordinary characters: a supercomputer with aspirations of godhood; a Mormon-fundamentalist superfan; an android Frank Sinatra; a sampling of his alternate selves; and, once again, the love of his lives.
A singularly mind-blowing, genre-bending performance, King of the Worlds is a literary take on science fiction that throws cosmology, technology, 90s pop culture, and religion into an existential blender that is by turns tragic and absurd, elegiac and filled with wonder.
(An earlier version of this article appeared in Entropy.)