The Sales Intelligence Tool You Need to Reach Every Buyer on Earth
Apollo.io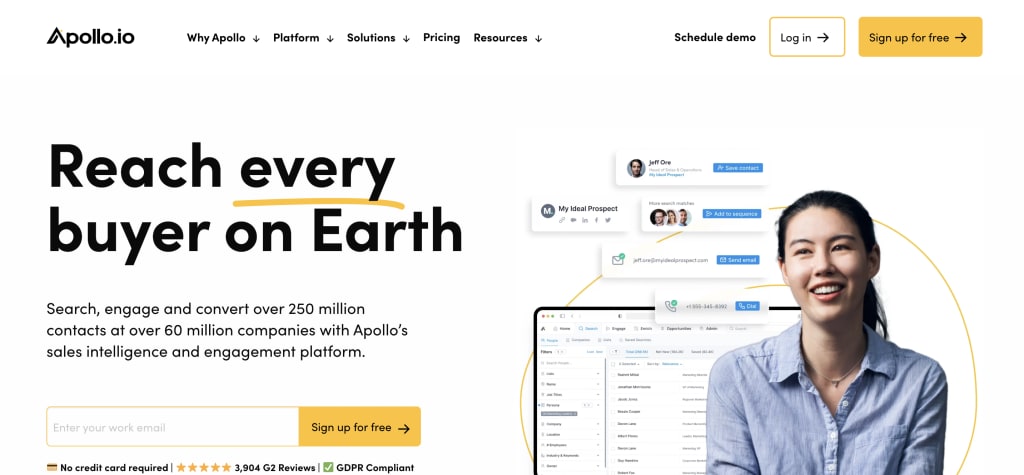 As a sales professional, you understand the importance of having a robust sales intelligence and engagement platform to reach your target audience. However, with so many options available, it can be challenging to determine which tool is best suited for your needs. This is where Apollo.io comes in. Apollo.io is a powerful sales intelligence and engagement platform that enables you to search, engage, and convert over 250 million contacts at over 60 million companies, making it the perfect tool for sales teams looking to expand their reach and close more deals.
Fresh and Accurate Data
One of the most significant advantages of Apollo.io is its fresh and accurate data. With over 150 million verified emails and mobile numbers of over 2 million+ companies, Apollo.io's data is refreshed more frequently than other vendors, ensuring that you always have access to the most up-to-date information. This is critical for sales teams who rely on accurate data to make informed decisions and reach their target audience.
Make GTM Simple and effective
Apollo.io is an all-in-one platform that simplifies your go-to-market (GTM) strategy. Whether you want to use it as a standalone platform or integrate it with your favorite CRM and Sales Engagement tool, Apollo.io makes it easy for you to streamline your sales process and focus on what matters most: closing deals. With Apollo.io, you can manage your entire sales process in one place, from prospecting to closing deals.
Free to Start, Low Commitment.
Apollo.io offers flexible pricing plans that fit your budget, making it accessible to companies of all sizes. Whether you want to start with a monthly plan or go all-in annually, Apollo.io has a pricing plan that suits your needs. Additionally, Apollo.io offers a free plan that gives you about 1500 credits(One credit per email contact), allowing you to try out the platform and see if it's right for your business.
Search & Engage your leads within seconds
Apollo.io's powerful search capabilities enable you to target over 250 million prospects with laser precision. With Apollo.io, you can identify and engage your target audience through automated workflows in the all-in-one platform or via other sales engagement tools. This allows you to personalize your outreach, increasing your chances of converting prospects into customers.
Analyze & Optimize depending on your prospects
Apollo.io's data-based prospecting decisions feature split tests and sales analytics, enabling you to make informed decisions based on data. Alternatively, you can let Apollo.io's recommendation engine find your next prospect for you. This feature makes it immensley easy to optimize your sales process and maximize your results.
Apollo Chrome Extension
Finally, Apollo.io's Chrome extension allows you to prospect verified email addresses and phone numbers directly from LinkedIn. Additionally, you can use Apollo Anywhere to identify new target accounts, making it easier than ever to expand your reach and find new leads.
Apollo.io can also be integrated with your gmail. What it does is it gives a few more features that arent in the gmails free plan, The most important one is email tracking. With email tracking you are able to accurately measure your open rates, delivery rates and response rates. This helps you improve upon your email marketing as a professional
In conclusion, Apollo.io is the perfect sales intelligence and engagement platform for sales teams looking to expand their reach and close more deals. With fresh and accurate data, an all-in-one platform, flexible pricing plans, powerful search and engagement capabilities, data-based prospecting decisions, and a Chrome extension, Apollo.io is a must-have tool for sales professionals. So why wait? Sign up for Apollo.io today and start reaching every buyer on Earth.
Dont forget to follow for more content that supercharges your productivity.
Reader insights
Be the first to share your insights about this piece.
Add your insights