The Real Reason 'Rogue One' Was Trending This Weekend
Where Does It Rank For You?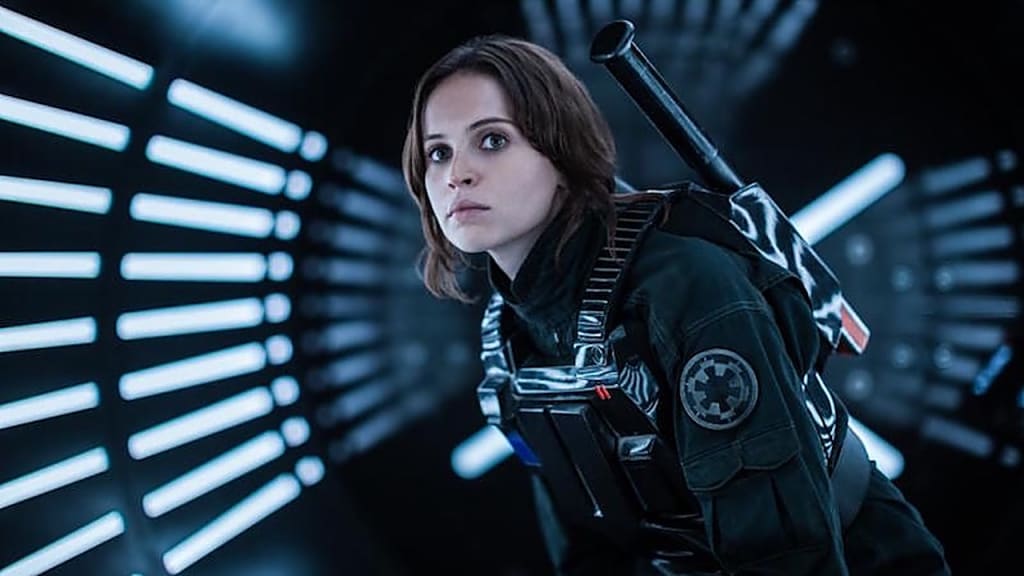 The new era of Star Wars continues for millions of fans across the world. With the Star Wars universe continues to expand the mythology on various platforms like Disney+, comic books, video games, and of course (in the not too distant future), theaters. It's an exciting time with a lot of curiosity.
We should all remember arguably the best film in the franchise, Rogue One: A Star Wars Story. This film drew deeply on the Star Wars mythology while breaking new narrative and aesthetic ground and suggesting a bright blockbuster future for the franchise. That is an achievement, given that the latter films Solo: A Star Wars Story, Star Wars: The Last Jedi, and Star Wars: The Rise of Skywalker tried to continue the trend but disappointed some of the fanbase or did not do as well in the box office.
One of the best aspects of the 2016 movie is that it did not focus so much on the Skywalker family. Instead, it told a war story about a team of rebels that steals the Death Star plans, setting in motion the events that we see in Star Wars: A New Hope. Some type of Suicide Squad, eh? But a few days ago, Rogue One was trending on Twitter, with fans chiming in about what they love about the film.
Throughout it all, Rogue One has remained a beloved part of the Star Wars canon to this day, and it has trended worldwide for the third time in just a few months. The immediate prequel to Star Wars: A New Hope captured the imaginations of millions of Twitter users last November of 2020 before doing the same thing weeks later to coincide with the fourth anniversary of its release that December. And as you can see below, it happened all over again.
"No idea why Rogue One is trending and don't need to know why because Rogue One rules and it should always be trending."

-Eric Goldman (@TheEricGoldman)
"Rogue One's cinematography remains unmatched and easily has some of the best in Star Wars"

-Phil • The Horizoneer (@TheHorizoneer)
"I'll use every instance of Rogue One trending to remind the world that Star Wars made a whistleblower the most crucial figure in history. In a galaxy full of wizards and military geniuses, Bodhi Rook and his conscience quite possibly made the biggest difference."

-Justin Bolger (@JustinMBolger)
"Not sure why Rogue One is trending but seems like a good time to remind everyone that this is one of the most viscerally exhilarating moments in all of Star Wars."

-Friends of the Force Podcast (@FriendsOfForce)
"#RogueOne I guess is trending. So I thought I'd post one of my very first concepts for what the team might have looked like. #StarWars #conceptart #digitalart"

-Christian Alzmann (@CAlzmann)
"when will it be the day people appreciate rogue one and don't minimize it to the vader scene like aren't y'all tired"

-talita (@cqssians)
"Bodhi Rook was the reason Rogue One happened. He made the choice to be better, to set things right. The destruction of the Death Star began with him. Oscar nominee Riz Ahmed played him perfectly"

-Okiro (@TheFirstOkiro)
"Rogue One: best Star Wars movie of the Disney era."

-John Jimenez (@johnj1138)
In 2022, fans will be getting a Disney+ series titled Andor, which will serve as a prequel to Rogue One as it follows Cassian Andor. Plus, we are getting a Rogue Squadron movie in December 2023, which seems to mean that there will be standalone Star Wars films again.
Written By Andre Porter
Source(s): CinemaBlend, ComicBook.com
Syndicated From Culture Slate