The Most Memorable Sci-Fi Movie Soundtracks
Send a chill down your spine, put a lump in your throat.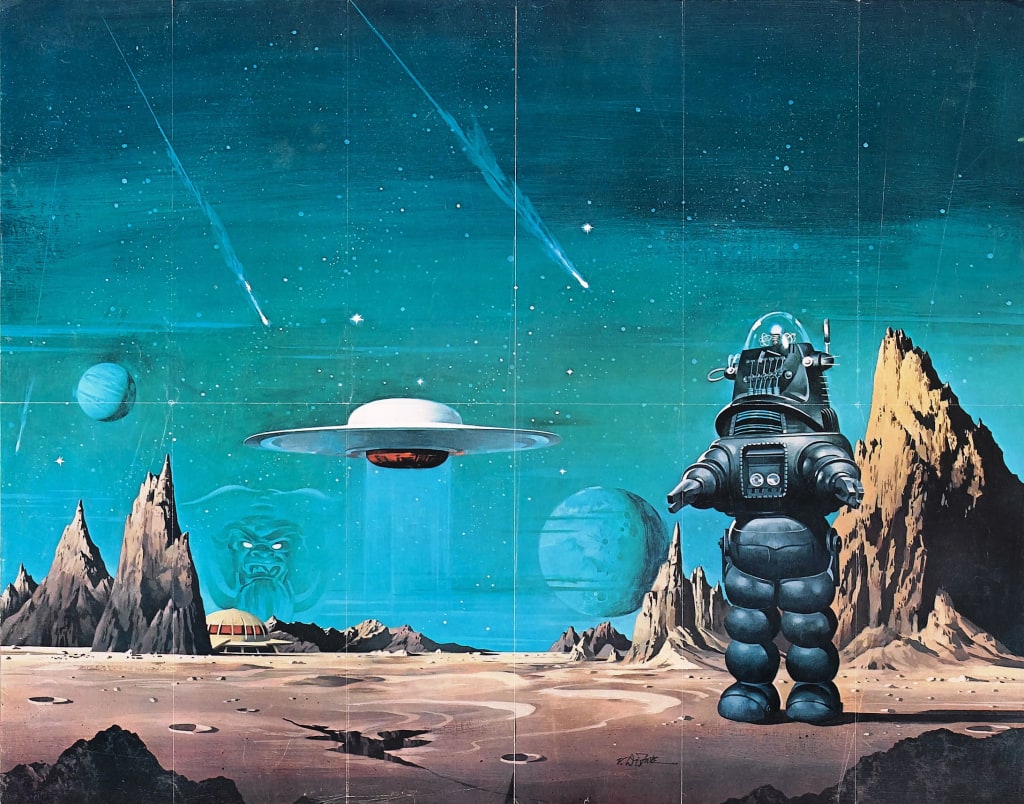 Whether you're studying, driving, or re-reading beloved works of speculative fiction, there's nothing as eerily beautiful as a masterful science fiction film soundtrack playing in the background. Each of these sci-fi scores, whether haunting or filled with adrenaline, will inspire your greatest work from the very first notes to the final drumroll. While it proved quite a challenge to narrow down this list, these are the scores that seem to play in my mind over and over again. Revisit familiar favorites or discover a new top pick; everything on this list is guaranteed to exhilarate.
What could be more instantly recognizable than, as my four-year-old calls it, "the Darth Vader song"? If hearing "The Imperial March" doesn't make you feel simultaneously terrified and thrilled out of your little mind, you didn't have my childhood. I love how the score is influenced by Gustav Holst's The Planets - especially "Mars, The Bringer of War" (seriously, click that link - if you're not familiar with Holst and you already love John Williams, this is totally up your alley). So, story about the Star Wars score: one time, I was getting off a plane in Kuala Lumpur, Malaysia, and suddenly they started playing "Princess Leia's Theme" over the loudspeakers, and any homesickness I had was instantly erased and replaced by zen-like inner peace. There's nothing near as iconic.
One critic, Bears Fonte, has pointed out that this may not really count as a score, being as much of the "score" has been "lifted from arias and hymns." But the serious, captivating blend of hope and despair perfectly sets the mood for a bleak world waiting for the end. Operatic and eclectic, the score is drawn from existing orchestral music as well as original pieces by composer John Tavener. If you like the soundtracks of 2001: A Space Odyssey and Blade Runner, you'll enjoy this one too, a melancholy exploration of both faith and futility. Perhaps some of the best examples of the film's style are "Fragments of a Prayer" and "Eternity's Sunrise."
If you didn't love Guardians of the Galaxy, you either still haven't seen it or you are the real-world embodiment of Ebenezer Scrooge. This soundtrack, better known as "Awesome Mix Vol. 1" was compiled from 60s and 70s pop and rock by writer and director James Gunn (he's spent his whole life making mixes for friends and families and it shows). The soundtrack showcases songs that weren't chart-topping hits in their day but TOTALLY should have been, or at least we can't help but feel that way now after hearing them matched to sweet intergalactic action scenes. Interestingly enough, this is the first soundtrack ever to reach the top of the Billboard 200 without featuring any new songs. Personal faves: "Cherry Bomb" by The Runaways, "O-O-H Child" by The Five Stairsteps (awesomely matched to the comedic opening scene) and David Bowie's "Moonage Daydream." Now we just have to impatiently wait for "Awesome Mix Vol. 2" when the next one comes out.
My favorite part about The Terminator score is the percussion; at first it pounds relentlessly beneath the melody, then swells, eventually dominating the music. It balances brilliantly between a muscular, brutal strength and a contemplative loneliness. The synth-heavy tracks perfectly capture the sound of the 80s without ever descending into parody or cheesiness. You can't help but picture Arnold Schwarzenegger when you hear it. Brad Fiedel perfectly captured the themes of the films with a score that is at once emblematic of the time in which it was created and transcendent of any specific decade.
The mood and feeling of this Shakespeare-inspired sci-fi classic are set by the soundtrack, which some describe as an "exercise in electric tonalities." It's filled with a mood of fear, dread, and misgivings about the "other" as personified by otherworldly forces in space. Louis and Bebe Barron, creators of the score, clearly love the genre and really get into the emotions that accompany the characters as they move through the landscape. Using hand-crafted circuitry (this was before the day of synthesizers), they made what is considered by many to be the first all-electronic film score. Sci-fi films of a similar era tended to focus on special effects and forget the soundtrack completely; this is a true "sound" track. Perhaps it's not wholly accurate to call it "music," but to me it is exactly what I imagine aliens like to put on after supper. Try it yourself at your next gathering and watch how ominous everything you say becomes.
It's not really surprising that John Williams shows up on this list twice; he won his fourth Oscar for the score to E.T. It's is an unforgettable film by itself, but the iconic soundtrack doesn't hurt at all. Put on the main theme, and you can instantly imagine Elliott pedaling his bike as hard as he can with that adorable alien bundled in a blanket in the basket - and then, flight, the full moon filling the sky. The innocence of childhood, the bonds of true friendship, and the wide-eyed wonder of discovery are all invoked by Williams' simple, beautiful melodies. (If I could have a custom soundtrack to my life, I would definitely want John Williams to write it.) This soundtrack is a perfect example of how the master of movie scores does it like no one else can.
For soundtrack fans, Jerry Goldsmith's 1968 Planet of the Apes score is a legend. Creative, fresh, and totally trippy, this is one score that really keeps thing exciting. Goldsmith actually used mixing bowls from his own kitchen to create unique sounds, and you'll really appreciate the Brazilian drum head used to mimic the sounds of clamoring apes - totally organic instead of electronically generated. There's a lot of weirdness here, which is key to creating the bewildered feelings of the astronauts as they land in a bizarre world. It may be unusual to enjoy feeling unsettled, but if that's what you like you're going to get it here. Take special note of "Crash Landing," featuring the blasts of exuberant trumpets and the moaning of strings, and "No Escape" in which Taylor, one of the astronauts, is captured. Through the disoriented strangeness of the story, it's the soundtrack that pulls the viewers forward and stays with them until the end.
This soundtrack doesn't generally pop into my head, but this song is an exception. Imagine Leeloo taking it out on those goons backstage while the blue lady sings and you're golden for a sci-fi classic that is unquestionably silly but very, very fun.

Sarah Quinn
I'm a writer in love with India, Stars Wars, fantasy, travel, and Thai curries. My childhood heroes were Luke Skywalker and Joan of Arc. I muse on superheroes, sci-fi, feminism, and more.
See all posts by Sarah Quinn →