The Mandalorian - Visual Effects
Cutting Edge
The Mandalorian, Surely known as Star Wars : The Mandalorian , is an American space Western web television series created by Jon Favreau and released on Disney+. It is the first live action series in the Star Wars franchise. Set five years after the events of Return of the Jedi and 25 years prior to the events of The Force Awakens, it follows the title character, a Mandalorian bounty hunter named Din Djarin, Performed by Pedro Pascal, and his exploits beyond the reaches of the New Republic.The first-ever Star Wars television series has changed the game in terms of what might be possible in live action TV, more specifically with the use of real-time rendered virtual sets displayed on LED screens.
Favreau also serves as head writer, showrunner, as well as executive producer alongside Dave Filoni, Kathleen Kennedy, and Colin Wilson. The Mandalorian premiered with the launch of Disney+ on November 12, 2019, with its eight-episode first season. The series has received positive reviews.
A second season is scheduled for release in October 2020. In April 2020, pre-production work on a potential third season had begun.When Pascal would become unavailable for filming, the Mandalorian would occasionally be portrayed physically by stunt actors Brendan Wayne and Lateef Crowder with Wayne having worked closely with Pascal to develop the character.
According to IMDB, The Mandalorian was filmed in numerous locations including New York City, the MBS Media Campus studio and one of the back lots of El Segundo in California. Most of the exterior filming was done at the El Segundo with a temporary set built, Cinemaholic reported. However, it was basically filmed in Studios and Large Sets.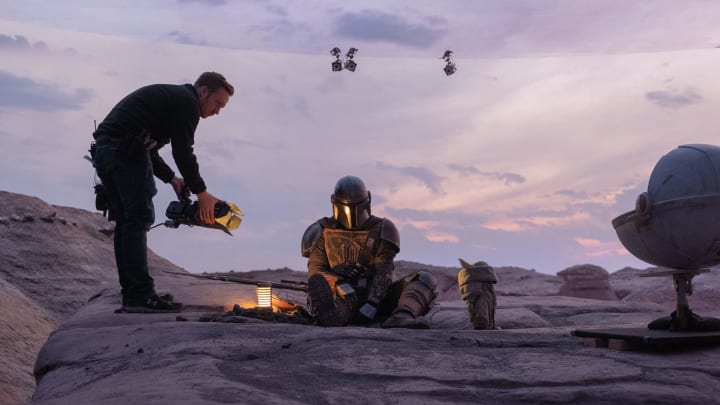 According to Favreau, the first season was filmed on a large soundstage with a 360-degree video wall at Manhattan Beach Studios, supplemented by limited location shooting around Southern California. The show sent camera crews to shoot distant locations like Iceland and Chile, the resulting digital assets were integrated into virtual sets built with the Unreal game engine from Epic Games, and those sets were displayed on the video wall.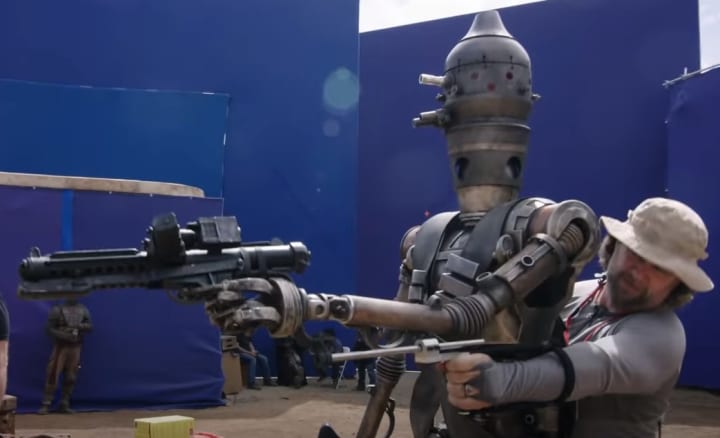 In Favreau's words: "So, there is real photography being incorporated, but the actors aren't brought on location. The location is brought to the actors. " He said: "It's on a large SoundStage, a.k.a. StageCraft with a full ceiling and a 360-degree view. We change the environment every day. Sometimes it's a spaceship, sometimes it's a desert, sometimes it's in ice or in mud." But the interiors were shot in either Los Angeles or New York, including the CGI sequences. Filming on The Mandalorian started in 2018 and finished in February 2019 with post-production commencing.
On the filming process, The Mandalorian's writer Favreau said the shoot also happened at Manhattan Beach Studios. One other big location was Death Valley National Park in the US Located in southeastern California, this low and arid region also served as an additional filming location of Tatooine in 1977' Episode IV – A New Hope, which saw some impressive scenes filmed there.
In episode one, the spacecraft arrives at the Arvala-7, an out-of-the-way planet where the Ugnaught vapor farmer Kuiil lives. The tall yellow pinnacle is the Manly Beacon and to the right is the Red Cathedral at Zabriskie Point. Multiple eroded mountain ridges of red and yellow colors are the delight of tourists and photographers alike.
However very few The Mandalorian landscapes are real. The production is using a new technology called Stagecraft. Basically, everything is shot in a studio where, instead of the classical green screen, there are real-time 3D projections onto ultra-high resolution screens in the background of the actors.
You can find some canyons and grottos in Death Valley, but this slot canyon was inserted in the footage using a new technology called Stagecraft. As Slashfilm reports, this device could be a revolution in the industry. The actors are performing in a studio with a projection of the location where the scene takes place, instead of the old green screen technique. Filmmakers can interactively change the projected world, the conditions of lighting, etc, not requiring filming on a real location anymore.
The idea for such an approach was championed by Favreau, the show's creator and the writer of several episodes, who already had extensive experience with virtual production filmmaking techniques and real-time rendering on projects such as The Jungle Book and The Lion King.
The approach offered the opportunity to not have to rely solely on blue or greenscreens, but instead have the actors and filmmakers see and interact directly with their environments and even be filmed for in-camera VFX shots.
Not only that, since what was displayed on the LED walls was rendered in real-time, the imagery could move in unison with the camera and adjust on its own.
All of this was accomplished in partnership with: Golem Creations, Fuse, Lux Machina, Profile Studios, and ARRI together with ILM's StageCraft virtual production filmmaking platform and ultimately the real-time interactivity of the Unreal Engine platform.
Let's look at some of the new techniques it used for The Mandalorian . As reported ILM ( Industrial Light and Magic ) worked with Epic Games' tools to project virtual environments onto giant LED walls on a studio set. Now, ILM is finally sharing more of how that process works. With this technique, You only have to click HD photos on your location, mix them with an Virtual Reality or Development Software and just bring them onto the video wall screens of SoundStage.
See the production company shows the power of its virtual sets. It can quickly make adjustments to the virtual backgrounds and then capture the results with the camera. This means that ILM no longer has to composite together separate effects and green-screen footage. Instead, it can point the lens at the action inside of one of its "volume" LED production sets.
"Everything in the volume is designed to both light the actors and to be a background that we can directly photograph," ILM creative director Rob Bredow said. "So you end up with real-time final pixels in camera."
The Mandalorian team said that bringing digital effects onto the set opened up more space for creativity. And this is an aspect of the technology that Epic Games thinks sets it apart.
"When we started to play with the idea of Unreal Engine for virtual production, that's one of the things that ( visual effects supervisor) Richard Bluff and Jon Favreau started to embrace " Epic chief technology officer Kim Libreri said. "You have this really dynamic world where you can have randomization of things and find the happy accident that gives you the perfect shot."
And if the perfect shot means that ILM needs to move a mountain, it can do that.
And it can do it immediately, on set, and without having to stop production.
"With Star Wars, we're building on a rich history of innovation," said Bredow. "(This is ) really a game changer for film making."
What VFX methods are in this action series
The Mandalorian is an Iconic Turning point in Filming Industry. Here they have used a new technique in name StageCraft a.k.a. SoundStage.
Richard Bluff, Visual Effects Supervisor for The Mandalorian, said: "StageCraft allows us to shoot principal photography on photoreal, virtual sets that are indistinguishable from their physical counterparts while incorporating physical set pieces and props as needed for interaction. It's truly a game-changer."
Over 50% of the first season of The Mandalorian was filmed using StageCraft, requiring actors to perform in "an immersive and massive 20' high by 270-degree semicircular LED video wall and ceiling with a 75'-diameter performance space, where the practical set pieces were combined with digital extensions on the screens. Digital 3D environments created by ILM played back interactively on the LED walls, edited in real-time during the shoot, which allowed for pixel-accurate tracking and perspective-correct 3D imagery rendered at high resolution via systems powered by NVIDIA GPUs. The environments were lit and rendered from the perspective of the camera to provide parallax in real-time, as if the camera were really capturing the physical environment with accurate interactive light on the actors and practical sets."
In film industry, technically special effects are nothing but the real things like a stunt car pile-up on set, or a carefully rigged fire, or even red-colour capsules put under someone's shirt to give blood effect. They are generally effects done on set itself, but not digital. We can call them as practical effects too. Before the advent of digital technology, everything was special effects.
Special Effects (SFX)
Effects exactly what it sounds like, anything you physically add in a scene to achieve the goal that will appear as if, it is natural. There are various techniques present under this such as Bullet time, Dolly zoom, Match moving, Matte painting, Morphing, Stop motion etc. Practical effects are as old as cinema. With every passing decade, the stunts happened to be more dangerous and unrealistic.
Like Star Wars (1977)
Visual Effects (VFX)
With the release of Star Wars in 1977, the world experienced breath-taking Visual effects that were completely unique at that time. Using computers to add effects known as visual effects or VFX done by visual effects makers became the rising sun of that era.
In the entertainment world there was an explosion of visual effects and advancements in camera tracking, composting, and computer animation. Computer generated imagery (CGI) used by film-makers, is the usage of computer graphics for special effects in movies. Jungle Book, which is almost entirely computer generated.
Surprisingly, Filmmakers and ad film makers are most widely using visual effects techniques ranging from films, ads to print media. But, If you want to do your work Counter methods to VFX , You can just Normally do it with SFX.