The Mandalorian Chapter 10: The Passenger Review
The newest Mandalorian episode is quite the filler for horror fans, but not so much for those with an arachnophobia.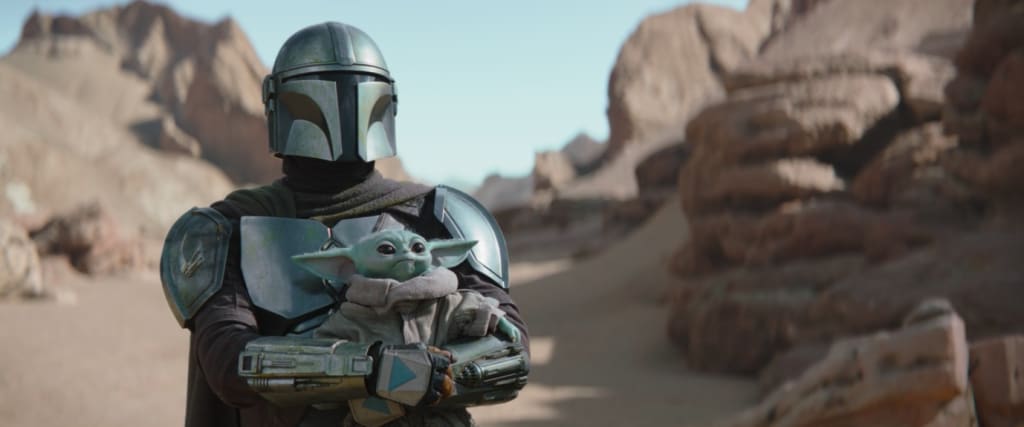 The Mandalorian Chapter 10 via Disney+
As a Star Wars fan, The Mandalorian has been one of my most anticipated shows this year.
However, the second episode of season 2 seems more like a filler episode, but in the best horrific way possible!
Just a note: this post contains spoilers for Chapter 10 of The Mandalorian
Recap
As the Mandalorian continues his search for others of his kind, Episode 10 pick back off on Tatooine where the Mandalorian tricks one of his attackers by making an "even" trade of his Z-6 Jetpack for The Child, ultimately using his controls on his wrist to kick the attacker off and gently receive his pack back - not to mention, The Child's yet another instance seeing his father-like figure savage.
Both then meet back up with Peli Motto who connects the Mandalorian with a Frog Lady who requests they help take her and her backpack-jar full of her baby frog eggs to her husband on a water planet called Trask where she recently spotted another Mandalorian.
From there, they are stopped by two X-Wing Pilots who recognize the ship for its role in attacking the prison ship in the previous season. The Mandalorian works his pilot magic, eventually crashing on an Ice Planet.
After The Mandalorian fixes his ship, he realizes the Frog Lazy has fled to a hot spring, desperate to keep her eggs, the last of their kind from dying. However, it turns out the warm tub area is not a giant hot tub, but in fact, a cave homed to many space spiders.
The creepy spider-like creatures attack them as they try to leave the planet, however, they are saved by the two previous New Republic pilots who thank The Mandalorian for his work on the prison ship, allowing them to continue their journey to Trask.
My Thoughts
This episode was most definitely a filler episode. Not much character development; at most, introducing a possibly irrelevant character - Frog Lady and hilarious The Child content.
I did enjoy the opening scene where The Mandalorian tricks one of his attackers as they're trying to steal his Z-6 Jetpack; it was quite clever and it showed a lot of The Mandalorian's sneaky tactics, however, this scene was very mild in comparison to other scenes similar to this. At some point, it can also be perceived as predictable if you've consecutively watched the previous episodes. Nonetheless, I think it not only displays his personality but by the reaction from The Child, it's not anything new the mini-Yoda has witnessed.
Both my husband and I had a great laugh watching The Child sneak off and hover around the jug filled with the Frog Lady's offspring and honestly, for a minute I thought he had a connection to them considering the fact that he's also a baby. Forgetting that The Child loves to eat frogs and watching him have no self-control as he continuously eats the frog eggs is a hilarious slap in the face.
And like every week, I did enjoy the adorably hilarious weekly The Child meme.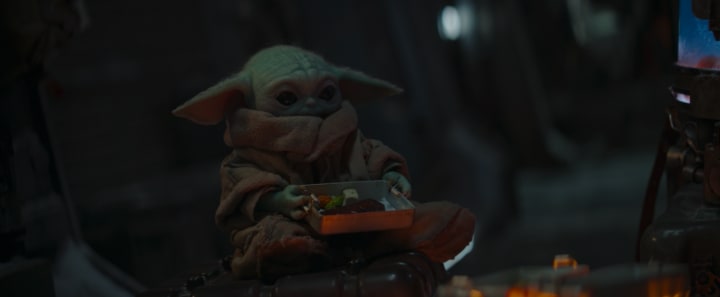 Also after previously living in Toronto and a huge fan of the show Kim's Convenience, I had a huge enjoyment seeing Appa (Paul Sun-Hyung Lee) as one of the X-Wing pilots!
I thought it was a nice touch of diversity - which The Mandalorian seems to be doing so well as compared to the movies. But I also loved the fact that he wasn't playing a stereotypical Asian character, but rather, just a pilot. An X-Wing pilot for that matter!
I also really liked how this season is incorporating new aspects that they haven't the last season. The addition of the spider-like creatures was really cool in my opinion and as a horror fan, I'd love to see more of it in the shows and movies, like they're doing in the books!
I feel like they added a really nice hint of the Hoth and as Star Wars fans are getting ready for a nostalgic Easter egg - possibly a Wampa until we're hit with the horror of thousands of space-spiders chasing The Mandalorian, The Child, and the Frog Lady.
As a side note, it was confirmed by Lucasfilm's creative art manager, Phil Szostak that these creatures were actually sketched in 1979 for The Empire Strikes Back and the concept art was finalized in 1993 by Ralph McQuarrie. Super cool!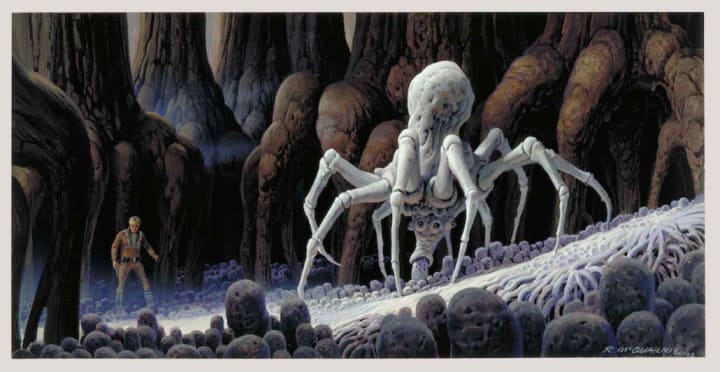 That scene was definitely not for those with arachnophobia!
Although this episode was really slow and didn't really give a lot of character development value; or plot development as well, I did really enjoy the fact that they added some spine-chilling scenes from concept art for previous Star Wars content! Hopefully, we get to see more of this in the future!
star wars
Wife and Dog Mom
Freelance Writer, Horror Junkie, and huge Book Nerd.
Instagram: @terrifyinglyfictional