The Light Side of 2020
Second Place in Thankful Thoughts Challenge
"We must accept finite disappointment, but never lose infinite hope." – Martin Luther King, Jr.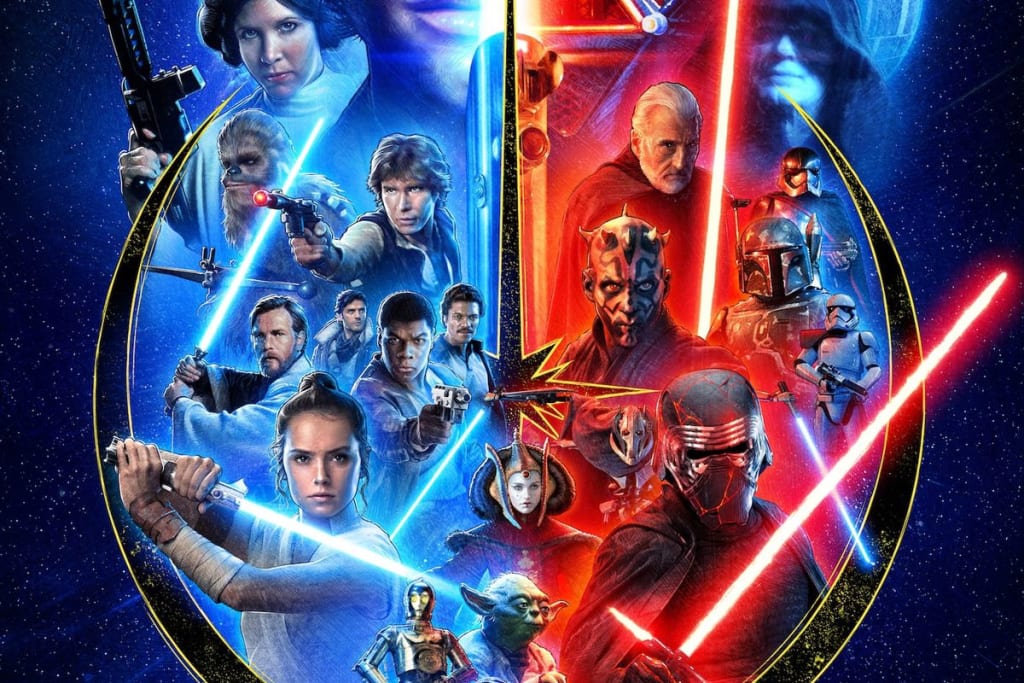 Image source: vox.com
What I am most thankful for this year is the single word that Princess Leia spoke in Rogue One: A Star Wars Story.
The Rebel Alliance had just suffered huge losses at the Battle of Scarif. But the hard-fought-for piece of intelligence that was passed into Princess Leia's hands gave all the freedom fighters hope for a coming victory.
We have waged battles on multiple fronts this year. COVID-19. Racism and oppression. Political and ideological divides. Disastrous leadership. Propagandistic disinformation. It's been all too easy to become distressed and overwhelmed with despair.
Many people's lives suddenly changed. Some lost their jobs. Others faced great new difficulties in their workplaces that were more, or at least almost more, than they could bear. Far too many - and counting - of us have had to say goodbye to loved ones, and from a remote distance. The ones who were lost had to die alone.
Crises always reveal who truly cares. Some so-called "friends" aren't friends at all. An age-old adage says that if you want friends, you have to be a friend. Unfortunately, some people don't want friends; they just want fans who will follow them around (or on social media), hang on their every word, and laugh at all their jokes. They enjoy soaking up the attention, but whenever their fans need anything from them - even if it's just a gesture that shows caring and respect - they offer nothing but disappointment.
I, unfortunately, came to the disappointing revelation (and I'm sure I'm not alone) that I had such "friends". People have been dividing from each other more than ever. Disagreements have been revealed to be not just political but also moral. In many instances, those differences cannot be overcome, and relationships are irrevocably severed.
We all have been shaken out of our complacency and suddenly forced to face a difficult future.
At the same time, though, amazing joys have risen amidst the sadness. Diverse groups of people have bonded over their fight for common causes. People have sacrificed comfort and convenience to keep others safe. Many have given time and money to relieve others' burdens and help make America more fair, just, and prosperous for everyone.
While in isolation or quarantine, or just staying at home voluntarily or under mandate, people have found ways to connect. I, and others like myself who have lost friends and been estranged from family, found new ones. Better ones. Even though we haven't physically met, our kinship has been a rare treasure.
It all began when I became more active on Twitter and discovered the Twitter Resistance. It appealed to me as not only a Star Wars fan but also one greatly opposed to the dangerous direction in which our country was heading. I'm also a student of history and have read extensively about threats to freedom and democracy, particularly during the Second World War. The way members of the Twitter Resistance shared truths and facts, dispelled myths and propaganda, and shared vital information gave me a taste of being in a wartime intelligence organization either in the real world or in a galaxy far, far away - minus the secrecy or the inherent risks. It made me feel like I was playing a role, albeit a small one, in restoring the values that truly make America great.
Not only did I find some true friends who actually care about one another, it has also felt like a family at times. It's a very diverse gathering of people who have much to teach and learn from each other. We have challenged and encouraged one another and learned how to be better allies to those who are oppressed and marginalized. We have even changed some willing hearts and minds by demonstrating true patriotism. We reject hate and embrace hope, healing, and love. As Rose Tico says in Star Wars Episode VIII: The Last Jedi:
It has been a blessing to be a part of something greater than ourselves, but it can also be intimidating sometimes. This passage from the novelization of Star Wars Episode VI: Return of the Jedi, written from the perspective of resistance fighter Princess Leia on the forest moon of Endor, explains it well:
"She was struck, suddenly… by her own smallness next to these trees. They were ten thousand years old, some of them, and tall beyond sight. They were temples to the life-force she championed; they reached out to the rest of the universe. She felt herself part of their greatness, but also dwarfed by it.
And lonely. She felt lonely here, in this forest of giants…
But these trees. They were like mighty exclamation points, announcing their own preeminence. They were here! They were older than time! They would be here long after Leia was gone, after the Rebellion, after the Empire…
And then she didn't feel lonely again, but felt a part again, of these magnificent, poised beings. A part of them across time, and space, connected by the vibrant, vital force, of which…
It was confusing. A part, and apart. She couldn't grasp it. She felt large and small, brave and timid. She felt like a tiny, creative spark, dancing about in the fires of life..."
If I think of the giant redwood trees as analogous to America's great institutions, then I know how Leia felt. A spark, small but powerful…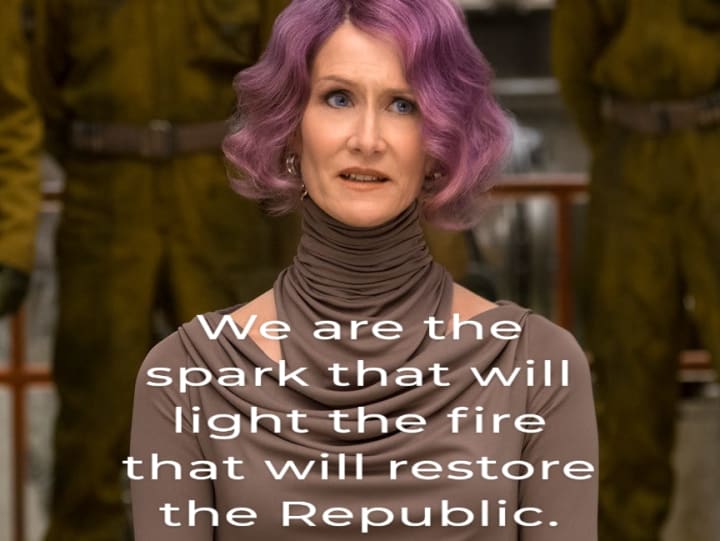 "You may not always have a comfortable life and you will not always be able to solve all of the world's problems at once but don't ever underestimate the importance you can have because history has shown us that courage can be contagious and hope can take on a life of its own." – Michelle Obama
We resisters have also shared many laughs at such instances at the Trump campaign comparing itself to the Death Star. Apparently, those who worked on that campaign don't like to watch the ends of movies. It doesn't take a Star Wars fan to know that the Rebels destroyed not just one but two Death Stars!
The Resistance even includes quite a few celebrity activists who piled their resources into the Biden/Harris campaign and down-ballot races. Celebrities I have been interacting with include Rob Reiner, Rosanna and Patricia Arquette, Bette Midler, Cary Elwes, Sarah Silverman, and Luke Skywalker himself, Mark Hamill! Not that they know who I am, but it has been fun and interesting to converse with them and possibly make them smile or laugh, or return the encouragement and inspiration they give.
Resisters have also been checking in on each other's mental health and offering help or resources for help. Some have even sent money to others facing financial struggles. I was the fortunate recipient of some much-needed funds from a fellow resister, and I will always be grateful to that Good Samaritan. We've been there for each other when we've felt low or alone in the world outside of social media. Like the spice runner Zorii Bliss says in Star Wars Episode IX: The Rise of Skywalker: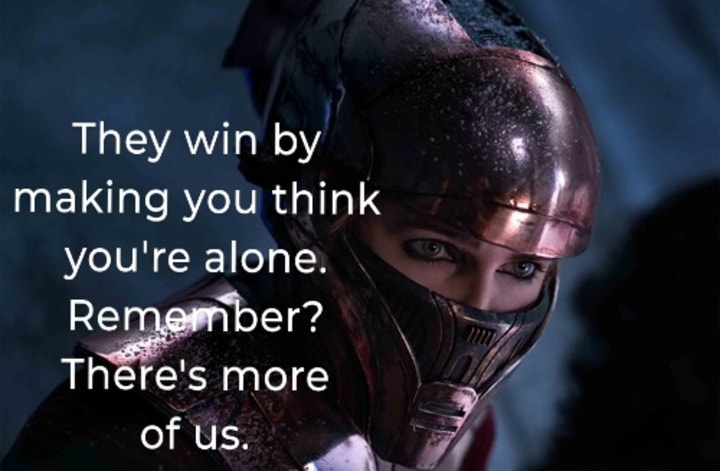 Most of all, we resisters have sustained hope among our expansive family. As both Jyn Erso and Cassian Andor say in Rogue One: A Star Wars Story:
One of my favorite song lyrics is this one from When You Believe, "Though hope is frail, it's hard to kill." Hope is a constant; it never dies. We heed these words from Vice Admiral Holdo in The Last Jedi: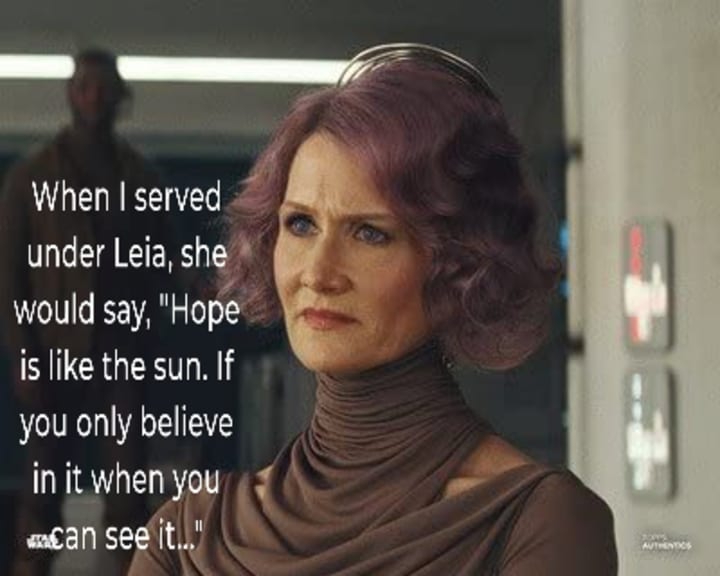 To which Poe Dameron finished, "We'll never make it through the night."
Reminiscent of that scene is this tweet from Barbra Streisand:
Today, on Thanksgiving Day, many of us have been expressing how thankful we are for each other, for the new friendships we've formed, and the great things we have accomplished together. (Some of us are making plans to gather in person once it's safe to do so.) These friendships will help us all hold on to hope throughout this pandemic-stricken holiday season.
We were all nervous as hell and virtually holding on to each other during the countdown to the election and then the wait for the official announcement of Joe Biden as the President-Elect. We were tearfully amazed and ecstatic about the record turnout of voters, and the celebrations of the official results around the country - and the world - that were remarkably similar (quite a few made the comparison) to the celebrations in a galaxy far, far away at the end of Return of the Jedi after the Empire was defeated:
We had fulfilled our hope of toppling our own dictator!
The recounts in a few states have also been a source of joy and humor. There have been comments like, "Biden won Michigan again!" and "Is Biden going to win Georgia again today?" Some resisters have likened it to having multiple orgasms!
We know our work is not done, though. Right now, we're putting all our efforts behind the upcoming runoff Senate elections in Georgia. It's important to the whole country in much the same way that deposing an Imperial force on one planet is important to the whole galaxy. But it still won't end there. There is much more to be done, great challenges to solve. We would be unwise to lower our defenses against the forces of darkness. This country will still need us, and we will still need each other, after we celebrate ushering in a new year together - a new year and a new hope that 2021 will be much happier than 2020.