Surpass the 100,000 lumens the brightest flashlight IMALENT SR32
The world is darkening around me,The marching shadow silently crawls,But a murmuring voice awakens the night,And I see - everything.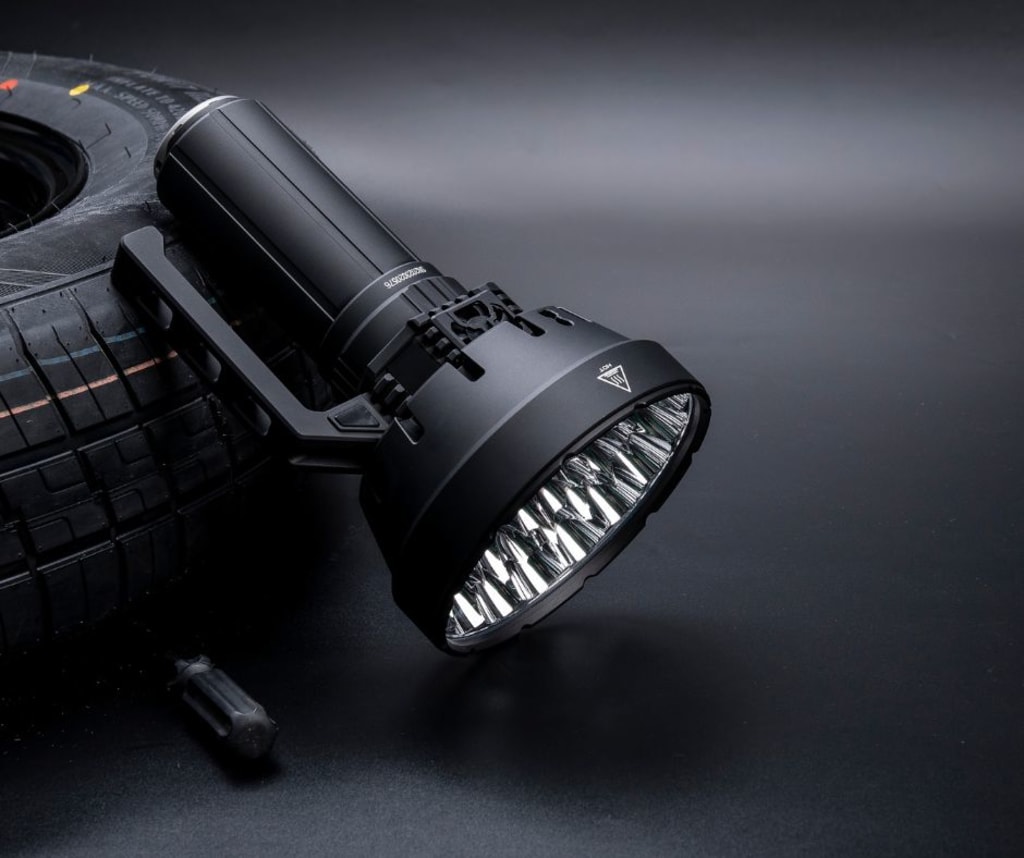 Brightest flashlights
Sixty-one years of LED development, the latest Li-ion battery technology, and innovation in every feature, every curve, every process of designing the world's brightest flashlight screaming not yet, not yet, not yet - Let There Be Light!
Brightest、Most powerful、Max capacity. Three accolades the IMALENT SR32 was born to claim. Proud to make its entry with a max 120,000 lumen output, and a max luminous intensity of 1,092,000 cd, featuring 32 pieces of CREE XHP50.3 Hi light-emitting diodes, the IMALENT SR32 captures the confidence to be crowned as the current world's brightest flashlight.
CREE XHP50.3 Hi LED
Great power comes from the uncompromising use of the best emitters, which is why SR32 features an outstanding amount of CREE XHP50.3 Hi LEDs that ensure its colossal power is not just released, but intensified. CREE LEDs are widely praised for their superior quality and stability. Imalent as a Diamond Partner with Cree lighting, it's no surprise the new brightest flashlight features their most advanced LEDs. The power of the sun is in the palm of your hand.
Cooling System
The world's most powerful flashlight needs a cooling system capable of reinforcing all that raw power. Every Imalent SR32 comes with the latest active cooling system as standard. The latest developed air circulation system with three built-in cooling fans is significantly optimized for efficiency and noise reduction. The result is better sustainability at high brightness levels, more sustained output in the long run, better temperature control, and a vast reduction in fan noise to make illumination even more pleasant.
Battery
100 Watts charging is the new feature that a flashlight of such power and illuminating prowess richly deserves. Featuring eight pieces of Samsung 40T 21700 high-capacity, fast-charging Li-ion batteries integrated into a replaceable battery pack that supports PD100W fast charge, in a total of 32,000 mAh of capacity with a 35A maximum continuous discharge to maximize performance and duration. The charging process from entirely drained to fully powered is 1.5 hours. Besides that, the fast charging feature of the SR32 battery pack goes two ways, which makes it capable of acting as a power bank for your electronic devices, such as your phone - The Brightest High-capacity Power Bank Flashlight.
OLED
Sculptured to interact with every demand. The iconic OLED display elevates the powerful design to an inspiring level, real-time display of current lumen output, battery level, and more.
Metal Handle
As a flashlight gets brighter, it requires more cooling, a larger reflector, and a bigger battery pack, which usually means less portability. Not so for the SR32. By adding a detachable handle with a side switch design, we've upgraded the SR32 to handle its phenomenal performance without sacrificing the portability.
Body Material
Imalent SR32 combines the finest craftsmanship with uncompromising use of the best material to deliver a modern classic exterior. Intuitive and straightforward to operate, the aluminum metal switch ensures you have access to illuminating power anytime; the whole flashlight body is made of aluminum alloy with type-III hard-anodized and matte treatment, a tribute to the classic muscular design.
Nothing about the SR32 is designed without functionality. The U-channel design around the neck of the flashlight is designed to enhance dissipation, an octagon cooling chamber that maximizes air ventilation and makes temperature control more efficient. Together they improved the temperature control and significantly reduced the noise from fans. Stability, lumen output, and luminous intensity are at an all-time high.
https://www.imalentstore.com/blogs/news/surpass-the-100-000-lumens-the-brightest-flashlight-imalent-sr32
About the Creator
Imalent is the leading brand in powerful flashlights.
🔦Record Keeper - World's Brightest Flashlight MS18 - 100,000 Lumens
💪Pushing The Limits of Powerful Flashlights
👉Customer Service: [email protected]
www.imalentstore.com
Reader insights
Be the first to share your insights about this piece.
Add your insights