'Star Wars' Featurette Shows Off Cameos You May Have Missed
Did You Catch That?
The Star Wars saga had top secret cameos that were kept secret on the sets and even by "The Maker" George Lucas. The new era of Star Wars media on the new streaming platform and on the silver screen had filmmakers finding ways to include cameos from a variety of notable figures in pop culture. Ed Sheeran and Lin-Manuel Miranda were involved in the sequel trilogy. Longtime players in the Star Wars franchise like Mark Hamill and Anthony Daniels found ways to appear without reprising their iconic roles of Luke Skywalker and C-3P0 respectively. Recently Disney+ released a featurette on YouTube going over cameos in the franchise that the viewers may have missed.
Mark Hamill
After Return of the Jedi in the 1980s, Hamill went on to have a very successful career as a voice-over artist for a variety of animated series, movies, and video games. It is amazing that in recent years he still contributed his skills to most of the newer live action Star Wars films. Hamill voiced a character named Dobbu Scay, who can be spotted in the casino scene in The Last Jedi. In Rise of Skywalker, Hamill lent his voice to the helpful alien Boolio, who sacrificed his life to help the Resistance.
RELATED: 10 Actors Who Were Almost Cast In 'Star Wars'
George Lucas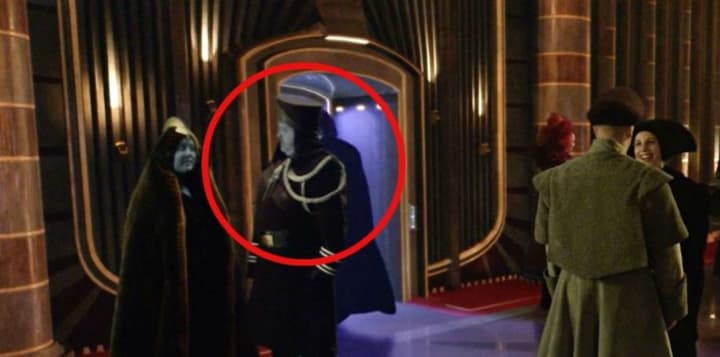 Lucas could be seen for just a few seconds in Revenge of the Sith. It was easy to miss him if one did not know when and where to look especially since he did not look like quite himself. Lucas played the blue-skinned Baron Papanoida in the film.
Keira Knightley
Knightley was chosen to play Queen Amidala's decoy in The Phantom Menace because of her close resemblance to Natalie Portman, who played Queen Padme Amidala. Many people (including their mothers) had trouble telling them apart during the filming of The Phantom Menace.
Anthony Daniels
Daniels had a cameo in Solo: A Star Wars Story as a human slave named Tak. During the Kessel mine heist, Tak could be seen when Chewbacca and his fellow Wookiee Sagwa parted ways by pressing their foreheads together. Tak called out to Sagwa by name and shouted, "This way!"
Ed Sheeran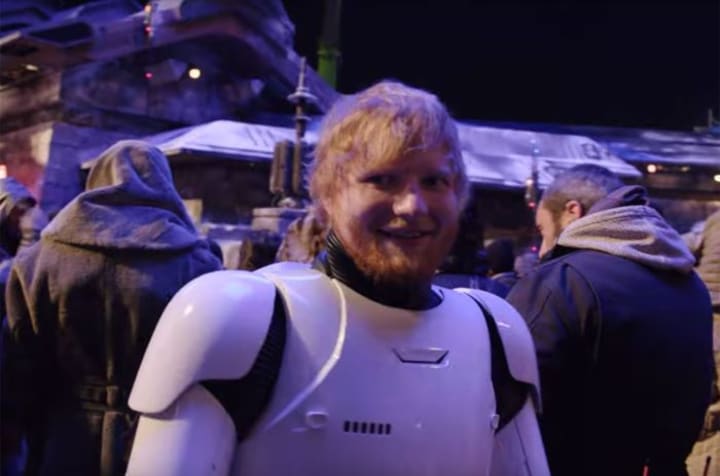 Sheeran, the popular singer, songwriter, guitarist, record producer, and actor had two uncredited cameos in The Rise of Skywalker. He was a First Order stormtrooper and the alien Engi Golba who was part of the Resistance's landing team on Exegol. Not bad for a guy who only had a cameo on Game of Thrones prior.
Joseph Gordon-Levitt
In The Last Jedi, the uber talented popular actor provided the voice of Slowen Lo, the Abednedo who reported Finn and Rose's illegal parking on a Canto Bight beach. As a good friend of Rian Johnson, he had also appeared in all of the director's previous films.
Simon Pegg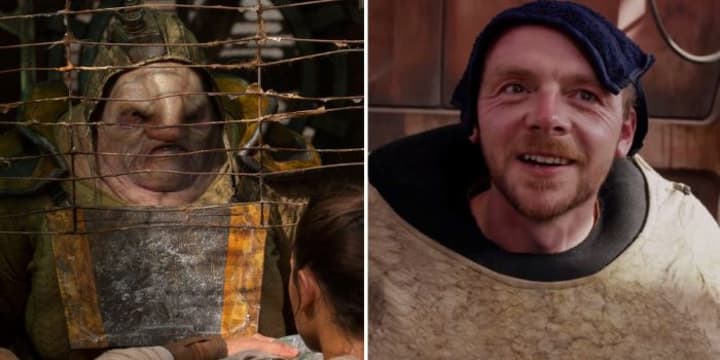 Speaking of good friends, Pegg had been friends with Force Awakens and Rise of Skywalker director J.J. Abrams for a couple of decades. In Force Awakens, he played the hideous junk boss Unkar Plutt.
John Williams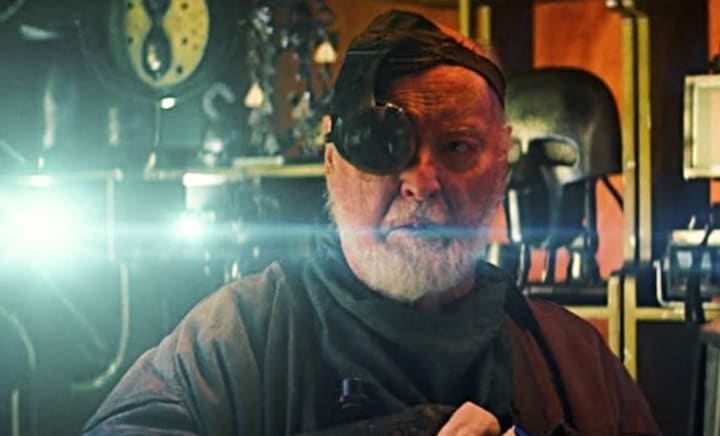 The Oscar-winning composer abandoned the baton, and went in front of the camera for a brief appearance in Rise of Skywalker. When Zorii Bliss led Rey, Finn, Poe, and C-3PO to Babu Frik on Kijimi, we cut to a close-up of the bartender Oma Tres, who was played by none other than Williams.
Lin-Manuel Miranda
Lin-Manuel Miranda famously made an appearance in Rise of Skywalker as a Resistance pilot. He was one of the overjoyed pilots celebrating and jumping around after the Resistance had returned to its base on the jungle planet Ajan Kloss.
Ahmed Best
Best received a lot of blowback as Jar Jar Binks in the prequel trilogy. Over time he had gained more appreciation for the role. During his time in the franchise, Best made a cameo as Achk Med-Beq in the club scene of Attack of the Clones.
The entire Skywalker Saga, along with Solo: A Star Wars Story and Rogue One: A Star Wars Story are all available on Disney+. See if you can catch these fun cameos listed here!
READ NEXT: 'War Of The Bounty Hunters' Series Makes Han Solo's Body Worth Going To War Over
Written By Andre Porter
Source(s): YouTube
Syndicated From Culture Slate