'Star Wars: Doctor Aphra' Audio Drama Review - Familiar Beats, But a Bit More Added to Rogue Archaeologist
Meet Doctor Aphra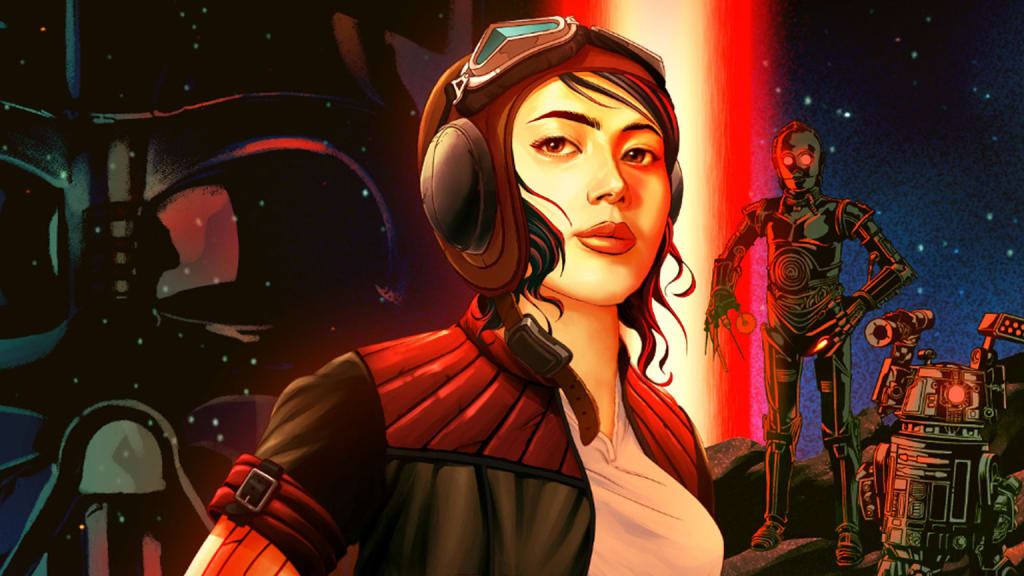 Tuesday saw the release of Sarah Kuhn's audio drama Star Wars: Doctor Aphra, which is based on the titular rogue archaeologist's early comic book appearances in which she aids Darth Vader, who is trying to climb the power ladder and find Luke Skywalker. While there is an ongoing Doctor Aphra comic series that began in December 2016 and got revamped recently, the character was originally introduced in the third issue of Kieron Gillen's 2015 Darth Vader comic series that takes place after Star Wars: Episode IV – A New Hope. This audio drama adapts Doctor Chelli Lona Aphra's adventures throughout that series, as well as the Vader Down crossover with the comic series simply titled Star Wars, and the Rebel Jail arc of that series, which takes place between Vader Down and the last arc of Gillen's Darth Vader series. Sarah Kuhn describes Aphra as "immediate chaos," and that is brought across very accurately in this audio drama.
Adaptation
The narration is presented as Doctor Aphra recording her memoirs (bringing to mind the Calrissian Chronicles moment from Solo: A Star Wars Story). Her narration of the main story provides a bit of wiggle room when it comes to slight alterations to comic book dialogue, or even additional dialogue in between bubbles on the page. The only time when I found the additional dialogue to be a pain was when the comedic bit about an asteroid belt dragged on a tad too long. In terms of the narration, I was expecting exaggerated, over the top versions of events. Contrary to that, Aphra's account of the events is pretty faithful and grounded. One might even view the comics as condensed presentations of the things that "happened," as is often the case for comic book adaptations of the films.
Aphra's narration style is very amusing, bringing to mind the narration styles of Deadpool and Harley Quinn in their recent live-action films. Occasionally, she backtracks to erase a segment or leave a note to consider erasing a segment. Since we are told Aphra's side of the story, we get scenes in between familiar ones here and there, including Aphra's run-in with Maz Kanata at the beginning of this. As Aphra narrates, she even recalls her doctorate program days at the university, during which she met and got romantic feelings for Sana Starros.
This audio gets to delve more into Aphra's emotions, and there is even a moment where she tries to keep herself from crying. There are brief allusions to her complicated relationships with her parents, aspects that are explored more deeply in her own comic series. It is even implied that Aphra seeks Vader's approval in the same way that she wants her father's approval. This is interesting to think about, seeing as how, back when the character made her debut in comics, some fans thought that she had romantic feelings for Vader. Clearly, that is not the case, but it is funny to reflect upon.
Over the years, readers of the comics have criticized some of the artwork. So for those critics, this audio-only interpretation might be a refreshing experience. It certainly does not hurt that it includes the John Williams music.
Accessibility
Since this begins with Aphra's introduction in the comics, one might say that one can go into this without prior knowledge of the character. However, since we only get Aphra's perspective of events, we do not get the full picture of everything that goes on in the Darth Vader series. She does learn a little bit about Vader's target Luke Skywalker via an interaction with Boba Fett. And by the end, she does get an idea of what is going on, which is interesting to know about her.
Still, listeners miss out on the psychology of Vader that the comics delve into, and Aphra misses out on some events that he (along with the murderous droids Triple-Zero and Bee-Tee) experiences. She is absent from The Shu-Torun War arc because she ends up getting captured by Rebels at the end of Vader Down, appearing in Rebel Jail before returning to the Darth Vader narrative. For some, it might be a neat experience being as in the dark as Aphra is, and then going into the comics to fill in the blanks.
However, things might get a bit confusing as this audio gets into Rebel Jail territory. On one hand, Sana Starros' presence in that arc is a better pay-off after listeners have heard all about Aphra's feelings for her. On the other hand, the presence of an adversary who challenges Leia in this arc feels like it comes out of nowhere, seeing as how this is supposed to be Aphra's story. It begs the question, "Who is this for?" When the masked adversary's identity is revealed, Aphra even says, "Are we supposed to know who that is?" The reveal is a satisfying pay-off only if one has read the Star Wars Annual that is included in the Rebel Jail TPB. The mission in that annual is alluded to, but the details of it are not relayed to the listeners here.
With all this in mind, I would say that it would probably be better to read the comics before going into this audio drama. This way, people would know everything that is going on, and then gain Aphra's perspective as an added layer on top of that. Since the Star Wars and Darth Vader series are so intertwined in places, I would recommend the following TPB reading order.
Star Wars Vol. 1: Skywalker Strikes

Darth Vader Vol. 1: Vader

Star Wars Vol. 2: Showdown on the Smuggler's Moon

Darth Vader Vol. 2: Shadows and Secrets

Vader Down

Darth Vader Vol. 3: The Shu-Torun War

Star Wars Vol. 3: Rebel Jail

Darth Vader Vol. 4: End of Games
Voice Acting
Previously, Doctor Aphra was given somewhat of a voice when January LaVoy narrated Gillen's short story "The Trigger," which appeared in 2017's Star Wars: From a Certain Point of View. However, Emily Woo Zeller may now be considered the definitive voice for the character. She conveys the wit of Aphra effortlessly. If Aphra ever appears in other media that requires voiceover work, Emily Woo Zeller should be the top choice to consider. Nicole Lewis also captures the personality of Sana Starros, making for a good foil against Zeller's Aphra.
Regarding Triple-Zero, I was surprised that Sean Kenin's take on the murderous protocol droid sounded closer to AP-5 than C-3PO. For five years, I assumed that he sounded like the familiar golden droid, especially after he fooled Luke into thinking he was Threepio in Vader Down. However, we learn in this audio drama that Triple-Zero had to alter his voice in order to sound like Threepio. Kenin's voice-work is good, but it is just a bit surprising.
Sean Patrick Hopkins' Luke Skywalker does not sound as much like Mark Hamill as listeners would perhaps prefer. Han Solo, on the other hand, sounds somewhat closer to Harrison Ford. Catherine Taber's Leia, however, sounds more like her take on Padme in The Clone Wars than her take on Leia in The Force Unleashed, which is a bit strange. Since they are not the main characters of this story, it may not feel as important for the voices to sound spot-on, though hearing them could potentially break the immersion a little bit.
Jonathan Davis' Boba Fett sounds appropriately reserved. This is refreshing after hearing Jon Hamm's more comedic take in From a Certain Point of View story "Added Muscle," where the bounty hunter's inner thoughts sounded more like the Boba Fett of Robot Chicken. Carol Monda, Euan Morton, and Marc Thompson were convincing as Maz Kanata, The Emperor, and Darth Vader, respectively. Overall, this is a pretty good voice cast.
Final Thoughts
Doctor Aphra shows fans exactly who the titular character is and what she is all about. To those unfamiliar, it provides a good idea of what to expect from her adventures, which can get humorous and zany. However, bits of the story here and there might be confusing to those who do not already have more context from the comics. Still, the audio is a humorously fun ride, with some compelling moments of introspection. Unlike last year's Star Wars: Dooku – Jedi Lost audio drama, Doctor Aphra does not add much to the Star Wars lore or even tell us many new things about the main character. If there are any further audio dramas centered around Doctor Aphra, I could see her solo series getting adapted, but I would prefer new adventures. That being said, I would be curious to hear just how much a newcomer might have enjoyed his.
Score: 7.75/10
Review by Steven Shinder
Syndicated From Culture Slate