Star Wars Books for Kids
Take your mini Luke or Leia to a galaxy far, far away with the best Star Wars books for kids.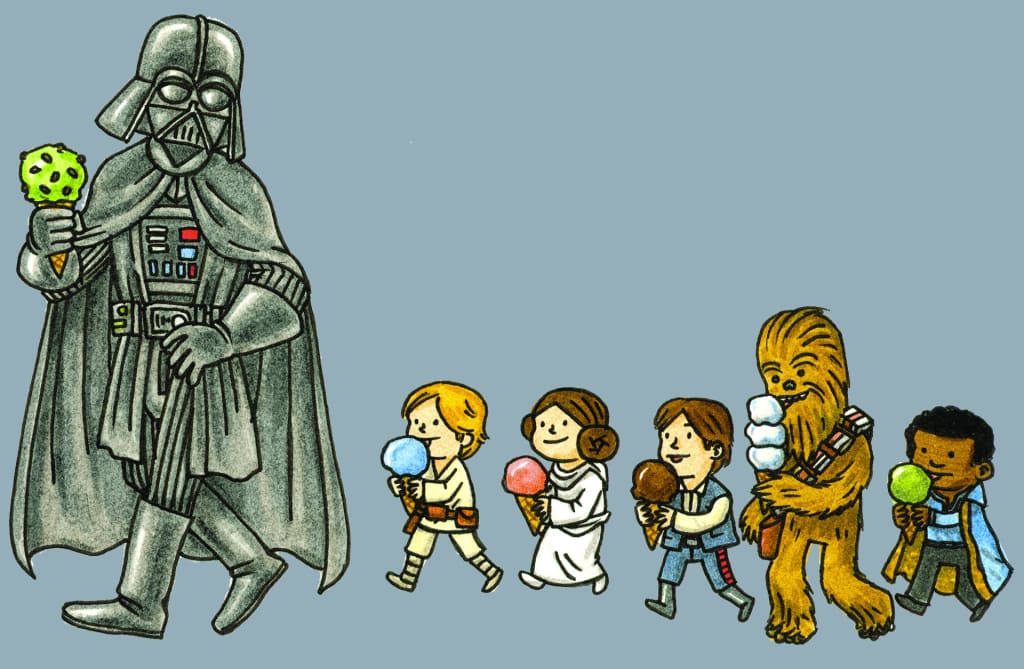 If you love Star Wars then chances are your children will or already do. So will their children, your grandchildren. These books are the perfect stories to read to kids after a long day of defending your individual galaxy. Star Wars has become so ubiquitous that it often gets on a kid's radar long before they're ready to actually see the movies or read the best Star Wars books. So, what's a parent or grandparent to do when their 3-year-old wants to know everything there is to know about Darth Vader? Thankfully, the best Star Wars books for kids were created as kid-friendly stories that are sure to delight your little Jedi.
It's bedtime in the Star Wars galaxy, and Darth Vader's parenting skills are tested anew in this delightful follow-up to the breakout New York Times bestsellers Darth Vader and Son and Vader's Little Princess. In this Star Wars books for kids Episode, the Sith Lord must soothe his rambunctious twins, Luke and Leia—who are not ready to sleep and who insist on a story. As Vader reads, the book looks in on favorite creatures, droids, and characters, such as Yoda, R2-D2, Han Solo, Chewbacca, Darth Maul, Admiral Ackbar, Boba Fett, and many others as they tuck in, yawn, and settle down to dream. As ever, Jeffrey Brown's charming illustrations and humor glow throughout, playing on children's book conventions to enchant adults and kids alike.
This inventive Star Wars book for kids follows Roan's first year at Jedi Academy where, under the tutelage of Master Yoda, he learns that he possesses more strength and potential than he could have ever dreamed. Oh, and he learns other important things too--like how to make a baking soda volcano, fence with a lightsaber, slow dance with a girl, and lift boulders with the Force. This incredible, original story captures all of the humor, awkwardness, fun, and frustrations of middle school--all told through one boy's comics, journal entries, letters, doodles, and newspaper clippings. The setting? A galaxy far, far away...
Perfect for fans of any age, this fun-filled activity book is based on the LEGO Star Wars universe! Star Wars is the most recognizable sci-fi brand to date, its legacy spanning generations. LEGO has proved itself to be a powerhouse among younger boys. Together, the two brands are unstoppable. If your little one loves to play with the best Star Wars LEGO sets, try having them read up on the series that's set in the Star Wars LEGO universe. Following on the success of the LEGO Star Wars books for kids publishing program, our favorite heroes and villains return in an action-filled and hilarious Search-and-Find! This cute little book feels a lot like Where's Waldo, except for the fact that you're not searching for Waldo and it is set in the Star Wars universe. Here you're trying to find the clever IG-88, who we know is out to cause trouble.
Star Wars: A Pop Up Guide To The Galaxy is an explosive, interactive, pop off the page book about George Lucas' Star Wars movies to celebrate the 30th anniversary! Best selling pop-up artist and engineer Matthew Reinhart has designed a 30th-anniversary commemorative edition that comes packed with a variety of novelty features -- pop-ups, working light sabers, pull tabs, and other interactive looks at the exciting and popular movies. This beautiful book will impress readers of Star Wars books for kids and gives a whole new perspective to the films.
This funny and sweet new book, Darth Vader and Friends, is part of the bestselling Darth Vader series, Eisner Award–winning author Jeffrey Brown offers an intimate look at the friendships between best pals in the Star Wars universe, from Darth Vader and the Emperor to Leia and her Ewok pals, Han and Chewie, C-3PO and R2-D2, the bounty hunters, and other favorite characters. Jealousy, birthday parties, lightsaber battles, sharing, intergalactic rebellion, and more all come into play as Brown's charming illustrations and humor irresistibly combine the adventures of our friends in a galaxy far, far away with everyday events closer to home.
In The Secret of the Fortune Wookiee, Dwight is attending Tippett Academy this semester, the kids of McQuarrie Middle School are on their own and there is no Origami Yoda to give advice and help them navigate the treacherous waters of middle school. Then Sara gets a gift she says is from Dwight—a paper fortune-teller in the form of Chewbacca. It's a Fortune Wookiee, and it seems to give advice that's just as good as Yoda's—even if, in the hands of the girls, it seems too preoccupied with romance. In the meantime, Dwight is fitting in a little too well at Tippett. Has the unimaginable happened? Has Dwight become normal? It's up to his old friends at McQuarrie to remind their kooky friend that it's in his weirdness that his greatness lies.
This incredible, original Star Wars book for kids captures all of the humor, awkwardness, fun, and frustrations of middle school--all told through one boy's comics, journal entries, letters, sketches, e-mails, and more. In Jedi Academy: The Phantom Bully, it's hard to believe this is Roan's last year at Jedi Academy. He's been busier than ever learning to fly (and wash) starships, swimming in the Lake Country on Naboo, studying for the Jedi obstacle course exam, and tracking down dozens of vorpak clones--don't ask. But now, someone is setting him up to get in trouble with everyone at school, including Yoda. If he doesn't find out who it is, and fast, he may get kicked out of school! Why can't middle school just be easy…
In this book, Darth Paper Strikes Back, it is a dark time at Ralph McQuarrie Middle School. After suffering several Origami Yoda–related humiliations, Harvey manages to get Dwight suspended from school for being a "troublemaker." Origami Yoda pleads with Tommy and Kellen to save Dwight by making a new case file—one that will show how Dwight's presence benefits McQuarrie. With the help of their friends, Tommy and Kellen record cases such as "Origami Yoda and the Pre-eaten Wiener," "Origami Yoda and the Exploding Pizza Bagels," and "Origami Yoda and Wonderland: The Musical." But Harvey and his Darth Paper puppet have a secret plan that could make Dwight's suspension permanent...
Everyone's been there you re playing holo chess with a Wookiee, and things get out of hand. You've done something to offend him, but you don't know what. How can you defuse the situation? Better yet, how can you make sure you never end up there again? With intergalactic travel easier than ever, Wookiees can now be found on nearly every planet in the galaxy and on starships everywhere in between. This helpful guide, How to Speak Wookiee: A Manual for Intergalactic Communication, teaches citizens of the galaxy key phrases in the Wookiee language, eliminating near-fatal encounters with notoriously short-tempered Wookiees while smoothing the way to lasting partnerships and friendships. The handy sound module recorded by Chewbacca himself demonstrates proper pronunciation of ten key phrases.
What if Darth Vader took an active role in raising his son? What if "Luke, I am your father" was just a stern admonishment from an annoyed dad? In this hilarious and sweet comic, Darth Vader and Son, the story reimagines Darth Vader is a dad like any other—except with all the baggage of being the Dark Lord of the Sith. Celebrated artist Jeffrey Brown's delightful illustrations give classic Star Wars moments a fresh twist, presenting the trials and joys of parenting through the lens of a galaxy far, far away. Life lessons include lightsaber batting practice, using the Force to raid the cookie jar, Take Your Child to Work Day on the Death Star ("Er, he looks just like you, Lord Vader!"), and the special bond shared between any father and son.
About the Creator
Writer & Social Media Editor for Jerrickmedia who is an avid reader of sci-fi and a fierce defender of women, minority, and LGBTQ rights.
Reader insights
Be the first to share your insights about this piece.
Add your insights