Skwatta Camp
The Skwatta Camp in South Africa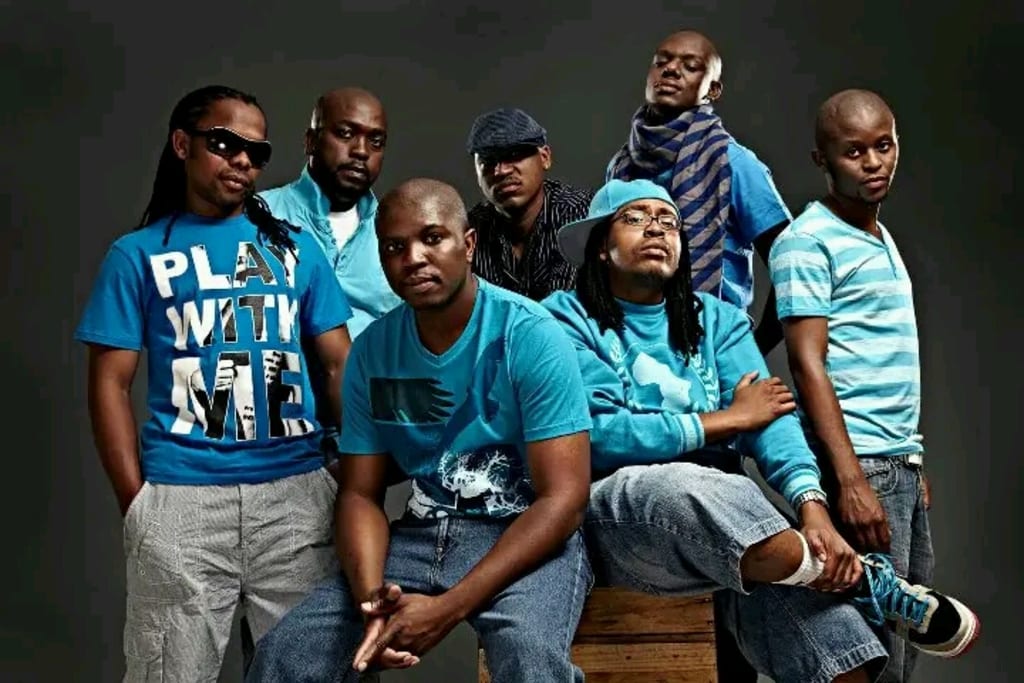 Skwatta Camp
Sometimes, meaning exists within a name, but like many prophecies, this may be taken lightly by the
unenlightened. The group name Skwatta Kamp (pronounced Skwa-tah Camp) says it all. Derived from the term Squatter Camp, which are shantytowns littered around South Africa's open landscapes, the people who live in these informal settlements are seen as outcasts and a nuisance. This was the situation in the music industry that Skwatta
Kamp found themselves in a few years back, where their form of music was not seen as an art form but a passing fad not worth mentioning in high regard.
But in true squatter fashion they are not going anywhere but are here to stay in the music industry.
Skwatta Kamp is Slikour, Shugasmakx, Nish, Flabba, Bozza, Nemza and Infa and they are determined to
leave a chapter on the hip-hop landscape by being consistent in their business acumen and by representing the true essence of South Africa's urban street culture worldwide.
Their music offers insight into where they are from. Through their music the listener gets a look into how the South African youth vibe. The canvass is the beats prepared by the best composers and Skwatta are the lyricist's painting the detail of daily living, popular culture, escapism and the township / urban youth concept of fashionista.
As leaders of the Mzansi (South Africa) hip-hop revolution the group has seen life take a turn for the better in the last six years.
Their debut album, Skwatta Cam-Pain was released in 2001 to a virtually non-existent hiphop scene and the first
single, The Rest Shut the F$%* Up, made waves on radio instantly and over the years the groups enjoyed more
albums, ground breaking achievements as hip hop pioneers and more hits in Rau Rau, Manyisa, Umoya,
Eskhaleni, Landela, The Clap Song, Feel Like Dancing, Bumpa 2 Bumpa, Kings & Kweens & Dali Mawaza.
Lets not forget to mention all the hits from their solo careers, now that's a catalogue! And the live shows can
simply be described in three words.. Hit After Hit and yet the boys remain humble and respected members of their respective communities.
Skwatta Kamp remains the most successful hip-hop group in South Africa in terms of accolades and album sales.
Two of their albums Mkhukhu Funkshen (2004) and Washumkhukhu (2005) have both separately reached gold
sales status and counting, certifying them a firm favorite amongst music buyers.
Their success locally, soon after the release of their second album, spread into the rest of Africa and in some cases
over into European countries. The groups popularity increased to a level that when multi-platinum selling American Rap Superstar, Ludacris, was performing at the MTV Base Launch Party, he personally requested for Skwatta Kamp
to perform with him. They have performed on the same stage as Talib Kweli, Dead Prez, Jeru & Black Thought on the Black August Tour + John Legend & Will Smith at MTV Concerts, Snoop Dogg, Black Eyed Peas and Bassment Jaxx in recent times and many others.
In 2006 the group decided to grow their business acumen and signed a joint venture deal with EMI / Virgin Urban for the release of their music under their own company, Skwatta Kamp Music Production. This was soon after followed by
an expansion deal with the group's clothing range, SKwear (pronounced square for Skwatta Kamp Wear), in 2007,
which saw ink hit the pad when collaborating with international clothing brand, Kappa, to bring out their own range of
footwear.
Three years since their last studio album as a group, Skwatta Kamp is back to appease their fans and take the
game that much further. FAIR AND SKWEAR is the title of the new project and hits shelves Nov 2009!
The spirit and morale of the group is on a high, all contenders are advised to take a step back and let the steady,
catchy and innovative grooves of Skwatta Kamp fill the dance floors and drive people crazy once again.
As a well travelled group, Skwatta Kamp has graced the shores of many African countries such as Zambia,
Senegal, Ghana, Botswana, Angola and Swaziland. The music has touched many South Africans and leaped borders
to reach the living rooms of many families, the lyrics have captured the essence of the South African and their
combined life stories have filled many youths with hope & courage to achieve their goals while fulfilling their dreams.
Its gonna be a crazy.
Nuff Said.
Reader insights
Be the first to share your insights about this piece.
Add your insights