Sci-Fi Artist Chris Moore's Illustrative Universe
Chris Moore, sci-fi artist, creates illustrative universes which grace the covers of the most prestigious authors.
Chris Moore is a British painter, designer, and illustrator recognized as a master of depicting high-tech science fiction. Moore has elegantly devised parallel universes that have graced the works of prestigious authors such as Philip K. Dick and Isaac Asimov. Moore's work boasts a fascinating level of technical skill and ascendancy over the canvas, using technology as merely an aid to his own distinctive technique.
Renowned as a titan of art, he has created works that mirror the masterful prose presented in the science fiction novels for which he has painted. Alone, his work echoes stories from a future yet unseen; lasers firing from an interstellar starship crack apart asteroids against a verdant blob of gas to harness critical resources. His android stares into the decadent atmosphere of future Los Angeles as plumes of fire erupt from industrial spires in the distance. Moore's work shows off a fascinating level of technical skill and command over the brush.
Creation of the Artist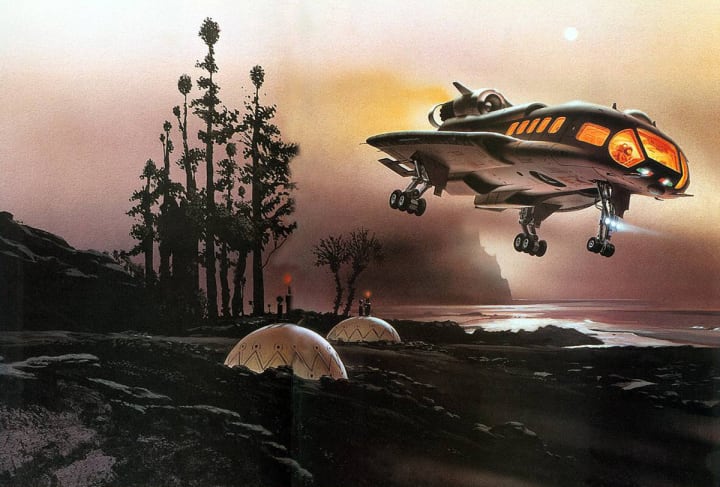 Moore grew up in a small mining town in South Yorkshire. His father was a salesman, pushing anything the market deemed palpable, from tea to dairy products. While his father worked, a young Moore spent hours drawing vehicles such as airplanes and cars. From a young age he wanted to be a commercial artist (before understanding what the title meant). The artist contends that he was never brilliant academically, preferring to doodle on paper rather than take notes. Between 1966 and 1969 he attended Maidstone College of Art. Moore was later accepted by the Royal College of Art to study Illustration between 1969 and 1972. American illustrators like Bernie Fuchs and Bob Peak heavily influenced Moore's own artistic style.
Rather than turning to teaching at University, Moore began a professional career by teaming up with graphic designer Michael Morris. Working in a room with no windows, the duo constructed designs for a magazine called Sea Trade. Moore became infamous for subtly inserting erotic imagery into their pictures. "You know how Playboy covers have always got a little rabbit somewhere? Well, we used to do a little bit of porn every time. Like, on one I had this big picture of a New York skyline with all these millions of windows. It took me days to do it, and in one of them I had this naked couple standing there," Moore told Stephen Gallagher in Journeyman: The Art of Chris Moore.
The Covent Garden pair worked on book, magazine, and record covers throughout the early 1970's. In 1980 Moore married and moved away from the center of London—a bold step for an illustrator. Working in London enabled Moore to produce record cover art for Fleetwood Mac (Penguin), The Allman Brothers Band, and Rod Stewart (The Vintage Years). It was Moore who designed concept art for YES's Rick Wakeman (No Earthly Connection). Moving away from the center of action could have proved costly for Moore's career, but he would eventually find his calling after leaving the metropolis.
Introduction to Science Fiction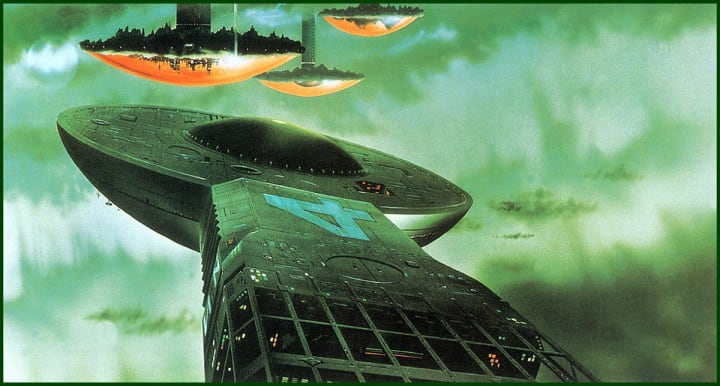 Science fiction was the only genre of novels for which Chris Moore had not designed book jackets in his early career. "In fact," said Moore, "I was barely aware of science fiction. I'd seen 2001 [A Space Odyssey], and that was about all." Peter Bennett of Associated Book Publishers and someone who Moore had collaborated with for many years, suggested that the illustrator paint a SF book cover. In 1974, Moore began painting visions of distant galaxies and the future.
Extro (also known as The Computer Connection) by Alfred Bester was Moore's first SF commissioned book cover. A cigar-like space craft is suspended in space above a solar colony, overshadowed by the overwhelming rings of Saturn in the distance. From there Moore developed himself into a sought-after science fiction book cover artist.
Moore's hyper-photo-realistic work led some other illustrators in the field, such as Jim Burns, to assume Moore was using computers to render his work. However, it was not until longtime friend Fred Gambino convinced Moore to use computers that the artist gave up his Luddite ways. He bought a PC long after Burns first suggested Moore use a digital brush. Even after buying his first computer, Moore refused to use it for five years. Today, he prefers to use technology as an aid to his own technique.
Hollywood and the SF artist flirted briefly. Moore was initially commissioned by Kubrick to create concept designs for a film the director was working on based on Brian Aldiss's Supertoys Last All Summer Long. However, due to unfortunate relations between Kubrick and Moore's agent, the concept art was dropped. The film would eventually be released after Kubrick's death under director Steven Spielberg. The project's name was changed to AI.
Legacy of Art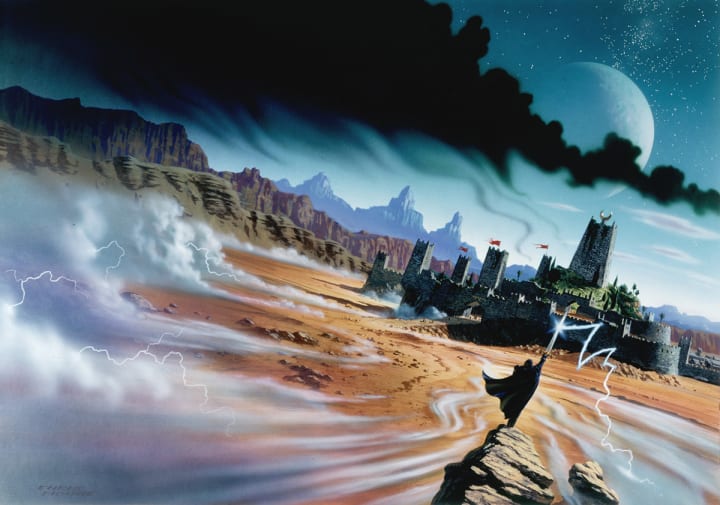 In 2000, Moore was commissioned to produce a first-day cover for The Isle of Man Post Office to commemorate 2001 by Arthur C. Clarke. The work was subsequently signed by astronauts aboard the space shuttle. Moore has become notably associated with the works of Philip K. Dick, having done covers for almost all his publications at one time or another (including his non-SF novels and stories). The artist is nearly inseparable from the mind-bending worlds Dick created.
Despite his impact in the field of science fiction, Moore has been largely ignored by science fiction awards committees. His solitary recognition has been an Asimov's Science Fiction Readers Award in 1998 for best cover art. He also received a Pink Pig Award in 1982—a sarcastic award given by the group Women in Publishing for material considered sexist—for his painting, Higher Tech, which depicts a sexy robot.
The aspiring artist never drew for himself. Moore paints to satisfy the needs of others while infusing his own style and interpretation. At the end of the day, his satisfaction is derived from a client's appreciation of his work. The SF artist is notoriously humble about his art: "If I didn't have to earn a living, I would do the science-fiction work all the time."
The Mind's Eye: The Art of Omni is the very first publication to celebrate in stunning detail the exceptional science fiction imagery of this era in an oversized format. The Mind's Eye contains 185 images from contributing Omni artists including John Berkey, Chris Moore, H. R. Giger, Rafal Olbinski, Rallé, Tsuneo Sanda, Hajime Sorayama, Robert McCall, and Colin Hay among many more, along with quotes from artists, contributors, writers, and critics.
Reader insights
Be the first to share your insights about this piece.
Add your insights