Sarah Jane Smith
The Ultimate Companion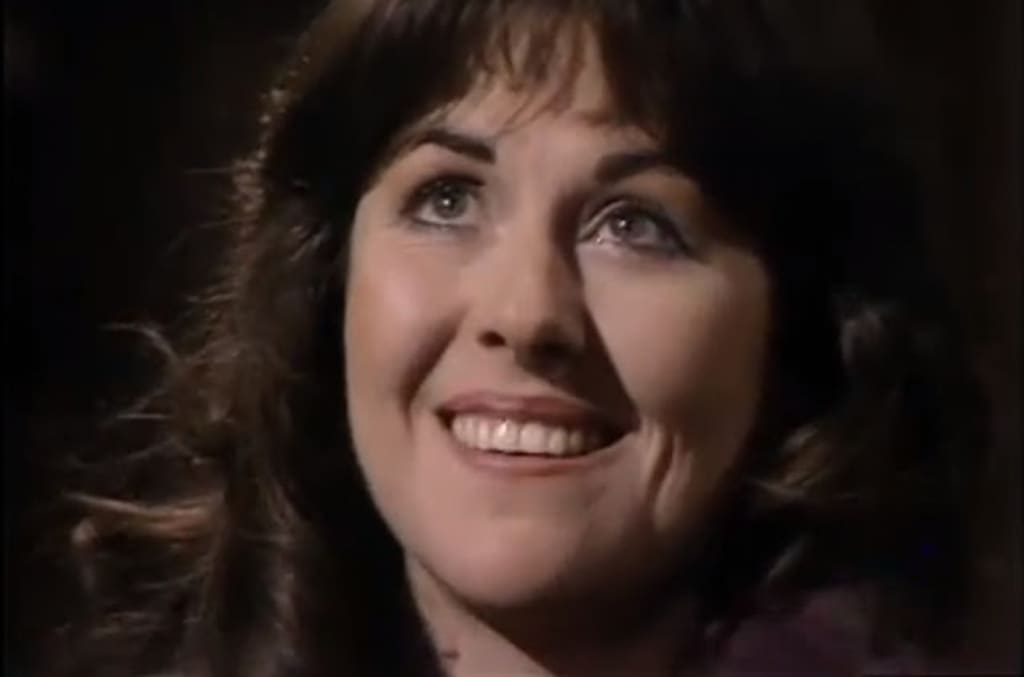 Sarah Jane saying goodbye to the Fourth Doctor in the 1976 serial "The Hand of Fear."
Investigative journalist Sarah Jane Smith, played by Elisabeth Sladen, was first introduced in the 1973 Doctor Who serial "The Time Warrior." No one could have predicted the immense impact that Sarah Jane would have on the Whoniverse.
Prior to Sarah Jane, the role of the companion was usually played by a pretty, young girl, whose job it was to scream, get captured and rescued, and ask the Doctor the important questions. The show was making progress; however, Dr. Liz Shaw (Caroline John) and Josephine "Jo" Grant (Katy Manning), Sarah Jane's immediate predecessors, had both been career women, working for UNIT (United Nations Intelligence Taskforce). While Liz was a scientist with multiple degrees, she was more of an assistant to the Doctor than a companion, as during her time on the show, the Doctor was stuck on Earth. Jo was ditzy, clumsy, endearingly dull, but she did get to travel in the TARDIS a bit. The chemistry between Katy Manning and Jon Pertwee (the Third Doctor) had been immense, making Jo one of the more popular companions at the time.
In walked Sarah Jane, in her pantsuit. In her first scene, she snuck into UNIT using her aunt Lavinia's name to get her in the door. After stealing on board the TARDIS, she travelled back in time and encountered the Sontarans.
Sarah Jane was unlike previous companions; she was independent, educated, feisty, and not afraid to stand up to the Doctor. She got hypnotized quite a few times, and had her screaming moments, but she was also strong, a sign of the times as the feminism movement gained momentum worldwide.
She stayed on the show until the 1976 serial "The Hand of Fear," which saw the Doctor being recalled to Gallifrey and having to take Sarah Jane home (humans were not allowed on Gallifrey at the time.) After a bittersweet goodbye, Sarah Jane exited the TARDIS to find that the Doctor had blown it; instead of returning her to her home on Hill View Road in South Croydon, he'd dropped her in Aberdeen.
Sarah Jane's story, it appeared, was over... until 1981. The BBC produced a pilot called "A Girl's Best Friend," for their proposed new series K-9 and Company. The episode saw the return of Sarah Jane, who received a crate from the Doctor containing K-9. The episode aired on December 28, 1981; the series was not commissioned in the end. In 1983, Sarah Jane and K-9 returned for the Doctor Who 20th Anniversary special "The Five Doctors," alongside Susan (Carole Ann Ford), the Brigadier (Nicholas Courtney), and Romana (Lalla Ward), as well as current companions Tegan (Janet Fielding) and Turlough (Mark Strickson.)
​Doctor Who was put on an indefinite hiatus in 1989, effectively ending the series, but it was not the end. In 1995, Sarah Jane returned again in the Doctor-less television movie Downtime. The movie also featured The Brigadier and Victoria Waterfield (Deborah Watling.)
The Doctor Who TV movie was released in 1996 with Paul McGann to a lukewarm reception, keeping the show off the air.
In 2002, Big Finish Productions released five Sarah Jane Smith audio dramas, with Sladen returning to voice her character. A second series of four episodes was released in 2006.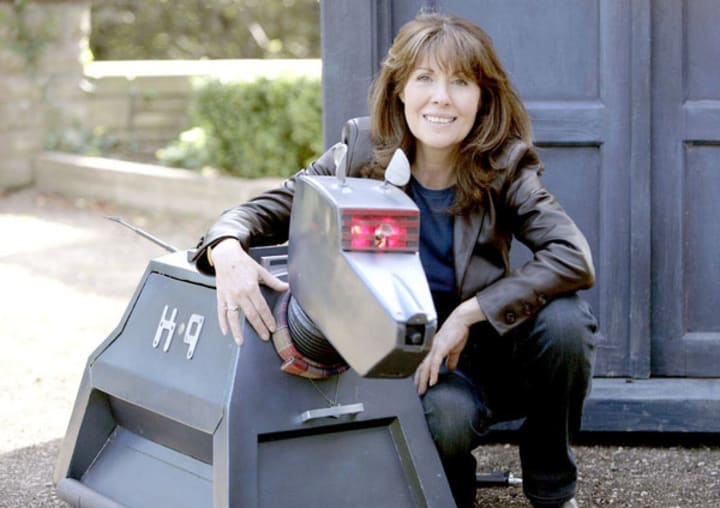 In 2005, the series was revived under Russell T. Davies, with Christopher Eccleston and Billie Piper; it was a massive success. The following year, Sarah Jane appeared in the episode "School Reunion." She went on to appear three more times between 2008 and 2010.
The return of Sarah Jane went over so well with fans that in 2006, Davies commissioned a series centered around Sarah Jane. The Sarah Jane Adventures aired in 2007 and ran through 2011, when Elisabeth Sladen sadly passed away.
Sarah Jane is considered to be the most popular companion in the series. She has come in first place in many polls over the years (losing to Sophie Aldred's Ace a few times.) With the return of Doctor Who in 2005, she has since lost to Rose Tyler and Donna Noble. She is the only companion to get three spin-offs and her own sonic device (sonic lipstick.) When asked why she thought her character to be so popular, Elisabeth Sladen cited working with popular Doctors Jon Pertwee and Tom Baker.
She is popular amongst critics as well. In 2007, Daniel Martin of The Guardian ​awarded her the honor of best companion, attributing her "jolly-hockey-sticks good nature" to her popularity. Gavin Fuller from The Daily Telegraph designated ​Sarah Jane as the best companion as well, hailing Sladen's depiction, writing that she showed "great determination and bravery."
In 2012, "School Reunion" writer Toby Whithouse named Sarah Jane as his favorite companion. "Because she was a comic companion; and I think that she, more than any other before her, redefined the role of the companion. And there are elements of Sarah Jane Smith that you can see in every companion afterward down to Amy. She changed the companion from being a rather helpless hysteric to being a feisty, opinionated, strong equal to the Doctor. And, at the time, you know that was quite an extraordinary thing to do. That was not the role the companion, or women, were meant to be playing. They were meant to be playing the victim, they were meant to be decoration. I think what Lis Sladen did with that character is quite extraordinary. We forget how revolutionary she was at the time," he lauded.
When she came onto the series, Sarah Jane changed it irrevocably. No longer was the companion an ethereal damsel-in-distress. Thanks to Sarah Jane, the companions grew stronger and more self sufficient. Her influence still resonates in the modern series, in formidable companions such as Rose Tyler, Donna Noble, Amy Pond, and Clara Oswald.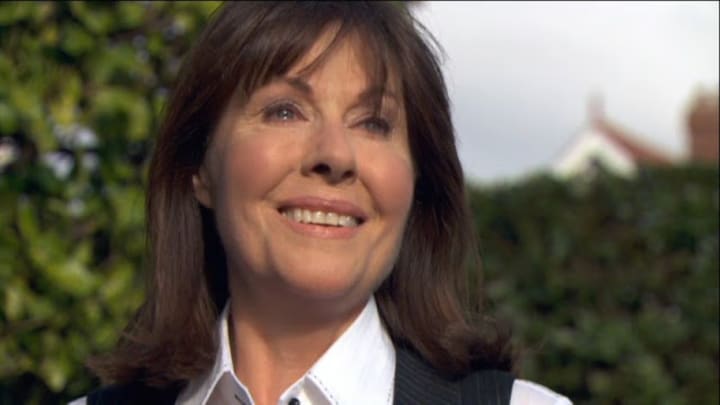 Sarah Jane is my absolute favorite companion. She was a great role model for young girls and anyone who felt repressed. Seeing her fiery determination inspired me to stand up for myself. I'm sad that we won't get anymore televised adventures with our favorite journalist, but we were blessed with many years of appearances. She will live on forever in our memory and through the books.
Lastly, I'd like to say God bless Lis. She was a remarkable woman. At Chicago TARDIS 2015, I was in line with a woman who had met Lis years earlier at the convention. She said that Elisabeth was very kind and down to Earth; that she would have a drink with fans in the hotel bar. I'd expect nothing less. Thank you, Lis, for everything. Rest well, darling.