S1 Episode 10
Mistaken Identities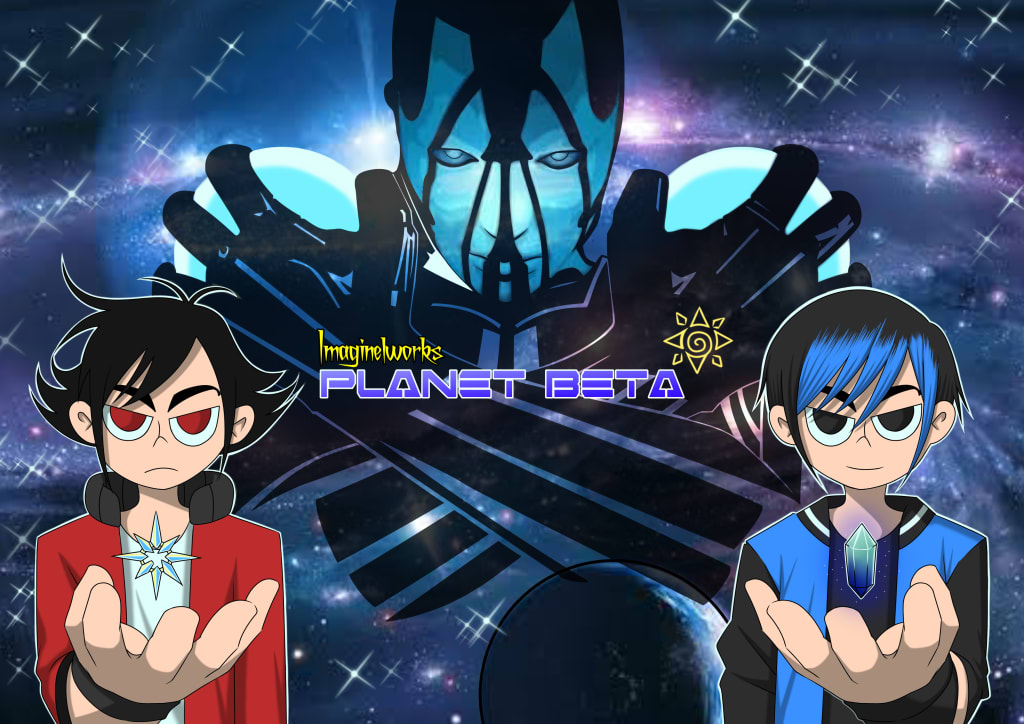 Xandr:
Hey Frout, were on a nicer planet now right?
Frout:
Wrong, This planet is full of people that will kill you without a second thought.
Xandr:
Oh
Frout:
Just make sure to tell her to stay in the more festive area's.
Xandr:
Okay.
Xandr:
Dara, Hey Dara.
Dara:
...
Xandr:
Hey Dara!
Dara:
Oh sorry Xandr I was watching the fireworks there doing over here.
Xandr:
Whew.
Frout:
It's seriously not a good idea for her to be out like this. Something might happen to her.
Xandr:
Why are you so concerned Kayi.
Frout:
What do you mean?
Xandr:
Back at the Temple you were trying hopelessly to stop zoomie from taking her.
Frout:
That's none of your business!
Xandr slides closer towards Frout.
Xandr:
Do you like her?
Frout:
That's none of your business! Besides I'm married remember.
Xandr:
Yeah, To a stone necklace. Relax I won't say anything.
Frout turns his head in a huff.
Frout:
Jeez your annoying.
Xandr:
And now that I know that you like my sister I'm going to be more annoying.
Frout:
I don't know how that can be possible but I'm pretty sure you're going to find out a way.
Xandr:
Yep!
A flying droid comes flies around the corner coming towards Frout and Xandr. They start to look around trying to look for a place to hide. Frout grabs Xandr and goes into a alleyway.
Xandr:
You know you could just tell me where to go right?
Frout:
Would've took longer to tell you.
Xandr:
Literally 2 sec. All it would've took.
Frout:
Just be quiet. I'm trying to think.
Xandr:
Oh yeah. Because you have all the time in the world. Oh wait you don't because there's a droid searching for us!
Frout:
Just give me a minute.
The Droid continues to search around for hostiles in the area then eventually fly's towards Xandr and Frout's direction at a great speed then stops looks around and fly's away not detecting them at all.
Frout:
Whew
Xandr:
I just had a thought. Why are we hiding for the droids when we haven't did anything wrong?
Frout:
Because these droids are... huh? Good Point.
Frout and Xandr steps out of the alleyway into the city again then to be swarmed by hundreds of droids.
Droids:
Stop unauthorized personal detected.
Frout:
Oh right I forgot to tell you guys that we needed authorization to enter this city.
Xandr:
Thanks for the update. But a little late don't you think.
Frout:
Well like I said I forgot.
Droids:
You two are known fugitives in the galaxy.
Xandr:
Umm..What?
Frout:
Look I think you guys got the wrong idea here. We're peaceful people who just want access to your planet.
Droid:
That's a negative. You are Calen and Glan the 5th two worst of the worst in the galaxy.
Xandr:
Wait why 5th ? I pretty sure that we can do better than that.
Frout:
Stop encourage them!
Xandr:
I'm just saying are we seriously not even considered for 3rd or 2nd worst?
Frout:
(sigh) Can't you just take him? Seriously he will not be missed.
Droids:
That's a negative our programming is made to catch any and all fugitives.
Xandr:
Come On let's just take them out.
Frout:
No and trust me on this. You do not want to cause trouble with the law here. Just surrender.
Xandr:
Fine. You're no fun.
Xandr and Frout raise their hands in signs of surrendering. The Droids surround them and takes them to a prison island on the planet. Xandr and Frout get's dropped down in front of the warden of the prison Island.
Warden:
Thank you Droids. You may go. So you two are the ones who causing havoc on this planet?
Frout:
Look mister you got the people we are not Calen and Glan. My name is Frout and this is my captain Xandr.
Xandr:
Yo.
Frout covers Xandr's mouth to keep him from talking.
Frout:
(whispers) Would you keep quiet.
Xandr:
(muffled) I'm just saying hi.
Frout:
(whispers) Say it properly.
The Warden stands up and begins to walk in front of Frout and Xandr during their bickering. They both stop and look up as they see the Warden standing before them.
Warden:
You there. You said your name was Xandr right?
Xandr:
Y-Yes Sir.
Warden:
Tell me why are you two here?
Xandr:
We are looking for a man who can give us some information on the whereabouts of a group called the Virus Corp.
Warden:
The Virus Corp?
Xandr:
Yes sir.
Warden:
I would love to help you both but you did enter my planet without Authorization. So I have to take the necessary precaution visitors or not. Take these two to their cells!
Xandr:
Wow. Serious planet.
Frout:
But Warden...
Warden:
Like I said I would love to help you on your journey but I can't go easy on you two just because your looking for someone.
Frout:
(sigh) Fine.
Xandr and Frout are then taken to their cells which are on opposite sides from each other.
Xandr:
I want to speak to a supervisor!
Frout:
We literally just talked to the Warden there is nobody higher up than him.
Xandr:
Well couldn't hurt to try.
Frout:
(sigh) How did I get into situation with you?
Xandr:
You wanted to join us.
Frout:
I guess that it true.
Xandr:
It is true. You asked us back on Planet SZ-464.
Frout:
I remember. Just be quiet a bit while I try to find a way out.
Xandr:
That's going to be kind of hard.
Frout:
How?
A group of people appear inside Xandr's cell sitting down in a circle having a meeting.
Frout:
How the Heck did all of those people get into your cell?!
The scene fades back to Dara, and Tex in the ship waiting for Frout and Xandr to get information from a friend.
Tex:
Ugh! I'm sooo board!
Dara:
Weren't you just in a training room?
Tex:
Yeah, But that got boring! I mean who wants to train all day and night 24/7?
Dara:
You do know it's been 30 min. Since they left?
Tex:
It feels like forever!
Dara:
(sighs)
Tex:
Hey, So why do you really want to come with us?
Dara:
I feel as though that I don't need to tell you that.
Tex:
Well it's either that or I burp numbers again.
Dara:
(sigh) Fine I'll tell you. But you have to promise to keep it secret.
Tex:
Sure. No Problem. I can keep tons of secrets. Even the one Xandr told me about that he still sleeps with his teddy bear. Oops.
Dara:
(groans) I know I'm going to regret this. It is true I have taken a liking to Xandr but the real reason I want to travel with you guys is because...I fear that Frout's wife is with a secret organization called Phantom Force.
Tex:
Phantom Force?
Dara:
Yes. And just like their name they have been unable to been detected by proper authorities.
Tex:
So What. Are you some sort of police officer undercover?
Dara:
Not exactly.
Tex:
So why are you so fixated on these people?
Dara:
Because they are the ones who took my friend from me.
*Who Are these Phantom Force people and what connection does Dara have with them?*
Season 1 Has Ended and Season 2 will begin soon!
See You Guys Next Time!
About the Creator
My name is Alex Adams and I am the Owner/Producer for IMAGINETWORKS. These stories (scripts) I am putting up are ones that I feel very passionate about. Please share these scripted stories everywhere.
Animations coming soon!
Reader insights
Be the first to share your insights about this piece.
Add your insights