Rosario Dawson's Reaction To Ahsoka Tano in 'The Mandalorian'
It Actually Happened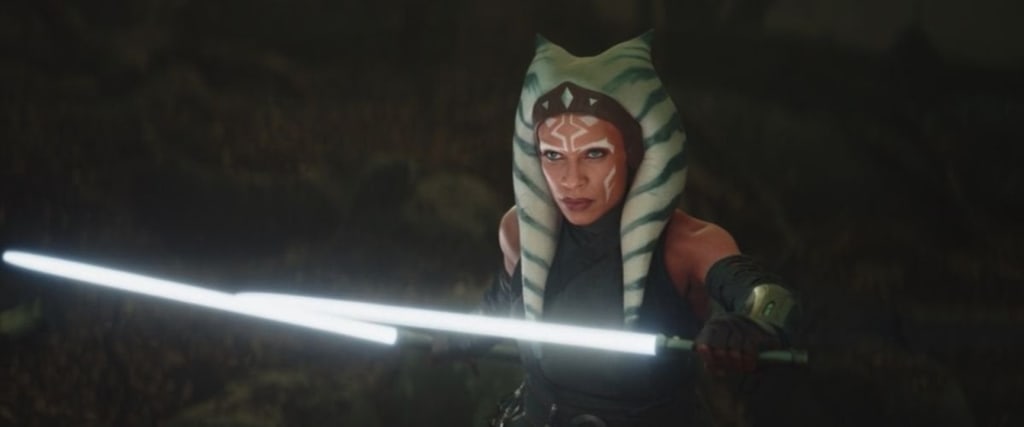 Friday's episode of The Mandalorian did not give fans any waiting time to see Rosario Dawson's debut as Ahsoka Tano. Only a few minutes into the episode, and then boom, Ahsoka is on screen with her two white lightsabers in a scene that is so artistically beautiful and calls back to the Jedi fights in the movies.
Ahsoka Tano was first introduced in the animated series The Clone Wars and later appeared in Star Wars: Rebels. She was first played by voice actress Ashley Eckstein. And while Ahsoka was subject to some criticism and backlash as a character, she did quickly become a favorite among Star Wars fans as the lore went along and is now one of the most popular characters. When there were rumors of her being included in this new season of The Mandalorian, the fanbase exploded. Back in 2008, when we first met Ahsoka, few could have predicted that she would become such a vital part of this show. But we were wrong and this episode of The Mandalorian seems like just the beginning of Ahsoka Tano's role in the live-action side of the Star Wars universe.
We have been on the edge of our seats this whole season of The Mandalorian waiting for Ahsoka to show up, and Friday night with "Chapter 13: The Jedi," we finally saw her. And it was well worth the wait. Well worth it. It was definitely a big moment for fans who have followed Ahsoka's journey through the Star Wars lore.
"Chapter 13: The Jedi" is the first episode to have a full on lightsaber battle. It saw the teaming up of Ahsoka Tano and The Mandalorian (Mando). And, most importantly next to finally seeing Ahsoka on screen, we learned "Baby Yoda's" real name: Grogu. Mando brings Grogu to Corvus in search of the Jedi master that he has heard is there. When he finds Ahsoka, he asks her to train Grogu, but she refuses saying that she senses much fear in him, which is why his abilities are latent most of the time. Of course, Star Wars fans understand what happens when a Jedi has much fear, and this will most definitely play a role later on. Ahsoka also tells Mando that he has formed quite a connection to the child and, therefore, she cannot train him. We hear more about the Force in this episode and Grogu's background.
Rosario Dawson posted on Twitter on November 27 with a link to a video of The Mandalorian promo for this episode and captioned it: "May the Force Be With You." She is definitely as hyped as the rest of us for Ahsoka's debut.
If you watched the episode, you finally got to hear those iconic words at the end of the episode with Ahsoka herself telling Mando: "May the Force Be With You." Ahsoka tells Mando that while she cannot train Grogu, he should take him to an ancient Jedi temple on Tython, and there he might find some answers and perhaps a true Jedi master.
Rosario Dawson loves the character of Ahsoka Tano along with the rest of the Star Wars fanbase and celebrated her debut in The Mandalorian along with everyone else. In the past, she has expressed interest in playing a live-action version of Ahsoka Tano. In March of 2020, there were rumors that she had been cast as Ahsoka Tano, but there was never an official confirmation from Lucasfilm, nor was there a confirmation from them that Ahsoka would indeed be in this season of The Mandalorian.
Whether or not Ahsoka will be in any further episodes of The Mandalorian remains to be seen after she has decided not to train Grogu. We learned that she is on a path to find Grand Admiral Thrawn, which could definitely play a part either in The Mandalorian in the future, or in perhaps her own series? However, one thing seems certain: we will most likely see both Ahsoka and Boba Fett (who hasn't been seen since the first episode of season 2) again in The Mandalorian.
And perhaps, down the road, Rosario Dawson will get to play Ahsoka in her own title series. That would be something to look forward to.
Written By Elizabeth Dresdow
Syndicated From Culture Slate