Star Wars Universe
Rey Skywalker's Name Was ALMOST..."Winkie"
That Was A Close One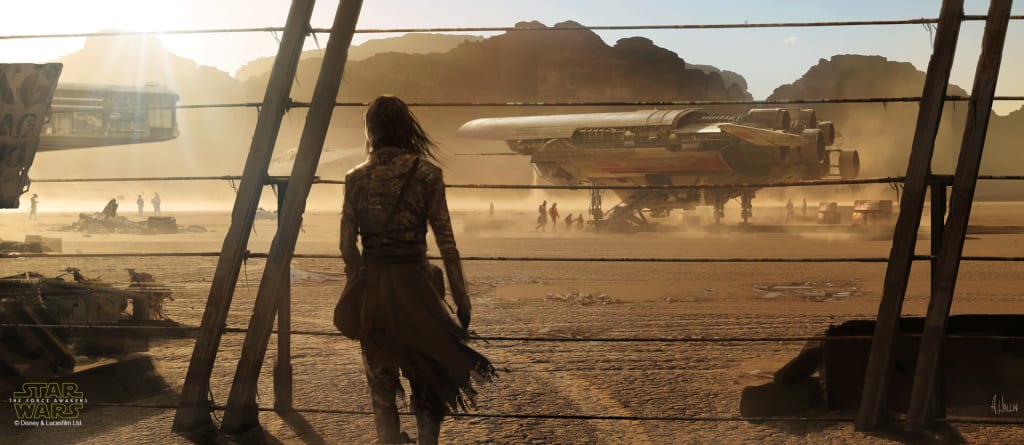 (Photo credit: Lucasfilm)
Pablo Hidalgo is a self-described expert on a variety of genre obsessions, from classic animation to shape-shifting robots. As a Lucasfilm veteran of over twenty years, he has much inside knowledge that most Star Wars fans would dream of having. Shortly after Disney acquired Lucasfilm in 2012, Hidalgo approached Kathleen Kennedy about the possibility of making his consulting role official, and this led to the creation of the Lucasfilm Story Group. The Lucasfilm Story Group is a team of Star Wars experts who work together to maintain the current Star Wars canon. Hidalgo has been able to successfully share his insight and experiences through several published titles that have proved to be wildly popular among Star Wars fans. Some of his best-known titles include: Star Wars: A New Hero (2014), Star Wars Rebels: Head to Head (2014), Star Wars: The Force Awakens: The Visual Dictionary (2015), Star Wars Propaganda: A History of Persuasive Art in the Galaxy (2016), Star Wars: Rogue One: The Ultimate Visual Guide (2016), Star Wars: From a Certain Point of View (2017), Star Wars: The Last Jedi: The Visual Dictionary (2018), Solo: A Star Wars Story: The Official Guide (2018), Star Wars: Scum and Villainy: Case Files on the Galaxy's Most Notorious (2018), and Star Wars: The Rise of Skywalker: The Visual Dictionary.
Hidalgo has just released his latest title, Star Wars: Fascinating Facts. This insider's guide contains over 200 pages of lesser-known facts from all nine episodes of the Skywalker saga and contains profiles of important characters and early drafts of scripts showing what might have been, details of how famous scenes were filmed, and other firsthand accounts from cast and crew members. In an October 7 interview with SyFy Wire, Hidalgo stated:
"I had a few months to compile the kind of facts they were looking for and hit the specific 'browse-able' tone they were seeking. It sounded like a good fit, and my schedule had opened up as I had recently wrapped up some other writing projects."
Hidalgo's new book is chalk full of new information but one of the most interesting points he made is how George Lucas had apparently already begun to imagine various ideas and storylines about a sequel trilogy before he sold Lucasfilm to Disney. In an article with TechCrunch in 2012, he expressed his optimism of the deal.
"I felt that I really wanted to put the company somewhere in a larger entity which could protect it. Disney is a huge corporation. They have all kinds of capabilities and facilities, so that there's a lot of strength that is gained by this … I'm doing this so that the films will have a longer life, and so that more fans and people can enjoy them in the future. It's a very big universe I've created and there are a lot of stories that are sitting in there."
Lucas has notoriously lamented back and forth about the ultimate choice he made to sell his company. The idea of retirement faded rather quickly with Lucas, but the initial sense of optimism about Disney's plans for the Star Wars franchise, seemed to fade even quicker. Though we may never fully know his true feelings about the sequel trilogy in its entirety, perhaps, Star Wars fans can find comfort in the fact that Lucas had always intended for Luke Skywalker's destiny to play out almost exactly how we saw it happen. In an excerpt from Star Wars: Fascinating Facts, Hidalgo stated:
"Years before The Last Jedi began development, the treatment left behind by George Lucas in 2012 also had Episode VIII as the one wherein Luke Skywalker would die."
It should be pointed out that Mark Hamill once told IGN that Lucas, at one point, intended to have Luke die at the end of Episode IX:
"I happen to know that George didn't kill Luke until the end of [Episode] 9, after he trained Leia. Which is another thread that was never played upon [in The Last Jedi]."
Given that Lucas is known to change his mind, especially when it came to his ideas for a sequel trilogy over the decades, it is possible that this idea preceded the one that Hidalgo talks about. Another point Hidalgo revealed in Star Wars: Fascinating Facts involved George Lucas and the development of the sequel trilogy. For the convenience of script placeholders, Kylo Ren's production code was simply: Jedi Killer. Meanwhile, Finn was Harry, and Poe Dameron was John Doe.
"The Force Awakens' long journey from idea to finished film was filled with evolution, but one idea that remained constant from the start was that of a young woman's quest to become a Jedi Knight. In George Lucas's original outline, she was a 14-year-old girl named Taryn."
Hidalgo went on to explain that in later versions, Lucas eventually changed Taryn to Thea, and Thea to Winkie. Yes—WINKIE! After Lucasfilm was sold to Disney and J.J. Abrams signed on to the production team of Star Wars: Episode VII - The Force Awakens, Winkie became Sally, and Sally became Kira. Kira hung on long enough to stick as a production code name, until Echo, and eventually, Rey came about. Thankfully, Rey finally won out. To J.J. Abrams, on behalf of Star Wars fans everywhere (and probably Daisy Ridley), we thank you for letting Rey be Rey and not Winkie.
For other fun facts you may or may not know, be sure to check out Pedro Hidalgo's latest publication, Star Wars: Fascinating Facts. This book is sure to delight and will make a perfect stocking-stuffer gift for any Star Wars fan, this coming Sithmas season.
Written By Jill Hernandez
Syndicated From Culture Slate