Regenerating 'Doctor Who: The Classic Series' with Ronn Smith
An interview with the man behind 'Doctor Who: The Classic Series Regenerated.'
For fifty-five years, Doctor Who has been keeping viewers entertained with the adventures of the Time Lord through time and space. What began as a series of TV series has turned into an ever-expanding universe. The Doctor's adventures can be experienced not just on TV but in comics, novels, and audio dramas and anything in-between.
Of course, fans will always want more. That is perhaps why Who has had a strong presence with fan works from fan fiction (which helped to launch of a number of those writing for the program today) to cosplay and conventions. It's also inspired a series of fan films, independently made non-profit works both recreating eras of the TV series and creating a universe worth of new incarnations.
One of the most recent and intriguing examples is a project currently crowd-funding on IndieGoGo. Called Doctor Who: The Classic Series Regenerated, the project seeks to take fans back to the halcyon days of Tom Baker's Fourth Doctor (the one who was "all teeth and curls") and the late Elisabeth Sladen as Sarah Jane Smith. Based on their 2016 trailer, it certainly looks to be an intriguing project. Ronn Smith, the man behind the project who also plays the Fourth Doctor in it, recently sat down with me to talk about the project and his life as a Doctor Who fan.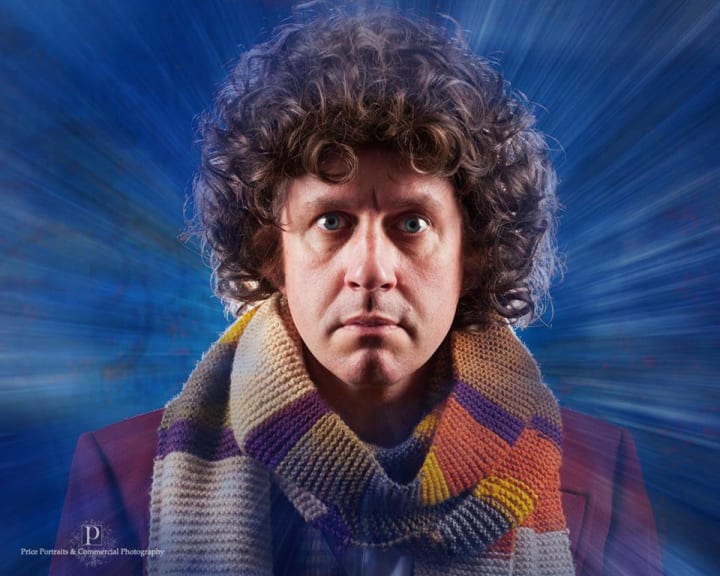 Matthew Kresal: Let's start off with an obvious question: What was your first encounter with Doctor Who?
Ronn Smith: My first encounter with Doctor Who was back in 1981. I was 13 years old and was flipping through the TV channels one evening. I stopped on the local PBS station because my eye was caught by this eccentric looking person with a long scarf who was trying to save his friends and others from this odd, potato head looking alien. It was part one of "The Sontaran Experiment." I tuned in the next day to catch part two and 37 years later, I'm still hooked.
What made you want to decide to make a fan film generally and a Doctor Who one specifically? Had you seen other Who fan films such as The Masters of Luxor for example?
I've always been interested in film and video production. Even at a young age, not long after discovering Doctor Who, I'd entertained the idea of wanting to make a fan-film. Granted, back in the early 80s we didn't have easy access to the technology to do that sort of thing. Today, you can practically shoot and edit a project on a smartphone or a tablet with high-quality video.
Adding to my desire to make a fan-film was that I also had an interest in acting from that young age as well. My first "acting" role goes all the way back to elementary school. I also did school plays through middle school and then in high school. Beyond that, I've been in numerous theater and film/video productions through the years. Rough guess, I've probably been in close to 30 or so theater/film/commercial productions through the years.
I also worked in the film/video production industry as well. I went to college and got my degree in Mass Communications focusing on film/video production and spent about 16 years in the industry. Eight of those years I was a co-owner of production company as well. The odd thing being, all the while I had access to pretty much any production equipment to make a fan-film it always kept getting pushed to the back burner due to "paying" jobs. Before you know it, years have gone by and I still hadn't gotten my fan-film created even though there were a few start and stop attempts during those years.
Today, I no longer in the film production industry, but about 5 years ago the bug got into me again to revive that long-dormant want to make my own Doctor Who fan-film. Luckily, I have still kept many of my connections with friends who are still in the industry and also with friends I have acted in production with who are also Doctor Who fans and are eager to help get this project off the ground.
I have seen many Doctor Who fan-films over the years, such as The Masters of Luxor, Devious, Time Rift, and a series from the mid-80s (which, by the way, had a female playing the Doctor as far as back then), which over the years, further spurred my interest to want to make a fan-film.
I'm particularly curious about your choice for Classic Who (that is the original 1963-189 run of the series) rather than going for either New Who or creating an original fan film Doctor. What made you decide to focus on that and Tom Baker's Fourth Doctor specifically?
My original plan through all of the prior years was to make an entirely original Doctor and companion. This was during "wilderness years" before New Who returned in 2005. After Doctor Who did come back, I started thinking, "Well, fans are getting new and original Doctors now." So, my mind started leaning back towards Classic Who.
Which Classic Who wasn't a question I really needed to ask. Tom Baker and Elisabeth Sladen were my first Doctor/companion team. They've always been and always will be my favorite. So, this project is really a labor of love and a tribute to what many see as the best TARDIS team of all time. Which can be a very daunting task because it is so beloved by millions. You have to do it right and with as much reverence as it deserves.
Another big inspiration for me wanting to do a tribute to Classic Who was my acting involvement with Star Trek: New Voyages. This was a very high-end fan-film series produced by James Cawley in upstate New York and was based on the original series of Trek. It was incredible! He took fan-film production to the next level with highly detailed, full scale replicas of every set of the Enterprise and authentic costumes. He had industry professionals volunteering their time simply because they loved the original series of Star Trek. He even got original series actors to come and take part in his productions. I kept telling myself, "THIS is what I want to do, except with classic series Doctor Who!" I wanted to do a production that would have the look and feel of a BBC production.
The project has been in development for a while, now since 2014, I believe. You had the trailer, a sort of sizzle reel, come out back in 2016. What made you decide to do that first rather than a full story?
The long and short of it was…like with everything in life…money. The trailer was primarily produced as a "demo reel" to show what we could do with absolutely no budget. It was, basically produced with what little money I had set aside for it, and with what little I could afford to put on a credit card.
We had a full-length traditional Doctor Who script ready to go. It was a 4-episode story, but it would have cost way more than I could have financed on my own. Which led to the first Kickstarter fundraising attempt. Which, sadly, failed.
Let's talk about Mind Bomb, the story you're hoping to make once the IndieGoGo campaign is over. Can you give us any details about it?
After the first fundraiser failed, we decided to try another script. Something that would be less involved: a smaller cast, fewer sets, not as many episodes, etc. I was working with a few writers on possible story ideas, but life always seemed to be getting in the way and delaying things.
I then got with a long-time friend, writer, and fellow Who-fan, Jonithan Patrick Russell. I asked him if he had any ideas for short Who adventure. He looked around and he told me he did have something that might work. And with some tweaking here and there, we have, our two-part script, Mind Bomb.
Without giving too much away, it involves the Doctor and Sarah answering a spaceship's distress call picked up by the TARDIS. When they materialize on the ship they are, as always, separated and then must face many events that will cause them to question if anything they see or hear can be believed as they fight to keep their sanity and to stay alive.
It's a very traditional Classic Who story that I think will not disappoint. I seriously believe that viewers will finish saying, "Wow!" and feel like they were sitting in front of the telly in 1975.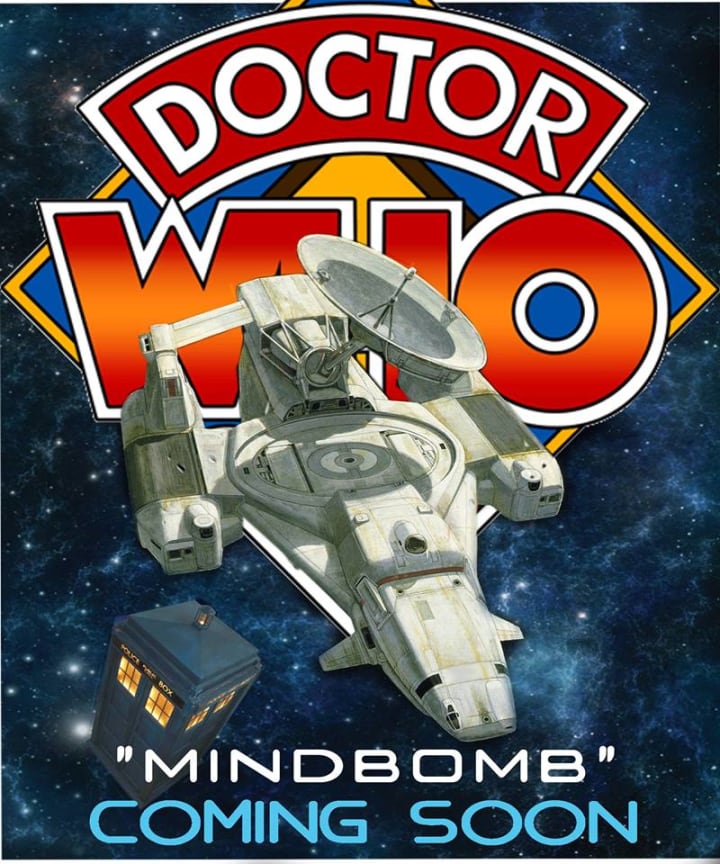 Can we hope, provided there is enough interest, that Mind Bomb might be the first in a series of new adventures for the Fourth Doctor and Sarah, maybe fleshing out some of these scenes from the 2016 trailer?
Absolutely! The plan was always to try and turn this into a continuing series, much like the Star Trek fan-film series I worked on. We would love to do one story a year. If this production is successful, we hope that interest will just keep growing and we can get to that point.
We have also been asked if there are plans for any stories with any other of the Fourth Doctor's companions. The answer to that is also, yes. We would love to have a mix of stories with all of the Fourth Doctor's companions. Only time will tell on that though.
Last but not least, where can people learn more about Doctor Who: The Classic Series Regenerated?
Right now, the best place for people to find out everything about our project is on our Facebook page…so go there right now and give us a "like!" We also have a YouTube channel where the finished episodes will be found. We're also planning on creating a separate website for the project but that is down the road. So, keep an eye open for that!

Matthew Kresal
Matthew Kresal was born and raised in North Alabama though he never developed a Southern accent. His essays have been featured in numerous books and his first piece of fiction was published in the anthology Blood, Sweat, And Fears in 2016.
See all posts by Matthew Kresal →