Own A Piece of The Moon (Or Mars)
Couple NASA's 3D radar topography data of the Moon and a 3D printing facility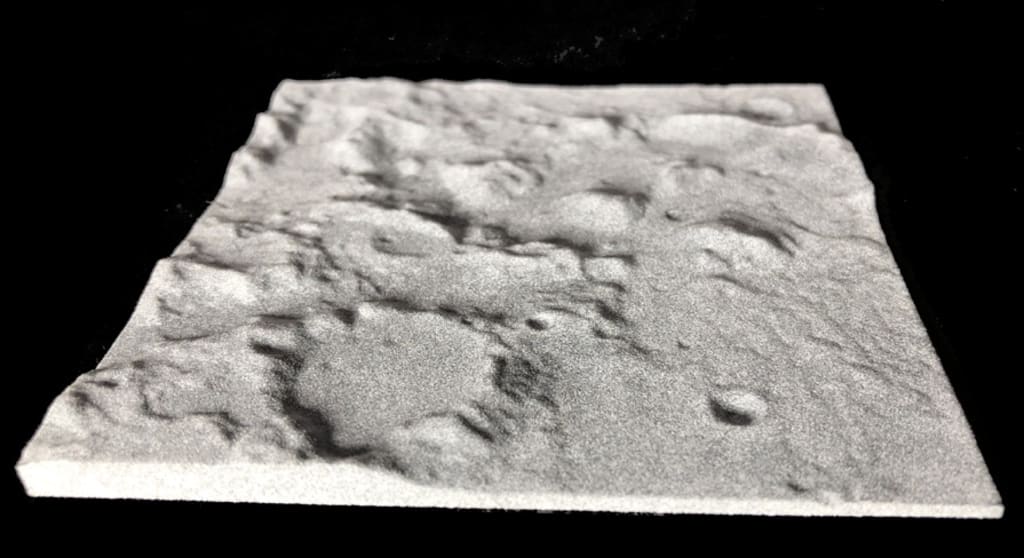 Photograph by Author
Why would you want an accurate 3D model of the moon's surface? Well if you have to ask the question, you probably don't. But if you do, here's how to go about it.
NASA being a government-funded entity provides a great deal of its data via the public domain. Which means you and me have access to their data.
NASA's 3D Model Depository Website
https://nasa3d.arc.nasa.gov/
3D Models Galore
While this article focuses on the Moon, there is a ton of NASA model data available. By tons, I mean hundreds of 3D models, including various Earth satellites, Hubble Space Telescope, Rovers, and Spacecraft like the Apollo Lunar Module.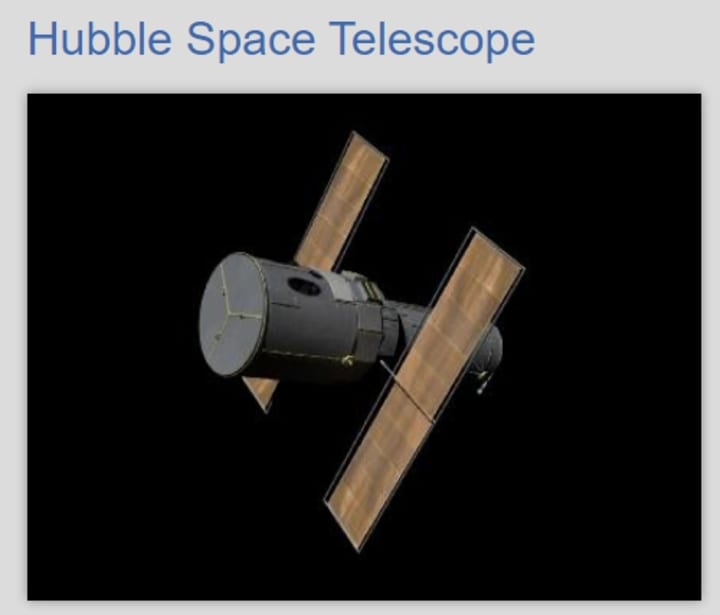 Some models are more complex than others and may need to have parts printed separately and assembled afterward.
If you decide to use a 3D printing service as I did, you must be sure the service accepts the format of your 3D model. Shapeways service uses the following formats: DAE, OBJ, STL, X3D, X3DB, X3DV, or WRL.
Apollo Lunar Module
If you download and unzip the file for the Apollo Lunar Module, you will see it in a 3ds format. This is an Autodesk format. This format will need to be converted to one of the above accepted Shapeways formats.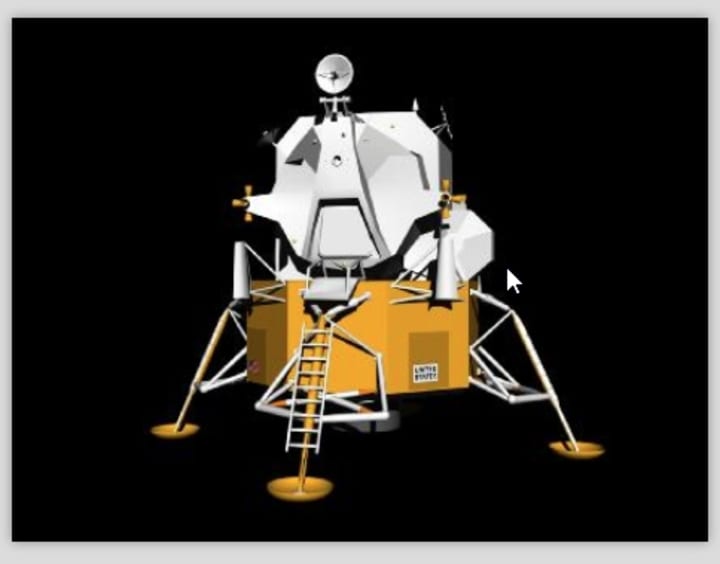 Back To The Moon
When you visit the NASA website on the left side menu list near the bottom, under Collection is the link to Lunar models, click on that.
You are brought to a web page with a number of lunar models you can download. If you look at the Apollo 11 landing site, you can see why it was picked for the first moon landing. It's practically a flat moon landscape. Good for landing but a bit un-inspirational for a moon surface model.
I selected the Apollo 17 moon landing site. To me, this model is visually more interesting. This particular model represents approximately a 60x60 Kilometer surface area of the moon.
Download the zip file from Nasa, and unzip it. The file will unzip the Apollo_17.STL file, which is about 26 megabytes.
Shapeways
Now that you have your file, head over to Shapeways.
https://www.shapeways.com/
If you are using another 3D printing service, head over there.
Going to Shapeways, create a free account if you don't already have one.
On the index page upper right there is a "Get A Quote" link. Click on that. This will bring you to another page where you can upload your STL file. Upload the Apollo 17 landing site file.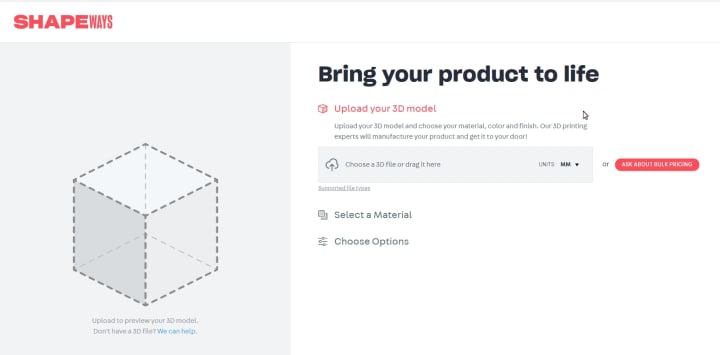 It will take a few minutes for Shapeways to render the model and price it out.
You can move and view the rendered 3D model by grabbing the model with your mouse and moving it.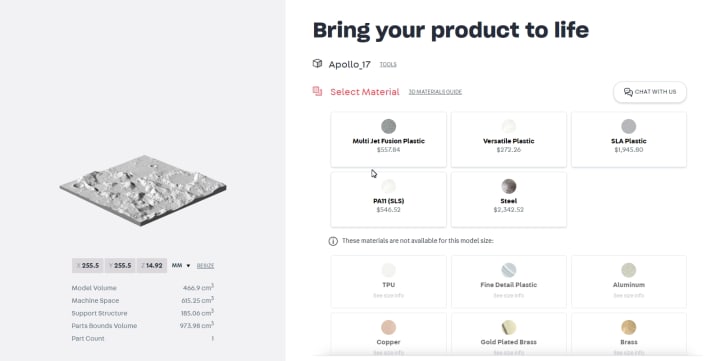 The price of printing this model is a little steep from $272 to $2300, depending upon the plastic and resolution. Not to worry, the high price is due to the size of the model. The size the model pulls in at is 255x255mm x 14.92mm.
Scale
Click the "RESIZE" text next to the model measurements to change the size. I would recommend 60mmx60mm. So each millimeter of the model represents approximately a Kilometer of the moon's surface.
This will reduce the cost considerably.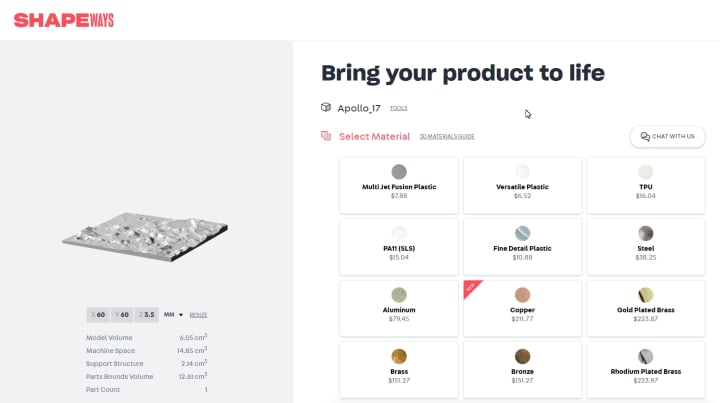 If you like a larger model, you can always resize to something a little larger.
3D Printing Plastic Recommendations
One reason I choose Shapeways, rather than 3D print it myself, was the higher resolution at which Shapeways can print. To this end, I would choose a Fine Detail Plastic.