O Captain! My Captain!
Journeys with a rag-tag fugitive fleet...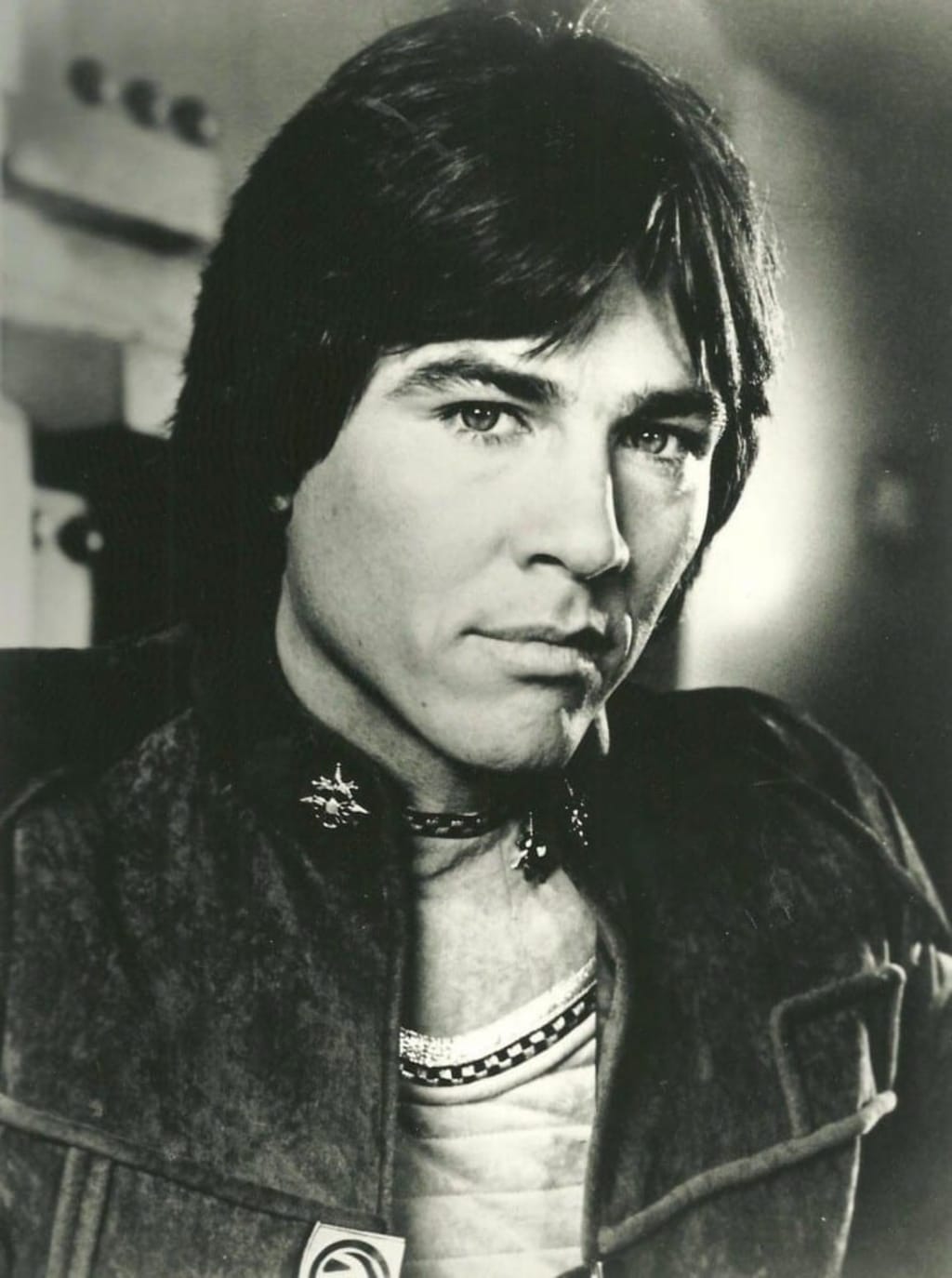 Richard Hatch as Captain Apollo from Battlestar Gallactica
… a rag-tag fugitive fleet … on a lonely quest … to a shining planet known as Earth …
Those words were a siren song to me. How many nights had I gazed up at the moon … getting lost in the stars … wishing even then that I could leave this planet and explore the galaxy, in a ship of my own, dreaming of finding a new home; a home where I might fit in.
Even at a young age, I was painfully and empathetically aware of the hate, anger and injustice in the world and I wanted no part of it. I was a willful loner and quite happy living in the worlds I created in my head long before I started putting them to paper.
An old soul … that's what everyone called me and I embraced it, using that to explain, and perhaps be more comfortable with, the odd youth I was. I have always been weird and unusual. When younger, it was a burden I kept to myself as much as possible but it didn't go unnoticed. My brother used to tell me I was the 'good kind of weird.' As an adult, I refuse to hide my true self and fully embrace the weird and unusual within me, arms wide open. There's something to be said about living your truth.
Now while most teenagers were swooning over the more popular heart throbs and musicians of the seventies, I was lost in all matters having to do with science fiction and fantasy, harboring a notoriously secret crush on Richard Hatch (not the infamous Richard Hatch of Survivor fame). To be honest, the word crush doesn't seem to do the emotion and admiration I felt for him justice.
I first saw him on All My Children, the soap opera on which he played Philip Brent from 1970 to 1972. Even then, there was something about him that caught my attention. Why does this particular time remain so vivid in my mind? Might have something to do with the incident wherein I pushed my younger sister off the couch during an episode of All My Children and she slammed her head into the base of television. I know – and I hang my head in shame to this day. Admittedly, I may have the faint (albeit remorseful) recollection that she might have been blocking my view of a certain actor. *coughs* Sorry my dear sister … nothing personal.
Richard Hatch is best known for his character of Captain Apollo in Battlestar Galactic, a role for which he received a Golden Globe nomination.
It was that character, that role, when I fell … and fell hard. I was old enough to separate the person from the character, but at that tender age, it was too easy to get lost in him. You could even say he was my Muse, stirring to life some of the best science fiction and fantasy writing I had done to date.
Who better to travel the galaxy with but Captain Apollo? When I saw him, my heart skipped a beat and I couldn't take my eyes off of him. How easy it was to get lost in that soulful blue gaze and let my imagination soar. And soar it did.
He exuded a warmth and strength of character that I had not seen before in the adults around me. How did I know he would keep me safe, protecting me from the monsters running rampant in my own life, never wavering in his loyalty or his honor, and not leaving me to fight them alone? I couldn't have understood then but the knowing came from deep within my gut. I trusted it.
As the 'relationship' bloomed, I found myself on his ship, rescued by him and willing to be protected and kept safe while I healed from the trauma of the beasts in my world. As time went by, I grew stronger, more independent, more confident, less shy. We talked often, sharing a secret escape only to two of us knew about, watching the stars as we talked about the past … the present … the future, late into the night. He was a warm, honorable, tender man who kept his heart close to the vest, only letting a rare few see the more vulnerable side of him. Just as I did.
Unknown to him, he nurtured my growing independence and strength, never once trying to undermine me or put me in my place. Never did I have to assume a lessor role, or hold my tongue. No longer was I simply background noise. I was a strong, intelligent woman and was loved simply for being myself.
So not only did I have my initial experience with first love because of him, I also had my first encounter with the green-eyed monster when Serina (played by Jane Seymour) came into the picture. Oh, how I despised her intrusion and soon found my young self quite forlorn and ready to step back in the shadows.
I surprised myself, though. I decided I was not going to exit gracefully. I admired Jane Seymour as an actress so who better than she to play my character? And so, our love story continued until the fateful end of the series.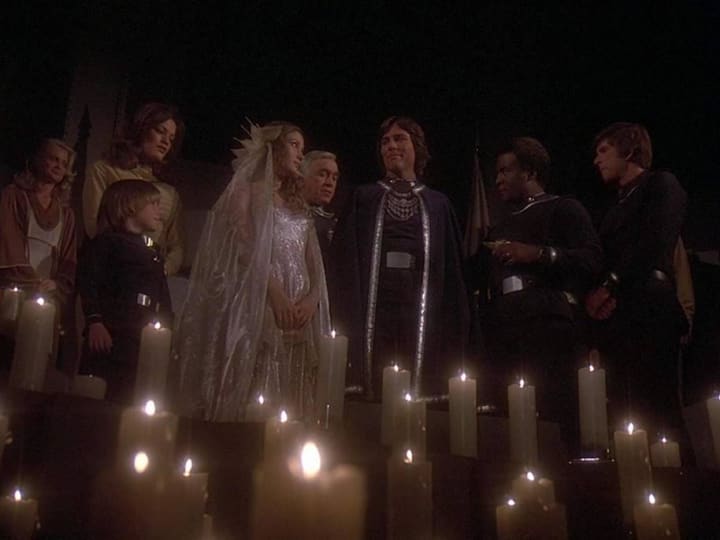 You can imagine the heartache that washed over me when the show wasn't renewed (not to mention Serina was killed by the Cylons). We existed in this fantastical world for a mere twenty-four episodes. I mourned the loss of seeing him every week but he was still with me. A connection such as ours was not easily broken and our story continued through my writing … my own version of fan-fiction at the time. I wrote him a letter, thanking him for the growth he fostered in me during that year. Granted it was a bit squishy (I was a teenager after all) but behind the gushing, I made certain he knew the real life affect he'd had on me.
I wasn't the only one disappointed about the end of the series. Richard Hatch, as well as all his fans, and fans of Battlestar Gallactica were having a heard time accepting the untimely fate. Did he leave? Abandon his fans … me? Hello no. He fought back and fought hard. During the 1990s, he attempted to secure the rights to revive the original Battlestar Galactica. He co-wrote seven novels, as well as comic books, even filming a trailer for a possible television revival entitled Battlestar Gallatica: The Second Coming, a series intended to be a direct continuation of the original show.
The trailer won acclaim at science fiction conventions, sparking to like the hope of a revival. To accomplish this, he mortgaged his own home and campaigned tirelessly to bring back the show.
His proposal was never approved; instead, another production team opted to re-make the Battlestar Galactica concept from scratch, and it debuted on the Sci-Fi Channel in 2004. Hatch had a recurring role on the remake through its 2009 conclusion as Tom Zarek, a charismatic terrorist turned politician, but to be honest … it was almost too painful to watch, knowing just how much of himself he'd put into reviving the beloved original. But he hadn't abandoned us so there was no way I'd abandon him.
Over the years, he amassed an extensive career in film, television and writing. He'd even written and created a trailer for his own space opera, The Great War of Magellan. In addition to following his passions, he continued to remain omnipresent for his fans, and fans of the show. He hosted the Battlestar Galactica 25th Anniversary Convention, attended multiple sci-fil conventions, and even hosted Battlestar Galactica themed cruises for fans.
I admired him then and always will his passionate efforts to keep life in a franchise he loved so dearly. Just as I knew he would when I first fell for him as Captain Apollo, he stayed present in our lives, never abandoning fans of the show, or his own fans. His passion was inspiring and I utilized his fortitude to keep going with my writing and not give up.
Sadly, we lost our beloved Captain in February of 2017 after a long battle with pancreatic cancer. Although his physical presence is gone from this Earth, he and his spirit will always be with us in the many forms of his lifelong artistic endeavors in film, television and novels.
So say we all ... So say we all, with love