New 'Star Wars: Rogue One' Trailer Reveals Hints About What Darth Vader Is up To
The 'Star Wars: Rogue One' trailer treated us to a glimpse of Sith Lord Darth Vader and more hints as to what he is up to.
In case you haven't heard, a new trailer has dropped for Rogue One: A Star Wars Story, and fans across the internet are loving it. After all, a new trailers means more footage, more footage leads to more epicness, and epicness leads to happiness.
Featuring many great shots of new worlds and fresh faces, the trailer also treated us to a more substantial glimpse of a very familiar Sith Lord, whose role in the movie is still shrouded in secrecy.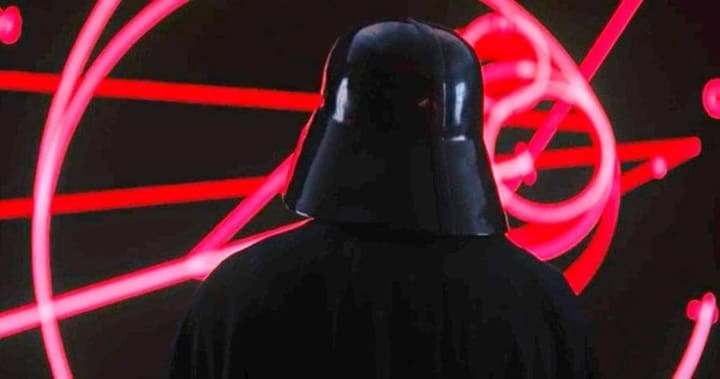 What do we know about Darth Vader's purpose in the film so far? Could Rogue One have in store for him than we'd first realized? Read on to find out more, though beware!
*This article contains Mild Spoilers/Speculation for Rogue One: A Star Wars Story!*
The party doesn't start until I arrive.
Firstly, let's take a look at what we actually see of him in the new promo. Though there are definitely clearer, more prominent shots of him, we have to admit that there isn't much new footage of the infamous villain...which is kind of fitting really, given what we know. Vader's role in the film has been confirmed as more of a cameo rather than a major role, but that doesn't mean we should be dispirited! The filmmakers have promised that Darth Vader will be relevant to the story, and depicted in all his dark, forbidding glory. There's even been talk that his brutality in Rogue One had to be reigned in!
Therefore, as Yoda always says, "Size matters not!"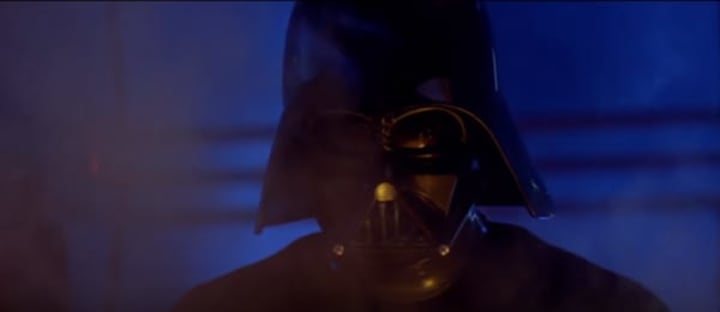 Moreover, if we scrutinize what we do see in the trailer, the teaser reveals more than we initially thought. Indeed, Vader's masked visage amidst the clouds and lights is a nice visual throwback (or should that be foreshadowing?) to the famous freezing of Han Solo in The Empire Strikes Back. It's an undoubtedly cool moment, with the brilliant illumination and cracking cinematography heightening the mystery and the power of the iconic character.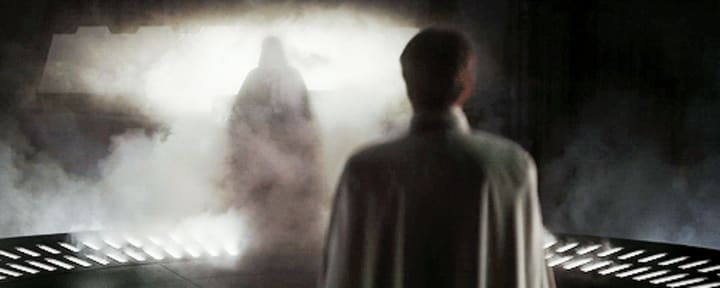 Yup, seeing him standing in that gaseous chamber with Director Orson Krennic (Ben Mendelsohn), it's safe to say that Vader's still got it.
And speaking of Krennic...
Vader vs Krennic: Who Will Win?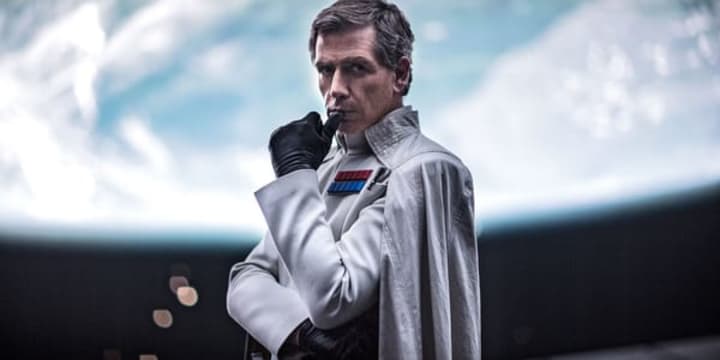 It's clear that Vader and Krennic are having a little confab of some sorts, but there's evidence which indicates that isn't going very well. Though Vader often bullies his way around Star Destroyers and walkways, from the way he's striding into the room, the Dark Lord doesn't seem to be in the best of moods.
We could surmise that this pouting is simply down to the fact that the Death Star's plans are under threat, but it may not be that simple.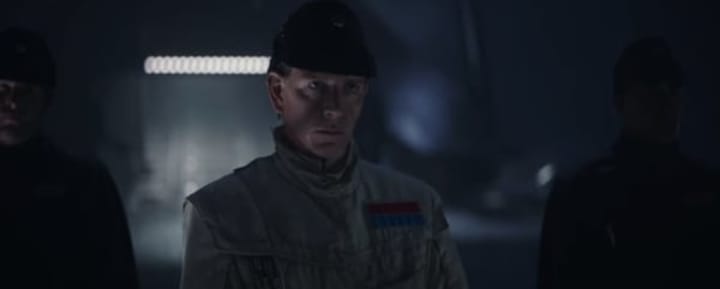 So far we've learned that Krennic is the ambitious Director of Advanced Weapons Research for the Imperial Military, and he has wagered his whole career on the Death Star project. There would also seem to be a lot of infighting in the higher levels of the Empire, through which Krennic has risen to court favor with the Emperor and made a bid to become his number two. This is sure to put Krennic on a collision course with the current placeholder: Vader.
So, with each villain trying to outmaneuver each other, it might explain why neither Vader, nor Krennic, look too happy about being in the other's company.
As he utters the first dialogue that we've heard from him so far, Krennic seems pretty uppity, as he lectures Vader about unlimited power. He's probably just enthused about all of the possibilities that the Death Star lends the Empire, and, as a non-Force user, Krennic's wily manipulations might serve as a nice counterpoint to Vader's brute, ahem, Force.
Either that, or Vader has said something snarky about the battle station not being "all that" compared to the Force and Krennic is trying to prove otherwise. I'll bet my lightsaber on the latter, given the fact that Krennic's lines echo sentiments which were expressed by Admiral Motti (Richard LeParmentier ) in Episode IV:
"Don't try to frighten us with your sorcerer's ways, Lord Vader. Your sad devotion to that ancient religion has not helped you conjure up the stolen data tapes, or given you clairvoyance enough to find the rebels' hidden fort..."
It's going to be very interesting watching the mistrust and dislike simmer between these two on screen. Nevertheless, Orson better watch out! Anyone who messes with Vader tends to wind up with a crushed throat.
Something, Something, Dark Side...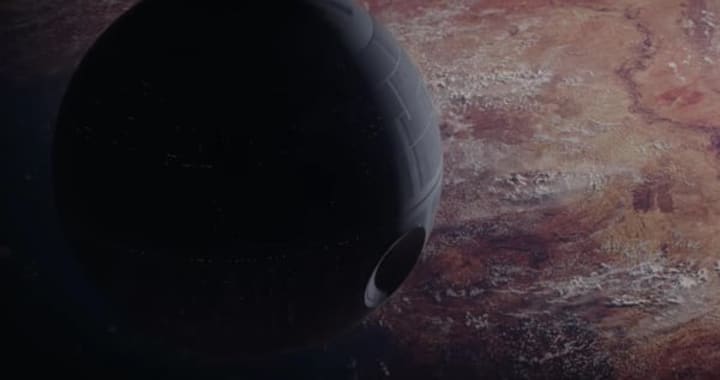 Darth Vader, like his master, clearly regards the Death Star as an integral part of the Empire's future plans; as the shadowy enforcer of the Empire's regime, it seems somewhat obvious that he'll be involved in stopping Jyn's team succeeding. But what other operations does the Dark Lord have in motion?
It's certainly an intriguing fact that part of the film will take place on the new planet Jedha, which in the new Star Wars universe, is the spiritual center of the galaxy. On Jedha, believers in the Force come to worship, and the Rebellion even have a base hidden there — until the Empire invades, that is. Director Gareth Edwards has recently talked about the symbolism of Jedha, and how the invasion shows the ways in which:
"...the Empire impose themselves on... a Mecca or a Jerusalem, but in the Star Wars world.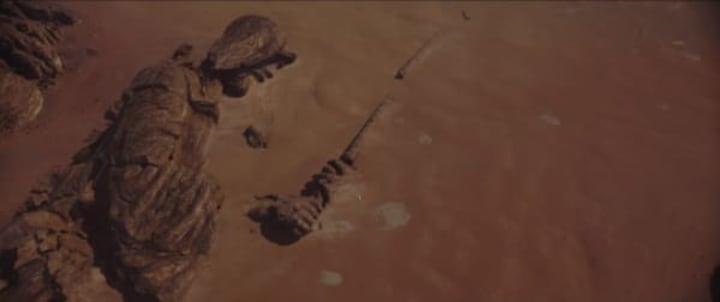 Controlling the spirituality of the galaxy is definitely a savvy move on the Empire's behalf. After all, the greatest threat to their regime is not only the Rebellion, but the potential return of the Jedi, which could occur on a planet as spirtually key as Jedha. The fact that the planet is also rumored to be the home of Kyber crystals is yet another reason for the Empire's presence; Kyber crystals are what power the beams of lightsabers and the Death Star, so naturally the Empire would want to regulate them.
So it would seem that Vader is not only trying to suppress current threats; he is also making moves to prevent future enemies from ever existing.
Vader vs Jyn: Will There Be a Final Reckoning?

With Krennic's kidnap and coercion of her father shown in the new trailer, Jyn Erso's (Felicity Jones) mission is a decidedly personal one, especially given her family's complicated history with the Imperial honcho. Moreover, the team's mission may not just be about stealing the plans for the space station. It might also be a rescue operation, since whilst her dad Galen (Mads Mikkelsen) is seen in Imperial clothing, he then looks to be in a spot of bother at this point in the new trailer: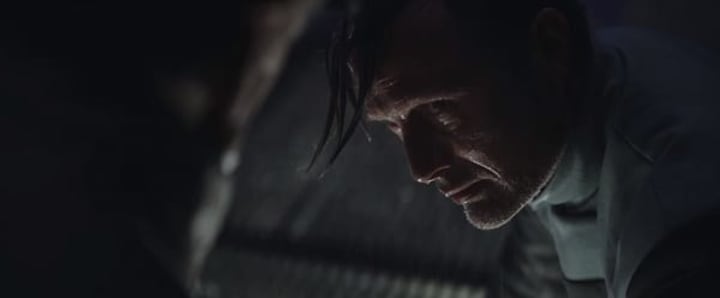 It's been speculated that Galen is the one who has a change of heart and informs the Rebellion about the Death Star. Could Krennic have realized this and handed him over to Vader for punishment? Would that put Jyn on the path to a fateful date with Darth? It's unclear whether they will share any scenes together, but Felicity Jones recently discussed how happy she was to feature in a film with such a recognizable villain:
"...it doesn't get more iconic...I think he may top the list of iconic characters..."
The potential for their meeting is certainly there, since Jyn and her team will be risking life and limb to infiltrate the Empire and steal the plans for the Death Star, meaning that they could very well cross paths on some monochromatic corridor.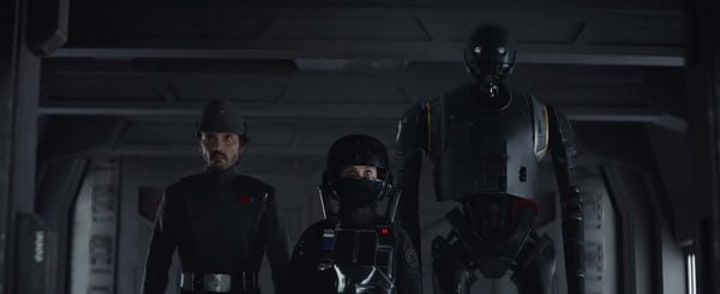 It would definitely ensure that there is a nice, yet poignant parallel throughout the Star Wars saga, typified by Jyn and Luke Skywalker (Mark Hamill). They are, of course, children attempting to save their fathers from the Dark Side. However, since Rogue One is a standalone story, let's hope that Jyn's encounter with Darth Vader does not end in too much tragedy...we can't bear another moment like this...
Overall, the trailer looks brilliant, and I for one couldn't be more excited to see our favorite Sith Lord back in action. Whatever role he plays within the movie, watching Rogue One is going to be a compelling experience for all of us, as we will discover just how the Rebellion stole the Death Star plans. It's undoubtedly an important movie; these are the events which kick started the series back in 1977 after all!
The hype is strong with this one!
About the Creator
A fanatical film-watcher, hill-walker, aspiring author, freelance writer and biscuit connoisseur.
These articles first appeared on Movie Pilot between Jan 2016 and Dec 2017. Follow me on Twitter @Farrow91
Reader insights
Be the first to share your insights about this piece.
Add your insights