New Image From The Set Of 'The Rise Of Skywalker' Shows New View Of Key Scene Between Rey And Luke
A Look Behind The Scenes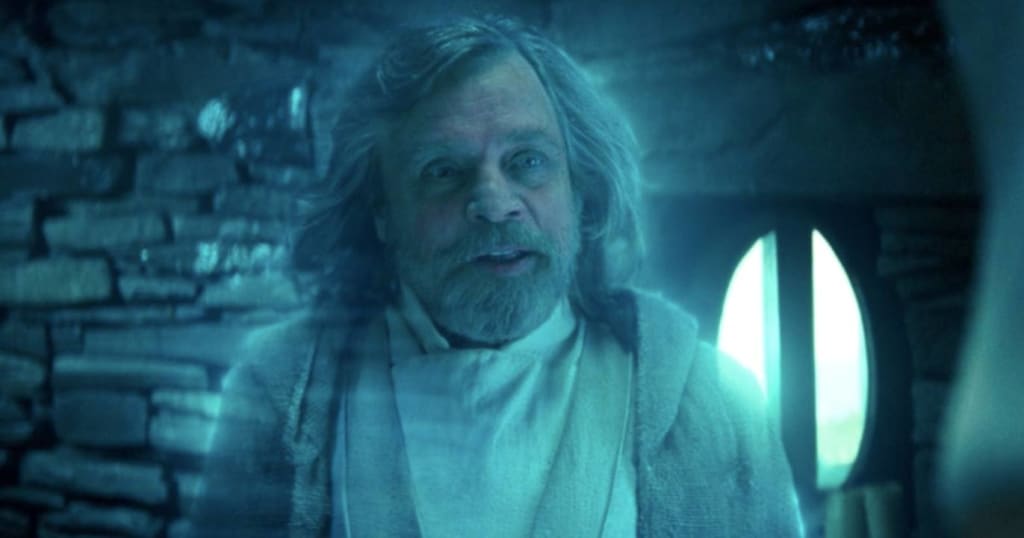 There has been a steady stream of behind the scenes information coming out regarding Star Wars: Episode IX - The Rise of Skywalker. From the troubled production to cast member disappointment, there have been criticisms since the film's release back in December 2019. Many images, interviews, video clips, and even some deleted scenes have surfaced from behind the scenes within the last good while.
Just recently, we learned some information from a Jimmy Kimmel Live interview with actress Daisy Ridley. She revealed that, early on in pre-production, those working on the film were still toying with the idea of Rey being a descendent of Obi-Wan Kenobi. There have been different versions considered for Rey's lineage, and at one point, Rey was nobody. The details regarding Rey's bloodline was changed too many times during the pre-production and even kept on changing when it was in production. In a manner of speaking, the story was not quite stable. Both directors J.J. Abrams and Rian Johnson seemed to have different ideas of where this character going and who she was. The answers were not concrete, as Rey was taken in different directions. Of course, the way that the story played out is with the big reveal that she is the granddaughter of Emperor Palpantine. At the end of the movie, she became Rey Skywalker after she buried Luke Skywalker and Leia Organa's lightsabers on Tatooine.
And now another behind the scenes look has surfaced from The Rise of Skywalker. This comes in the form of an image that would highlight a moment of the film in which Rey chooses her path. Several days ago, a set photographer, Jonathan Olley, who had worked on pretty much almost all the Star Wars films since Rogue One: A Star Wars Story, shared a still image on his Instagram from The Rise of Skywalker.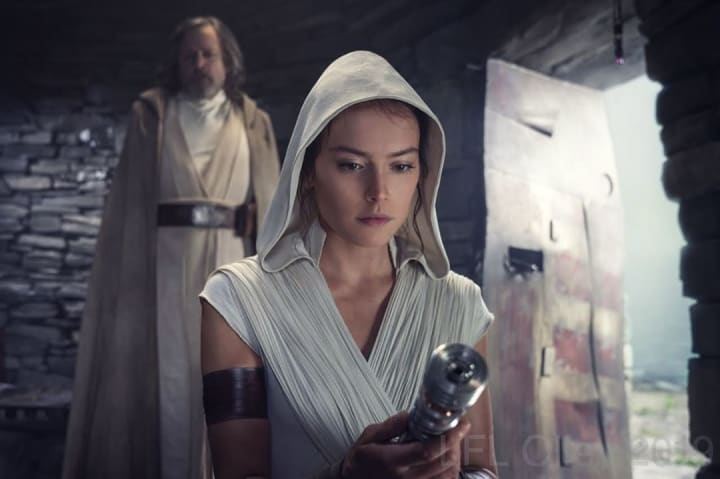 This still photo was taken from a scene from The Rise of Skywalker where the Force ghost Luke Skywalker shows Rey where he kept Leia Organa's lightsaber, as he tells her to take both of his own and Leia's lightsabers to Exegol. Taken on the set, Star Wars fans will notice that Luke is not surrounded by the blue that accompanies Force ghosts, which is what he is during this scene. That appearance would be accomplished in post with VFX. So it is obvious that Jonathan Olley took this picture while he was on set, filming the scene. It is a treat for Star Wars fans to see this slightly stripped down still from heavy CGI, offering a fascinating showcase on what the cast and crew witnessed during the production.
This specific image is an incredibly important moment for the story. This is Rey's turning point, when she receives information from her fallen Jedi Master that she will use to destroy the Emperor Palpatine. They also discuss her fears about herself, as well as her identity. It also sets the stage for the final scene of The Rise of Skywalker, where she buries both Luke Skywalker and Leia Organa's lightsabers before she assumes the iconic identity as Rey Skywalker, thus ending the biggest story in the galaxy: the Skywalker saga.
Thank you for supporting us by reading Culture Slate. We would love to hear your feedback on this topic in the comment section below. Feel free to go follow our social media so that you can stay up to date on all of our articles. You can follow us on Facebook here and also on Twitter here. Additionally, we have a Twitch channel that you can follow here and a YouTube channel that you can subscribe to here. Lastly, if you are interested in writing for us yourself, please do not hesitate to fill out our team member application form here.
Written By Pat Kusnadi
Syndicated From Culture Slate