NEOWISE
Another Comet Tale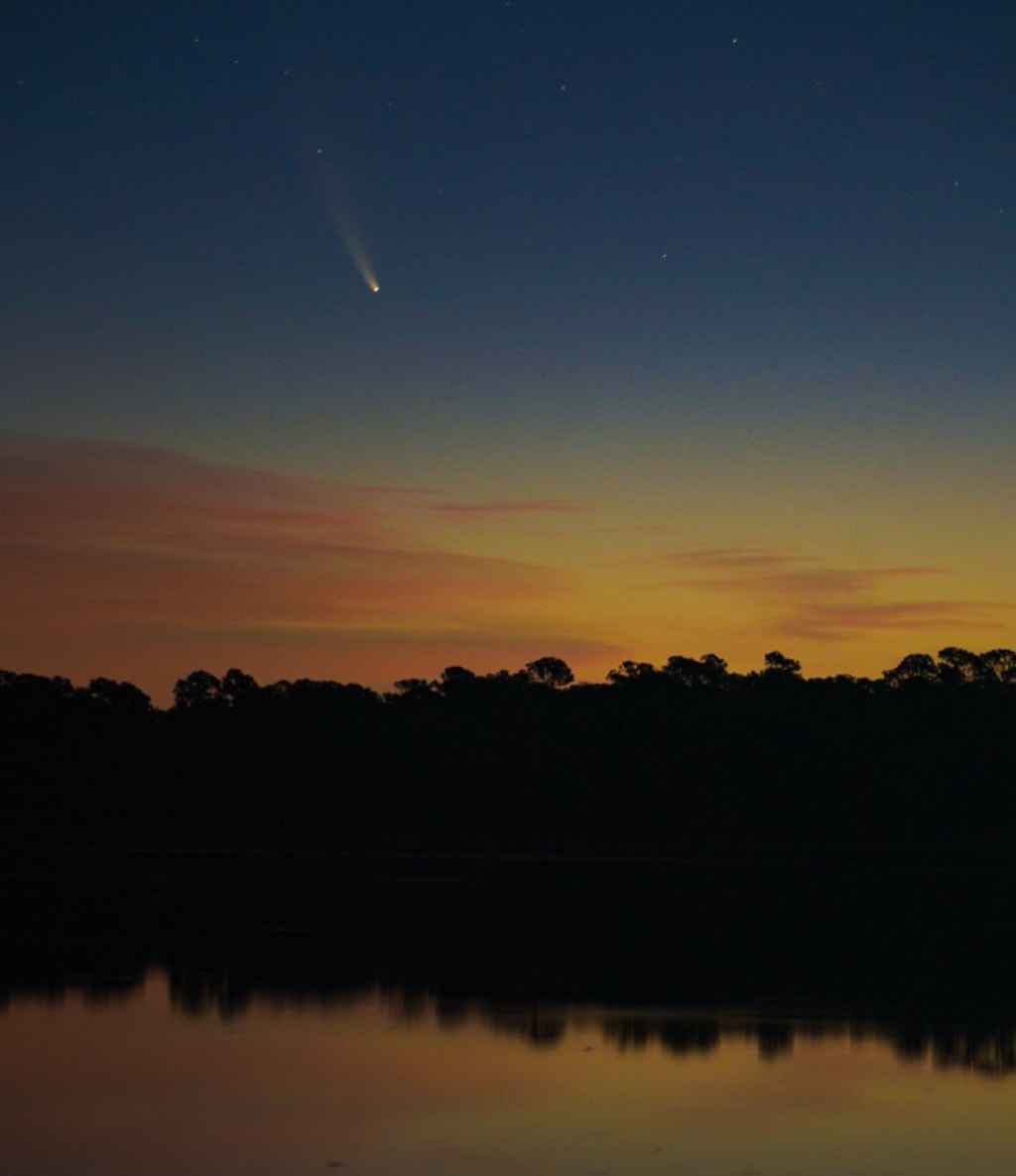 Ball of dust and ice Hurtling through space and time Another comet tale
I woke up at 3:45 AM two Sundays ago to catch a glimpse of a once in a lifetime event. A once in a 100 lifetimes event to be exact. Comet NEOWISE was set to rise above the horizon in a fiery race against the sun. Since people haven't witnessed this comet within the scope of human record keeping, scientists were left with a lot of questions as to its visibility. Now I had a million questions. Would I be able to see it through the scud layer and light pollution? Would it rise above the trees before the sun blotted it out? Was it where my Star Map phone app said it would be in the sky? Will this comet skunk me at the crack of ridiculous dawn just to be a mosquito buffet?
I began to reminisce about my humble astronomical beginnings. My dad was a scientist and he taught me the love of astronomy through our stargazing adventures together which became some of my favorite memories growing up. Mostly in the winter when the sky was easier for us to see, we would set out at all hours of the night with our telescope to see what planets, stars, constellations and nebula we could find in the otherwise darkness. Lunar eclipses were especially prized occurrences which we followed from start to finish. A neighbor lady knit a warm cap of midnight blue wool with white stars embroidered on it for him to wear since we were always out in the frosty winter nights. Eight years ago when my dad passed away, we each gathered an object to bury with him. I chose that star gazing cap so that he would be able to keep his head warm in the heavens. And now standing there on this summer morning looking for comet NEOWISE I missed him terribly. I wished he could have been here seek it with me.
Thanks to my dad's influence, now I am a scientist and an avid astrophotographer with the love of all things outdoors, so this was an event not to be missed. I had set up my Sony a9 with a 100-400mm lens in the dark and focused on a distant star. Then I recomposed over the area in the NE sky near the constellation Auriga. Every few minutes I scanned the sky in the approximate vicinity in which the comet was supposed to rise and at about 4:45 AM, there it was! Rising in all its glory just over the treetops. It was much brighter and easier to see than I had anticipated. My original settings were 200mm, 20s, f/4.5, ISO 2000 which resulted in a complete blowout of overexposed white. I continued to do a few test shots changing different settings I thought would yield the best results. I eventually dialed back to 100mm, 15s, f/4.5, ISO 400 and started shooting as the sun rise began to paint the sky. It was magnificent and only got better and better until at 4:49 AM I got this shot where it was at peak brightness from the reflection of the rising sun. The position was a bit deceiving in that it was rising tail first. I synced my photos on to my phone to see which ones were keepers and I didn't have to do much with this photo other than a few contrast adjustments and cropping in Photoshop Express. I got this shot just in the nick of time too because in a matter of minutes the rising sun dissolved NEOWISE into her own brilliant light.
In the soft early hours of the whippoorwill The gleam of Earth's temporary guest Winds through our solar system Its furtive tail rising above the tree tops Hazy at first but growing more luminous by the minute
 A race against the very sun that gives it measure Your awe inspiring journey to places only imagined Now the making of a magical morning for this earthling And as you fade into the dayspring I bid farewell
-See you again in 6800 years
space
About the author
I am a scientist by trade and artist by soul. I am very passionate about nature and want to combine science and art to enhance environmental awareness.
Reader insights
Be the first to share your insights about this piece.
Add your insights