My Favorite Fantasy Writers
A Fantasy of Mine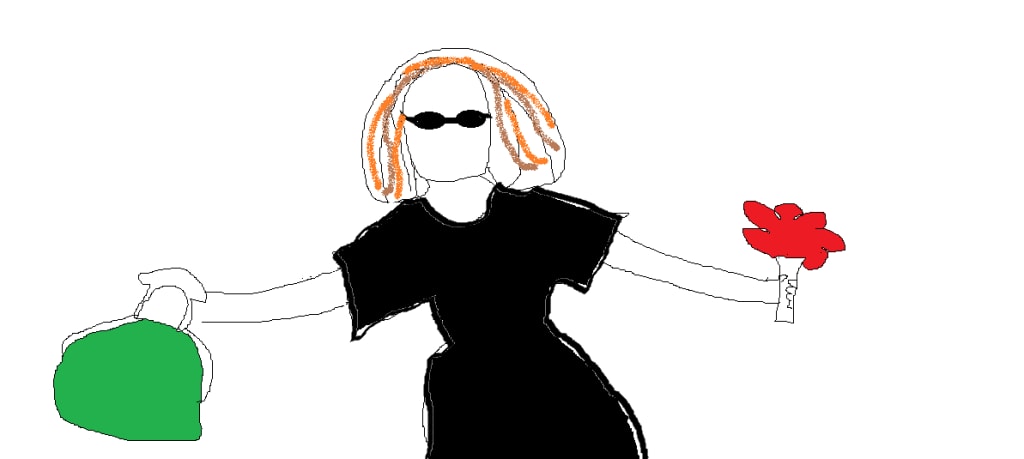 Me as a Cartoon
We all have fantasies, right? I like to think so. As the puny kid we fantasized about scaring the bully in school like Sebastian did in "The Never Ending Story" or maybe as a teenage girl we fantasized about The Goblin King taking us to a whole new world like in "Labyrinth". I love fantasies. A good movie or a good book can help when you're running low on imagination. It's a great escape. It doesn't kill brain cells or make you fat. Fantasies are healthy.
I have a fresh fantasy. Don't get too excited, it's not about me being the sexiest female in the world and hooking up with the sexiest male in the world. That fantasy is too "typical", sorry. My new fantasy has to do with my passion for writing, my love of fantasy, and my 12 favorite writers of the fantasy genre. It all begins with me kidnapping these writers: Cassandra Clare, Suzanne Collins, Joanna Lindsay, C.S. Lewis, George Lucas, George R.R. Martin, Stephanie Myers, Anne Rice, Gene Roddendary, J.K. Rowling, Mary Shelley, Stephen Spielberg, Rod Sterling, and J.R.R. Tolkien.
Somehow I get the power to put them all in a place like The Stanley Hotel. They can not blame me. They just wake up in their rooms and have no idea how they got there. They have no cell phones and there is a horrible blizzard outside. The 14 writers and myself are snowed in without electricity. There is plenty of food to last us at least a year in the stock room. There is running water, but it's cold. The hotel is stocked with plenty of sheets and blankets and many rooms do have fireplaces.
This is a weird fantasy, I know. But I think it would be so amazing to be trapped in a hotel for months with these amazing fantasy writers. Tolkien and Lewis would be accustomed to inspiring each other as they did at Oxford, so this party would just be a reunion for them. But can you imagine Anne Rice and Stephanie Myers talking about vampire stuff? Or Cassandra Clare and Mary Shelley having an intellectual debate about motherhood? Or George R.R. Martin and Gene Roddendary sitting at the dinner table together? Or Rod Sterling trying to flirt with Joanna Lindsey? Or George Lucas insulting Suzanne Collins? Or J.K. Rowling playing a trick on Stephen Speilberg? The possibilities are endless. I would just love to be there to see all of these genius writers sitting in the same lobby having any kind of conversation at all. If we were all locked in there for months with nothing but time, food, and paper and pens, what would we all come up with? Talk about the ultimate Think Tank! Not actors. Not musicians. Writers!
It takes my breath away just thinking about how amazing that experience would be. I imagine they would figure out who everyone was, except me, because I'm the only nobody in the bunch. But I think, being that this is my fantasy, being the nobody gives me an interesting edge to the story. I mean I basically worship these writers as if they're immortal, and what am I to them? Just some nobody who ended up kidnapped with them in the hotel. I would tell them I was a beginner reporter and that I was wanting to write an in-depth article about how writers came up with their plots for the fantasy genre. Maybe I'd have a redundant list of questions that I'd ask all of them to see how different their answers would be. That would be fun.
Or I could pretend that I was dead and tell them that I was murdered in the hotel. I could tell them that I'm merely a figment of their imaginations. It might be more interesting to see their reactions to that.
It would be like "The Shining" but without the psycho-killing-axing thing. It would be like "Survivor" meets "Fantasy Island" meets "Writer's Convention". It would be superb.
Reader insights
Be the first to share your insights about this piece.
Add your insights