Medical Technology and Immortality
Tech innovation has the potential to change the world as we know it, but can it extend our time here on earth?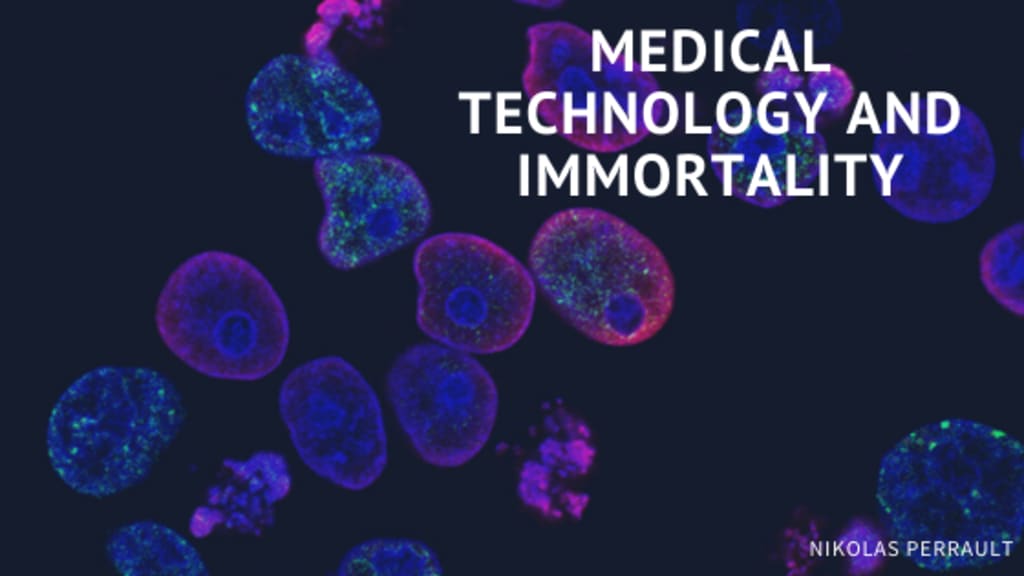 We've all seen how quickly technology can change industrial, economic, and social landscapes. Even in our lifetime, many of us have witnessed dramatic changes. These changes are exponential, courtesy of the extended lifespans that come with medical innovations.
Some experts believe that this is merely the beginning. For example, Haim Israel of Global Thematic Investing Research believes that extended lifespans coupled with rapid technological development can (and likely will) result in a technological domino effect. He calls the potential and far-reaching attempts at technology "Moonshots."
To put it simply, Israel believes that medical intervention will allow for longer and longer lifespans. This, in turn, will allow for unique alterations to the way we currently view investments. A single person could theoretically see the growth of their stocks over decades – if not hundreds of years. This is just one of the changes Israel predicts.
Medical Advancements
Ever since humanity could dream, we began dreaming of a path to immortality. Scientists and doctors have teamed up to make it possible for humans to live longer than ever. The current life expectancy for the average person is seventy-two years – though it is not uncommon for a person to live significantly longer than that.
Some scientists now believe that it is feasible to push this expectancy upwards, bringing it closer to one hundred and fifty years. Ultimately, the goal will be to expect lifetimes even longer than that.
To put it in other words – two hundred years ago the average life expectancy was a mere thirty-five years. Now it is nearly eighty years. Meaning that the average life expectancy has almost literally doubled. What will another two hundred years do?
Effective Immortality
As indicated above, many experts are already looking at all the ways that effective immortality may change the world. Some experts see hopeful outcomes, while others are naturally concerned.
Likewise, Haim Israel is not the only one looking at how the economy and investments may change alongside expanded lifetimes. Martin Reese explores this concept further for Project Syndicate in a poignant article: Is Immortality Worth It?
Transhumanism
It is impossible to discuss effective immortality without also discussing Transhumanism. Transhumanism is a philosophical stance, a movement of sorts. These philosophers believe that the human condition can be enhanced through sophisticated technologies, but only if it is widely available.
Transhumanists see humanity changing alongside the technology that allows for longer life. In other words, they see the future of humanity as something different. That does not have negative implications for transhumanists – the opposite. It is an overall hopeful philosophy that sees the good in future generations and possibilities.
About Nikolas Perrault:
Nikolas Perrault is a Chartered Financial Analyst with significant experience in the financial, technology, and natural resources industries. As founder and CEO of M&A and Capital Market Advisory consulting firm Twilight Capital, Mr. Perrault provides strategic advice to select clients on a global scale. Twilight's primary focus is natural resource companies. Additional areas of interest include AI, healthcare, and Fintech.
Nikolas Perrault was born in Rwanda and has traveled extensively for decades throughout the world. He has a passion for discovering new cultures and building bridges between them. Twilight is on a constant quest for opportunities to connect entrepreneurs internationally and to assist public and private companies in their overall capital market strategy.
Earlier in his career, Mr. Perrault served as an investment executive with some of Canada's largest institutions, including National Bank, Merrill-Lynch, CIBC and Scotia Capital.
Mr. Perrault graduated from Concordia University with a Bachelor of Commerce in Finance in 1991. He received his Chartered Financial Analyst designation in 1997. He has extensive experience in securities trading, human resources management, and financial analysis. Nikolas Perrault is also currently acting a Special Advisor Capital Market to QuantGate Systems, a fintech company that is working towards making trading a safer experience for everyone through their diversified team of leaders and innovators as well as being on the advisory board for Petro Viking Energy Inc, a Canadian private reporting issuer poised to become a 21st Century Integrated Energy Company that works on energy projects in Canada and internationally. Nikolas Perrault is also now Managing Director at Regent Capital Partners.
tech
About the author
Nikolas Perrault is a Chartered Financial Analyst at the helm of Twilight Capital, a capital market advisory consulting firm based in Montreal, which he formed in 2008.
Reader insights
Be the first to share your insights about this piece.
Add your insights