Mark Hamill's Response To Luke-Leia Kiss Question
Straight From Twitter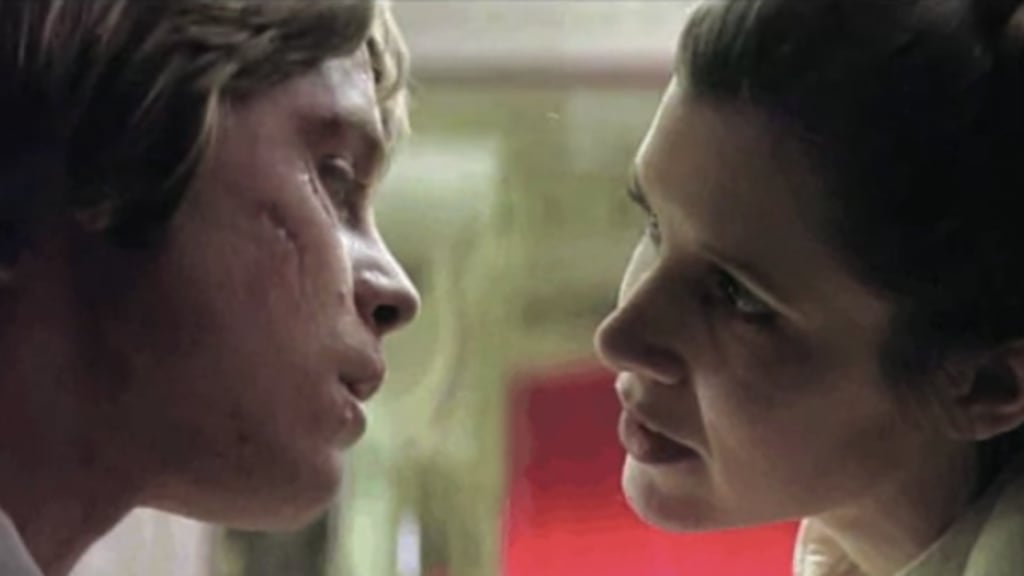 Recently on Twitter, Mark Hamill answered a rather odd question that the Star Wars community has wondered about for decades. The whole scenario is surrounded by....a kiss?!?!?!
The Twitter user asked, "I have one question since I [have] watched ["Star Wars"] so many times, did you find it weird or disturbing that the script said you [kissed] Princess Lei then you [found] out you were twins?"
Hamill's response: "Yes."
To remind those in the Star Wars community about the story behind this question, Star Wars: A New Hope, Hamill's character, Luke Skywalker (Hamill), receives a peck on the cheek from Princess Leia (Carrie Fisher) after saving her.
To get more controversial, in The Empire Strikes Back, Luke and Leia go from a peck to steaming mouth type of kiss so Leia makes a point against Han Solo (Harrison Ford).
As the original Star Wars trilogy continued to progress, audiences were shocked to find out that Darth Vader is Luke's father, and later on in Return of the Jedi, Leia was revealed to be Luke's twin sister who was separated at birth.
This is very much comparable to some sort of daytime soap opera.
Here is some behind the scenes backstory regarding the infamous kiss from Inverse:
-"In retrospect, the kiss was incestuous and more than a little misguided considering the reveal in Return of the Jedi. However, Leigh Brackett (credited with writing the first draft of Empire Strikes Back) included a lot more romance between the pair, and it's the first clue that their relationship was never meant to be connected by blood."

-"In fact, the love triangle between Leia, Luke, and Han was a lot more heavy-handed in the original script, which even included a scene where Leia tells Luke she loves him, but he says she's better off with Han. A revised version of the draft also included a scene where Luke declares his love for Leia and he goes in for a kiss, but is interrupted by Han. Interestingly enough, a scene between Darth Vader and Luke was written that included the reveal that Luke did indeed have a sister, who was to be introduced in another trilogy. That said, her name was definitely not Leia."

-"When Disney+ launched in November 2019, the original trilogy became available to stream in 4K, a previously unreleased deleted scene revealed another key moment between Luke and Leia. The scene, which is set right before the infirmary scene from Episode V, sees Luke attempting to tell Leia that he has feelings for her. They both lean forward to kiss, but they're interrupted by the arrival of R2-D2 and C-3PO. This scene seems to have been only slightly tweaked from the earlier drafts and definitely adds more context to their actual onscreen kiss."

-"While Return of the Jedi pulled the rug out from under fans by revealing that Luke and Leia were both Darth Vader's children, the underlying romantic tension still existed. This is exemplified in the scene where Han tells Leia that he understands if she loves and wants to be with Luke instead of him. However, the only way they can finally move forward as a couple is because Leia reveals that Luke's her brother."

-"The question among fans since then has been whether Star Wars creator George Lucas knew that Luke and Leia were twins when producing The Empire Strikes Back. He's never openly discussed the topic, perhaps to further the impression that the Star Wars universe was planned well in advance of the film's debut."
Written By Andre Porter
Syndicated From Culture Slate