Lucasfilm Is Very Interest In Creating More Non-Cannon Star Wars Content
Legends Content Continues To Grow With Entries Like 'Visions'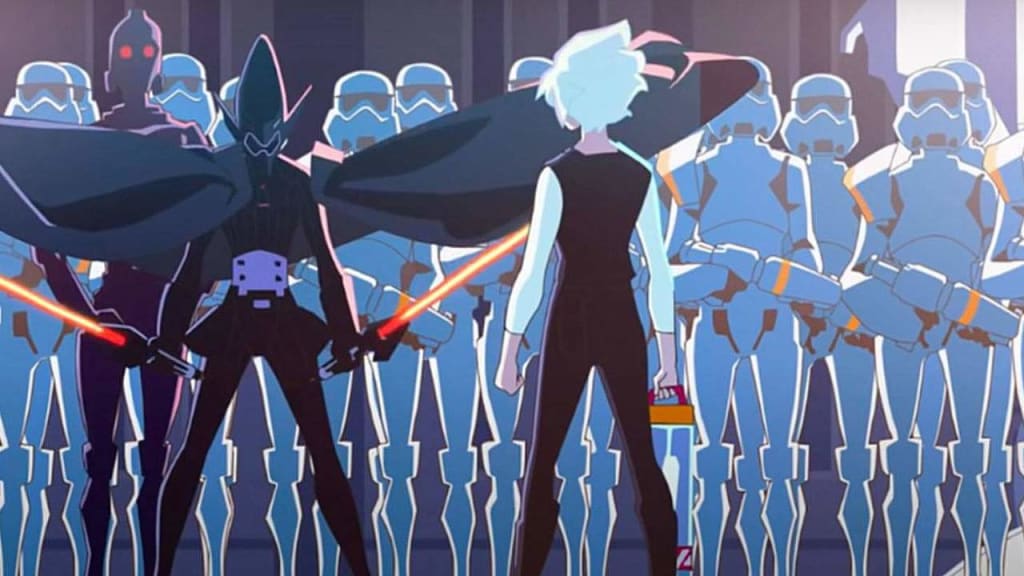 With the release of Star Wars: Visions, Lucasfilm seems to be wanting to focus on Star Wars content that isn't all canon. Star Wars: Visions recently premiered on Disney+ and follows short vignettes and stories throughout the Star Wars universe, featuring primarily new characters. The series is produced in different animated styles by prominent animation and anime companies which makes for some really beautiful imagery and stories different from anything we've seen before. With Star Wars: Visions' release, comes the question: Is Lucasfilm going to be doing more non-canon Star Wars content?
With a 40-year franchise and countless story arcs, characters, places, etc. to come out of the original movies it can be difficult figuring out what to focus on. Especially now with the canon/non-canon content that encompasses the Star Wars cinematic and written universes. When the Sequel Trilogy was announced, much of the original canon from the books and comics was completely thrown out, much to the chagrin of a lot of hardcore Star Wars fans. Of course, the amount of story and canon that Star Wars does have is intimidating and quite honestly, a lot to keep track of because of all the writers and creative minds that have added to the Star Wars universe for the last 40 years.
RELATED: What 'Star Wars: Visions' Means For The Future of 'Star Wars' Legends
Of course, Star Wars and Lucasfilm are still pumping out dozens of canonical works from books, comics, TV series, and video games. To some fans, it can be a bit much. That's why, when Star Wars: Visions came out, it was such an exciting thing for a lot of people since it was not canon at all. Murphy's Multiverse decided to see if the release of the non-canonical Star Wars: Visions was an isolated thing on Lucasfilm's part or if they intend to come out with more non-canonical work. They spoke with James Waugh, VP for Franchise Story at Lucasfilm, about this topic and whether or not they would be producing more non-canonical work. This is what James Waugh said:
"It's something we are interested in. The reason we approached 'Visions' as it was is we wanted to empower specific creators within their process and medium. So much of the stuff you see in 'Visions'… the specificity of anime as a medium justifies a lot of the storytelling. So do I think we could do more none-timeline storytelling? I think under the 'Visions' framework, absolutely. There is a certain joy in having celebratory content that is removed from the gravitas of the canon. We'll have to see what the fandom wants."
The other really nice thing about Star Wars: Visions is that you can watch it with a limited understanding of Star Wars. You don't have to know all the canon stories or the characters or places. You just need a basic understanding of how the Star Wars universe works, which makes it accessible to a lot of people, especially those who maybe haven't seen the movies or read the books and comics.
The response that the release of Star Wars: Visions generated was very positive overall, which could be very good for the future projects that James Waugh hinted at. It also opens up the Star Wars universe to more than just the avid fan who knows everything there is to know about the canon Star Wars. As Waugh said, Star Wars: Visions celebrates the artist and the art vs. pumping out a story for a feature film that may have problems and be controversial. Star Wars: Visions is focused less on the plot and the characters and more just showing parts of the Star Wars universe in a way that fans have never seen it.
Hopefully James Waugh and Lucasfilm can create some more non-canon work to go with the ever evolving and changing universe and write a variety of stories worth telling.
READ NEXT: The Dark History Of Darth Bane
Source(s): Murphey's Multiverse
Written by Elizabeth Dresdow
Syndicated from Culture Slate