Los Angeles Science Fantasy Society
Organizations like The Los Angeles Science Fantasy Society bring together science fiction's biggest fans to review past and present genre favorites.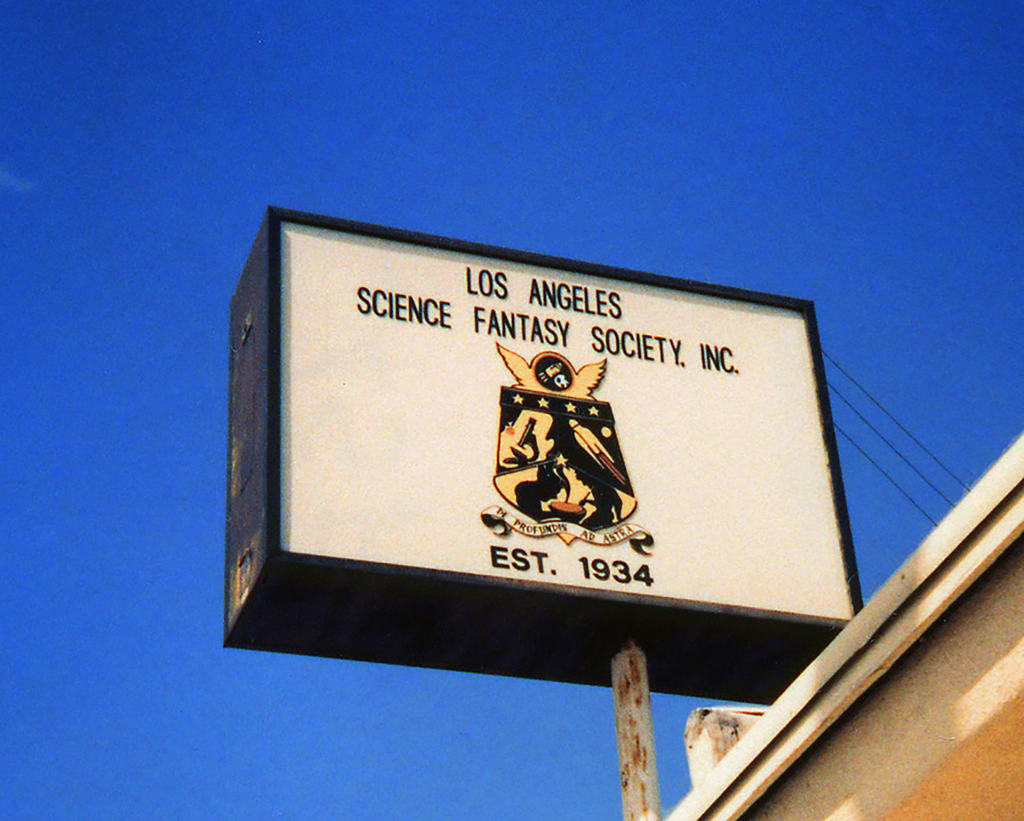 "Pioneering is never done in front of cheerleaders urging on a roaring grandstand of popular approval." Star Trek legend George Takei speaks to a generation science fiction pioneers all over the world. Since it's creation, sci-fi fans have bound together as a tight-knit collective, sharing ideas and theories. Organizations like The Los Angeles Science Fantasy Society bring together science fiction's biggest fans to review past and present genre favorites. LASFS is the longest continually running science fiction club in the world. Founded in 1934 as a charter group of the Science Fiction League, it has endured World War II, the LA riots, the shifting tides of fan culture, and the death of its most active member and cheerleader, fandom legend Forest J Ackerman. Forest J Ackerman is an American magazine editor, science fiction writer and literary agent. From its current home base in Van Nuys, California, the LASFS hosts weekly meetings, and keeps an impressive lending library of science fiction materials. One of my favorite Internet spelunking journeys is to go deep, deep into the LASFS' rigorously complete photo archives, which document conventions, readings, and meetings of science fiction fans and legends alike from over a 75-year history. With the blessing of the LASFS, here are some of our favorites.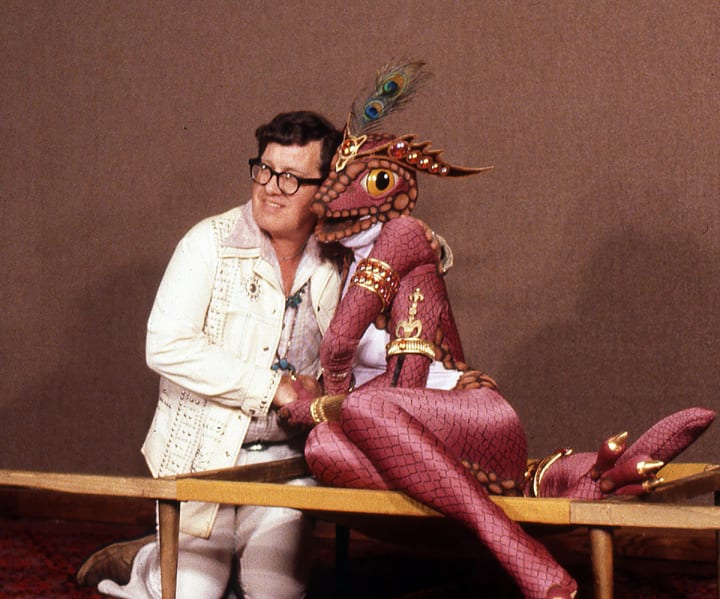 Members of the Los Angeles Science Fantasy Society have run many sci-fi conventions over the past 80 years. Just a few of their brainchildren include the World Science Fiction Convention, or less formally WorldCon, Westercon, Loscon. Worldcon is still one of the most popular science fiction conventions today. LASFS also publishes an amateur magazine called Shangri L'Affaires, also known as Shaggy, a sci-fi fanzine. Without the Los Angeles Science Fantasy Society, we may not have got to experience the Star Trek we all know and love today. Members of LASFS were instrumental in organizing a nationwide letter-writing campaign to save the show from cancellation by NBC at the end of its second season. Not only did they appreciate the science fiction content, they helped create it.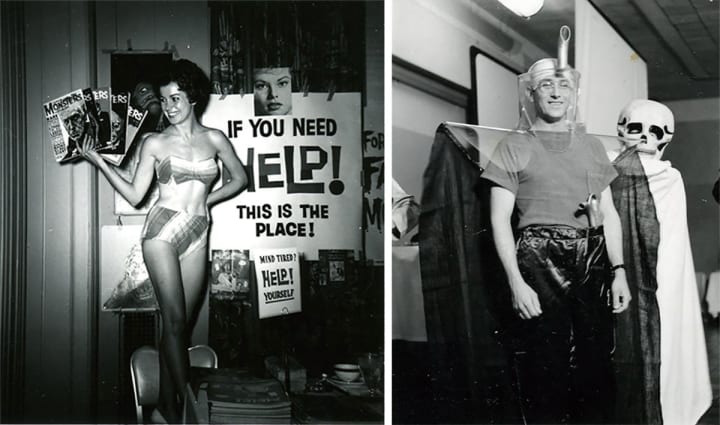 Images of the Los Angeles Science Fantasy Society's conventions in the 1960s are full of joy. It seems the 1960s were a hell of a time to be a science fiction fan. Everything was new: the unfolding space race was not only justifying decades of literary speculation about space travel, but it was also ratcheting astronauts and engineers up to rock-star status. Meanwhile, science fiction, being an outsider genre, was necessarily aligning itself with the burgeoning counterculture and psychedelic spirit of the time. When Star Trek was released onto the ethos, its stars became legends in their own right. To fans of sci-fi, Captain Kirk may have well had been Neil Armstrong.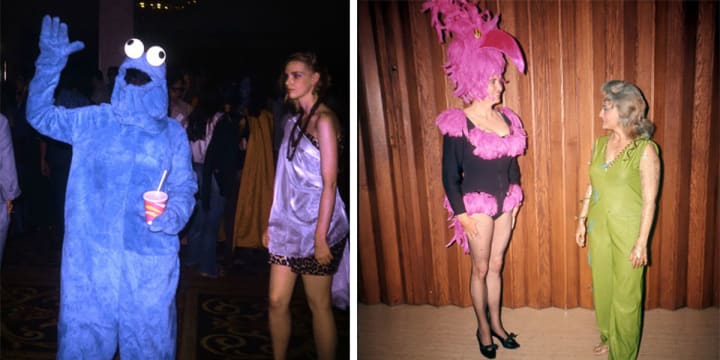 These factors led to the radical period known as the "New Wave" of sci-fi, spearheaded by the generation's great antiestablishment auteurs, many of which turn up in these LASFS photo albums: Harlan Ellison, Fritz Leiber, Norman Spinrad, Ursula K. LeGuin, and Samuel Delany, to name a few. In this nascent era, the scene was small enough that conventions and science fiction clubs were intimate, convivial affairs, and…well, mostly, it seems like the clothes were pretty cool.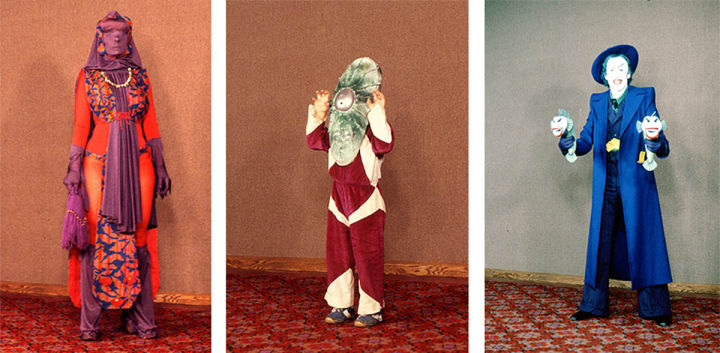 More costumes from the unknown masquerade, early 1970s. Photos from the collection of Len & June Moffatt, of course, the LASFS (and fandom itself) predates the wild and wooly sixties by a few decades. The first meetings of the LASFS in the 1930s happened wherever space was available, often at Clifton's Cafeteria in downtown Los Angeles, where fans guzzled free limeade and talked shop. The club published irreverent mimeographed fanzines and developed a reputation in those early years as a "Shangri-L.A." for developing fandom; for many years, the club's newsletter was even called the "Shangri L'Affaires."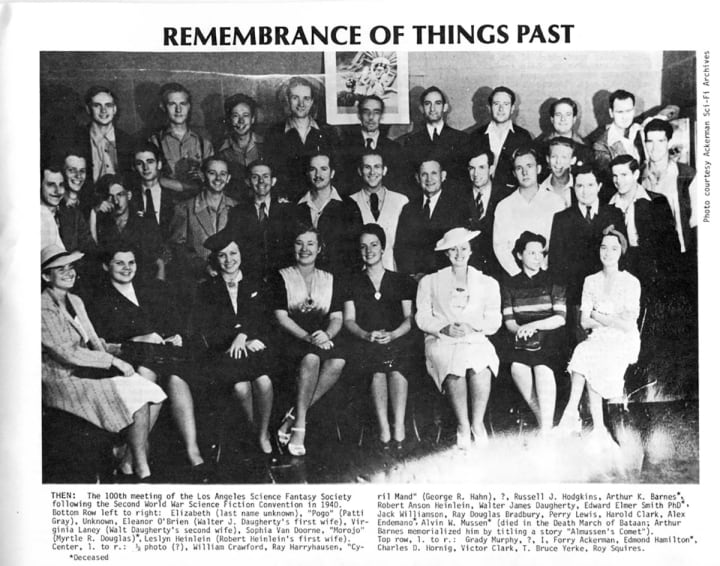 Among the devoted fans, many luminaries and infamous characters have come to roost at the LASFS over the years. Harlan Ellison, Ray Bradbury, Larry Niven, Jerry Pournelle, Alan Dean Foster, and Fritz Leiber were all clubhouse regulars—and, for what it's worth, so was L. Ron Hubbard. The founder of Scientology was honored with their inaugural "75-year" award for 75 years as a science fiction author.
Currently, the Los Angeles Science Fantasy Society's doors are still open, and with the resurgence of franchise's like Star Trek and Star Wars, it doesn't look like they will be going anywhere any time soon. LASFS holds the title as the oldest science fiction clubs in the world, but it is also one of the best. We hope 50 years from today we will look back at photo's of sci-fi's greatest stars to look back on, and all thanks to the Los Angeles Science Fantasy Society.
Reader insights
Be the first to share your insights about this piece.
Add your insights