LinkedIn provides AI assistance for profile and recruiting optimization
The new LinkedIn AI Support automatically improves your profile and writes job descriptions for you. Other AI tools are to follow.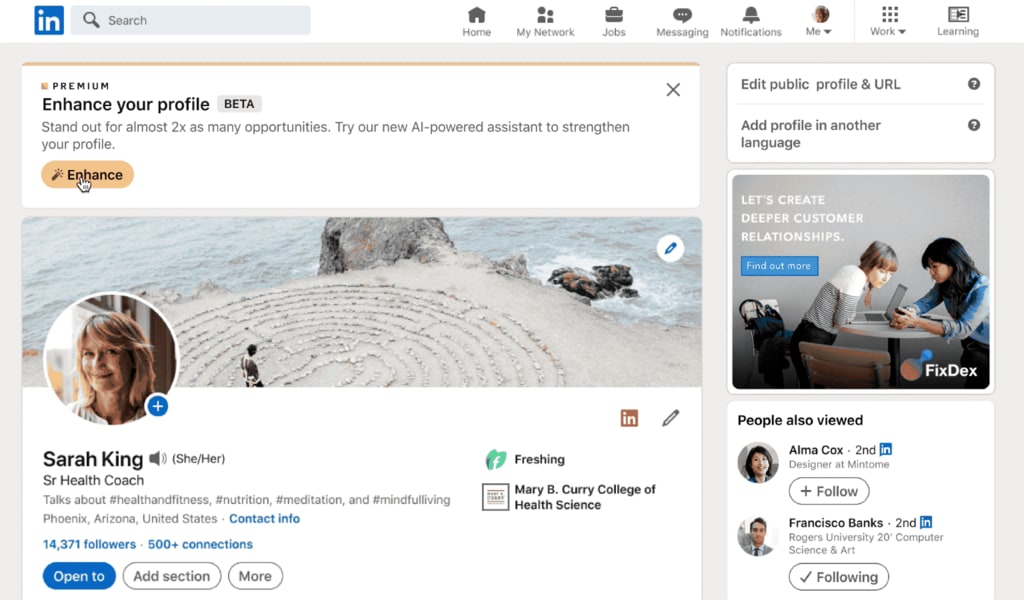 Happy Wednesday! In this edition of what we are [email protected], I am excited to introduce new AI-powered experiences, leveraging the most advanced OpenAI GPT models, as we continue to look for ways to create more value for our members and customers.
Now, you can create outstanding LinkedIn profiles with personalized writing suggestions, streamline your hiring process with AI-powered job descriptions, and learn AI skills to thrive in the changing world of work.
And that's just the start. We're actively working on exciting new ways to help you connect to economic opportunity.
The close connection between Microsoft and OpenAI ensures that more and more services from the tech group are provided with comprehensive AI tools and integrations. This also applies to Microsoft's business network LinkedIn. The platform has recently been providing the almost 900 million users worldwide with so-called joint articles . These are articles that are created by LinkedIn's AI as a conversation starter, including the main topic, and then supplemented with tips, anecdotes, etc. by experts on the platform who fit the topic. The platform wants to promote shared knowledge and incentivizes users with the prospect of a new Community Top Voice Badge.
Not least after the long-awaited multimodal model GPT-4 was recently rolled out , the digital industry expects far more AI integrations in tools and on platforms. In this context, LinkedIn offers users profile personalization and optimized job ads based on GPT-4. And the company promises even more AI support in the future.
Access only for some users: LinkedIn launches AI support for profile optimizationIn it, he explains that the company has been using AI for 15 years, but is now increasingly building on the new possibilities to help users get the most out of their profiles and recruiting strategies. As Tomer Cohen writes :
[O]ur teams have always sought to do better: To help more people, in all countries, at every stage of their career, solve a wide range of professional needs. With advanced generative AI and large language models, we're now able to do that. And we do so by putting AI directly into the hands of our members. One of the most powerful ways to think of AI is as your co-pilot, your incredibly capable assistant, constantly at your side to help you excel at your task at hand and in your career.
That's why the company introduced a tool for personalized writing suggestions to optimize the profile. The AI ​​tool recognizes the most relevant user skills and experiences and can insert new text elements in the "Info" or "Headline" area that can attract more attention. This can save time and open up new perspectives. Nevertheless, Cohen recommends a manual check. He writes:
This is just one of the ways we're making it easier to build your profile and showcase your professional self.
Easily create job descriptions and streamline the hiring process
Another new AI tool concerns the job advertisements that companies and users can post and promote on the platform. If you provide the new tool with some basic information about the job (title) and the company, it will automatically write the job posting.
This new tool is just one of many possibilities that Tomer Cohen says the platform plans to provide from now on. In order to give users the opportunity to prepare themselves in the best possible way for the changes in the digital space and on the job market caused by artificial intelligence, LinkedIn will be offering over 100 free AI courses until June 15, 2023 . Absolute beginners can learn something about AI tools, integrations and Co. as well as tech professionals. Additionally, the company is rolling out dedicated courses in the field of generative AI, including:
What is Generative AI by Pinar Seyhan Demirdag
Introduction to Prompt Engineering for Generative AI by Ronnie Sheer
Introduction to Conversational AI by Ian Barkin
The future of the recruiting and working world, of digital work processes, but also of exchange and presentation on social networks will be shaped more and more by the influence of artificial intelligence in the future. For Cohen, these updates from LinkedIn are "just the beginning."
About the Creator
Dan Oproiu is an IT Programmer, providing digital transformation services for businesses from small sized to large enterprises.
Reader insights
Be the first to share your insights about this piece.
Add your insights