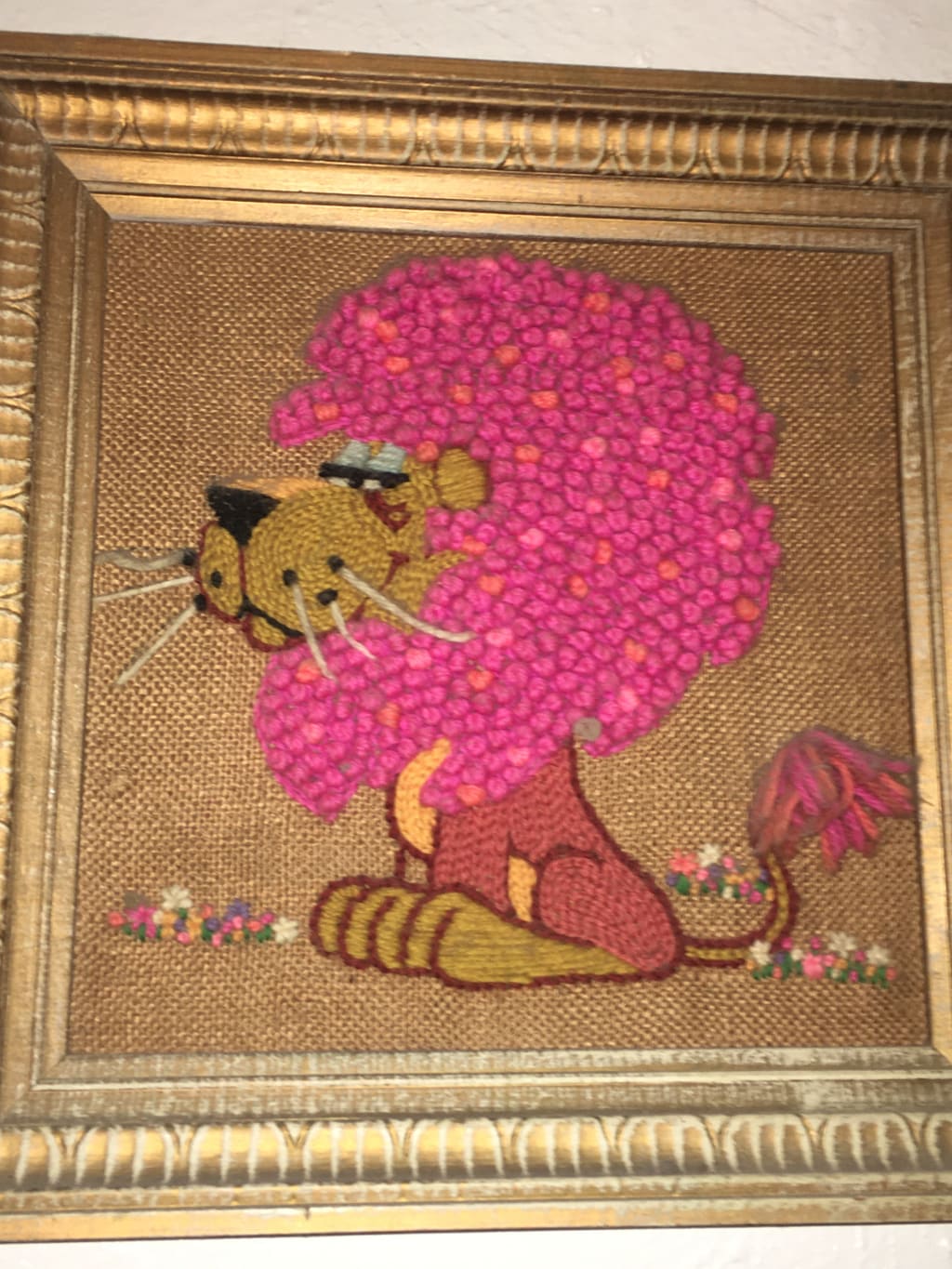 I'm Just A Dandy Lion
Ever since I was a kid, I knew what I wanted to do. At first, as a youngster, my thoughts were "I want to be an Archaeologist!!" since I loved Dinosaurs so much. Then a few years later, I discovered a much more distinct, internal desire. We had just gotten cable, with Nickelodeon and Comedy Central. I decided right then, "I want to be a Comedian!!"
As I am now, I am a Professional Bassist, Guitarist, Composer, Musician, Singer, Songwriter, Actor, Writer, Director, Producer, Beat Maker, Content Creator, Entertainer, and Comedian. I know that's a lot to describe a person, so it is what it is. It is me, I've known for a long time. Though I had no idea it was all laid out in the stars.
When I was Ten years old, my mother in the off chance suggested and bought me a cassette tape from Walmart, thinking and believing that I would enjoy it. Both of my parents were music lovers, not really musicians themselves, just avid lovers and listeners of music. And I had become no exception, I loved all music that I could get my hands on. Initially beginning my collection with such greats as MC Hammer and Vanilla Ice, onto great compilations such as The Simpsons Sing The Blues, Ghostbusters II and Wayne's World 2 Soundtracks. But that one cassette my mother gave me from Walmart that one fateful day was a game changer, and threw me into what my life eventually came to be: Weird Al Yankovic's Greatest Hits Volume 2.
I couldn't get enough of it. I listened to every song over and over. Memorized every line and verse. Eventually saving up money and buying every album of his that I could. Doing the same for every album, and trying to find every music video he had ever created. Wanting to be somethign great like he. And how does this play into my star sign? Well, I'm a Leo, you see.
I am a Leo, born July 25, right on the Cancer/Leo Cusp so to speak, with my Moon in Gemini and Virgo Rising. Over the years I had become much more interested in the stars above and how the positions themselves could play into the layout of our very lives. And as I researched more and more. it became very apparent how my life had turned out just so because of my star chart.
I was a very quiet, reserved sort of kid. Always sticking to playing alone with my toys and playing Nintendo in my room, listening to music and just being in the moment. My dad had a video camera and I always loved to create movies with my friends. I was enthralled by Godzilla and all his monster enemies and allies, so we created some movies of our own. WE built Lincoln Log houses and destroyed them by taking my Godzilla figures and trampling them through the city, creating the voices and dialogue of our monstrous victories, always remaining silly and light hearted.
Once I knew I wanted to be a comedian, I knew I had to be a performer. So in 6th grade I joined my school's Drama Club, playing improv games, acting out play parts, and just wanting to be a performer any way I could. Ace Ventura had just come out, and like many kids, started to mimic acting and talking like Jim Carrey's famous character. It came naturally to me, to perform, sing, and just be a star.
With being a performer came leadership, which I learned and attained from being in the Boy Scouts. My parents had signed me up knowing the skills I would learn would be great for me. Sort of playing out to my Leo predestination. I was a part of the Scouts from age 6 to 18, making it all the way to Eagle Scout. Though, many times I had to be made to finish, everything had all worked out the way that it was supposed to.
When I was 14, I got my first bass guitar. I was a short scale Hondo brand guitar. All black, with only 19 frets. I started playing bass guitar sort of serendipitously. Most of my friends had started playing guitar, and my best friend at the time had gotten a drum set, so in my mind I was the missing piece of the puzzle. "I'll just play bass I guess" was my forethought, though I had no idea the great lengths that it would take me on my life's journey.
Soon after I started to play bass, I was taking lesson's from a guy at The Music Factory in Friendswood, TX. It was a small music shop, that on the outside looked much like a converted barn. I loved that place, the smell of all the new instruments, and being able to just pick up and try all of them at any moment I chose. My lessons were 30 minutes at a time, and he showed me a great amount to get me started. My teacher was Darren Nelson, who plays with Houston band "The Hunger".
At first, I wanted to play what my friends were into, which was mostly Metal. My drummer friend's favorite band at the time was Metallica. He had everything of the band that he could get his hands on, sort of an obsessed collector of all things he loved. I started to learn the main stays of their riffs, Enter Sandman, and even getting to Cliff Burton's most famous piece, Anesthesia (Pulling Teeth). But one day, things changed.
"I want to show you this album. This band has really inspired me, and I think you'll really dig the music." Darren had said pretty casually. I was open minded and loved music, so I said "Sure" and took the album home. I plugged it into my 6 CD Changer Stereo System, and what I had heard blew my mind. Every song was unique in its own right, and each one more complicated than the last. After that night, I knew what I wanted to do, was to play music that sounded like this. The album was "Sailing The Seas Of Cheese" by Primus.
Initially, before I started playing music, I listened avidly to music. Weird Al was always my first love, him and 50's music. I love "Oldies" as they are called now. My Dad would mainly listen to the Oldies Station and The Rock Stations. Both my parents loved Rock 101 KLOL in Houston, which was such a great station by the way and we all miss it terribly. But that music really influenced me into where I became. From Pink Floyd to Led Zeppelin, ZZ Top and ACDC. I was a rocker at heart.
All of that lead me to listen to heavier stuff, starting with Marilyn Manson, Korn, Tool, Sepultura, White Zombie, Pantera, the list goes on. I was searching for the heaviest stuff that I could. Death Metal became a true love. It was when I was playing though, that became when my love of music was real to me. Figuring out Primus riffs, playing fun weird music. That's what I wanted to do.
Being a performer has always been natural to me, It was the real Leo inside of me. I was never nervous with my instrument in my hand. Any trepidation I had felt was just the excitement to get on stage and just perform. I loved every minute of it, every band I had started, moving into the punk scene and seeing live music. I studied everyone I was in front of, and how to become a better performer. Even seeing GWAR for the first time when I was 15, wearing the blood soaked shirt to school as a sort of trophy, telling friends of our adventures was a great thrill.
After High School, I went to Community College and was trying to find myself. I knew I loved music, but not really what I wanted to do. Thought Radio might be fun, but that was not it. I had found through other research and searching for similar bands Mr Bungle, who's music really became another part of what I wanted to do. Though really, the main act I wanted to resemble most was Frank Zappa. He was a composer, through and through. And as I discovered his music, that narrowed down for me my true life's purpose: to be a Highly Successful Composer.
All of my college days were spent heightening my Composer skills. To be better and better at writing music, playing music, performing music, and recording music. And as a Composer, I could do all things that I love. And thats when I realized who I was to become. It was all aligned in the stars from the beginning. Weird Al was a composer. Les Claypool was a composer. Mike Patton was a composer. And especially Zappa, all were composers. All involveed Humor in Music. And Music is the Best!!!
Every book and Horoscope i've read about Leo's has indicated every thing that I know I am. A Born Performer, A Natural Leader. And thats everything I have strived to be since I was young.
Every day I am still learning, having my moon in Gemini really helps me to think about my emotions and how to stay more in control of them every day. And Virgo Rising is still another aspect I have been learning about.
All I have known has been about Performing and Composing. And if that don't scream Leo, well, I'll just have to go with that.
I am a Leo, and Leo's are Neato.

Bret Crow
Hello!! My Name is Bret Crow, I'm a Composer/Bassist here in Denton, TX. I love to write and create music. I write silly poetry and stories, love to have fun creating all types of art and music. Thank you for your time, have a great day!!
See all posts by Bret Crow →