John Boyega Speaks About Finn Being "Pushed To The Side" In 'Star Wars' Sequel Trilogy
Do You Feel The Same?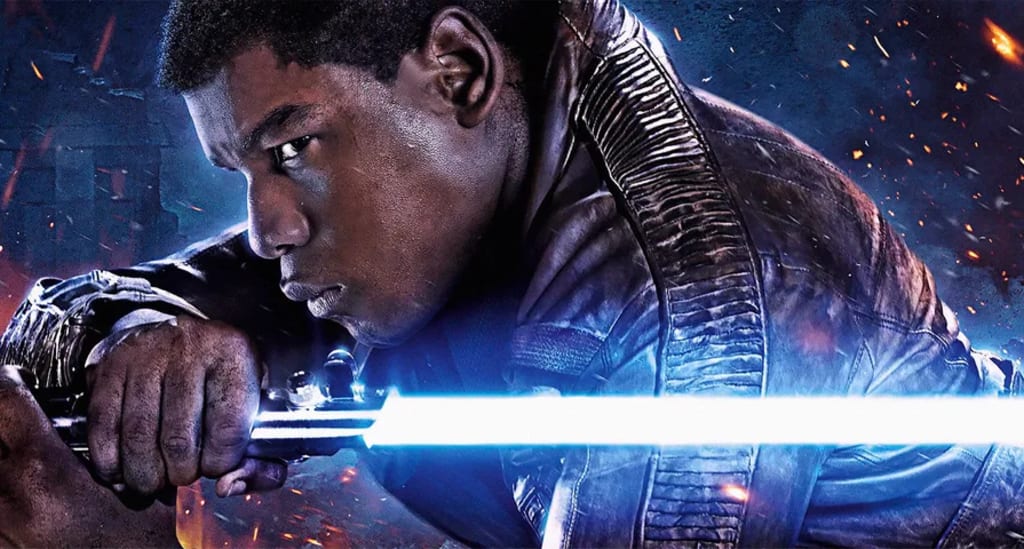 It has been a while since the previous instance where the world saw a substantial interview with John Boyega regarding his experiences with Star Wars. On Wednesday, one such interview was released by GQ. The magazine article goes into Boyega's involvement with Black Lives Matter protests and his personal experiences, eventually leading to Boyega talking about his feelings regarding his work with Star Wars. Boyega talked about how a stylist whom he had hired cringed about what he wanted to wear, and how the hairdresser had no experience working with hair like his but pretended that they did. (He also talked about how powerful it is when black men grow out their hair.) Regarding the press of The Force Awakens, he had this to say:
"And obviously at the time I was very genuinely happy to be a part of it," says Boyega. "But my dad always tells me one thing: 'Don't overpay with respect.' You can pay respect, but sometimes you'll be overpaying and selling yourself short."
Going on, he had the following to say to Disney:
"What I would say to Disney is do not bring out a black character, market them to be much more important in the franchise than they are, and then have them pushed to the side. It's not good. I'll say it straight up."
Looking back to the marketing of The Force Awakens, some of us may remember being excited to see Finn wielding the Skywalker lightsaber. While he did use the legendary weapon for a decent amount of screentime, the marketing ended up being a misdirect. What we learned while watching the film itself is that it is Rey who has to wield the Skywalker lightsaber. After that film, Finn does not use it in combat. The Force Awakens suggests the possibility that he could be Force-sensitive, while The Last Jedi does not really acknowledge the possibility, and The Rise of Skywalker implies it without really doing anything with it. Taking all three installments of the sequel trilogy into account, it really feels like Rey and Kylo Ren are at the center. Boyega continued with his assessment:
"Like, you guys knew what to do with Daisy Ridley, you knew what to do with Adam Driver. You knew what to do with these other people, but when it came to Kelly Marie Tran, when it came to John Boyega, you know f— all. So what do you want me to say? What they want you to say is, 'I enjoyed being a part of it. It was a great experience…' Nah, nah, nah. I'll take that deal when it's a great experience. They gave all the nuance to Adam Driver, all the nuance to Daisy Ridley. Let's be honest. Daisy knows this. Adam knows this. Everybody knows. I'm not exposing anything."
In The Last Jedi, John Boyega and Kelly Marie Tran's characters Finn and Rose Tico were put in a casino subplot that did not resonate much with fans. Rose was a huge part of this storyline, but she got sidelined in The Rise of Skywalker, which is very strange to see happen after all the screentime that she got.
According to GQ, Boyega was also talking about other actors such as Naomie Ackie and Oscar Isaac. Naomie Ackie was introduced as Jannah in the final installment of the trilogy, where she pretty much played off of Finn. But again, their storyline did not shine as much as Rey and Kylo's storyline. As for Oscar Isaac, his character Poe Dameron was originally going to be killed off in The Force Awakens. His character ended up surviving, though he was given the mutiny storyline in The Last Jedi that upset many fans because of how frustrating it felt for some of them to watch. Then The Rise of Skywalker turned Poe into a former spice runner, which sparked a controversy because it brought the Latino drug dealer stereotype to mind.
Boyega did, however, defend director J.J. Abrams a bit:
"Everybody needs to leave my boy alone. He wasn't even supposed to come back and try to save your s–t."
While there have been things here and there that viewers have enjoyed from the sequel trilogy, it is clear that Star Wars films need to do better in how they handle characters portrayed by minorities. It seems doubtful that Boyega will ever return to the franchise, but one can understand why.
Written By Steven Shinder
Syndicated from Culture Slate