Is Marilyn Monroe a Time Traveling Sexter?
Pic surfaces of what appears to be Marilyn Monroe sexting in bed.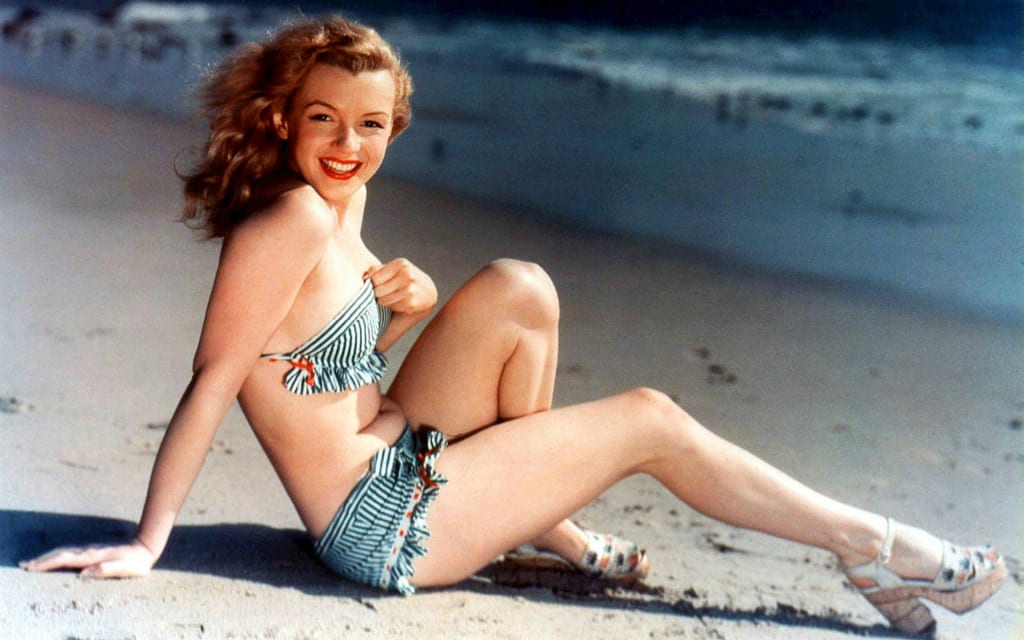 Marilyn Monroe photo seems to show the ill-fated Hollywood icon "sexting" in bed (Video courtesy of Wikimedia Commons).
Marilyn Monroe is more popular today than she ever was in her own lifetime, and there are those who claim she never really died.
And, now, there may be proof.
A photo snapped in the late 1950s shows what appears to be Marilyn Monroe "sexting" in bed on a handheld mobile device which she could only have gotten in the future.
So, the question arises: Is Marilyn Monroe traveling through Time?
Is this picture proof that Marilyn Monroe is a Time Traveling Sexter?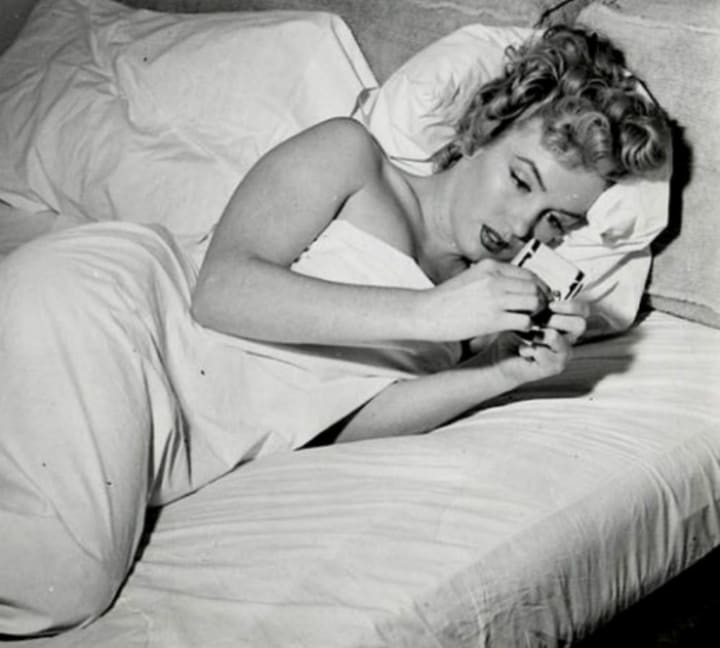 The photo, posted to Tumblr, has always been described as an outtake from a cigarette ad photo shoot.
But, recently, others have claimed it's really evidence that Marilyn Monroe is a Time Traveler using a mobile device to text messages into the future.
In the photo, Marilyn is seen staring intently at the "cigarette pack" in a way which is more akin to the manner modern mobile phone users hold their handsets and text onto a screen.
The way in which she is holding what looks remarkably like a modern handheld mobile device suggests there's something more interesting to read on the object than the Surgeon General's Warning.
Which didn't even exist at the time.
Who knew the text printed on the sides of cigarette packs was so fascinating in the 1950s?
Or (as some say is more likely) is Marilyn Monroe secretly using a mobile phone to send text messages through Time and into the future?
After all, no other person alive at the time would suspect such a thing.
But, now that this picture has surfaced, it's time to consider that Marilyn Monroe may indeed be a Time Traveler, in much the same way it's been speculated that Nicolas Cage is hopping through different dimensions as an Immortal Vampire.
In 2011, an eBay photo item went on sale for $1,000,000 and the subsequent interest over the uncanny resemblance of a man from the 1870s to present day Nicolas Cage caused the photo to go viral (it's not clear what the winning bid was. But, it certainly sold for more than an obscure family heirloom).
The phenomenon sparked a feverish hunt by true believers, digging up pictures from the past in an attempt to prove the theory that some people have figured out a way to travel through time.
Especially Movie Stars.
And, it's only now, with the advantages of the World Wide Web, that the theory is gaining in credibility every time such a photo surfaces.
Of course, not everyone played the game fair and square.
Lots of pictures flooded the web which were clearly Photoshopped or staged in some way. The cream of the "authentic" crop number less than a dozen, but one rule of thumb seems to be that the photo must be genuine and unretouched.
Such is clearly the case with this recently rediscovered photo of Marilyn Monroe clutching an object in the all too familiar (to us) manner in which more and more people all around the world are glued to their mobile devices and obsessed with constant, almost non-stop texting.
Or, should we say, sexting?
Sexting, of course, is the X-rated version of the wildly popular texting feature which has been a staple of mobile phones for decades, with its genesis in the 1990s, beginning with beepers and Blackberry phones.
The object Marilyn Monroe is so intent upon clearly looks more like one of those early products than the many types of smartphones available in today's cell and mobile market.
But, after all, if Marilyn Monroe is whizzing back and forth through Time, she might be forgiven for not having the latest gadget, gizmo and doo-dad.
It all seems a bit farfetched, but who can fault Marilyn Monroe fans who wish they had a chance to see her unmatched beauty in the flesh?
And, which one of us wouldn't love to be on the receiving end of one of those "sexts"?...
About the Creator
I am a Freelance Writer living in Riverside California who writes on a wide variety of topics including News, Politics, Popular Culture, Science, Music, Fiction, Poetry and Art.
Read More by Reid Moore!
Reader insights
Be the first to share your insights about this piece.
Add your insights