Interview With Cidney Hue - Director of 'OVUM' A Provocative Sci-Fi Short About Reproductive Rights
Visionary director Cidney Hue creates speculative, cutting-edge films that speak to contemporary life.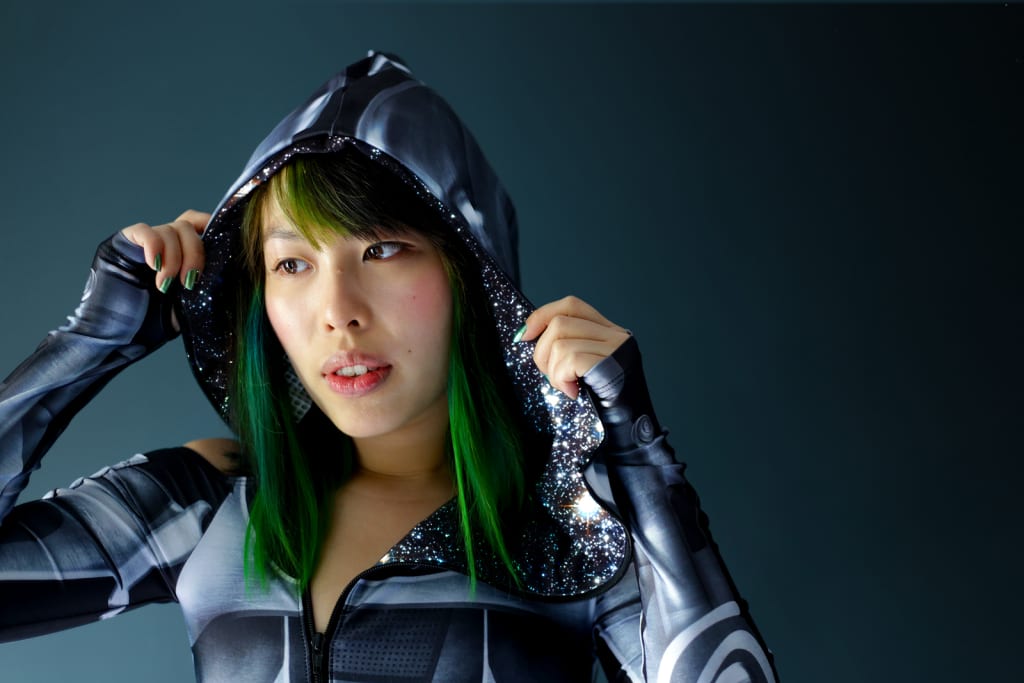 Image credit: Cidney Hue
Accomplished, New York-based filmmaker Cidney Hue "breaks" sci-fi by creating films that merge hard science with speculative scenarios in order to speak to contemporary life - including centering women's voices.
As a filmmaker, Hue has collaborated with many prestigious organizations such as Wired Magazine, NASA's Jet Propulsion Laboratory, United Airlines, and Scholastic.
I had the pleasure of interviewing this visionary director regarding her latest project, OVUM — a disturbing sci-fi short film about women's reproductive rights.
During our conversation, Hue shared the inspiration for OVUM, her filmmaking influences, her passion for science and technology, and she shares words of encouragement to women and anyone seeking to create art.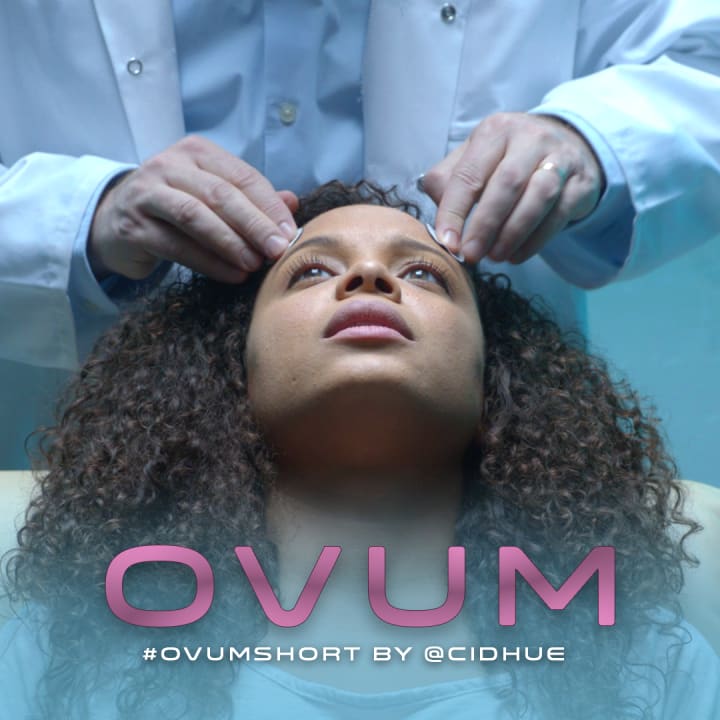 Can you share what the premise of OVUM is?
Sure, OVUM is sort of a mini-Black Mirror episode on what would happen in the near future for women if VR and reproductive rights converge.
What inspired the premise of OVUM?
In around 2016, I got a few friends of mine together to form an informal sci-fi collective.
We are all sci-fi directors working in the genre and workshopping each other's scripts and, hopefully, making a short each at the end of it. I had written a script about designer babies I was ready to shoot and that I was working on, but then the 2016 election happened.
I felt really compelled from all the news I was seeing about the ways different states were putting restrictions on reproductive rights, for instance, fetal heartbeat bills, mandatory fetus burials, and mandatory [pre-abortion] sonograms. The heartbeat bill is basically where they force anyone who is going in to get an abortion to listen to the heartbeat of their fetus. Just things like that.
I just felt compelled to change my story to write something that was relevant for the time.
Why do you feel science fiction is so well suited to hold up a mirror and examine a lot of the societal and political issues that we grapple with?
I mean, it's what science fiction is made for! It's the only genre where you can basically peek into the future or provide people glimpses of futures to strive for or avoid.
There is just no better genre [for that]. I'm very biased, but I truly do believe that.
Who were some of your filmmaking influences?
Absolutely. My favorite [among] science fiction films and television shows is going to be the masterpiece - Stanley Kubrick's 2001: A Space Odyssey. It stands on its own as a work of art, in my opinion, more than it is a film.
Then I love Gattaca. I think Gattaca is such an incredible film that explores the bio-ethics of what we do in a way that I don't see a lot of science fiction films exploring nowadays.
Although I have seen a trend [in film] to go more towards the exploration of why should we use technology, what can technology be used for, and what are ways we can use technology to oppress and connect. So, I'm loving that sort of trend, but it wasn't like that for quite some time.
Gattaca sort of blazed that trial for me. And then I also loved 12 Monkeys. I loved Blade Runner —obviously for the incredible worldbuilding — and [on television] Firefly is just the gold standard in building such compelling characters you would go to the end of the galaxy with them.
I wanted to ask you about your web series, Cyborg Nation, that you created. It features scientists that are on the cutting edge. It garnered over a million views, which is pretty extraordinary, so could you describe what Cyborg Nation is about?
Absolutely. Cyborg Nation is a web series I co-directed with Elizabeth Orne which interviews scientists from across the United States on cutting-edge technologies that seek to merge the human body with next-level computing and technology.
It's a really wonderful series if you're interested in what is happening right now with brain-computer interfaces, synthetic touch sensors on fingertips, even hacking cockroaches to help rescue missions in natural disasters!
It kind of runs the gamut of all the really amazing emerging technologies that are happening that could one day be in your closet. There is an episode about an exoskeleton that helps paraplegics walk again.
It's not even science fiction anymore, it's real stuff. And that's what I love too - the real science.
Yeah, I would agree. It's like we are living in tomorrow right now.
Exactly. Yeah. And for me, my science fiction stories, I always say I'm interested in the hard sciences and science fiction stories that are grounded in our reality, because I think it… could maybe teach us something. And my own personal fascination with technology and science, of course, bleeds into all my stories.
Speaking of stories, I also wanted to touch on the terrific organization you founded in 2015, NYC Women Filmmakers. It has over 4,000 members in its community. So, could you explain what your organization does and what its mission is?
Absolutely. NYC Women Filmmakers was started from really just a desire I had at the time to meet more women in the film industry.
I was working at a commercial production company and I felt like I wasn't meeting enough women. And if I relied on just going on set and meeting that occasional one other or two other women, it would take me forever to meet a community of women that I wanted to work with.
So I decided to host a little get-together. I ordered a few pizza pies and that first time 20 women showed up — half of them I didn't even know who they were — and one of them worked on OVUM!
And so from there all the women were saying we would love to do this again. So I thought "why not?" So I did it again the next month and the next month, and it sort of snowballed from there.
We started hosting workshops. I was the one leading this whole time and I thought "You know what, all these women have so much knowledge and experience to share with the larger community." So we started bringing in presenters to start talking about their expertise.
Now we host monthly workshops. We are a bona fide 501(c)(3) non-profit organization.
We have over 4,000 very active members in our Facebook group. We have some other stuff in the works. And it's not just me, I have a team of women who volunteer their time to help run this community.
It has been an incredible experience for me thinking back to the very first pizza party I had back in October 2015 to the many connections, projects, and collaborations that have come from it since. I'm just really honored that I got to be a part of it.
Don't wait for permission from other people. Don't let external forces, naysayers stop you from telling your own stories. No one can tell the stories that you have. You are your own unique voice. You are valid and you should go forth and create, and don't wait for someone to let you do it.
For fledgling filmmakers — especially young women and young women of color — who are beginning their careers or they are thinking about entering into filmmaking, what key piece of advice would you impart to them?
Oh, this one is actually really easy. If you are looking to become a filmmaker, there is nothing better you can do than writing and creating your own stories.
When you write, when you make your own content, you are owning that. That is your IP. That is your creation. No one can take that from you and if you can negotiate with that, you're just a much stronger creator. And at the same time, too, don't wait for permission from other people.
Don't let external forces, naysayers stop you from telling your own stories. No one can tell the stories that you have. You are your own unique voice. You are valid and you should go forth and create, and don't wait for someone to let you do it.
With OVUM, I was in charge. I was self-funding it, so I was able to determine how I hired and it was really important for me to support women and people of color behind the scenes and in front of the camera.
That is something you guys at home have the power to do when you are leading your projects. You can be the change that you want to see in the world. You can hire [according to] what you think reflects the world. You can hire based on what you want the industry to move toward.
So I highly encourage that. You know, give women the option to lead. They will always give their 150%. Trust me, that is just how they were raised. And yeah, just be inclusive because it's always better when you hear from a lot of different perspectives. It just makes the work that much stronger.
To find out more about Cidney Hue, her portfolio of work, and her current projects, visit her official web site CidneyHue.com.
This interview has been edited for content and length. It was taken from an excerpt of the transcript of the audio podcast, EYE ON SCI-FI, Episode #43.
About the Creator
Rod Faulkner is a blerd, writer, and the founder of The7thMatrix.com, a website dedicated to promoting the best in indie SFF short films and web series. He can be found on Twitter at @The7thMatrix.
Reader insights
Be the first to share your insights about this piece.
Add your insights