I Find Your Lack of Fez Disturbing: 11 'Doctor Who' Actors Who Have Materialized in 'Star Wars'
Read on to find out which 11 of our favorite actors from the 'Doctor Who' universe made it into the Star Wars universe.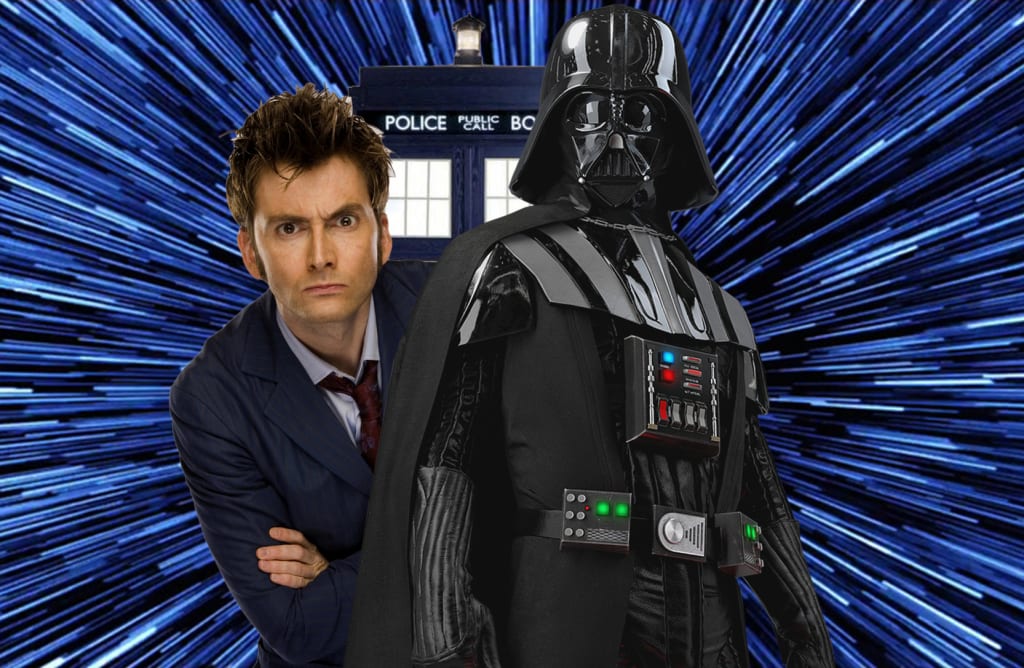 With Rogue One: A Star Wars Story swift becoming a massive box-office for Disney, it's clear that Star Wars is back in business! Fans just can't get enough of the battle between good and evil in this far away galaxy, but Star Wars is by no means the only franchise to explore universes beyond our imagining. On our television sets, we can enjoy similar adventures in #StarTrek, as well as Doctor Who.
Certainly, this quirky, quintessentially British show follows the temporal and inter-dimensional adventures of the Doctor, a humanoid alien who changes his body and personality each time he dies.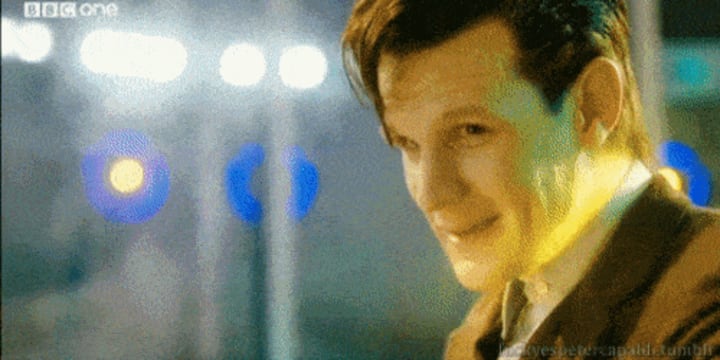 Like Star Wars, this isn't the kind of thing that we see in real life, so it's brilliant for fun and escapism! With similar themes, props and iconography its a shame that, apart from the occasional small Easter Egg, there is little reference made between them. Certainly, crossovers between our favorite sagas only tend to exist in our fan fiction, art and imaginations... But that hasn't stopped these actors from featuring in both popular properties!
Read on to find which of our favorite actors and actresses have made the jump to lightspeed, and appeared in the Star Wars universe, as well as Doctor Who:
1. Felicity Jones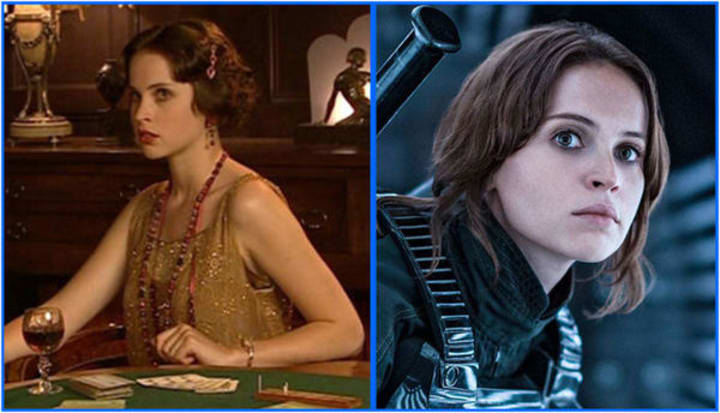 Yup, Jyn Erso has confronted aliens in time gone by! In the last few years, #FelicityJones has become quite the movie star, featuring in the acclaimed Stephen Hawking biopic The Theory of Everything, as well as the critically lauded A Monster Calls. But before she was kicking stormtrooper's asses and generally being rebellious in #RogueOne, 2008 saw her play the mischievous Robina Redmond in the bizarre Agatha Christie-themed episode of Doctor Who entitled "The Unicorn and the Wasp."
2. Tom Baker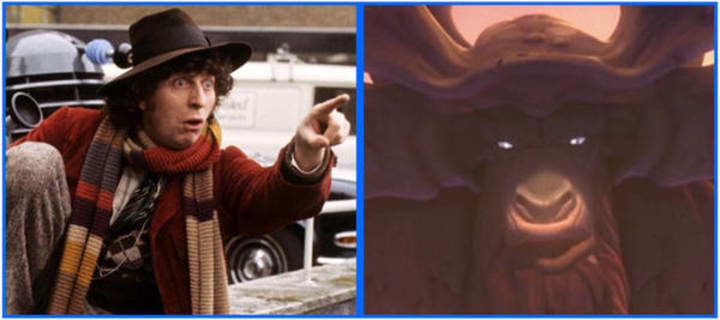 Americans readers may not recognize Tom Baker immediately, but over on the British Isles he is an institution unto himself. After all, his incarnation of the Doctor with his wild hair and long multicolored scarf is not only the most recognizable but he also holds the longest tenure.
Credited for giving the role an eccentric and unpredictable edge, Baker is also known because of his unique, sonorous voice, which he gifted to the enigmatic character Bendu who appeared on #StarWarsRebels. Powerful and wise, he claimed to represent the middle-ground of the Force, neither siding with the urges of the light and the dark.
3. Peter Cushing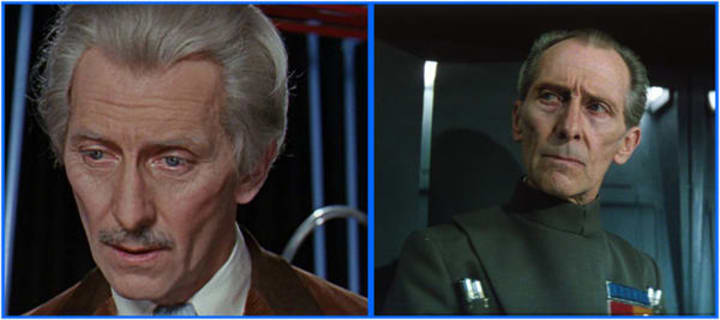 Everyone remembers Peter Cushing's Grand Moff Tarkin from Star Wars. Recently, and somewhat controversially returning in Rogue One, he's the callous commander of the Death Star who decisively orchestrates the destruction of Alderaan. However, 12 years prior to his most prominent role, Cushing was trying to prevent calamity as the Doctor himself, in the 1965 movie Dr. Who and the Daleks.
OK, OK, so it's not part of the official Doctor Who canon. Indeed, it deviates from it quite heavily, but the iconography is all there and Cushing retains the twinkle-eyed cheeriness and moralistic stance of our favorite two-hearted hero.
4. Simon Pegg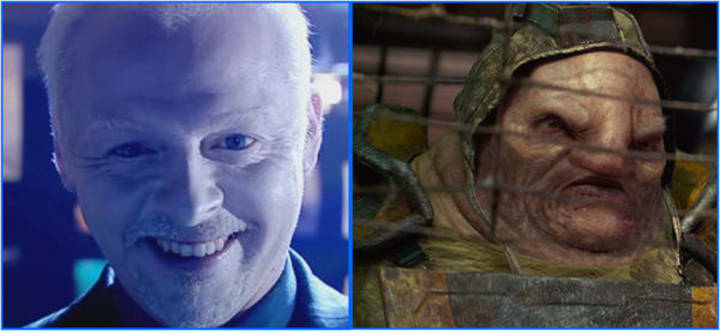 It must be nice to be #SimonPegg, mustn't it? After all his years as a young nerd, he gets to become part of making more installments in our favorite properties. We're all aware that he was the exuberant Montgomery Scott in the rebooted #StarTrek series, but you may not know of his prior ventures as a villain.
In a Christopher Eccleston era episode of Doctor Who entitled "The Long Game," Pegg served the Mighty Jagrafess of the Holy Hadrojassic Maxarodenfoe (boy, try saying that after a few drinks!) as a nasty, slimy character known as The Editor.
But what about Star Wars? Well, you'd be forgiven for not recognizing him in that. In #TheForceAwakens he is indistinguishable under layers of makeup as the greedy Unkar Plutt, Rey's (Daisy Ridley) boss and the owner of a little-known vessel called the Millennium Falcon.
5. Warwick Davis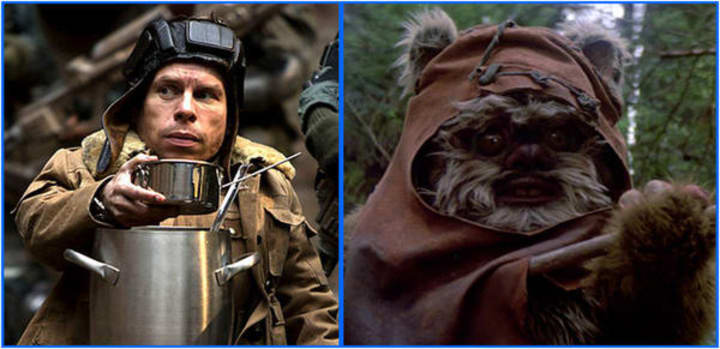 Another geek icon! Davis's breakout role was in Return of the Jedi as Wicket, the Ewok that Leia (#CarrieFisher) first encounters on Endor. But Davis has also returned to the galaxy far, far away with several other minor appearances in The Phantom Menace and Rogue One.
Aside from Imperial troopers Davis joined Doctor Who to tackle the Cybermen in the episode entitled "Nightmare in Silver." Here he joins #MattSmith's Eleventh Doctor and Jenna Coleman's Clara Oswald as the reticent Porridge... yeah, Doctor Who is full of weird names!
6. Hugh Quarshie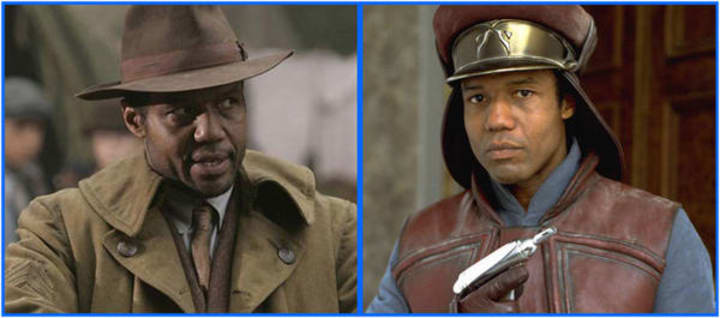 You may remember Quarshie as the loyal Captain Panaka who accompanies Queen Amidala in The Phantom Menace, but he also acted in Doctor Who nearly a decade later.
Quarshie appears as Solomon, a respected figure in the Central Park Hooverville in the two serial "Daleks in Manhattan /Evolution of the Daleks," where he assists the Doctor in taking on these vicious villains. Here's a fun fact for you: #AndrewGarfield - who went on to play the second cinematic Spider-Man – also appears in these episodes!
7. Julian Glover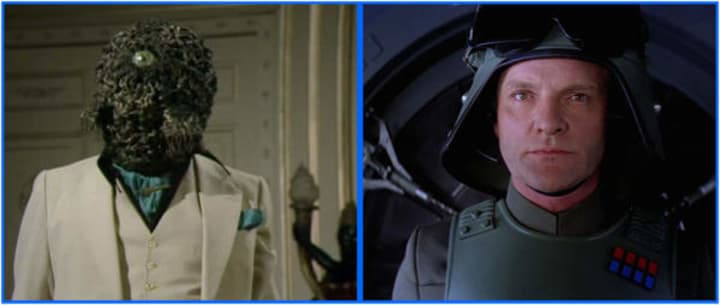 Julian Glover has got to be one of the sneakiest actors around, since he's appeared in nearly all of our favorite sagas. Not content with playing General Veers in The Empire Strikes Back, Glover has also featured as the wily Walter Donovan in Indiana Jonesand the Last Crusade, voiced Aragog in Harry Potter and the Chamber of Secrets, and ministered to the monarchs of Westeros as Maester Pycelle in #GameofThrones!
And to top it all off, way back when he played Richard the Lionheart in the Doctor Who episode "The Crusade," and reappeared as another character called Scaroth in "The City of Death." Phew, this guy sure gets around!
8. Brian Blessed

Oh my! It's Prince Vultan from Flash Gordon! In #DoctorWho, the bombastic Blessed portrayed King Yrcanos in the serial Mindwarp. This in turn was part of the series-spanning arc "The Trial of a Time Lord," where the Sixth Doctor (Colin Baker) was formally accused of breaking the laws of his home world Gallifrey. Blessed was also hired for The Phantom Menace, where he voiced the blustering, spluttering, Donald Trump lookalike Boss Nass.
Interestingly, this thundering thespian was also considered for the role of the Second Doctor when William Hartnell, the first incarnation, began to suffer from health problems... What could have been, eh?
9. Lindsay Duncan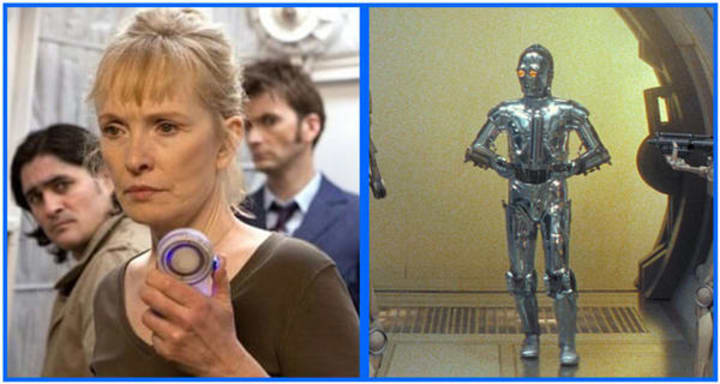 #Sherlock fans may recognize her as the soon-to-be recurring Lady Smallwood, but the talented Lindsay Duncan has indeed encountered lightsabers and sonic screwdrivers as well as consulting detectives. In the very creepy Doctor Who special "The Waters of Mars," Duncan played Captain Adelaide Brooke, the stoic leader of a Martian base under attack. But I'm guessing some Star Wars fans will be scratching their heads by this point.
Who did she play in our favorite distant galaxy? Well she was in The Phantom Menace, or at least her voice was. At the movies opening, the protocol droid TC-14 serves Qui-Gon Jin (#LiamNeeson) and Obi Wan (#EwanMcGregor) drinks, and as it does so Duncan imbues the gleaming robot's vocals with a nervous tremble, which befits the tense situation.
10. David Prowse
Roger Delgado's Master is causing problems for the Third Doctor (Jon Pertwee) in "The Time Monster," a 1972 story where the towering David Prowse appears as an Atlantean Minotaur whom the Doctor has to battle.
And, as any Star Wars fan knows, Prowse also put his formidable height to good use as the physical form of #DarthVader throughout the original trilogy. However James Earl Jones provided Vader's voice, because a West Country accent simply wasn't as threatening.
11. David Tennant

Allons-y! The highly talented David Tennant is very well known for his tenure as the energetic and charismatic Tenth Doctor. Indeed, Tennant is so beloved in the role that Britain collectively wept when he announced that he was leaving back in 2008! He still ranks near the top of every "Favorite Doctor" poll, and he still gets awards for his work on the show to this day. But his winning streak also extends to #Marvel and Star Wars too!
#DavidTennant was showered with praise for his iteration of the Kilgrave/The Purple Man in Netflix's Jessica Jones, and he also won an Emmy for his role as the ancient droid Huyang in #TheCloneWars, where he mentored Jedi Younglings in the construction of their lightsabers.
And there you have it! The brilliant talents who have crossed over from Doctor Who to Star Wars, and vice versa! If ever there was a crossover between the two series — and please let there be one someday — things could get a little awkward to say the least.
About the Creator
A fanatical film-watcher, hill-walker, aspiring author, freelance writer and biscuit connoisseur.
These articles first appeared on Movie Pilot between Jan 2016 and Dec 2017. Follow me on Twitter @Farrow91
Reader insights
Be the first to share your insights about this piece.
Add your insights