How To Apply For a Visa in Spain From UK - Spain Visa Types
Apply For a Visa in Spain From UK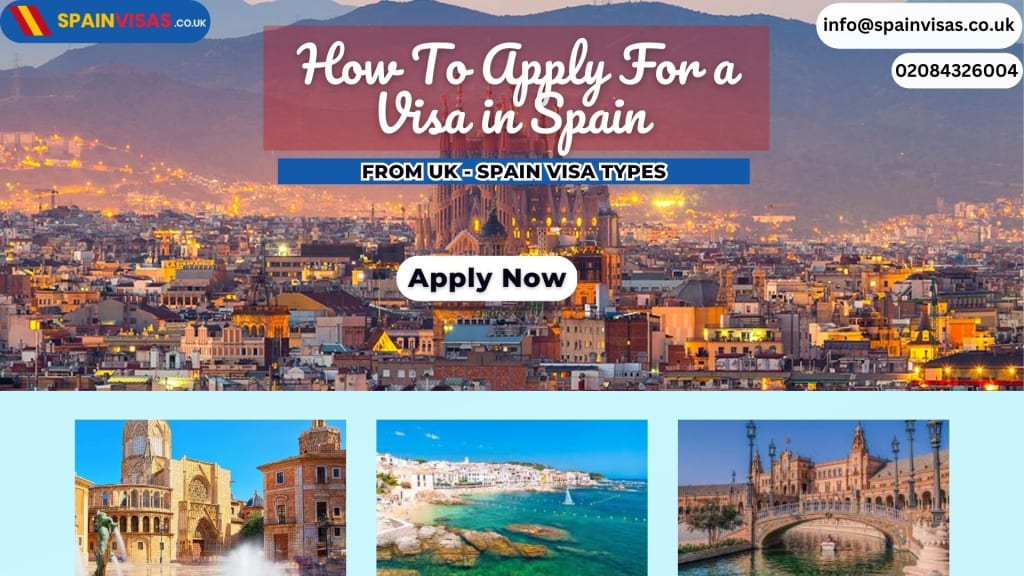 Spain Visa uk
Living in Spain can be regarded as paradise. Sunny weather throughout the year, a charming atmosphere, delicious cuisine, and many places to visit make Spain the most preferred destination for ex-pats worldwide who want to visit Spain & explore its wild beauty, deep history, and some of the best food.
But sometimes, Non-EU citizens need a visa to live, stay, and work in the country. So, how do they do it quickly?
If you want to travel to Spain, SpainVisas.CO.UK will provide you with the best visa services, excellent facilities, and warm, welcoming arms to get a Spain Schengen expeditiously.
We are about to review the Visa for Spain from the UK 2023 that exists to travel & immigrate to Spain along with their requirements & application process. After reading this blog, you will know which visa type best fits your situation and how to apply step-by-step.
What Visas Do I Need to Travel to Spain?
If you're planning to visit Spain, you'll need a visa to travel to Spain. But the most important question arises which type of visa should I apply for? The answer to this mainly depends on the two fundamental questions.
What exactly do you want to do in the country, either visit, live, work, do tourism, or study for a certain period?
How long do you want to stay in Spain, encountering a big difference depending on whether you stay less or more than three months?
By answering these questions, you can determine precisely what visa type you will need. Below is a detailed explanation of each visa type you need to know.
Types of Visas for Spain
If you plan to visit Spain for a shorter duration, a maximum of up to 90 days, you must apply for a Spain Visa. Depending upon the purpose of entry to Spain, different types of visas in Spain are provided.
An applicant can apply for a tourist visa if the person is visiting Spain for tourism. The maximum duration a person can stay in the country is 90 days. The tourist visa holder will need to show proof to the authorities that the person is visiting the country for tourism purposes.
If a person travels to Spain for business, then the person needs to apply for a Business Visa. The business visa is valid for a maximum period of 90 days. With this visa, a business person can visit Spain for business purposes, such as partnership meetings, corporate meetings, or employment. This visa is valid in all the European countries which are part of the Schengen agreement.
Suppose a person travels to Spain for employment. In that case, the person needs to apply for an Employment Visa—specific additional documents necessary for a Spain Employment visa when traveling to Spain.
A signed employment letter along with leave permission
Six months' bank current account statement
A copy of the ITR form or a certificate of income tax deducted at source.
A person can apply for a Family Visit Visa if the person is traveling to the country to visit his family members or friends. Bring your relatives to Spain with you through the family member of an EU Citizen Visa.
Documents required while applying for a Spain Visa
If you're applying for a Spain Schengen Visa for a short-term or long-term stay, the best thing you can do is know precisely what documents you need. Therefore, the Spain visa documents required by an applicant to avail of the Spain Schengen visa are:
A valid Passport or a travel document
Valid UK Residency Permit or another Valid ID Proof
A digital photograph & biometric fingerprints
A passport-sized photograph
Schengen travel and medical insurance
Proof of Hotel reservations
Source of financial means
Proof of travel arrangements
Validity & Processing Time for Spain Schengen Visa
You can stay for a maximum of 90 days in Spain or any other country in the Schengen region. Under normal circumstances, Visa for Spain generally takes 12-15 working days after the bio-metric check for verification purposes at the Visa Centre.
How to Apply for Spain Schengen Visa UK?
Step 1: Fill in the BLS Spain Visa Application Form online by clicking here.
Step 2: Our experts will book a Spain Visa appointment for you in the embassy.
Step 3: Visit the Visa Centre on the appointment date by completing all the basic formalities.
Step 4: Get your visa along with your submitted passport via post.
About the Creator
BLS Spain visa UK is a leading Spain visa service provider expert zing in rendering Spain visa appointment for different types of visas i.e. Spain tourist visa etc.
Reader insights
Be the first to share your insights about this piece.
Add your insights