Here's how AI is reshaping the eCommerce industry?
Artificial Intelligence is redefining e-commerce through automation. Identifying customer's buying behaviours and latest trends would make the e-commerce sector more dynamic, and customer centric.
Amid Global Pandemic, the eCommerce industry seems to be growing at a fast pace. According to a study, eCommerce makes up 14.1 % of global retail sales, which is expected to reach 22% by the year 2023.
As the eCommerce industry is booming around the globe, businesses are more focused on the latest trends such as the use of Artificial intelligence for improved processes. AI, on the other hand, is increasingly becoming a part of every sector worldwide.
With this use of AI in eCommerce either in the form of intelligent chatbots, analyzing customer behavior, and offering customized services; the global retail revenue is expected to reach $36.8 billion by 2025.
Speaking of which, Artificial intelligence is the future of business. Potential diverse applications of AI are reshaping online shopping experiences. Through the use of AI, the eCommerce sector can customize their business processes according to individual expectations for better outcomes and efficiency.
Online shoppers have exceeded 2 billion in numbers therefore staying up to date with the latest technologies is helping online businesses in making more informed strategic decisions to drive growth.
The digital world is a happening place.
Back in the day, making money was easier by selling about anything in the digital marketplace, because the competition was minimal but now, technology has become easily accessible and affordable which means if online retail businesses are looking to survive fierce competition online, they must make the use of technology such as AI a top priority.
Nowadays, one of the biggest challenges that eCommerce faces is Cart Abandonment which accounts for almost 68.8%. Now this unfavorable problem may be because of the many reasons that sometimes online retailers seem to ignore such as poor customer service or experience, website loading times sucks, the website design is very irksome, payment gateways are dreadfully awful with zero response time, so on and so forth.
Now you see, how Artificial intelligence can enhance user experiences with swift customer onboarding. Not only does it provide convenience but speeds up the entire process with top of the line customer service.
Well, I have built my case so let's see how applications of AI in eCommerce are reshaping the entire online shopping experience for customers and retailers alike?
Chatbots, because they never go out of style .
This one may sound old but deploying digital assistants for 24/7 customer service and support is a step in the right direction. Chatbots that are built on the applications of AI are much more intuitive and easier to deal with. *wink*
To be honest, without conversational bots the eCommerce industry may not be able to offer round the clock customer support.
Chatbots are proactive with consistent responses, they have all the possible on the spot solutions for customers.
They have rather immediate responses as compared to humans who would put customers on hold for hours
Chatbots in eCommerce are positively influencing customer buying behaviors and decisions
They can be trained according to available data for a more seamless customer experience next time
They are easier to communicate with through various mediums such as social media, text, or even calls.
They can easily interpret voice-based interactions due to their self-learning abilities.
Provides customized experience to customers.
Most importantly, they never need a day off!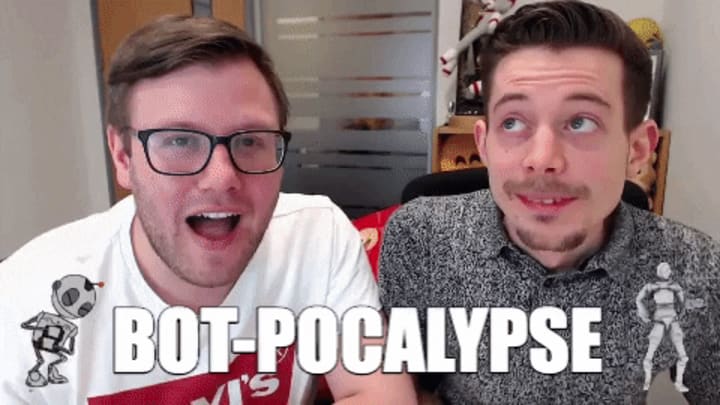 Need I say more? No? Alright, let's move to the next point.
'Customer-centric' approach is now trending .
Ask any eCommerce business, you will hear them saying that consumers often abandon eCommerce experiences because of irrelevant product results.
Now here Artificial intelligence can narrow down search results by efficiently predicting customer search patterns for helpful recommendations. This as a result delivers a more customer-centric experience through personalized recommendations.
Personalized recommendations are useful for online businesses in many ways: More returning customers to stick around , higher customer retention rates and conversions, personalized shopping experience and marketing along with better ROI.
Targeting 'only' potential shoppers .
Additionally, with the help of AI, the time of remarketing is long gone! The new marketing techniques and strategies are only attracting a relevant customer -base.
On one hand, customers are safeguarded from aggressive irrelevant marketing, while on the other, overall customer experience is improved, and unnecessary business costs are, however, saved. Sending the right ad to the right customer at the right time has allowed businesses to increase their engagement rates, conversions, and reduce customer turnover rates.
According to a survey conducted by Econsultancy, an estimated 74% of marketers have said that targeted personalization has increased their overall customer engagement rates.
All in all, AI gives businesses, big or small, a competitive advantage in the market.
Enhanced security of company sensitive data .
As eCommerce platforms deal with sensitive customer data, AI solutions are greatly helping companies with fraud detection and prevention. With top AI applications, eCommerce platforms can now keep their customer data protected at all costs and also streamlined payments.
.....
AI is greatly benefiting the eCommerce industry along with customer experience. Companies are reshaping the buying and selling of products through the applications of AI which is predicted to worth $27 billion in retail by 2025. Even though AI technology is costly and harder to implement but to have a competitive advantage over other companies, implementation of AI is the need of the hour for businesses to succeed and leave their mark.
Bonus: Here's a GIF for you.
artificial intelligence
Passion for writing, mostly on latest technological trends. Harnessing the power of curiosity for marketing success. Tea not coffee. Call me a book worm or a 'Prima Ballerina' (No, I am just kidding).
Receive stories by Sadia Mehmood in

your feed