Giancarlo Esposito Teases Epic Battle Between Moff Gideon And Din Djarin In 'The Mandalorian' Season 2
Get ready, Star Wars fans!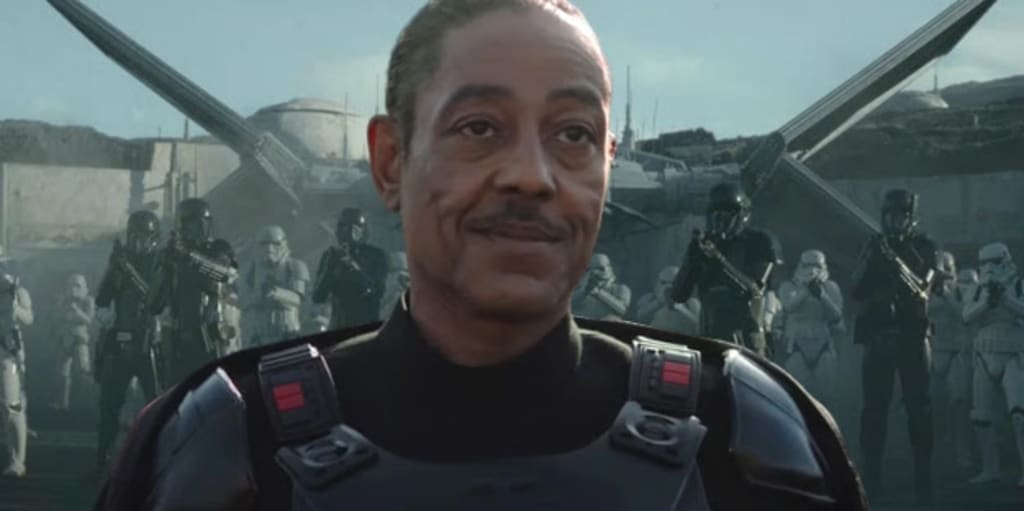 The Mandalorian season 2 is just around the corner, debuting October 30 on Disney+. We have seen lots of fan speculation on what is to come in this next installment of the series, from theories about Rosario Dawson's role as Ahsoka Tano to hypotheses about The Child's purpose and backstory. However, one of the elements that I am most looking forward to is finding out more about the mysterious villain Moff Gideon.
At the end of Season 1, all we really know about Moff Gideon is that he is seeking The Child, he has history with Din Djarin, and he possesses the ancient Mandalorian weapon known as the Darksaber. These facts raise a lot of questions about him, questions that season 2 may answer.
Where did he get the Darksaber? Does this mean that he is Force-sensitive? What does he plan to do with The Child if he captures it? Does he know something about the Child that the Mandalorian does not?
Though Moff Gideon's appearance came late in season 1, it looks as if he is shaping up to be one of the most influential forces in season 2.
In an interview with Entertainment Weekly, actor Giancarlo Esposito sat down to discuss what we can expect from his character and his involvement in season 2.
"I'll be going toe-to-toe with Mando... It's an iconic battle. I want to disarm him mentally as well. Who knows? Maybe there's an opportunity to get him to fight some battles for me. You may think I'm a villain, but I'm trying to harness some energy and some powers for a path that could be best for all. You'll get to see him be somewhat diplomatic and more of a manipulator."
While what Esposito had to say is relatively vague, this is an exciting peek into Moff Gideon's role. It looks like he is shaping up to be the main villain of season 2, as expected, but with some hidden depths. Plus, we we will get to see some epic Darksaber action. Not only that, but Esposito's hints that he might "get [the Mandalorian] to fight some battles for [him]" reveals that we might see some sort of mind control, or even that Moff Gideon might somehow convince the Mandalorian to come to his side.
"It's so exciting for me to be in a show where I can wear a cape and own it, and where I can have a lightsaber and really own it," Esposito said. He also indicated that he'd be in charge of "a larger vehicle, hint-hint," which could really mean any number of things, but gives us even more to look forward to, nonetheless.
Esposito also hinted that The Child would spend "one-on-one time" with Moff Gideon, which means Esposito's character might be the key to learning more about The Child's mysterious origins.
While a lot of season 2 has been kept under wraps, creator Jon Favreau and writer/director Dave Filoni had a little bit to say about what we can expect as season 2 evolves.
"The new season is about introducing a larger story in the world," Favreau told Entertainment Weekly. Filoni added the following:
"The stories become less isolated, yet each episode has its own flavor, and hopefully we're bringing a lot more scope to the show. Everything gets bigger, the stakes get higher, but also the personal story between the Child and the Mandalorian develops in a way I think people will enjoy."
It sounds like the creators are just as excited as we are for season 2 to premiere, and given season 1's instant success, we can only expect the same as the stakes get higher and we delve even further into the world of The Mandalorian. We are so grateful that this is one project that the pandemic did not delay, and we will be counting down the days!
Written By Alex Cherry
Syndicated From Culture Slate