George Lucas, Yes, The Creator Himself, Now Has An Official Black Series Figure
A Must-Have For Every Collector!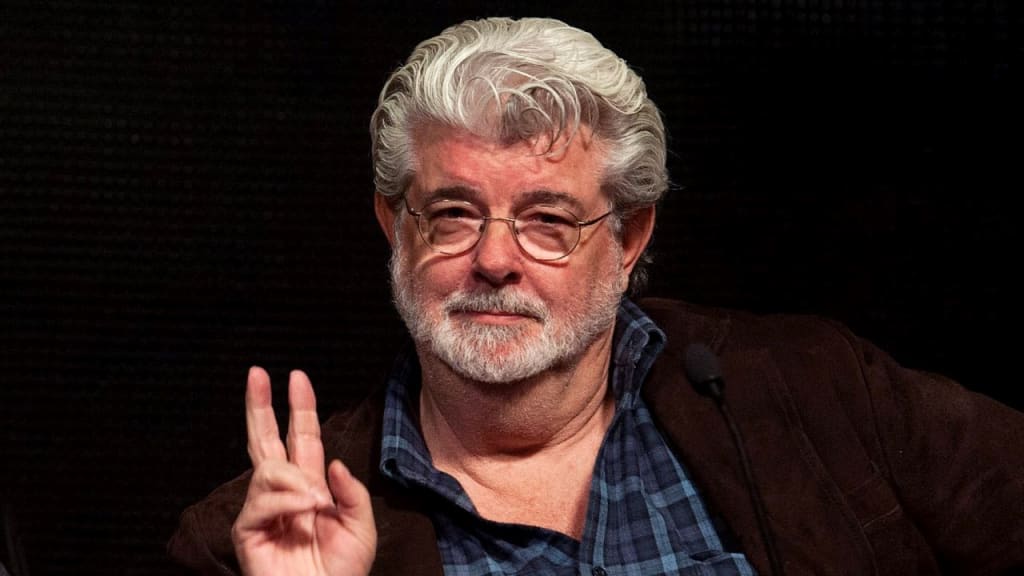 Getting immortalized in plastic and seeing the likeness of yourself hanging from the pegs of major retail stores might be a dream come true for many actors (except maybe for the poor guy who played Constable Zuvio in The Force Awakens). Over the course of the last four and a half decades Kenner and later Hasbro have released countless Star Wars action figures. Nearly every major character who appeared in the movies, television shows, books and even comics were sooner or later turned into a small plastic figure, and put behind a transparent bubble on a cardboard. Aside from characters and creatures who appeared on screen, the Star Wars franchise had released action figures of behind-the-scenes personas, such as conceptual designer Ralph McQuarrie's General Pharl McQuarrie from Empire Strikes Back, and more recently director Dave Filoni's Trapper Wolf from The Mandalorian.
Hasbro has announced a collector's item depicting someone who is truly from behind-the-scenes of Star Wars. Coming in 2022, Hasbro will release The Black Series 6-inch action figure of none other than George Lucas himself. The timing for this release may seem a bit odd at first. After all, Lucas had sold his company to Disney nine years ago and have not had much involvement with the franchise since then. On the other hand, 2021 marks the fiftieth anniversary of the founding of Lucasfilm. It is more than fitting to celebrate this milestone by bringing out an action figure of the man who started it all.
RELATED: Hasbro Confirm Force FX Elite Replica Of Rey's 'Rise Of Skywalker' Lightsaber
The George Lucas action figure comes in stormtrooper gear with a removable helmet, revealing the iconic haircut and beard of Lucas, as well as with a removable blaster. Like all Black Series figures, this figure is multi-articulated, allowing the "Maker" to strike various poses.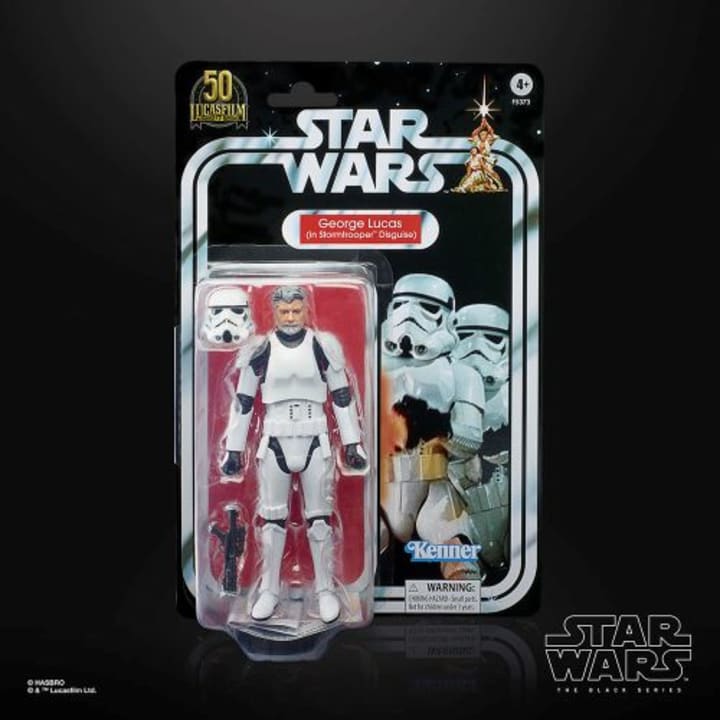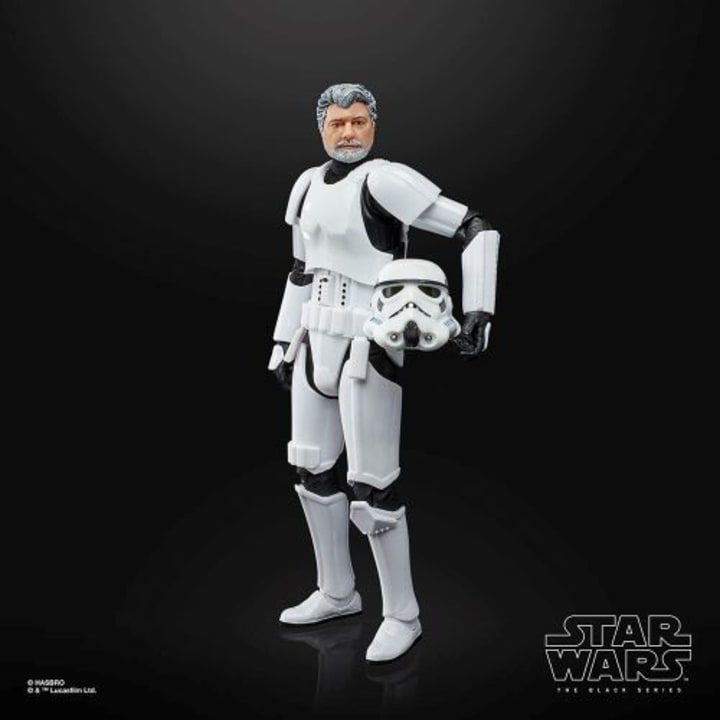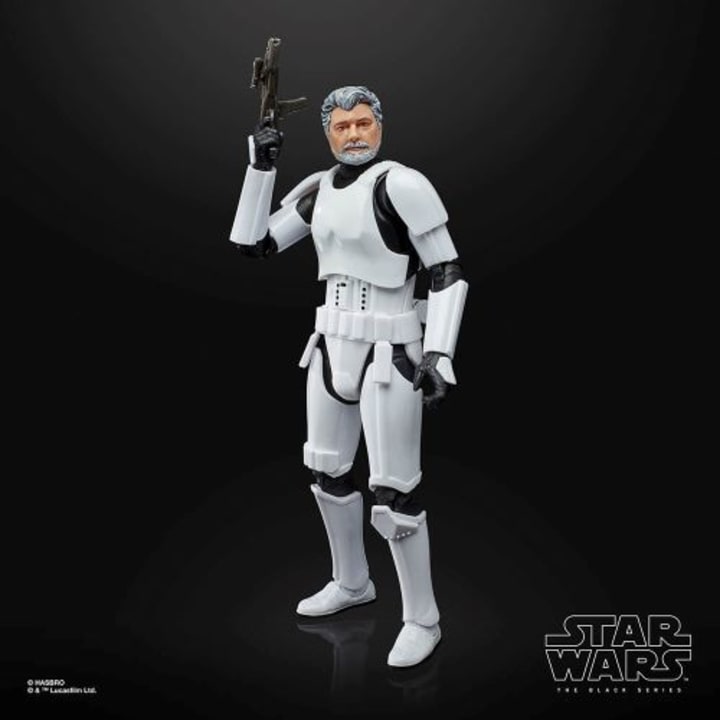 While this new offer might be the first 6-inch Black Series action figure of Lucas, it is by far not the first time that the Star Wars creator was molded in plastic. Back in 2002 Hasbro released a very familiar X-Wing pilot as an exclusive for Star Wars Celebration II. Although the name on the packaging says Jorg Sacul, it is more than clear who this figure represents. Steve Sansweet actually created a small backstory for the character, which was printed on the back of a card.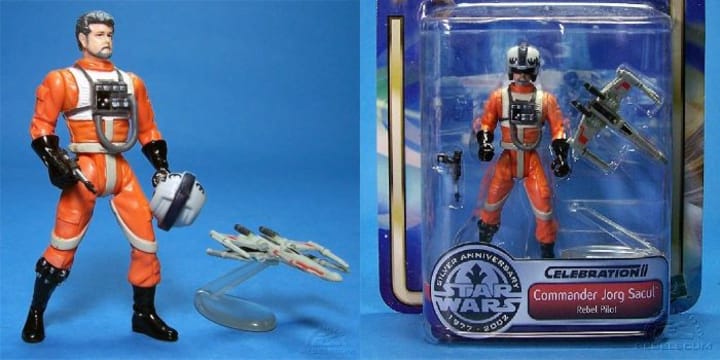 Born on Tatooine, Sacul dreamed of racing. However, a near-fatal accident in his T-16 Skyhopper forced him to end his racing career. He later graduated from the Imperial Academy, but then joined the Rebel Alliance, where he became a flight instructor for young pilots as well as a good storyteller. Sounds familiar?
The next incarnation of a George Lucas action figure came in 2006 as a mail-away exclusive for Hasbro's Vintage Collection. Like the announced Black Series figure, this Lucas also wears a stormtrooper armor and has a removable helmet and a blaster. The main difference is that his facial hair is black instead of grey. It is clear that the new Black Series figure is modeled after this smaller cousin, which Hasbro has done with other characters in the past.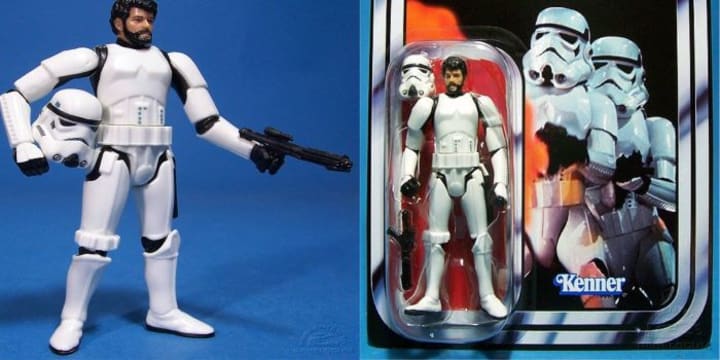 Lucas last appearance in plastic prior to this latest release offered collectors a chance to not only have a figure of Lucas himself, but also of his family. The Lucas Collector's Set includes figures of all four members of the Lucas family as their Revenge of the Sith characters. The Maker had a small cameo as Baron Papanoida in Revenge of The Sith. This character would later also appear in the Clone Wars animated series. His children Jett, Amanda, and Katie played young Padawan Zett Jukassa, Senator Terr Taneel, and Senator Chi Eekway Papanoida, respectively.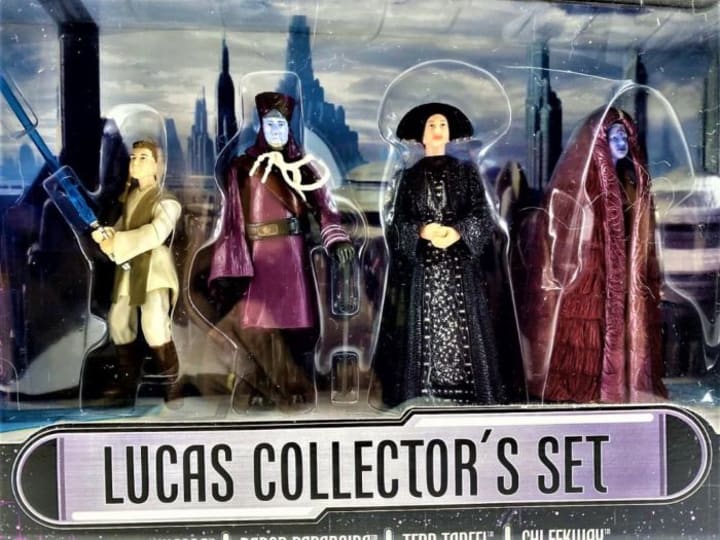 Hasbro's newest addition to The Black Series - George Lucas (Stormtrooper Disguise) can be pre-ordered from Entertainment Earth and Big Bad Toy Store for $27-28 with an estimated shipping date of March 2022.
READ NEXT: Rarest 'Star Wars' Toys
Written By Gerald Petschk
Source(s): StarWars.com, Star Wars News Net
Syndicated From Culture Slate