George Lucas' Reaction To Rosario Dawson As Ahsoka Tano
He Knew What Was Up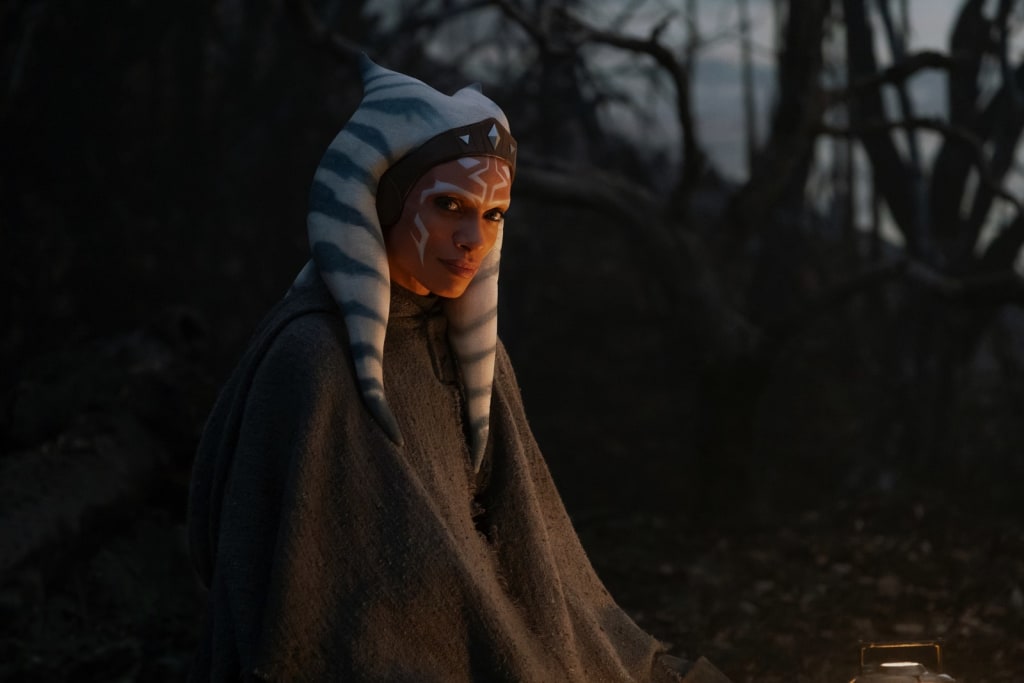 Season two of The Mandalorian continues to further intertwine the series with the ever-expanding universe that is Star Wars. Not only has this season reintroduced everyone's favorite bounty hunter, Boba Fett, and hinted at a possible major link to the films, but this season has also brought the live-action debut of Ahsoka Tano, played by Rosario Dawson.
Ever since her arrival in the Star Wars: The Clone Wars film back in 2008, Ahsoka has evolved into a complex character throughout her run in The Clone Wars series and her appearances in Star Wars Rebels, leading her to becoming a fan favorite. So as far as these fans were concerned, it wasn't a question of if but when Ahsoka would be entering the world of live-action.
In her interview with Vanity Fair, Dawson discussed what it was like to fully step into the character:
"Doing the face markings, doing my skin, wearing the costume, all of that was absolutely incredible. But I still kind of felt like I was in cosplay. The second the contacts went in, it was Ahsoka. I felt like I disappeared."
When Rosario Dawson was confirmed for the role back in March, she gave a lot of credit to the support of fans, and there were a few special fans in her corner cheering her on... who just so happen to be some of the major creators of the franchise.
While filming "Chapter 13: The Jedi," Star Wars originator George Lucas made a visit to the set and was able to spend some quality time with Baby Yoda, who we now know is actually named Grogu. A photo of the two circulated on the internet thanks to a tweet by executive producer and series creator Jon Favreau. What many people didn't know was that Rosario Dawson was in full costume for Ahsoka Tano just out of frame!
Dawson comments:
"I was there that day. I was all dressed up, I was just off to the side of that photo, all done up as Ahsoka. And I remember it broke the internet when that picture came out. It was just an amazing, amazing moment, and we were all beside ourselves. It was definitely very "geek out"."
Could you imagine how legendary that photo would have been if it was Grogu, George Lucas, and Ahsoka Tano all in the picture?
Continuing the conversation about being on set with George Lucas and Dave Filoni, the director for this episode, Dawson commented on what it was like to play a character that these two helped bring to life:
"I was definitely nerve-racked, and it was great to be there with him and Dave. I mean, it's a lot of pressure. But it was also really fun. Both of them were looking at me but they weren't, you know what I mean? They were looking at their imaginations come to life."
All creatives know the long process of bringing an idea to fruition as well as the pride felt when they see this creation reach new potentials. George Lucas and Dave Filoni have gotten to see many of their ideas and characters come to life and expanded upon over the years, but the joy of physically seeing a character that was once just a concept never fades away. For Filoni, someone who's been with the character of Ahsoka since the beginning, there's no doubt that seeing her in live-action while next to George Lucas, the creator of this franchise, was anything less than magical.
Filoni discusses the casting process for Ahsoka:
"When I met Rosario, I just knew she was right for Ahsoka. Yes, there was the tweet and her interest in the part; yes, she has been in action movies and is a huge fan of sci-fi and fantasy stories; yes, she knew Hayden Christensen and pictures of them together look like Anakin and Ahsoka. But in the end, when I met her and we talked, I just knew."
What comes next for Ahsoka, as well as Rosario Dawson's interpretation of the character, is still to be decided, but her appearance in The Mandalorian goes to show that the possibilities are endless.
Season two of The Mandalorian is now streaming exclusively on Disney+.
Written By Tyre Francis
Syndicated From Culture Slate